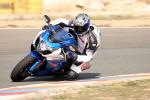 By Kevin Ash
Pictures: Jason Critchell

There's a body language in bike development if you know where to look, and judging by Suzuki's, the Hamamatsu factory wasn't entirely happy with the outgoing GSX-R1000 model, the K7/K8. The general pattern in the superbike arena is for a bike to be breathed on and facelifted after two years, then fully renewed two years after that, a biannual cycle alternating between update and all new. But the 2009 GSX-R1000 K9 is all new, even though this should have been facelift year, two years after the new K7.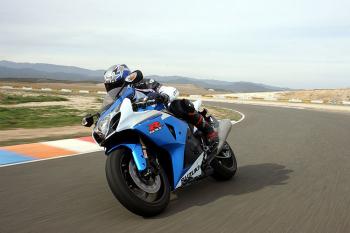 Click on image for galleryThere's a full technical feature here, but in brief, the engine is entirely new featuring a shorter stroke than before (now 74.5 x 57.3mm bore and stroke, was 73.4 x 59.0mm), new design as well as diameter pistons, longer conrods, a higher compression ratio, new crank and crankcases, cylinder head, camshafts, bigger valves... in short, every major component. The power and torque outputs are claimed to be the same as before (182bhp @ 12,000rpm, 86lb.ft of torque @ 10,000rpm) but with a smoother torque curve and various enhancements to the delivery.

As for the chassis, the new frame and swingarm combine with the more compact engine to allow both a shorter wheelbase at 1,405mm (10mm shorter) and a 32mm longer swingarm at 577mm. The three-spoke wheels are new and lighter, braking is looked after by de rigueur monoblock callipers and Suzuki has dropped Kayaba as suspension supplier in order to fit Showa 'Big Piston' forks (see feature here) and a Showa rear shock too. The bodywork inevitably is changed, resulting in an unmistakable GSX-R look, if a rather bitty, fussy one.

Overall the mass is reduced by around 12lb (5kg), although comparing it with its rivals is difficult now as the companies quote different standards: Suzuki says the K9 has a kerb weight of 452lb (205kg), but how much fuel is included is not specified.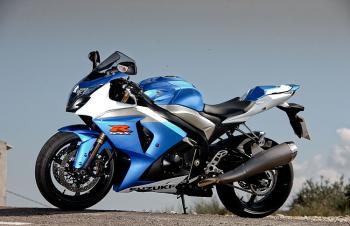 The riding position is typical GSX-R1000, reasonably spacious and not tipped so aggressively over the front that ordinary road riding is a pain. And unusually on a superbike launch, we did get a chance to ride the GSX-R on the road. It was only some 30 miles (50km) from the hotel to the Almeria circuit in Spanish Andalusia, but that was enough to discover something extra about the bike, including that it still doesn't have the low rev grunt that made the 2005 GSX-R1000 K5 so special. The fuelling in road use is absolutely perfect but the power delivery lacks the hard edge of the K5 and with it, some of the thrill and excitement, so much so that sometimes it's hard to believe this is a 182bhp motorcycle. Really, it's the fabulous K5 rather than the lacklustre K7 that the K9 really needs to beat for Suzuki to move forward significantly. And in case you're wondering why you need to go back two generations rather than one, it's because of the strict Euro 3 emissions regulations coming into force in 2007 – meeting them added weight to the GSX-R K7 as well as affecting the throttle response compared with the sublimely natural crispness of the K5.

But then most riders want to know how it compares with the Fireblade, the R1 and ZX-10R...

Taken on its own, the new K9 is a fabulous motorcycle. The most striking aspect initially is the superbly natural, easy feel of the chassis. The bike turns quickly but with exceptional obedience, following only where you want it to go, and doing so eagerly without falling into a turn too far at low speed or running wide when pushed hard. This gets you feeling right at home as soon as you're on board, which is a great start.


The big-piston forks (with rebound and compression damping adjustment screws conveniently set into the top) are supple and surprisingly soft at first See Big Piston Fork feature here, but they don't need to be any harder as the front end doesn't dive as suddenly as with conventional forks even when you slam on the brakes. Nor does this make the GSX-R especially reluctant to turn in initially, something you might expect as another BPF-equipped bike, Kawasaki's Ninja 600, does need noticeably more effort to change direction on the brakes. Instead, the GSX-R simply turns in and at the same time, soaks up bumps and imperfections with impressive nonchalance.

The back end with the standard set-up doesn't work quite so well. Give the bike plenty of throttle coming out of a turn and the rear end becomes choppy, pogoing and squirming and generally feeling rather loose. The solution recommended by John Reynolds, the three times British Superbike champion and now Suzuki ambassador and development rider (he was involved in the GSX-R K9 programme), was to increase the rear preload: two full turns of the preload collar pretty much does the trick, calming down the back end and allowing you to apply more power without the bike getting out of shape. This is a better solution than increasing the damping as it means the suspension is not being worked so hard.

The need to do this depends on the rider's weight: as standard the GSX-R is set up for relatively light riders, but heavier ones settle the back end down too far and the ride height needs to be brought back up to compensate before the rear end works at its optimum. But once it's right the GSX-R drives out of a turn with satisfying speed and no particular tendency to run wide either.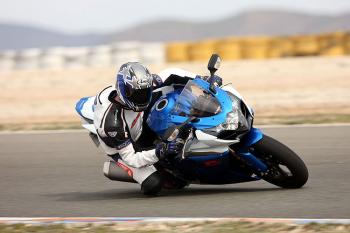 Almeria circuit is an especially twisty one, so much so that most of the back half of the venue is taken in second gear with little braking, and all the action involves flicking the bike left to right to left and so on, and the GSX-R is certainly agile enough to cope. But is it as eager as the Fireblade or the definitive gazelle of the superbikes, the ZX-10R Ninja? It's close, but maybe not quite there. It'll take direct back to back tests to confirm this but my impression is that the GSX-R is just a touch more stable and a tiny bit less willing to change direction than a Fireblade. It's not a big difference but this will probably lose it a little time in track tests, although on the roads the additional stability is if anything an advantage. Or it would be if the Honda wasn't so good on the roads too.

The motor is a match for the Blade in outright power turns, but GSX-R fans will mourn the loss of that stunning low rev torque which was such a major asset to the K5. On the track it's not an issue – keep the motor spinning between 9,000rpm and its 13,800rpm red line and the bike's massively fast with a liquid delivery that makes using the huge output to the full is very easy. Maybe too easy... one element that seems to have been lost in the sophistication of the bike is the raw excitement you'd expect from so much performance. Instead, at the press launch riders were coming in making compliments about it when they should have been jumping up and down and swearing their adrenalin levels back down again. It's less obvious on the roads, where anything as fast as this can turn you into a gibbering wreck in seconds, but even then the snarling edginess of older GSX-Rs does seem to have been filtered out. Then there's that lower torque level: twist the grip at 3,000rpm and there's not much of a response (for a one litre superbike... let's keep this in perspective, it'll still out-accelerate most other things on the road, even at this level), and the action doesn't really start until 7,000rpm, which would be fine if only older Suzukis hadn't been able to crick your neck at not much more than idle.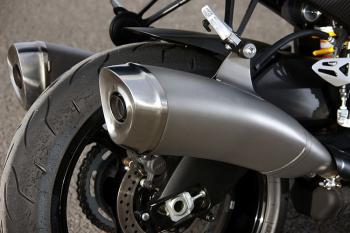 Still, the engine is melted-chocolate smooth, it does exactly what the twistgrip is asking for and judging by previous big Suzukis it'll probably reward gentler use with good fuel economy too.

As for those brakes, the power and feedback are absolutely immense. Two fingers are all you need to strip the tread off the Bridgestone BT-016 rubber, yet the set up is not intimidatingly ferocious in road use. But even though Almeria only has two significant braking points the stoppers were showing some signs of fade. This didn't happen on the track (not to me anyway...) but after the bikes returned to the pitlane, where the flow of cooling air stopped but heat from the callipers was still being conducted into the fluid. That's not a problem in itself of course as the bikes were already stopped by then, but it does suggest in situations where more frequent and harder brake use is required it could become an issue. We'll let the jury stay out on that one.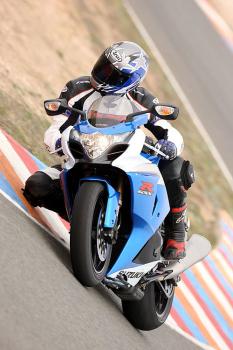 There's no question the K9 is a better bike than the K7, which never felt entirely natural. The new model is very easy to get on with the moment you wing a leg over it, with intuitive steering, utterly faithful responses from the engine, huge yet controllable power and some of the best suspension you'll get on any bike from any manufacturer. It just doesn't quite excite in the way you'd hope, certainly not in the manner the mad new R1 seems to be doing, and I suspect if there's a gap between GSX-R and Fireblade on the track, it'll be in favour of the Honda. I'm prepared to be wrong (no really, I am...) as judging rival bikes at alternative locations in different conditions is hardly definitive, but that's certainly the way it's looking.

Another way of seeing the K9 is as a better bet for less experienced riders, but that's not really what GSX-R should stand for, is it? But I mentioned perspective before, and it's worth doing so again: if you're a better rider than your mate with an R1, Blade or Ninja, then you'll still beat them on the track, unless you were incredibly well matched to start with. And on the road, where most of us do most of our riding, being fastest is all about bottle and stupidity anyway – a nutter on a scooter will see off a GSX-R rider in traffic if he's idiotic enough. What really matters surely is riding satisfaction and excitement: the GSX-R gets top marks on the first, although it falls down a little on the second. Well, as much as a 180mph superbike ever can...

Price: £9,800

Available: March 26, 2009

Contact: Suzuki (GB), brochure hotline 0845 850 8800; Customer services: 0500 011959, www.suzuki-gb.co.uk

Related Technical Features:
* Full GSX-R1000 K9 technical appraisal



Specifications
Mon, 09/03/2009 - 22:19
#1
I received word last week that my 2009 GSXR 1000 will be here in mid to late April. I can't wait to get on that bad boy and hit the open roads.
Recent comments
In HONDA NC700X, kharli wrote:

In HONDA NC700X, kharli wrote:

In HONDA NC700X, Grump wrote:

In HONDA NC700X, kharli wrote:

In Lest we forget..., Captain Scarlet wrote:

In Captain Scarlet's next bike, malauder wrote:

In Captain Scarlet's next bike, Captain Scarlet wrote:

In Benelli 750 SEI, CCM wrote:

In Benelli 750 SEI, Gekom57 wrote:

In Benelli 750 SEI, Gekom57 wrote:

In Captain Scarlet's next bike, Grump wrote:

In Captain Scarlet's next bike, Navy Boy wrote:

In Captain Scarlet's next bike, Captain Scarlet wrote:

In Captain Scarlet's next bike, Grump wrote:

In HONDA NC700X, Grump wrote:

In Lest we forget..., Navy Boy wrote:

In Lest we forget..., unconventional rebel wrote:

In Captain Scarlet's next bike, unconventional rebel wrote:

In HONDA NC700X, unconventional rebel wrote:

In Lest we forget..., davvy wrote:
Donate to the Kevin Ash Fund
Kevin's funeral was held on Thursday 28th February 2013 and was well attended by family, friends and colleagues.
The Telegraph has very kindly established The Telegraph Kevin Ash Fund to assist with the education of Kevin's three daughters.
If you'd like to make a donation then you can use the PayPal 'Donate' button below which will allow you to donate from your PayPal account, or via credit or debit card. A small percentage (about 3.4%) will be retained by PayPal for the service.
Kevin's family have been touched by the generosity and messages of support from people using the website and would like to express their gratitude to those who have contributed in any way.
The donations keep coming in, thank you so much, and the family especially like it when you leave a message.