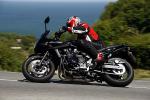 By Kevin Ash
Pictures: Jason Critchell

Suzuki's ubiquitous Bandit started life back in 1995 as the machine which showed budget middleweights could sparkle as they delivered their all-round riding duties, something the bike which propagated the class, Yamaha's Diversion 600, signally failed to do. The Bandit, a 600 then, had the big advantage then of being powered by a mildly detuned version of the GSX-R600 sports bike's engine, lending it a sporting edge and image which added to and defined its portfolio without detracting from its general ease of use.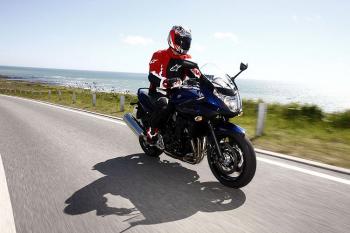 Click on image for gallery - Bandit 650S images
The Bandit then evolved, through the default expedient of standing still as the rest of the world moved forward, into a softer, easier but increasingly unsophisticated machine that leaned more and more on its low showroom price to sustain its popularity. It wasn't quite the kid at school who buys his mates with sweets, but without its low, low price tag it would have been comprehensively outshone by the Yamaha and Honda competition. Finally, in 2005 the capacity was upped to 656cc, after a decade in which new colours and a dash of pseudo-chrome were as near as it got even to a facelift, and in the last two years still the middleweight Bandit has still been popular. And rightly so, as in 2005 the 650 Suzuki was nearly a fifth cheaper than the Yamaha Fazer. You can forgive a lot for that, and there wasn't a lot to forgive.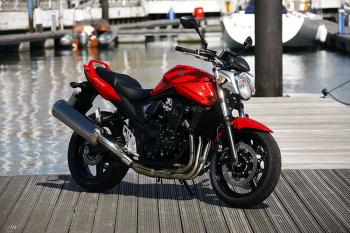 Click on image for gallery - Bandit 650 imagesTwo years on, and a dozen years since the Bandit first stole our hearts, it was thoroughly renewed. Grudgingly, I'm sure, as Euro 3 emissions rather than flagging sales finally outlawed the old oil and air-cooled motor and its bank of carburettors, at the same time severing the connection with the GSX-R range.

That and the chassis are unchanged for 2009, and instead the latest Bandit benefits from a range of cosmetic updates, The faired S version gets new, sleeker upper bodywork incorporating some handy though not lockable storage compartments. The unfaired Bandit gets an updated headlight, while both now have a black engine finish, new clocks, silencer, tail section and smaller detail changes. As before, the Bandit S comes with ABS as standard while the Bandit does without – there are no options so if you must have ABS then you'll also get the fairing.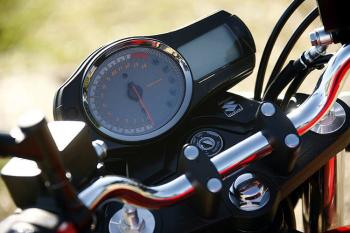 The liquid-cooled and fuel-injected engine was always a whole lot better than its predecessor, even aside from the improved environmental credentials, and two years on it still feels good. Fire it up and it settles down into a creamy idle that sets the scene for what's to come. Where the old bike could be rough and vibey, this is far smoother, with no hesitation either when warm or as it heats up. The spread of torque is wide, which suits everyday riding very well, allowing easier overtakes and general gearbox laziness, but it's also a lot more willing to rev, a particular weakness of the air-cooled version. It'll take you to close to the 12,500rpm red line willingly enough, although changing up through the typically Suzuki-slick gears a little earlier is more rewarding, and the 84bhp peak output is enough for lively performance, if not GSX-R territory.

Partly too that's because it's heavy: at 474lb (215kg) before fuel or oil are added it's a small pillion more massive than a supersport machine. In fact you often notice this in a positive way on the Bandit S as a secure, dependable platform with slow but steady steering and a decent ride quality, even if outright performance is diluted to some extent. And it's a well balanced machine too, so parking manoeuvres and low speed traffic jam jostling aren't intimidating. The naked Bandit feels surprisingly different, with faster steering and improved agility but a more fidgety ride quality and a decreased sensation of security.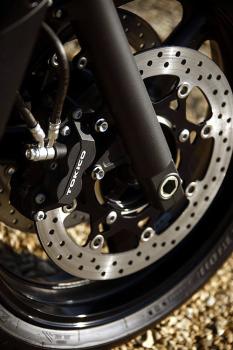 The brakes were uprated in 07 and they cope with the mass and speed effectively. There's some deadness in the way they feel but they offer reassuring power and none of the initial fierceness of sportier stoppers, while the suspension is a major improvement on the pre-07 model. Before, it was overly soft and lacked control when pushed, but the new bike retains the old one's plushness while coping much better with harder use. Throw it into a corner hard and it maintains a tight line rather than running wide, keeping control instead of wallowing when faced with bumps and rapid direction changes.

For distance work the Bandit S is the only sensible choice of the two as like any naked bike, the Bandit is too windswept at speed. In fact, the Bandit S is all the motorcycle that many riders will ever need, being plenty fast enough with good comfort, decent pillion accommodation and a fine blend of sporting and touring ability with exceptionally good low speed balance that makes commuting a pleasure.

You can even adjust the seat height, although it's a shame the adjustment facility is so time-consuming – it'd take 20 minutes of spanner work, and many riders will simply leave this to their dealer, although granted, it's not something you'd need to do regularly unless you share your bike with someone.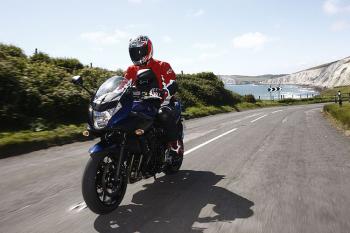 The changes aren't extensive but they are effective in bringing an air of sophistication and modernity to the Bandit. The old bike's clocks for example looked like a budget bike's where the new appear purpose built without the same concern for price. You do get span-adjustable levers as well as 24,000 km major service intervals. All that really needs to be watched is the overall size of the bike, which might be a bit much for shorter riders, and historically the finish of Bandits has been prone to corroding more than most Japanese machines.

And look at what it costs. It's not the no-brainer bargain basement steal Bandits have sometimes been in the model's long history but still, for the £4,999 and £5,500 the two versions cost, you're getting a hell of a lot of extremely capable all rounder and now better looking motorcycle for your money.



Price: £4,999 (Bandit GSF650), £5,500 (Bandit GSF650S)

Available: now

Contact: Suzuki (GB), brochure hotline 0845 850 8800; Customer services: 0500 011959, www.suzuki-gb.co.uk



Recent comments
In HONDA NC700X, kharli wrote:

In HONDA NC700X, kharli wrote:

In HONDA NC700X, Grump wrote:

In HONDA NC700X, kharli wrote:

In Lest we forget..., Captain Scarlet wrote:

In Captain Scarlet's next bike, malauder wrote:

In Captain Scarlet's next bike, Captain Scarlet wrote:

In Benelli 750 SEI, CCM wrote:

In Benelli 750 SEI, Gekom57 wrote:

In Benelli 750 SEI, Gekom57 wrote:

In Captain Scarlet's next bike, Grump wrote:

In Captain Scarlet's next bike, Navy Boy wrote:

In Captain Scarlet's next bike, Captain Scarlet wrote:

In Captain Scarlet's next bike, Grump wrote:

In HONDA NC700X, Grump wrote:

In Lest we forget..., Navy Boy wrote:

In Lest we forget..., unconventional rebel wrote:

In Captain Scarlet's next bike, unconventional rebel wrote:

In HONDA NC700X, unconventional rebel wrote:

In Lest we forget..., davvy wrote:
Donate to the Kevin Ash Fund
Kevin's funeral was held on Thursday 28th February 2013 and was well attended by family, friends and colleagues.
The Telegraph has very kindly established The Telegraph Kevin Ash Fund to assist with the education of Kevin's three daughters.
If you'd like to make a donation then you can use the PayPal 'Donate' button below which will allow you to donate from your PayPal account, or via credit or debit card. A small percentage (about 3.4%) will be retained by PayPal for the service.
Kevin's family have been touched by the generosity and messages of support from people using the website and would like to express their gratitude to those who have contributed in any way.
The donations keep coming in, thank you so much, and the family especially like it when you leave a message.