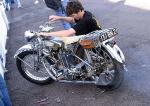 By Kevin Ash
Pictures: Kevin Ash, Rick Kemp
There are ten minutes to go and I'm not even changed yet. But what to wear is not the issue, this is the famously relaxed Coupes Moto Legende, where scrutineering amounts to a Gallic shrug, a smile and a nod. The only concession to safety we've had to make is to remove the ladder from my bike. Seriously.

No, I'm nervous because I have never even seen a 1929 Terrot HSSE before, let alone ridden one, and there are so many sticks and levers to pull, twist, slide or push I feel like I'm about to wrestle with Edward Scissorhands. "But I sink you 'af experionce wizz zese?" says the bike's handler, Arnaud Farizon. Dave Selby, Moto Legende's UK press representative and organiser of my ride, is staring at the floor and shuffling uncomfortably: "Well, you wanted to ride something interesting, and you do have a lot of experience of motorcycles." Yes Dave, post-war ones. New ones, for goodness' sake."I got you the ride didn't I?"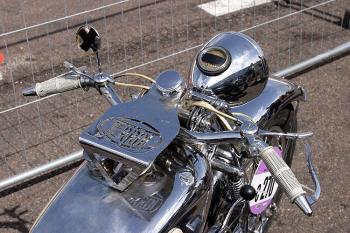 Click on image for gallerySeven minutes to go and I'm trying to change into some vaguely suitable clothing as Arnaud discovers he doesn't know the English for anything that any of these levers do. But the odds improve slightly when he tells me that whatever happens, I mustn't touch that one. Or was it that one? Five minutes, and we're shouting now, if only to confirm we can't understand each other even when we can hear the words properly, as the paddock is filling with about 80 ancient and obscenely noisy motorcycles, queuing eagerly to ease those aching pistons around the Circuit Dijon-Prenois.

There'll be no losing me in the hoarde though. My bike is no ordinary 1929 Terrot HSSE – H for 350cc, SS for Super Sport (how times have changed) and the E for enclosed valves. This is a famous one, the tool of legendary stunt team Raymond Vermot-Desroches, Georges Vial and Maurice Boulard in the 1930s – hence the ladder – and for the act the entire machine had been nickel plated. Whichever, I couldn't have stood out more in the crowd of old black motorcycles if I'd circulated on the electric blue GSX-R1000 I rode to Dijon on.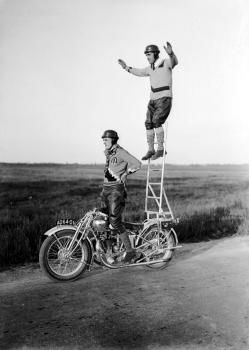 Raymond Vermot-Desroches and Maurice Boulard in 1932Vermot-Desroches and Vial started their Acrobates Motocycliste stunt riding show in France in November 1929, but in the summer of 1930 Georges fell and broke a collar bone, an injury which kept him out of action for some time. M. Degy, their manager and apparently a hard man, accused him of not honouring his contract and took on rugby-playing acrobat Maurice Boulard, who with Vermot-Desroches went on to tour across France and Belgium, the two becoming nationally famous for their act.

Appropriately, both were based in Dijon, which was also home of Terrot motorcycles, and the company soon saw a marketing opportunity and supported them, including nickel plating their entire machine.

Three minutes, and the famous Terrot fires up. Okay, that lever might be the throttle, pulling it persuades the metronomic adagio idle to give way to an allegro beat. It'll be hitting the red line then. This one on the left, that's the clutch, I saw Arnaud use that. Aha, and that's the front brake, just where it should be too. Just as well, as the rear is behind the left footrest and I can't bend my leg far enough to move it. The good news is, neutral is between first and second and the change is up for up, like a modern bike. The bad news is, you do it by hand.

One minute to go, I've chugged up the pitlane once with all the tonk-tonk urgency of a Norwegian fishing boat, and everyone's lining up for their first 20 minute session.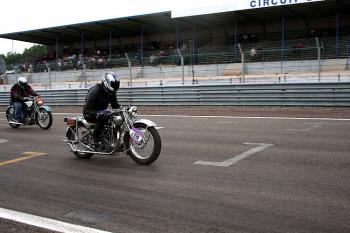 Anyone can do this, and at prices which should make British track day organisers hang their heads in shame. Really old bikes are 45 euros, owners of more modern ones, up to about 30 years old, pay 135 euros for three 20 minute sessions over the weekend, two entry tickets and car parking. The only problem is getting an entry among the 1000 machines that go out over the two days: book in the summer for the following year, but bear in mind they also choose entrants to ensure an eclectic mix so the grid doesn't become packed with Gold Stars or Bonnevilles. Having a 1920s circus bike is a good start, and you won't be the only Brit as a quarter of the entrants are foreign and half of those from the UK. The VMCC (Vintage Motor Cycle Club) comes as a large group and puts on a great display, as well as loaning spanners and wisdom to cure misfiring 1929 Terrot HSSEs. Thank you Jim for discovering why my old mount survived only one very slow lap – oil in the magneto – and almost didn't make the steep hill.

It's a cracking circuit with big elevation changes, a great mix of corners and a long straight (very, very long when you're lapping in 3m 25s). As the successor to Montlhéry, previous home of the Coupes Moto Legende, Dijon is near ideal, especially as the town once was home to France's largest motorcycle manufacturer, Terrot. There's a huge amount of space, enough for the many who camp and 30,000 or so visitors plus all their vehicles, the displays and large autojumble, and good facilities too.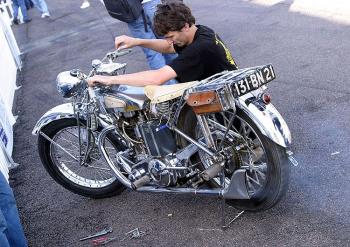 Second time out with a cleaned magneto and newer plug (only 50 years old, this one) and my very shiny little Terrot was running sweetly. Turn one, a long fast right hander littered with bits of mudguard and it's third (top) gear, winding the power on to drive out to the left-right turns two and three. Take these in, um, third, leave the throttle stick where it is and take a line to the left of a piece of crankcase laying on the track. Turn four, that'll be third gear then, and mind the detached footrest sitting at the apex. Turn five, you take that in third and the debris there increases every lap. Wiggle the throttle stick a bit too. Turn six is a tight right hander, best gear for this is third… but, there's a steep hill on the exit, and you need... second! to get up it. This is tough, the shift to second with a hand change takes me so long, by the time I've done it I really need first. I make it to the top though, unlike a Thirties Magnat-Debon retired against the Armco after failing to make the gradient (Rossi never has this problem), then it's back to third for the rest of the long track.

Participating or not, this is a fabulous event, refreshingly free of the bureaucratic safety disease which stifles so much that's fun this side of the Channel. And don't forget the food and wine…

* A huge thanks to Arnoud Farizon and the Arbracam Motorcycle Club for letting me loose on their precious, charming machine.

Contact: +33 1 60 71 55 15 www.coupes-moto-legende.fr

* MSL Tours: I travelled to Dijon with MSL Tours, although this was much more hands-off than most of their tours. They provided a hotel, a recommended route, ferry crossings and on one day, a hospitality suite with lunch at the circuit, otherwise for most riders the trip there and back was down to them. So why bother? In fact as several pointed out, they did try to book things independently but it worked out more expensive, there was no hospitality and they'd have missed the like-minded company. MSL Tours has a range of long and short tours around Europe, some aimed at novices to foreign riding and most with a guide. And they do it well.

Contact: 01732 367441 www.msltours.co.uk


Wed, 24/12/2008 - 13:15
#1
shuggiemac
Offline
As we head into 2009, it makes you realise what a difference 80 years makes. The 1929 Terrot with, what sounds like, a similar amount of controls to your average steam engine and now we have the Aprilia Mana, Honda DN-01 etc trying to make motorcycles have as few controls as possible. I guess even a choke lever and a fuel tap are rapidly becoming things of the past. I wonder what will be next to a) go and b) arrive?
P.S. - Sorry am not visiting as much right now as I am back home in the UK visiting family for Christmas and it is a tad anti-social to spend too much time on my Dad's computer!
Recent comments
In HONDA NC700X, kharli wrote:

In HONDA NC700X, kharli wrote:

In HONDA NC700X, Grump wrote:

In HONDA NC700X, kharli wrote:

In Lest we forget..., Captain Scarlet wrote:

In Captain Scarlet's next bike, malauder wrote:

In Captain Scarlet's next bike, Captain Scarlet wrote:

In Benelli 750 SEI, CCM wrote:

In Benelli 750 SEI, Gekom57 wrote:

In Benelli 750 SEI, Gekom57 wrote:

In Captain Scarlet's next bike, Grump wrote:

In Captain Scarlet's next bike, Navy Boy wrote:

In Captain Scarlet's next bike, Captain Scarlet wrote:

In Captain Scarlet's next bike, Grump wrote:

In HONDA NC700X, Grump wrote:

In Lest we forget..., Navy Boy wrote:

In Lest we forget..., unconventional rebel wrote:

In Captain Scarlet's next bike, unconventional rebel wrote:

In HONDA NC700X, unconventional rebel wrote:

In Lest we forget..., davvy wrote:
Donate to the Kevin Ash Fund
Kevin's funeral was held on Thursday 28th February 2013 and was well attended by family, friends and colleagues.
The Telegraph has very kindly established The Telegraph Kevin Ash Fund to assist with the education of Kevin's three daughters.
If you'd like to make a donation then you can use the PayPal 'Donate' button below which will allow you to donate from your PayPal account, or via credit or debit card. A small percentage (about 3.4%) will be retained by PayPal for the service.
Kevin's family have been touched by the generosity and messages of support from people using the website and would like to express their gratitude to those who have contributed in any way.
The donations keep coming in, thank you so much, and the family especially like it when you leave a message.