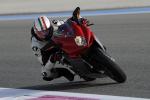 When Claudio Castiglioni bought MV Agusta back from Harley-Davidson in the summer of 2010 he must, surely, have wondered at his good fortune.
Harley had cleared much of the debt, improved production processes, almost completed development of the new F4 and Brutale models, and the all-new F3 development was well under way. All that had to be done was finish that off, sustain the Brutale 675 programme and MV would have the growing and very credible range that it`s always needed.
The F3 in particular is very important to MV as it moves the badge down into a more affordable sector, with the promise of improving sales numbers and with those, the economies of scale and the viability of MV Agusta generally. There`s certainly plenty of promise, in fact the bike is designed to move the whole supersport 600 class forward with its phenomenal 126bhp (128PS, 94.2kW) power output - almost 190bhp per litre - its very high specification and its stunning good looks. On the track, 675cc triples like the MV and Triumph Daytona 675 are allowed to compete with 600cc four-cylinder machines, hence the Italian bike`s capacity.
The engine has a very short stroke of 45.9mm compared with its 79mm bore, which allows the fitment of big valves and lets it rev to a howling 15,000rpm, both important factors in achieving the high power output. It`s also notable for having a crankshaft that rotates backwards, which is supposed to help the performance by reducing the tendency to wheelie and counter the gyroscopic forces of the wheels, improving agility and handling response.
The MV Agusta F3`s engine is extremely compact, to the point where both the oil and water pumps are contained within the crankcases to minimise external fittings and pipework. The valves are all titanium, but unlike the F4 a more conventional Cosworth-type pent roof combustion chamber is used where the exhaust and inlet valves are arranged in parallel pairs. On the F4 the valves are arranged radially, but the skew-ground cam lobes this layout demands and machining the heads are all costly and too much for the F3.
The electronics are as impressive as the engine technology. The bike features an eight-level traction control system which is considerably more advanced than the fairly basic system on the F4, there`s also launch control, anti-wheelie, electronic engine braking control and quick-shift gear changing, an unprecedented package in this class, while the suspension is high quality equipment from Marzocchi at the front and Sachs at the rear.
The beautiful bodywork was styled by MV`s British designer Adrian Morton, and very clearly inspired by the 1000cc F4 on which he also worked. Morton is also responsible for the bike`s ergonomics, which are modern and spacious, not placing too much weight on your wrists nor cramping your legs too much, an especially pleasant surprise for taller riders.
It`s a gorgeous looking motorcycle with a mouth-watering specification, which makes the riding experience all the more disappointing, and the problems start as soon as you pull away. The engine has a hard edged rasp that`s unique and compelling, but as soon as you let the clutch out the motor revs unpredictably. You might fire off the line smartly or it could bog down or even stall, then as you try and roll along at a steady low speed, the MV Agusta F3 simply won`t behave, either accelerating or slowing down, and all the time misfiring as if it`s trying to clear its throat.
It gets better once the road opens up and you can work it harder. From 6,000rpm it starts to feel like it should, smoother and more predictable, and the power begins to flood in too, until by the time you`re into double figures the bike is absolutely flying - it`s much lighter and substantially more powerful than an original Honda Fireblade, and no one would accuse one of those of being sluggish.
If you only ever had to rev the MV it could get away with this, but this is a road bike, not a track-only one, and the lurching, stuttery delivery in urban situations is simply unacceptable. MV says this is because the fuel mapping isn`t yet finished, and even as I was riding the bike on the roads around the MV Agusta factory in Varese, northern Italy, a new and better map was only two or three days away. It wasn`t going to be the final one though, with plans for two or three more in the pipeline.
With that being the case, the bike should not have gone on sale until it was done - it`s hardly cheap at £10,000, but bikes which cost a fifth of that don`t have a problem like this. Price, category, intended use, none of these are an excuse or reason.
What makes it more of a shame is just how good the handling is. The bike is utterly tactile and beautifully agile, a true rider`s machine that`s an absolute joy to fling through a series of bends. The suspension is quite firm, as it should be, but there`s plenty of adjustability, while the Brembo brakes offer huge power with exceptional control. With the road clear, out of town and the revs up you start to enjoy how this bike was meant to be.
Then it throws something else at you, at least if you`re in Sport mode. Shut the throttle from higher revs and the braking control can sometimes open the throttle, giving you the feeling that the bike has just dropped out of gear. It makes judging bends and diving into gaps in traffic disconcerting at best, possibly even dangerous as you suddenly find yourself charging towards the back of a car.
The MV Agusta F3 will be a stunning and maybe even class leading bike when it`s finished, although Triumph`s seductive Daytona 675R is going to take some beating even by a fully sorted F3, thanks to its superior torque and mid-range. But the Italian bike still needs a lot of work doing, quite simply it shouldn`t have gone on sale yet. Beautiful, with huge potential but for now, fatally flawed.
Specifications
Model tested: MV Agusta F3
Price: £9,999
Available: now
Engine: In line three cylinder, liquid cooled, dohc 12v, 675cc
Power: 126bhp (128PS, 94.2kW) @ 14,400rpm
Torque: 52lb.ft (7.2kgm, 71Nm) @ 10,600rpm
Economy: n/a mpg
Tank/Range: 3.5 gallons (16 litres, 4.2 gallons US) / n/a miles
Transmission: Six gears, chain final drive
Chassis: tubular steel/cast aluminium sideplates
Seat height: 31.7in (805mm)
Wheelbase: 54.3in (1380mm)
Rake/trail: n/a
Weight: 381lb (173kg) dry
Recent comments
In HONDA NC700X, kharli wrote:

In HONDA NC700X, kharli wrote:

In HONDA NC700X, Grump wrote:

In HONDA NC700X, kharli wrote:

In Lest we forget..., Captain Scarlet wrote:

In Captain Scarlet's next bike, malauder wrote:

In Captain Scarlet's next bike, Captain Scarlet wrote:

In Benelli 750 SEI, CCM wrote:

In Benelli 750 SEI, Gekom57 wrote:

In Benelli 750 SEI, Gekom57 wrote:

In Captain Scarlet's next bike, Grump wrote:

In Captain Scarlet's next bike, Navy Boy wrote:

In Captain Scarlet's next bike, Captain Scarlet wrote:

In Captain Scarlet's next bike, Grump wrote:

In HONDA NC700X, Grump wrote:

In Lest we forget..., Navy Boy wrote:

In Lest we forget..., unconventional rebel wrote:

In Captain Scarlet's next bike, unconventional rebel wrote:

In HONDA NC700X, unconventional rebel wrote:

In Lest we forget..., davvy wrote:
Donate to the Kevin Ash Fund
Kevin's funeral was held on Thursday 28th February 2013 and was well attended by family, friends and colleagues.
The Telegraph has very kindly established The Telegraph Kevin Ash Fund to assist with the education of Kevin's three daughters.
If you'd like to make a donation then you can use the PayPal 'Donate' button below which will allow you to donate from your PayPal account, or via credit or debit card. A small percentage (about 3.4%) will be retained by PayPal for the service.
Kevin's family have been touched by the generosity and messages of support from people using the website and would like to express their gratitude to those who have contributed in any way.
The donations keep coming in, thank you so much, and the family especially like it when you leave a message.