By Kevin Ash
Pictures: Milagro




There is still an aura surrounding the name MV Agusta that no other motorcycle manufacturer can match, a combination of money, glamour, exoticism, authenticity and history that is unique and outstanding. Yet the name was only bought in 1992, after a dormant 15 years, by Ducati's then owner Claudio Castiglioni and the first bike of the modern era, the 750cc F4, appeared a dozen years ago. Before then of course MV Agusta established its reputation in the Fifties, Sixties and into the Seventies as the supreme grand prix racing force, until finally eclipsed by the sheer size of Honda, producing the occasional very expensive road bike almost grudgingly.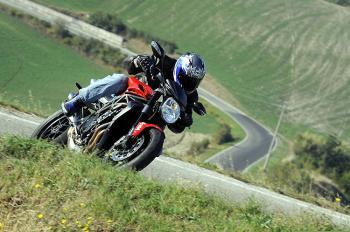 Click on image for Brutale 1090RR galleryThen in 1997 the Tamburini-designed F4 appeared to acclaim as probably the most beautiful motorcycle ever made. It was later taken out to 1000cc and even today, despite the creaking age of the design, is still the fastest of all the superbikes, Japanese or Italian. And as in so many other instances, a naked street bike version was produced – in MV Agusta's case, it was called the Brutale, also designed by Tamburini, and like the F4, it was very fast, sharp handling and something of a pig to ride.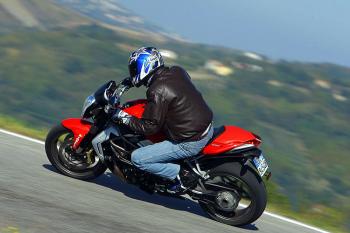 Click on image for Brutale 990R galleryMV has never really had enough money to fully develop its bikes, and while the Ferrari-designed engine was hugely powerful, it was also harsh, hard-edged and difficult to use effectively, while the ergonomics of the bike were hardly on the rider's side either. The Brutale inevitably was no different, and while this gave the bikes a reputation as being for the cognoscenti only, in practice it meant MV didn't sell many.

MV Agusta was not well managed anyway, its troubles grew deeper and last year Harley-Davidson saw an opportunity to move into the sports bike market in which its own sub-division Buell was not making a strong impression. The Americans bought MV and everyone held their breath.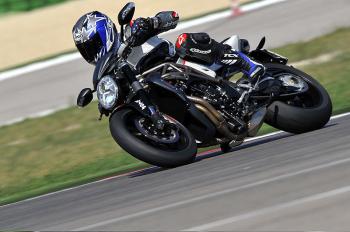 The new Brutale is the first bike to come out of the new regime, and the signs are very good indeed. The looks have changed very little, even though MV says 85 per cent of the bike is new including the bodywork, and nothing wrong with that as this is an aggressive, distinctive and very stylish motorcycle. But the ride is an entirely different and much more rewarding experience: it's still fast, but now it's friendly too, and MV's new aim of creating a machine you could switch to comfortably from a Honda, Yamaha and so on has been achieved.

There are two versions, the 990R and 1090RR which differ in capacity - 998cc and 1078cc - as well as suspension specification (high and low speed damping adjustment at the rear with remote reservoir for the RR), a slipper clutch, monobloc front Brembos and lighter and stronger wheels for the RR. Otherwise the two versions are more or less identical.

Despite the figures and some claims you'll read elsewhere, the Brutale is more powerful and lighter than the old model, although the specifications do suggest the opposite: 154bhp for the old model for example and 144bhp for the new. The reason is simply that the new owners have also brought in a new honesty about the numbers, among other things.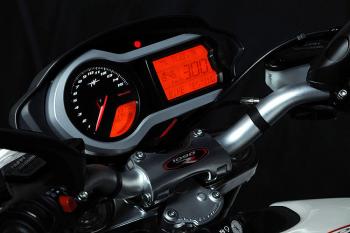 That 85 per cent of change includes a new bottom end for the engine, although the signature radially-arranged valves and cylinder head are retained, a significantly revised frame, new wheels, swingarm and engine management. Read the full technical lowdown here from late on Friday October 2.

What matters most is what it's like to ride, and here the MV is going to win over a whole raft of new fans. Although it's quite a compact bike, now there's room enough even for taller riders without nasty leg cramps or wrist contortions,, and the new found comfort is enhanced when you get rolling by the beautifully plush suspension. Both bikes feature Sachs rear shocks and MV-designed, Marzocchi-produced forks but the 1090RR's are higher quality, and that does show on the track and on bumpy back roads, where the poise and control of the higher spec bike are very impressive. The 990R isn't bad, but neither is it as good, the differences showing as a more choppy ride quality and poorer stability at high speed and under heavy braking. The 1090 isn't really a track bike but it copes well with circuit use, although there's a fair amount of dive when the Brembo stoppers are stretched, and you do notice the bike's weight. It might well be lighter than the old model but it's still a fair bit heftier than some of the competition such as Ducati's Streetfighter.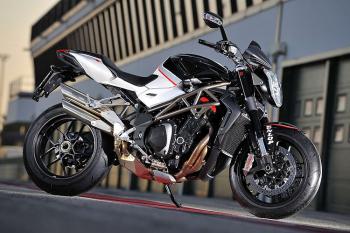 You get a lot more power from the Brutale though, and it shows at all speeds because this is a very torquey power unit, pulling hard from little more than idle. The rasping snarl that accompanies big throttle openings is very Italian, almost Alfa Romeo in its quality with more volume and quite distinct from Japanese fours. What you also get is a newfound smoothness thanks to the addition of a counterbalance shaft, and sure enough you only notice vibration when you're looking for it. And it loves to pop the front end into the air on throttle alone in first and with only a quick dip of the clutch even in second.

The motor keeps thrusting you forward as the revs rise until it's howling towards the red line and accelerating ferociously, although the power does tail off noticeably at the very top. The throttle response is imperfect however, with an old-fashioned suddenness in delivery from throttle off to on, as you're feeding the horses back in from the overrun. The 990 is worse, although the test bikes did have an interim engine map before the final tune is arrived at in a few weeks. While it's common for companies to promise better for production, MV engine designer Andrea Goggi was so specific about the changes he's making – a quarter turn of the air screw apparently improves response but reduces engine braking unacceptably – that I'm sure they really will be better on arrival in the UK in December. Maybe not perfect, but still acceptable in this respect, and no doubt continuing to be excellent in others.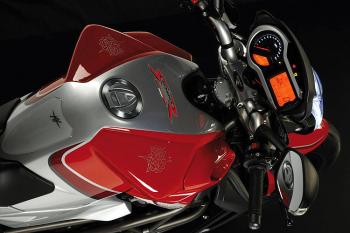 There's a new party trick with the motor, a rider-adjustable traction control system. This works entirely by looking for unexpected spikes in crankshaft speed, as caused when the rear wheel suddenly loses grip, and when it sees them it retards the ignition to reduce power. It works with astonishing smoothness, so much so it took me a long time even to be convinced it was working at all, and when I decided eventually it was, it was easier to detect by the rear end moving and squirming rather than any obvious changes in the power delivery. The bottom line is, I didn't flip or highside the bike despite some pretty heavy throttle use mid-corner, so it was doing the job.

The chassis stiffness, weight distribution and balance are changed little from the previous model, and nothing wrong with that as in combination with the even better suspension it's now an outstanding handler. Inevitably the front feels vague at high speeds (more so on the 990) and the bars do flap around under power out of bumpy corners, although the 1090's rotary steering damper calms this where the 990 has to manage without. But still the Brutale makes a better track bike than the Hypermotard for example. You do notice the extra weight (compared with some rivals) though, and while on a high speed circuit like Misano where we tested the bikes it's not a big issue, on tight roads with unpredictable corners you sometimes feel you're really wrestling the machine – despite the light steering it still takes effort to change direction fast. It's beautifully neutral though with excellent balance at very low speeds.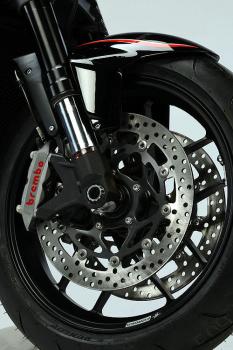 As for stopping it, the fierce looking radial Brembos in fact offer very usable and controllable power. There's plenty of it but not so much as to intimidate.

But for all the dynamic excellence of the Brutale, the real gain is in its sophistication and user friendliness compared with the old model, and in this respect more than any other it's progressed enormously. It's not going to alienate riders like the old one did, but it's still going to excite them, and it still wears that very special badge too.

All of which bodes very well for the forthcoming F4, and for the future of MV Agusta under Harley-Davidson.



Price: £14,000 approx (1090RR), £12,000 (990R)

Available: December 2009

Contact: MotoGB Ltd, 0844 412 8450 www.mvagusta.co.uk



Fri, 02/10/2009 - 08:56
#1
shuggiemac
Offline
Have the changes resulted primarily from an injection of financial and organisational resource by H-D into basically the exisiting Italian set up, design team etc or have Harley stuck a whole draft of their own people in there too?
.
One thing that put me off MV when I was looking at buying a super sports bike was the horrific servicing costs and bare in mind that I bought a Ducati, which still was not cheap on that score. Is this still the case, or was my research at that time flawed, not that it matters now as I do it all myself anyway now the bike is out of warranty.
Recent comments
In HONDA NC700X, kharli wrote:

In HONDA NC700X, kharli wrote:

In HONDA NC700X, Grump wrote:

In HONDA NC700X, kharli wrote:

In Lest we forget..., Captain Scarlet wrote:

In Captain Scarlet's next bike, malauder wrote:

In Captain Scarlet's next bike, Captain Scarlet wrote:

In Benelli 750 SEI, CCM wrote:

In Benelli 750 SEI, Gekom57 wrote:

In Benelli 750 SEI, Gekom57 wrote:

In Captain Scarlet's next bike, Grump wrote:

In Captain Scarlet's next bike, Navy Boy wrote:

In Captain Scarlet's next bike, Captain Scarlet wrote:

In Captain Scarlet's next bike, Grump wrote:

In HONDA NC700X, Grump wrote:

In Lest we forget..., Navy Boy wrote:

In Lest we forget..., unconventional rebel wrote:

In Captain Scarlet's next bike, unconventional rebel wrote:

In HONDA NC700X, unconventional rebel wrote:

In Lest we forget..., davvy wrote:
Donate to the Kevin Ash Fund
Kevin's funeral was held on Thursday 28th February 2013 and was well attended by family, friends and colleagues.
The Telegraph has very kindly established The Telegraph Kevin Ash Fund to assist with the education of Kevin's three daughters.
If you'd like to make a donation then you can use the PayPal 'Donate' button below which will allow you to donate from your PayPal account, or via credit or debit card. A small percentage (about 3.4%) will be retained by PayPal for the service.
Kevin's family have been touched by the generosity and messages of support from people using the website and would like to express their gratitude to those who have contributed in any way.
The donations keep coming in, thank you so much, and the family especially like it when you leave a message.