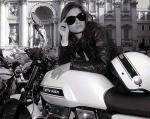 By Kevin Ash
Pictures: Double Red
Moto Guzzi has been having a hard time of it, with sales falling from a low 10,000 or so in 2006 to an even more dismal 8,900 in 2007 – it's amazing after years of these desperate figures and one crisis or takeover after another that the famous old Mandello factory still exists at all.

Yet I've ridden every new Guzzi in recent years, and there's nothing wrong with the bikes – in short, you can't blame the product, so ultimately the management has to be at fault for not improving marketing, distribution, spares back up, the dealer networks and the company's over-strong reliance on the Italian home market, where 50 per cent of its sales are made.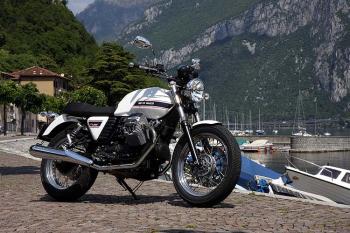 Click on image for galleryNothing wrong with Guzzi's 2008 product either, the V7 Classic, a bike which draws on the company's rich history for its styling, and the existing, proven engine and running gear for its mechanicals. The original 703cc V7 of 1967 was the father of all Guzzi's transverse V-twins, including the accomplished V7 Sport on which the new Classic's look is most closely based, as well as the best known Le Mans sports bikes from the mid-Seventies.

The V7 Classic though is no sports bike but an entry level machine designed to be easy to ride, especially for those moving up to their first big bike. As such it's up against machines such as the Triumph Bonneville, and what a fine job it does. Visually it's an exceptionally good looking bike, with its beautifully styled fuel tank finished to perfection in white with the old V7 Special-style red and blue striping, and the finish is good quality too. The instruments have sophisticated faces in white on black with chrome surrounds, the foot controls and grab handles are chromed or polished and the whole look is well balanced without trying too hard – it gives the Bonneville the air of a real budget bike in comparison.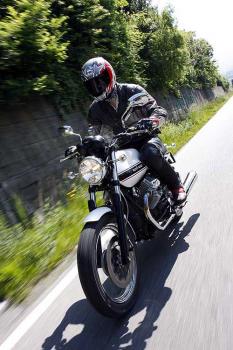 It's not a big motorcycle, making it easy to manoeuvre for the inexperienced but nor is it so small that larger riders feel awkward on it. You could easily consider touring as well as commuting, although inevitably the 48bhp power output means you won't be blasting down autobahns at very high speeds, and two-up with luggage the engine will struggle, especially in hilly terrain. But the motor compensates for its lack of outright horsepower with outstanding flexibility, pulling strongly and smoothly from low rpm, right down to 1000rpm in fact and still the transmission doesn't protest. The power builds steadily from there to the 5000-6000rpm range where the engine is happiest, and although there's some vibration is not really intrusive unless you try revving the motor hard – this isn't rewarding in terms of performance anyway, so that doesn't matter.

What is important is how willing and eager the engine feels, far superior to a Bonneville in this respect. Turn the twistgrip and the bike responds crisply and predictably, making it not only easy to use but fun as well – the low power doesn't seem to matter much. It has character too, burbling away in a friendly manner that's endearing to the rider.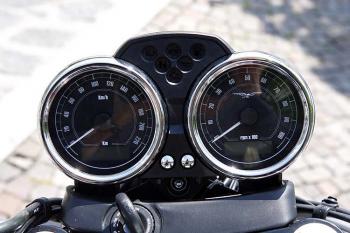 The chassis is as simple as the motor with its tubular steel design – but that's the point of the retro look – and like the engine it works very well. The steering as with all of Guzzi's current 750 twins is exceptionally good, turning the bike sweetly and with perfect neutrality so hairpin bends and mini roundabouts are simple to negotiate without the bike dropping too far into the turn. Raise the pace and the bike remains neutral, offering good stability but still changing direction willingly and reasonably quickly too.

Wind it on and the suspension starts to feel a little stressed, allowing slightly more bounce and wallow than is ideal, but to experience this you have to push the bike harder than the majority of its owners will ever do. In more considered riding the ride quality is good, if a little choppy at the front end, and wheel control in cornering isn't an issue – nor is ground clearance.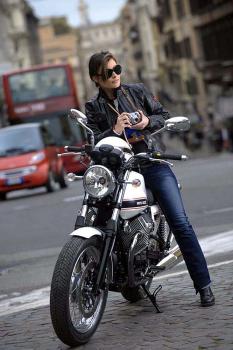 Braking comes from the ever dependable Brembo, so inevitably even with a single disc up front there's sufficient stopping power which is also easy to modulate. Even the rear brake works well, important on a novice bike as new riders tend to favour the rear for fear of locking up the front.

This is one of those motorcycles which adds up to more than the sum of its parts. It's light and easy to ride, well proportioned and good looking, certainly, yet it comes across as quite outstanding in the class, an easy first choice ahead of the Bonneville. In fact, although the base model Triumph is cheaper than the Guzzi, the T100 Bonneville with a higher spec that's closer to the Guzzi's costs more anyway, strengthening the case for the Italian bike even more.

Wed, 09/02/2011 - 03:41
#3
Tortious
Offline
With the recent news of the Moto Guzzi V7 Scrambler, I've been tempted back to this article again. The only problem I have with the V7 Classic is that I look like I dwarf the bike. I'm only 6 ft, but for some reason I seem too big for the bike and I look foolish. Very similar to the way I looked on my 250 Ninja. Therefore, I'm hoping that the Scrambler has a higher seat height. If all else fails, the Stelvio still beckons, but that is a comment for another article:)
Kev,
Thoughts on the upcoming Guzzi Scrambler and California?
Recent comments
In HONDA NC700X, kharli wrote:

In HONDA NC700X, kharli wrote:

In HONDA NC700X, Grump wrote:

In HONDA NC700X, kharli wrote:

In Lest we forget..., Captain Scarlet wrote:

In Captain Scarlet's next bike, malauder wrote:

In Captain Scarlet's next bike, Captain Scarlet wrote:

In Benelli 750 SEI, CCM wrote:

In Benelli 750 SEI, Gekom57 wrote:

In Benelli 750 SEI, Gekom57 wrote:

In Captain Scarlet's next bike, Grump wrote:

In Captain Scarlet's next bike, Navy Boy wrote:

In Captain Scarlet's next bike, Captain Scarlet wrote:

In Captain Scarlet's next bike, Grump wrote:

In HONDA NC700X, Grump wrote:

In Lest we forget..., Navy Boy wrote:

In Lest we forget..., unconventional rebel wrote:

In Captain Scarlet's next bike, unconventional rebel wrote:

In HONDA NC700X, unconventional rebel wrote:

In Lest we forget..., davvy wrote:
Donate to the Kevin Ash Fund
Kevin's funeral was held on Thursday 28th February 2013 and was well attended by family, friends and colleagues.
The Telegraph has very kindly established The Telegraph Kevin Ash Fund to assist with the education of Kevin's three daughters.
If you'd like to make a donation then you can use the PayPal 'Donate' button below which will allow you to donate from your PayPal account, or via credit or debit card. A small percentage (about 3.4%) will be retained by PayPal for the service.
Kevin's family have been touched by the generosity and messages of support from people using the website and would like to express their gratitude to those who have contributed in any way.
The donations keep coming in, thank you so much, and the family especially like it when you leave a message.
Recent Articles
We're familiar with solid-state electronics in biking. Ignition swapped points for transistors in the 1970s, then went digital in the 1990s. Now, the need for greater power, fuel efficiency and emissions control means modern engines only work with computer-controlled fuelling, ignition, combustion and exhaust. When we open the throttle we pull the strings, but the ECU calls the shots. To do it, the ECU needs an accurate view of the world. And it gets it through its sensors.
A gyroscope is a rigid circular or spherical mass rotating around an axis and for over 100 years motorcycles have come with three of them: a front wheel, a rear wheel and a crank (if you're being pedantic you could include cams, balancer shafts, gearbox, clutch etc). The classic mechanical model of a gyroscope ranges from the very small – electrons spinning around an atom's nucleus – to the very large – the Earth.
Most of us have an innate feel for balancing a high centre of gravity on a relatively short wheelbase. Say, like a motorbike. Its centre of gravity is the point at which the sum of the surrounding mass is zero, and is largely determined by the location of the engine, the heaviest part of the package. Usually the CoG is midway between the wheels (half the wheelbase) and 60 to 75cm off the ground; just above the engine, in front of your knees. Or at least it is until you get on.
Anyone with fingers knows bikes vibrate, sometimes strongly enough to make picking your nose impossible. But how we perceive vibration depends on its type, pattern, frequency and cause. Bikes are subject to different types of vibration. A bumpy road creates random forced vibration at medium to high frequency (around 5-35 Hz depending on vehicle speed). It's perceived as unpleasant, as is head buffeting caused by wind turbulence. Engineers and aerodynamicists try to minimise these bad vibrations. But we usually talk about engine vibration. There are many sources...
From the launch of Yamaha's new Super Ténéré: "The exhaust pipe connection between the two headers is discontinued to give more character to the engine. The link pipe gives a flat feeling to the curve, so removing it makes the engine a bit more peaky." This is all about exhaust gas. When a four-stroke is tuned for power it means more revs, and so the cylinders have thousandths of second to fill with fresh mixture, compress it, burn it and pump it out again. To get enough mixture in and out, inlet valves open early and exhaust valves stay open for longer – so both are open at the same time.