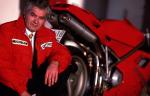 By Kevin Ash
Pictures: Ducati Archive, MV Agusta
(Click on images for full size versions)



A small, specialist motorcycle company was founded in Rimini on Italy's Adriatic coast in 1973 by three men who'd made their living designing and fabricating ducting for air conditioning systems. The company name came from the first two letters of their surnames - Bianchi, Morri and Tamburini. Massimo Tamburini proved not just his talent at Bimota with such superb designs as the Kawasaki-powered KB2 and the Ducati-engined DB1 (a bike which turned the flagging company's fortunes around in the mid-1980s), but also his basic philosophy which he adheres to as much today as ever: "I met an engineer from Suzuki in Japan once who asked me what I thought bikes should be like in the future.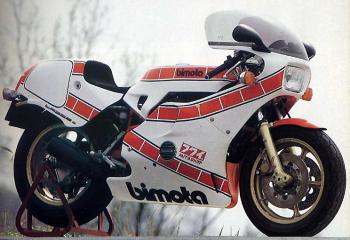 The Bimota KB2, one of Tamburini's earliest designsI said the ideal one would be a 750 with the power of a 1000 and the weight of a 500. You don't need a huge amount of power for a road bike, but it's important to have light weight as well."

It's a conviction which dovetailed perfectly into Ducati's way of thinking. Tamburini had stayed with Bimota for 11 years, and after a brief spell with the Gallina 500 grand prix team was taken on in 1985 by the ambitious Cagiva Group, owned by the Castiglioni brothers. This was the same year that Cagiva took control of Ducati after its years of decay under Italian state ownership, and Tamburini set to work on designing Ducatis as well as Cagivas.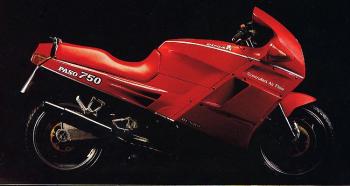 The Ducati Paso 750 was Tamburini's Ducati debutHis first Ducati was the Paso 750, an innovative and influential design if not a beautiful one, with fully enclosing bodywork. The bike suffered from poor carburation, although this was cured with the later 907ie, but it was in 1993 that Tamburini's most famous creation was unveiled, one of the most influential machines of the last twenty years, the Ducati 916.

This epochal machine looked so good and performed so well, the aura surrounding it reached a self-generating, almost mythical status, to the point where it's practically vying with ancient legends for a place in the catalogue of the miracles of history.

In fact, surprisingly, the 916's styling was rather derivative.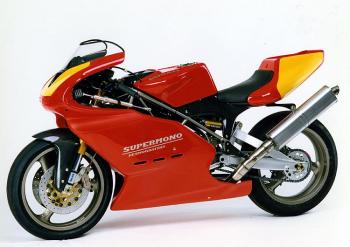 The Supermono was influenced by the 916, even though it was first to appearBut it wasn't influenced by Pierre Terblanche's beautiful Supermono which was shown the previous year, as many people believed at the time. Terblanche himself explains: "I was working on the Supermono at the same time as Tamburini was doing the 916. We were both in the Cagiva Research Centre (CRC) in San Marino and it was he who influenced me, not the other way around. It just so happened that the Supermono was shown to the public first."

But there was a bike before the 916 which featured the same high rise, underseat exhaust layout with a single-sided swingarm, designed to visually isolate the fat rear wheel, plus a pair of letterbox headlights and a profile which, when viewed from above, exhibited an unmistakably female hourglass figure. The bike was even painted red...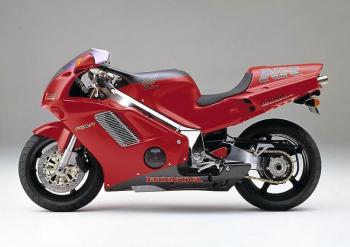 Honda's exotic NR750 changed the way the Ducati 916 would lookSuch a shame that the exotic Honda NR750 - this was the bike in question - was so fabulously expensive yet performed so ordinarily, otherwise many more people might have seen beyond its oval pistons, its eight valves per cylinder and its paired conrods and recognised an entirely new look which was both thoroughly original and extraordinarily attractive. This was the work of Mitsuyoshi Kohama, who stayed with Honda and went on to design the RC211V MotoGP bike. And, as the 916 illustrates, on the quiet he has been an extremely influential man.

Tamburini at the time (the NR750 was unveiled in Autumn 1991) had been working for nearly two years on the design of Ducati's new sports bike which was to replace the 888, so he was already well on the way to finalising the shape of the 916 when he saw the NR750 for the first time – his drawings then were definitely not looking like the bike we know so well today. All that Tamburini will admit is that he was influenced by existing designs, which is no admission at all, as all designers inevitably are influenced by what's around them. So speak to others who were working with Tamburini, such as his successor at Ducati as design chief, Pierre Terblanche (who has enormous admiration for Tamburini) and while they won't say as much, neither will they deny it. Whatever, it's clear that when the NR750 appeared it was responsible for some rapid rethinking in the CRC.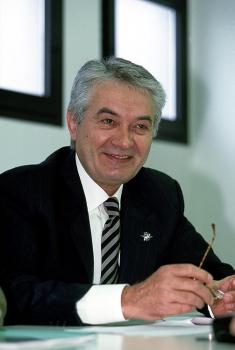 Tamburini took the NR750 styling cues and moved them forward for the 916Let's keep this in perspective though. The NR750 might be the originator of the distinctive 916 look, but still Tamburini moved it forward, personalised and Ducati-fied it, in particular with his blend of sharp edges and sweeping curves which, like most innovation, broke existing rules about how things should be done. In particular, Tamburini understands as the Honda's designers did not, how important is the visual weight of a bike, of where to make it appear bulky or substantial, and where to keep the shapes looking slender or unobtrusive.

Combine this with the narrow frontal area Ducati's engineers prefer for its low aerodynamic drag, and the company's strong, distinctive yet delicate-looking steel trellis frame, and the result is a shape which is both muscular, aggressive and intimidating and yet feline almost to the point of femininity. The magic Tamburini touch was to endow the 916 with all of this from whichever angle it is viewed, a task known as notoriously difficult among motorcycle designers.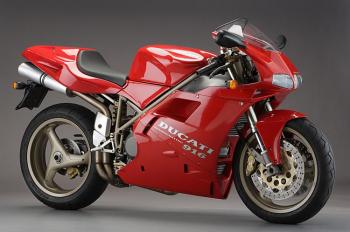 One of the most beautiful motorcycles ever made...The 916 was the product of a genius working for a unique company, and for those who thought the staggering good looks of the bike might be an accidental one-off, Tamburini proved them wrong by producing a second amazingly beautiful machine in the MV Agusta F4, after the Castiglioni brothers split from Ducati and revived this other famous Italian marque. Indeed, the F4 was originally destined to be the 916 replacement, but with some brilliant Tamburini tweaks now looks like nothing but an MV Agusta.

Yet Tamburini was self taught, his desire to design bikes coming purely from his love of them. "I have always had this huge passion for motorcycles - my mother used to complain about it when I was a little boy, calling it my obsession! But I have never had any desire to design anything else."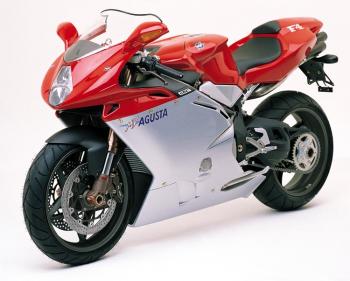 ...and the other was also Tamburini's, the MV Agusta F4Pierre Terblanche says one secret of Tamburini's brilliance is his depth of knowledge: "He has this deep understanding of engineering as well as design, which is why he is able to combine the two so effectively."

There's no doubt Matt Levatich and Harley-Davidson will be sorely disappointed at failing to capture Tamburini along with the rest of MV, they'll just have to hope that his legacy is enough to sustain its growth. But they do have quite a few dormant Tamburini designs in the bag too...



Thu, 11/12/2008 - 15:27
#1
shuggiemac
Offline
There can be little doubt in anyones mind that Tamburini's designs have given us something very special. I personally feel quite lucky to be in biking at the time when the original 916 was unleashed on the world, in very much the same way that I feel lucky enough to be around to see Valentino Rossi racing live. I feel that it is testament to the man's talents that, even today people still use that 916 design as the yard stick that the 1098 was measured against, aesthetically at least. The poor old 999 is an excellent bike in its own right, I have one and I love it BUT even I shall admit that compared to its predecessor it did get the wrong end of the stick in pretty stakes. If taken in isolation the 999 is far from an ugly bike in my eyes and that speaks even more volume for just how great the prvious Tamburini design was.
It is a shame that he has decided to leave motorcycling to pursue other design projects. Does this mean that we shall be seeing some drop dead ducting in buildings from now on? Is he going back to his routes?
Fri, 12/12/2008 - 11:09
#2
kevash
Offline
Yup, prepare for the world's most beautiful heating pipes... I don't know what he's planning, I've only seen the press releases so far but I bet whatever it is, it'll look good. The shame really is that the Castiglionis' rubbish business ability meant there was never enough cash to allow him to develop more bikes. If MV had made lots of dosh we'd have seen a lot more Tamburini designs, maybe even two F4 successors by now as well as other MVs and Cagivas too. Loads have been drawn and some might now appear but already a lot will be too dated.
Agree about the 999, and it's an easier, more pleasant bike to ride than either 916 or 1098, but Terblanche decided horizontal lines were the new look, where Tamburini's lines always point down to the front wheel. And Terblanche was wrong..
Recent comments
In HONDA NC700X, kharli wrote:

In HONDA NC700X, kharli wrote:

In HONDA NC700X, kharli wrote:

In HONDA NC700X, Grump wrote:

In HONDA NC700X, kharli wrote:

In Lest we forget..., Captain Scarlet wrote:

In Captain Scarlet's next bike, malauder wrote:

In Captain Scarlet's next bike, Captain Scarlet wrote:

In Benelli 750 SEI, CCM wrote:

In Benelli 750 SEI, Gekom57 wrote:

In Benelli 750 SEI, Gekom57 wrote:

In Captain Scarlet's next bike, Grump wrote:

In Captain Scarlet's next bike, Navy Boy wrote:

In Captain Scarlet's next bike, Captain Scarlet wrote:

In Captain Scarlet's next bike, Grump wrote:

In HONDA NC700X, Grump wrote:

In Lest we forget..., Navy Boy wrote:

In Lest we forget..., unconventional rebel wrote:

In Captain Scarlet's next bike, unconventional rebel wrote:

In HONDA NC700X, unconventional rebel wrote:
Donate to the Kevin Ash Fund
Kevin's funeral was held on Thursday 28th February 2013 and was well attended by family, friends and colleagues.
The Telegraph has very kindly established The Telegraph Kevin Ash Fund to assist with the education of Kevin's three daughters.
If you'd like to make a donation then you can use the PayPal 'Donate' button below which will allow you to donate from your PayPal account, or via credit or debit card. A small percentage (about 3.4%) will be retained by PayPal for the service.
Kevin's family have been touched by the generosity and messages of support from people using the website and would like to express their gratitude to those who have contributed in any way.
The donations keep coming in, thank you so much, and the family especially like it when you leave a message.