Pictures: Sticky, Kevin Ash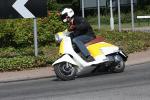 Innocenti might have stopped making Lambretta scooters three decades ago, but for most people it`s still the other scooter, after Vespa.
The original Italian Lambretta was killed off in 1972 after years of decline, partly due to changes at the top of the Innocenti company which produced the various models, partly because of industrial unrest and also because two-wheelers were being superseded by cheap cars throughout the 1960s. British Leyland took over Innocenti after using the company to produce cars under licence from the late sixties, and scooter making was first sidelined, then halted.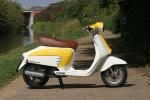 And that should have been that. But as with other brands, from Triumph to Benelli to Norton to Indian, the power of the name was enough to cause a host of messy squabbles. Even now, with this all new Lambretta LN125 in production, there is dispute over ownership of the name. But the Rome-based Lambretta Motolife Italia SpA is confident enough of its rights to have designed an all-new machine, which is now on sale in the UK and various other markets.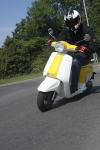 The LN125 sticks closely to the original sixties styling, just as Vespas do the same, and even comes with steel rather than plastic bodywork, including the leg shields and sidepanels (it`s fabricated in Italy too then shipped to Taiwan for assembly). It no longer has the classic left twistgrip gearchange, instead it`s powered by a 125cc engine and automatic transmission made by Sym in Taiwan. And nothing wrong with that as long as you`re not a Lambretta purist as Sym makes decent quality and reliable engines with good if not enthralling performance.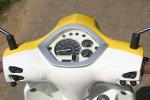 The build quality of the rest of the machine seems patchy, with paint that lacks the toughness and gloss of many other scooters (especially Vespa) and some poor cable routing within the steering head that results in loud creaking and some resistance too when you turn the bars from lock to lock. The UK importer is looking into this and hopes for improvements here, but for now, expect some embarrassing noises when you`re manoeuvring in tight spaces.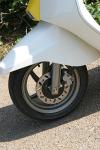 But it does feel solid and other aspects of the finish are fine, certainly way ahead of Chinese scooters and not significantly different to most European offerings. The styling itself meanwhile is not just faithful to Lambretta lines, it looks really good regardless of whether you remember the old ones. Those purist would prefer a fixed front mudguard rather than the turning one of the LN, but they`ll hate the scooter anyway and they`re not the target market. Instead that`s the style-conscious after easy use transport, and for these it works well.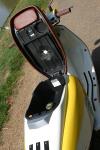 Comfort for example is very good, even for taller riders like me (I`m 6`3"/1.91m) - I have no issues with handlebars hitting knees for example, and enough space to place my feet naturally. The seat is exceptionally comfortable for a scooter, enough to contemplate longer journeys as well as commuting, but the downside is the additional depth eats into the storage space beneath, so you can`t lock your helmet away beneath it as there isn`t room (not even an open face).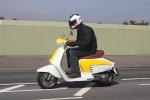 Dynamically it works well though, with a 55mph cruising capability (the same as flat out...) on the level, which is average to good for an auto scooter, and excellent handling too. Throw it onto corners and it goes where you point it without the wobbles and bounces that afflict so many scooters, while the brakes - there`s a disc at the front - haul it up effectively.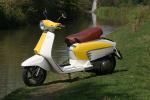 A downside is the tiny 1.3 gallon (6 litre, 1.6 US gallon) fuel tank, which in theory allows just 90 miles before running dry and in practice which is nudging you to refuel at 50 miles or so. Even if you never go far you`ll still be spending too much time in fuel stations, and often you could fall foul of their minimum charge rules.
Even so, if they can sort that creaking steering it would stand out as one of the better scooters in the class, good looking in its own right with a fine chassis and very good engine. Which leaves the price... at £3,299 it`s not cheap, £350 more than the Vespa LX125ie, although a better comparison though is the Vespa GTS125ie, which is £50 more than the Lambretta. The Vespa though is long established and proven, very well built, the product of a major international company with a large network of dealers. And its steering doesn`t creak.
The Lambretta will sell thanks in part to the name, but also because of the scooter itself, and it deserves to succeed.
Specifications
Model tested: Lambretta LN125
UK price: £3,299
Available now
Engine: single cylinder, air cooled, 2v, 124.6cc
Power: 8.7bhp (8.9PS, 6.5kW) @ 8,000rpm
Torque: 6.1lb.ft (0.85kgm, 8.3Nm) @ 6,500rpm
Economy: 70mpg (24.8km/l, 4.0l/100km, 58mpg US)
Tank/Range: 1.3 gallons (6 litres, 1.6 US gallons) / 90 miles (145km)
Transmission: Six gears, wet multi-plate clutch, chain final drive
Chassis: cast aluminium twin spar
Seat height: 32.3in (820mm)
Wheelbase: 53.1in (1350mm)
Rake/trail: n/a
Weight: 287lb (130kg) dry (est)
Recent comments
In HONDA NC700X, kharli wrote:

In HONDA NC700X, kharli wrote:

In HONDA NC700X, Grump wrote:

In HONDA NC700X, kharli wrote:

In Lest we forget..., Captain Scarlet wrote:

In Captain Scarlet's next bike, malauder wrote:

In Captain Scarlet's next bike, Captain Scarlet wrote:

In Benelli 750 SEI, CCM wrote:

In Benelli 750 SEI, Gekom57 wrote:

In Benelli 750 SEI, Gekom57 wrote:

In Captain Scarlet's next bike, Grump wrote:

In Captain Scarlet's next bike, Navy Boy wrote:

In Captain Scarlet's next bike, Captain Scarlet wrote:

In Captain Scarlet's next bike, Grump wrote:

In HONDA NC700X, Grump wrote:

In Lest we forget..., Navy Boy wrote:

In Lest we forget..., unconventional rebel wrote:

In Captain Scarlet's next bike, unconventional rebel wrote:

In HONDA NC700X, unconventional rebel wrote:

In Lest we forget..., davvy wrote:
Donate to the Kevin Ash Fund
Kevin's funeral was held on Thursday 28th February 2013 and was well attended by family, friends and colleagues.
The Telegraph has very kindly established The Telegraph Kevin Ash Fund to assist with the education of Kevin's three daughters.
If you'd like to make a donation then you can use the PayPal 'Donate' button below which will allow you to donate from your PayPal account, or via credit or debit card. A small percentage (about 3.4%) will be retained by PayPal for the service.
Kevin's family have been touched by the generosity and messages of support from people using the website and would like to express their gratitude to those who have contributed in any way.
The donations keep coming in, thank you so much, and the family especially like it when you leave a message.