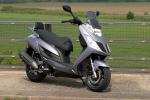 By Kevin Ash
Pictures: Kevin Ash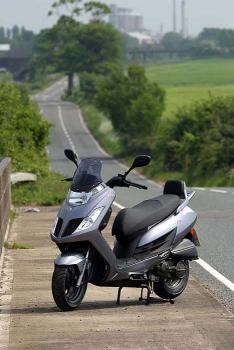 Click on image for galleryFor anyone confused by the plethora of scooter brands there's a basic rule to keep you out of trouble: buy Italian or buy Japanese and you're on pretty safe ground in terms of reliability, spares, dealer support and so on. In addition there's Peugeot, Sym or Kymco, and that's it. Kymco has always impressed in the last few years for its combination of solidity with very keen prices, although it was generally a step behind the Japanese in terms of outright quality and design.

The new Yager 125 though shows how much the Taiwanese factory has improved even in the last five years. It's an exceptionally good looking machine, far better suited to European tastes than the company's previous overtly Oriental designs with its clean, angular lines and overall visual balance, but it's also considerably better put together than before. That shows partly in the lack of rattles or squeaks, the decent panel fit and the general feel that it's not going to fall to pieces after a few miles, but also in the sorts of things the Italians and Japanese do well, such as matching the colours of components made of different materials, for example the transmission casing and the kickstart lever; and by using mirrors which don't distort the image at their edges or flop loose as soon as a fly hits them.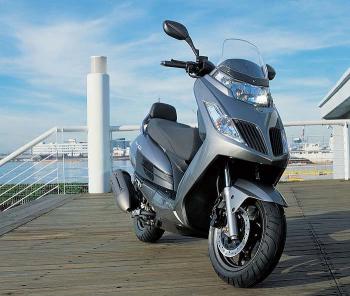 The sense of integrity is sustained during the ride, as the engine is strong and smooth while the automatic transmission picks up cleanly and progressively, making the Yager both easy and pleasurable to ride. Comfort's not bad, helped by suspension which displays good damping rather than the old Kymco bounciness on bumpy surfaces, and the brakes are effective too, where on many scooters there's little power or feel. Kymco claims an optimistic top speed of 70mph but realistically it's a little over 60mph, enough for the occasional dual carriageway excursion but no more than that, and not as quick as Piaggio's excellent X7 125. Around town however the Yager works well: it's light and manoeuvrable and ideal for a typical urban commute, though the underseat storage is enough only for a helmet or light wet weather gear, so you'll need an additional box for a briefcase or similar. No economy figures are claimed as inexcusably the motorcycle industry still hasn't come up with any testing standards, but expect around 85 to 90mpg: scooters tend to use more fuel than equivalent motorcycles as the transmissions are less efficient.

Despite the quality improvements Kymco has still managed to keep its prices down – the Yager is usefully cheaper than all its main rivals, and that's pretty much the only way it's any less than them.



Other Scooters
Thu, 11/06/2009 - 16:45
#1
shuggiemac
Offline
I have just had a Kymco Xciting 500R on loan for five days and the only thing that I can really say was wrong with it is that it is not accurately named.
.
This was my first real experience of a big scooter over a decent period of time and it was a very positive one, all in all. The bike was part of a group test being done by one of the logal rags against the 400cc Honda, Yamaha and Peugeot offerings. The Kymco, while bigger in engine size was actually the cheapest of the bunch. Having ridden them all I would say that if I were in the market for a machine like this then I would struggle to really justify the extra money fo any of the others. The Kymco suspension was not as good, for sure, but you could easily buy a decent pair of Hagon shocks for it and still be quids in. The engine does feel slightly rougher than say the Yamaha but that is such a comparitive thing that unless you had the choice of the two every day then it really would not be an issue. The bike is well put together, loads of storage space as it came with a colour matched top box and was just as happy two up at motorway speeds as it was around town.
.
I can't say that I would give up traditional style bikes and have one of these as my only machine, as its lack of excitement (in spite of its moniker) at the times when I needed it would grate but as good, comfortable, practical every day transport then it really has a lot going for it.
.
Just posting this here as it is at least a relevant Kymco link.
Fri, 12/06/2009 - 08:52
#2
kevash
Offline
The (not very) Xciting was updated a couple of years ago but it's still a heavy old thing with not great ground clearance, but the cost is very good. Did you check the fuel economy though? It's pretty poor, I got an older version down to 39mpg, and while that was doing 90mph or so - pretty much flat out - even at 70-80mph it was only doing 45mpg. I also found the seat very uncomfortable on the earlier version, even though it's enormous! And yup, the suspension is poor too, although a scooter will never match a motorcycle while the engine and transmission all move with the back wheel - that's some serious unsprung weight! Most of the other big scooters beat it dynamically but it is well made and does the job that buyers in this class want. I'm mostly disappointed with the economy.
You could always post in the forum scooter section! But most of the chat seems to come in these comment sections after tests and features - doesn't really matter except I think fewer people will see it later on.
Fri, 12/06/2009 - 11:38
#3
shuggiemac
Offline
Good question about the fuel economy and I can't answer you I am afraid. I was given the bike with a full tank and ran it around, handing it back with about three quarters gone. I didn't take note of the km's that I had covered but there were a fair few. Not much chance of a career in testing bikes for me then, failing to note these things !!!
The seat on mine I actually found,in contrast to your experience, very comfortable and noticeably so. This was in stark contrast to the the Peugeot 400 that was on the same test which was like sitting on a knife edge by comparison, was enough to have me squirming after only a few minutes and put me right off the bike.
.
Yes you are right the Kymco is a heavy beast and there is a bit of whirring and commotion before things finally get off the mark. I am not maddly experienced in the scooter sector so I just put it down to being something that these things did. The Yamaha was more sprightly for sure as was the Honda but the difference was not earth shattering, in my opinion.
.
I didn't have an issue with ground clearance but again I'll put this down to lack of experience on them as I wasn't pushing it hard enough, obviously, to notice it being an issue, though it still handled predictably and safely and I thought I had it reasonably well heeled over at times.
.
Recent comments
In HONDA NC700X, kharli wrote:

In HONDA NC700X, kharli wrote:

In HONDA NC700X, Grump wrote:

In HONDA NC700X, kharli wrote:

In Lest we forget..., Captain Scarlet wrote:

In Captain Scarlet's next bike, malauder wrote:

In Captain Scarlet's next bike, Captain Scarlet wrote:

In Benelli 750 SEI, CCM wrote:

In Benelli 750 SEI, Gekom57 wrote:

In Benelli 750 SEI, Gekom57 wrote:

In Captain Scarlet's next bike, Grump wrote:

In Captain Scarlet's next bike, Navy Boy wrote:

In Captain Scarlet's next bike, Captain Scarlet wrote:

In Captain Scarlet's next bike, Grump wrote:

In HONDA NC700X, Grump wrote:

In Lest we forget..., Navy Boy wrote:

In Lest we forget..., unconventional rebel wrote:

In Captain Scarlet's next bike, unconventional rebel wrote:

In HONDA NC700X, unconventional rebel wrote:

In Lest we forget..., davvy wrote:
Donate to the Kevin Ash Fund
Kevin's funeral was held on Thursday 28th February 2013 and was well attended by family, friends and colleagues.
The Telegraph has very kindly established The Telegraph Kevin Ash Fund to assist with the education of Kevin's three daughters.
If you'd like to make a donation then you can use the PayPal 'Donate' button below which will allow you to donate from your PayPal account, or via credit or debit card. A small percentage (about 3.4%) will be retained by PayPal for the service.
Kevin's family have been touched by the generosity and messages of support from people using the website and would like to express their gratitude to those who have contributed in any way.
The donations keep coming in, thank you so much, and the family especially like it when you leave a message.