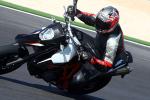 By Kevin Ash
Pictures: Gary Freeman, Herwig Peuker
KTM's 990 SM T is one of the best bikes of the year, which bodes well for its sibling, the 990 SM R. After all, the R has the same engine and frame with firmer suspension and better brakes, so it's going to be even better. Isn't it?

It's not quite as simple as that. There's nothing wrong with the R at all, and as you'd rightly expect, it's huge fun and very accomplished, but that perfect balance of ability, exuberance and practicality exhibited by the T has been upset in the R. In other words, it's more specialist, so it will suit some riders better – I just don't think it will be very many.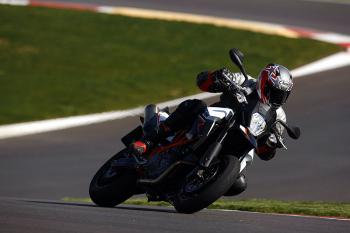 Click on image for galleryIn fact, I'm not entirely sure who the R will really suit. KTM lauds the SM R as the fastest production supermoto, but that's stretching the term supermoto rather taut. If these are bikes based on motocrossers with road running gear replacing the off-road equipment, then it doesn't fit the description. It has something of the attitude of a supermoto stylistically, and when you get on board it's there in the riding position too. The seat is significantly higher than the T's, it's also narrower and firmer, and thanks to the smaller fuel tank – 3.3 gallons (15 litres) instead of 4.2 gallons (19 litres) – it sits you more forward and aggressively over the front wheel.

The wheels and suspension are high competition spec too: Brembo Monobloc brake callipers, 10-spoke forged Marchesini wheels, fat 48mm inverted WP forks and a rear shock adjustable for high and low speed compression damping. Those wheels save 1.5lb (0.7kg) at the front, 2lb (0.9kg) at the rear, very useful as the unsprung, rotating mass. Front wheel travel is the same as the T's at 160mm while the rear is reduced 20mm to 180mm. The engine meanwhile is identical, making 114bhp in KTM's inimitable, hard-edged manner.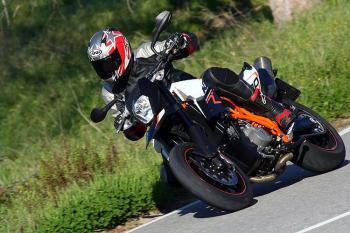 I rode the bike first on similar twisty Portuguese roads as the SM T ride, and wasn't as comfortable mentally or physically. The bike's fine for short sprints but offers nothing like the cosseting of the T, in addition to which the harder suspension jars on rough surfaces and the firmer, narrower seat amplifies the bumps further. Even the Pirelli Dragon Supercorsa tyres provide a rougher ride, though of course they're supremely grippy. It is more stable and sharper steering (those lighter wheels certainly make a difference), but in fact the T will gain ground rather than lose it when the going is rough (most British roads...) as it soaks up many bumps which kick the R out of line.

So onto the track, the already-famous new Portimao circuit, and the R switches to superiority over the T. Even so, it still sways in fast corners and doesn't offer anything like the feedback of a proper sports bike, and being tall it's not stable when braking very hard. What it really lacks is meaningful feedback – it provides more than the T in these circumstances, but if these circumstances are what you crave, then you'll be riding a sports bike anyway.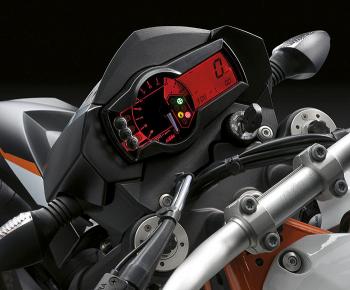 Given the basic premise of what the bike is, then it works extremely well, it's just that road riders are better off with the T and track riders are better off with something designed for that environment. The lack of feedback in comparison with, say, a Fireblade (which also costs less) detracts from the circuit experience, even though the SM R is still a lot of fun. The lack of straight line stability detracts from your general sense of well-being: at anything over 120mph (195kph) the bike starts to wander, and beyond that it can get decidedly worrying – relaxing your grip on the bars helps in this respect but it's a big strain as it's then difficult to hold on, especially for taller riders.

I've seen it written elsewhere that the SM R would give sports bikes of a similar price a run for their money on the track: this is nonsense, anything from GSX-R to Ninja, 600 to 1000 (all of which costs less anyway), would run rings around the SM R and be more satisfying at the same time. Yet it is still fun – I certainly enjoyed myself on it, if only for the satisfaction of persuading an unsuitable bike around a big road race circuit. On tighter, smaller tracks the T would fare much better, though I'm still not convinced about this leg-sticking-out business, especially on a bike this bike and fast. If it does slide suddenly, at best you'll twist an ankle, more likely you'll pop a kneecap. Ouch.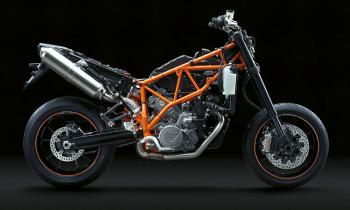 What this boils down to is that the SM R is good, but what you gain in choosing it over a T doesn't compensate for what you lose. It's sharper steering and better controlled on smooth surfaces, but fares worse on most everyday roads, has a smaller fuel range, comfort is poorer and although it's a slightly better track bike, if it's a track bike you're after then you'd look elsewhere anyway.

I'm not really sure who'll buy it or what it's for, but I do still quite like it because it is a thrill when you ride it. But so's the SM T.



Price: £10,695

Available: End March, 2009

Contact: KTM Sportmotorcycle UK Ltd, 01280 709511, www.ktm.co.uk


Specifications
Mon, 09/03/2009 - 11:12
#1
shuggiemac
Offline
I can see this appealing to the number jockeys. The Supermoto genre, I think we can all agree, has gone a little bit fuzzy from the original concept, so keeping that in mind, this bike may potentially appeal to those who have bought into this broadening concept but still want to spout off that they have this weeks bike of the year with the dilithium brakes, sideways forks, carbon fibre tyres, rolex clocks and so on.
As far as KTM are concerned, this bike is surely no more difficult to make than than the SM T. It sounds very much like the difference is down to some bought in items, so it is a case of picking the relevant ones out of the parts bin as the bikes trundle down the line. They can bag an extra 1100 quid over the SM T, for really not a great deal of effort and as I am sure they will be made to order then if no one bites then they are no worse off.
I think that there are enough bar room jockey's or being slightly less cynical, customer's who are willing to pay that bit extra for something slightly different to the norm and the manufacturers realise that. The vast majority of bikes that are bought are purely for the road and there are precious few out there who can tell the difference, day to day between a 1098 and a 1098R for example but there is no question that the latter is the more desirable for those who aspire. Perhaps this will be the same for the SM T and SM R. Perhaps I am talking bollocks!
Tue, 16/03/2010 - 19:51
#2
aye perhaps you are but still good points, I think the main difference is the lightweight wheels (maybe orange paint on the suspension is > £ £ £ than standard white too)
I have a 950 SMR which is even more of a styling exercise! Same wheels as standard SM950 but smaller tank and different colours!
WTF did I buy it ..well I went to a KTM shop to buy some handguards for my multistrada (KTM spares £ £ £ cheaper than Ducati's) and fell in lust. It was a good price and the tank & ergos good for 100 miles plus a little so fine (with or without pillion) before I need a break. :)
Thu, 24/11/2011 - 22:21
#3
I have a 950 SMR and I can see Kevin's point about what's it for? My only answer is FUN. It can be a practical bike, mine has heated grips, a screen and a top box (and I couldn't admit to that on the KTM forum!) and as long as I stay within 90 miles of a petrol station it's quite practical as well as fun. I would have prqeferred an SMR but the fuel injected KTMs are regularly criticised for awful fuelling, and I thought my VFR was bad enough.
Recent comments
In HONDA NC700X, kharli wrote:

In HONDA NC700X, kharli wrote:

In HONDA NC700X, Grump wrote:

In HONDA NC700X, kharli wrote:

In Lest we forget..., Captain Scarlet wrote:

In Captain Scarlet's next bike, malauder wrote:

In Captain Scarlet's next bike, Captain Scarlet wrote:

In Benelli 750 SEI, CCM wrote:

In Benelli 750 SEI, Gekom57 wrote:

In Benelli 750 SEI, Gekom57 wrote:

In Captain Scarlet's next bike, Grump wrote:

In Captain Scarlet's next bike, Navy Boy wrote:

In Captain Scarlet's next bike, Captain Scarlet wrote:

In Captain Scarlet's next bike, Grump wrote:

In HONDA NC700X, Grump wrote:

In Lest we forget..., Navy Boy wrote:

In Lest we forget..., unconventional rebel wrote:

In Captain Scarlet's next bike, unconventional rebel wrote:

In HONDA NC700X, unconventional rebel wrote:

In Lest we forget..., davvy wrote:
Donate to the Kevin Ash Fund
Kevin's funeral was held on Thursday 28th February 2013 and was well attended by family, friends and colleagues.
The Telegraph has very kindly established The Telegraph Kevin Ash Fund to assist with the education of Kevin's three daughters.
If you'd like to make a donation then you can use the PayPal 'Donate' button below which will allow you to donate from your PayPal account, or via credit or debit card. A small percentage (about 3.4%) will be retained by PayPal for the service.
Kevin's family have been touched by the generosity and messages of support from people using the website and would like to express their gratitude to those who have contributed in any way.
The donations keep coming in, thank you so much, and the family especially like it when you leave a message.