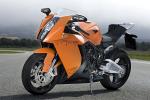 By Kevin Ash
Pictures: Redeye Media, Francesc Montero, Herwig Peuker, Heinz Mitterbauer


KTM's 1190 RC8 was the most eagerly awaited bike of 2008. Not only did it mark another important and very big step for the Austrian factory in its expansion into the road bike market, the flagship KTM was an entirely new player in the high profile, big superbike sector.

The bike certainly offers all the specification buyers in this category expect: liquid-cooled V-twin engine producing 153bhp (155PS, 113.8kW), a light, 415lb (188kg) kerb weight and high quality components including WP suspension, Brembo Monobloc brake callipers and so on. What's also promising is KTM's exciting, uncompromising attitude and willingness to take risks: all of its road bikes to date have been hard edged, performance oriented and a thrill to ride, so a full-on superbike surely was going to be the wildest of the lot.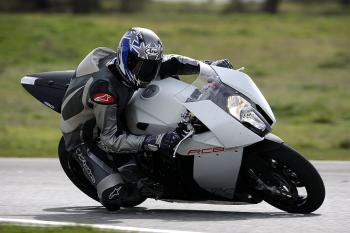 Click on image for galleryThen there's the styling: penned by the Austrian Kiska Design company, as are most other KTMs, it's radical, angular, aggressive and unmistakably KTM, even in the white colour option rather than the signature KTM orange. It's not classically good looking in the way of Ducati's 1098/1198, although against that the Italian bike is rather derivative, if undeniably attractive and classy too. But the KTM is certainly arresting and well balanced visually.

Good reasons for a significant number of people to have placed deposits on new RC8s even before the first test reports emerged, so were they disappointed?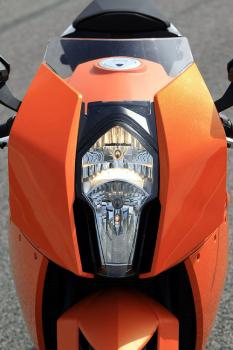 Mostly no, but they might have been surprised by the riding position the first time they swung a leg across the bike. Far from the Ducati-type, wrist breaking, track attack ergonomics you might expect, the RC8 is almost sports tourer. Well, it's sports tourer with the bars, footrests and seat adjusted that way – pleasingly, all of these can be tailored to suit the rider or riding, and for our road ride on some twisty back lanes in Spanish Andalusia they were moved into their most conservative settings. With them adjusted like this you're sat reasonably upright with plenty of room even for longer legs, yet the fairly low screen does an excellent job of separating the airflow without excessive turbulence, sufficient for cruising way in excess of legal road speeds indefinitely. Seat comfort is good too: if not exactly plush it's still fine for several hours on board, and even the mirrors are wide enough to see what's behind you – well, you could if they didn't shake and vibrate so badly.

The engine works well in medium pace riding too, providing huge midrange torque and perfect fuelling at medium throttle openings, although on a very light throttle in the lower gears there's a little hunting and abruptness. But generally it's good.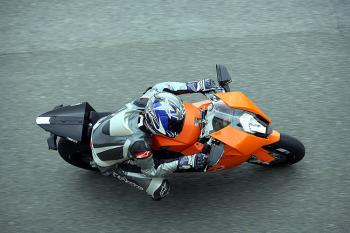 All of which is a little awkward for KTM, as the bike's very versatility is really not something the company is especially keen to trumpet, as this rather goes against its pure-sports, focussed image. So, off to the fabulous Ascari test track near Ronda in southern Spain where the RC8 could show off what it's really meant to do, and here it acquitted itself well too. But even with the ergonomics adjusted for circuit use it's still nowhere near as committed as an 1198, and still on full lock the tops of your hands clash with the mirrors, which if you're wearing bulky knuckle protectors can actively interfere with full lock, low speed steering. Ah well, a few quirks never hurt the Italians...

It's a fine track bike though, yet very different to the 1198, although comparisons initially were made with the old 1098 of course. And where a 1098 has heavy steering the RC8 responds more eagerly to rider inputs, then turns very sharply towards the corner apex, so much so that it took me several laps to adapt and stop myself having to re-evaluate a too-tight line. Even so, it's still very stable in turns, or it is once the suspension is set up for circuit riding: on road settings the front end is choppy and unsettled, but KTM does recommend base settings to work from so you're not on your own when you take it out on a track day. The 1198 however is also more responsive and lighter steering than the 1098 and comes closer to matching it in agility, so the Austrian bike's advantage was short-lived.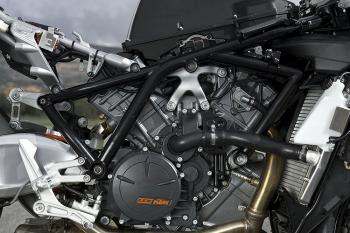 What you also have to learn is not to keep revving the engine. As it approaches the red line the power delivery becomes a little flat so it's not as satisfying as it might be, but anyway, once you've got used to changing up a gear at 9,500rpm, which is 1,000 revs short of the peak, all of a sudden your braking points move towards you a few yards as your speed rises and lap times fall, and the power train feels more comfortable generally. The mid-range torque is huge in fact, happy to slog out of corners from very low down and still thrust you forward hard, to a clear sensation of hammering pistons and shuddering transmission that adds to the sensual reward as well as the stopwatch one. The 1198 has a performance edge though, and a significant one where the 1098 was only a little quicker – it has more horsepower and more torque across the range, and with the KTM's agility advantage reduced in the 1198 comparison the Italian bike will certainly be quicker around a track.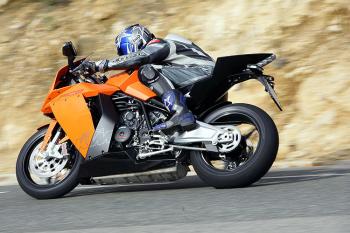 The RC8's gearbox is poor and not only interferes with track riding, it gets in the way of really gelling with the bike. Approaching turns with the fierce brakes working hard, you need to concentrate on banging the lever down through the ratios firmly enough or you can end up in some intermediate neutral, which leaves you coasting wide-eyed into a corner far too fast. And even when the gears mesh they do so with a clattering you can feel with your foot as well as hear. Upchanges need less lever movement than going down, which doesn't feel entirely natural, and on rare occasions the bike will jump out of gear soon after you've changed up. The dropped gears are unusual though and you do adapt, but definitely room for improvement here.

Those immense Brembos at the front, as on the 1198, are great for track use but will be just too strong for many riders on the road, especially in poor conditions. Two fingers are plenty to rip the tread from your tyres, but you need lots of predictable grip to use them anywhere near their potential, and roads don't always give you that.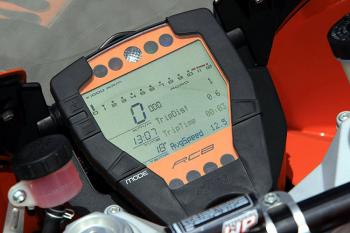 Thanks to its CAN-bus digital electrical system the RC8 can at least match the Ducati with the comprehensiveness of its dash. This can be set for road or track and tell you anything from lap times to service intervals to how far you can go on the fuel you have left. This last piece of information will never be that great as the bike's 3.6 gallon (16.5 litres, 4.4 gallons US) will probably mean refilling by 100 miles (160km) or so, although it's still better than the 1198's pathetic 3.5 gallons (15.5 litres, 4.1 gallons US) to dry.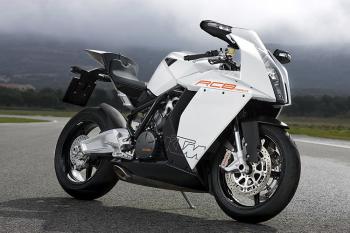 The KTM is usefully cheaper than a base model Ducati though, but if it lacks anything of substance in a direct comparison, it also loses out to the heritage and cachet of the Italian bike as much as its performance, and that's something only decades of superbike dominance can put right, which the RC8 won't be achieving. Even so, as a slightly left-field alternative to the default V-twin superbike, and despite its imperfections, the KTM has a lot to offer, including wild looks and benchmark matching performance. Just keep quiet about the versatility.



Mon, 12/01/2009 - 23:46
#2
kevash
Offline
Sorry, was going to post the price but the 09 KTM prices hadn't been announced when I asked. Won't be too different to the 08 price though, which was £10,695. I'll put up the 09 price and the specs too very soon...
Recent comments
In HONDA NC700X, kharli wrote:

In HONDA NC700X, kharli wrote:

In HONDA NC700X, Grump wrote:

In HONDA NC700X, kharli wrote:

In Lest we forget..., Captain Scarlet wrote:

In Captain Scarlet's next bike, malauder wrote:

In Captain Scarlet's next bike, Captain Scarlet wrote:

In Benelli 750 SEI, CCM wrote:

In Benelli 750 SEI, Gekom57 wrote:

In Benelli 750 SEI, Gekom57 wrote:

In Captain Scarlet's next bike, Grump wrote:

In Captain Scarlet's next bike, Navy Boy wrote:

In Captain Scarlet's next bike, Captain Scarlet wrote:

In Captain Scarlet's next bike, Grump wrote:

In HONDA NC700X, Grump wrote:

In Lest we forget..., Navy Boy wrote:

In Lest we forget..., unconventional rebel wrote:

In Captain Scarlet's next bike, unconventional rebel wrote:

In HONDA NC700X, unconventional rebel wrote:

In Lest we forget..., davvy wrote:
Donate to the Kevin Ash Fund
Kevin's funeral was held on Thursday 28th February 2013 and was well attended by family, friends and colleagues.
The Telegraph has very kindly established The Telegraph Kevin Ash Fund to assist with the education of Kevin's three daughters.
If you'd like to make a donation then you can use the PayPal 'Donate' button below which will allow you to donate from your PayPal account, or via credit or debit card. A small percentage (about 3.4%) will be retained by PayPal for the service.
Kevin's family have been touched by the generosity and messages of support from people using the website and would like to express their gratitude to those who have contributed in any way.
The donations keep coming in, thank you so much, and the family especially like it when you leave a message.
Recent Articles
We're familiar with solid-state electronics in biking. Ignition swapped points for transistors in the 1970s, then went digital in the 1990s. Now, the need for greater power, fuel efficiency and emissions control means modern engines only work with computer-controlled fuelling, ignition, combustion and exhaust. When we open the throttle we pull the strings, but the ECU calls the shots. To do it, the ECU needs an accurate view of the world. And it gets it through its sensors.
A gyroscope is a rigid circular or spherical mass rotating around an axis and for over 100 years motorcycles have come with three of them: a front wheel, a rear wheel and a crank (if you're being pedantic you could include cams, balancer shafts, gearbox, clutch etc). The classic mechanical model of a gyroscope ranges from the very small – electrons spinning around an atom's nucleus – to the very large – the Earth.
Most of us have an innate feel for balancing a high centre of gravity on a relatively short wheelbase. Say, like a motorbike. Its centre of gravity is the point at which the sum of the surrounding mass is zero, and is largely determined by the location of the engine, the heaviest part of the package. Usually the CoG is midway between the wheels (half the wheelbase) and 60 to 75cm off the ground; just above the engine, in front of your knees. Or at least it is until you get on.
Anyone with fingers knows bikes vibrate, sometimes strongly enough to make picking your nose impossible. But how we perceive vibration depends on its type, pattern, frequency and cause. Bikes are subject to different types of vibration. A bumpy road creates random forced vibration at medium to high frequency (around 5-35 Hz depending on vehicle speed). It's perceived as unpleasant, as is head buffeting caused by wind turbulence. Engineers and aerodynamicists try to minimise these bad vibrations. But we usually talk about engine vibration. There are many sources...
From the launch of Yamaha's new Super Ténéré: "The exhaust pipe connection between the two headers is discontinued to give more character to the engine. The link pipe gives a flat feeling to the curve, so removing it makes the engine a bit more peaky." This is all about exhaust gas. When a four-stroke is tuned for power it means more revs, and so the cylinders have thousandths of second to fill with fresh mixture, compress it, burn it and pump it out again. To get enough mixture in and out, inlet valves open early and exhaust valves stay open for longer – so both are open at the same time.