Kevin Ash (1959 -2013) - Tributes from friends and colleagues
his friends and colleagues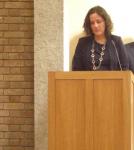 .... by Erin Baker
Kevin
Ten days after Kevin died, I gave birth to my second son. It's been a stark reminder of that old cliche, but nonetheless profound truth, that life goes on.
Since my son was born, Caroline and I have been emailing each other at strange times of the night, me because I'm kept awake by a squawking baby, Caroline because she has had an overwhelming mountain of stuff to organise, so this tribute to Kevin is just as much a tribute to Caroline, a formidable woman; as she told me - I am Kevin, just female and a lot, lot shorter.
Kevin was a remarkable correspondent for the Telegraph for 15 years. As his editor for the last three years, I was privileged to watch the country's most well-respected motorcycling journalist in action. As our readers have testified, he was a leading authority on what bike to buy, an impressive engineer and a friend in ink to many who never met him.
Of the many tributes that have poured in to the Telegraph, one stands out, from Professor Tim luckhurst, who wrote, "There is an aspect of this kind, clever, dependable man that is too easily overlooked, probably because he made his hobby into his job: Kevin ash had an exceptional mind. He took his degree from imperial college London in the days when a tiny minority of school leavers went to university and still fewer to such top institutions. His understanding of engineering and physics shone through his writing and conversation. Kevin could explain how a nuclear power station works as accurately as he could define torque. And he cared about science. He thought it mattered and should be understood."
One of the remarks most frequently repeated by our readers was that they left the motoring section until last so that their final pleasure each Saturday morning was Kevin's column.
As editor of his column, I could be sure of three things each week:
that he'd file words and pictures every Tuesday for Thursday's press day without being reminded, that his copy would be routinely well written and knowledgable, and that he would never, ever give the bloody bike's torque figure correctly, according to our style guide.
After the first year of correcting the figure each week, I gave up - it seemed churlish to complain when the entire bike industry, not to mention our readers, were hanging on his every word.
On a personal note, Kevin encouraged me to get my bike licence and took me on countless pillion rides including a memorable, rather beer-laden trip on a Harley down to Le Mans, and a journey up the M11 on my first outing with him that was, shall we say, quicker than expected.
He was a truly gentle giant, unflappable when things went wrong or people were rude, and always chivalrous. I can well imagine what a fantastic, supportive father he was.
I'll remember him with a smile on his face, always, and my two sons are growing up knowing all about mummy's kind friend, Kevin on the big motorbike.
Erin Baker
Head of Motoring
Telegraph Media Group
.... by Marc Potter (Potski)
Kevin Ash, our friend the motorcycle journalist
Ashy was quite simply the best motorcycle road tester and journalist of his generation.
Fast on the track, rapid on the road, even quicker with a notebook when it came to asking the question on everyone`s lips in a press conference.
Kevin set the standard for motorcycle journalism in everything he did and his legacy will continue forever.
He was respected worldwide by heads of industry and could open any door in motorcycling with this name alone, from the guys who ran Kawasaki to the tens of thousands of people who read his copy weekly in MCN and The Daily Telegraph, he was famous for being who he was, his technical craft unsurpassed, and never questioned.
When it came to writing, and being Kevin`s editor, I knew you could merely glance at his copy before publishing it, even if we did have to ring him every week to remind him to write his MCN column, often to the cries of: "Oh sugar, what shall we write about this week then?!"
His columns were occasionally on the edge, always written in the mind of the reader, he was the ultimate professional and always lived up to the tag I gave him - the most outspoken man in motorcycling - even though he hated that phrase.
You only had to sit next to him at one of the hundreds of press launch dinners to know that was true, as he`d hold caught with the table, having us in fits of stitches as he regaled stories of days gone by. He was a born story teller, an entertainer, and hilarious to spend time with. And never could he go through a dinner without telling us how proud he was of his daughters and his wife.
In the bar he was the last man standing yet woke up sprightly and ready for action the next day. In the press room he was the one punching his keys the hardest to make sure he hit deadline, and as a rider he was rapid when he wanted to be but never pushed too hard, even when fools like me tried to wind him up and show him a wheel on track, some regular ego fighting that went back to when Kevin was my boss in the early days. He loved every minute of it.
He was massively respected and well-known by everyone in the motorcycle industry, and I mean everyone. But being well-known is one thing, being well-liked is another. Kev had all of those bases covered.
He was ready to charm anyone he sat next to with an array of stories from his vast life experience from telling anyone who cared to listen how proud he was of his family, to hilarious anecdotes from his library of motorcycling experience which went all the way back to his early days as a courier. And he`d tell you at least five times a day that he worked for The Telegraph, in case you hadn't noticed already-
He`d ride anything from old clunkers with oil leaks like the basket case Beemer he bought to ride to Garmisch in Austria on, to GP bikes, and he was one of the few bike journalists who rode to the airport for bike launches. Bikes were in his blood, not just because they helped him earn a living.
Riding four abreast, taking up all four lanes of a German motorway, line astern as we saluted each other after a weekend drinking beer and eating Radishes at a German festival, is just one of the many moments I will cherish, along with my friends and colleagues in this room.
Many in this room have reminded me how much banter they used to have with Kev. James Wright and Bertie Simmonds for instance, spent hours daring to enter into verbal battle with Kev. They`d spend hours ripping each other about being slow, fat, having a big nose, or taking pictures out of focus.
For them it was sport, for us it made those precious moments at some of the world`s most glamorous locations become even more memorable.
But beyond the days on the road, hours sat chewing the fat on aeroplanes, long nights in the MCN office as he taught me everything he could about being a motorcycle journalist, nights drinking when we moved in next door to Kevin and Caroline, hanging out at race tracks and at airports, getting drunk in the pub, winding each other up. Away from all of that, I`m proud to say, like many in this room, that Kevin was our mate.
Motorcycling will never be the same again. But more than that, Kevin as a father, a husband and our friend will remain in our hearts forever.
We miss you mate.
Thu, 25/04/2013 - 16:18
#1
shuggiemac
Offline
I sit here again with a damp eye reading these tributes to Kevin. I did not hear them both 100% clearly at the service so am pleased to have this chance to read what I missed.
The days, weeks and a few months have passed since that fateful day and still the full reality has not hit. I think that may have to wait until the Milan show this year, as that was the last time I saw Kevin. I have a photographic memory image of him in my mind, the very last time I saw and spoke to him. He had just remarked on my gawping at some young ladies draped over some much less attractive bikes and had that massive smile on his face and a kind word as we said "see you later". My God I wish that could only be true. My only consolation is that I have that clear as day mental image in my mind and I hope I always shall.
As Marc Potter so accurately said - We miss you mate.
Recent comments
In HONDA NC700X, kharli wrote:

In HONDA NC700X, kharli wrote:

In HONDA NC700X, Grump wrote:

In HONDA NC700X, kharli wrote:

In Lest we forget..., Captain Scarlet wrote:

In Captain Scarlet's next bike, malauder wrote:

In Captain Scarlet's next bike, Captain Scarlet wrote:

In Benelli 750 SEI, CCM wrote:

In Benelli 750 SEI, Gekom57 wrote:

In Benelli 750 SEI, Gekom57 wrote:

In Captain Scarlet's next bike, Grump wrote:

In Captain Scarlet's next bike, Navy Boy wrote:

In Captain Scarlet's next bike, Captain Scarlet wrote:

In Captain Scarlet's next bike, Grump wrote:

In HONDA NC700X, Grump wrote:

In Lest we forget..., Navy Boy wrote:

In Lest we forget..., unconventional rebel wrote:

In Captain Scarlet's next bike, unconventional rebel wrote:

In HONDA NC700X, unconventional rebel wrote:

In Lest we forget..., davvy wrote:
Donate to the Kevin Ash Fund
Kevin's funeral was held on Thursday 28th February 2013 and was well attended by family, friends and colleagues.
The Telegraph has very kindly established The Telegraph Kevin Ash Fund to assist with the education of Kevin's three daughters.
If you'd like to make a donation then you can use the PayPal 'Donate' button below which will allow you to donate from your PayPal account, or via credit or debit card. A small percentage (about 3.4%) will be retained by PayPal for the service.
Kevin's family have been touched by the generosity and messages of support from people using the website and would like to express their gratitude to those who have contributed in any way.
The donations keep coming in, thank you so much, and the family especially like it when you leave a message.