Kevin Ash (1959 -2013) - the Eulogy
Delivered by Steve Gayton, written by Caroline, Laurien, Kirsten and Ingrid Ash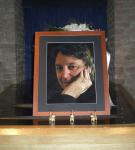 A Service to Celebrate the life of Kevin Ash
Held on Thursday 28th of February 2013 at 1.30pm
In the South Chapel Oakley Wood Crematorium
The Eulogy:
Kevin was born on the 10th of December 1959 in Ilford, to his parents Margaret and Dennis. The family would be complete when Margeret and Dennis celebrated the arrival of Kevin`s sister Elizabeth.
As a young boy he attended Sidegate Lane Primary School in Ipswich where the family were living, and was an incredibly bright and talented pupil.
So much so, that on leaving Junior school, Kevin obtained a Queen`s scholarship for Ipswich School, a well respected and prestigious private school.
It was whilst Kevin was studying here that his sporting prowess began to shine through. Not especially team games, but ones such as Table Tennis, at which Kevin became so proficient that he was one the top County Players, and represented Suffolk in Inter County Matches.
During his formative years when Kevin was about 12 years of age, he began his love affair with the two wheeled mode of transport when he acquired an old Scooter, which Kevin and his pals would race around the heath on, falling off, and fixing it up again, and this affinity, knowledge and passion for Motorbikes and Scooters would remain with him forever.
Leaving Ipswich School, Kevin was offered a place at Imperial College London to study Engineering. After two years he chose not to complete the course, feeling that he lacked the passion to pursue this as his life`s career.
But it was whilst he was still at Imperial, that Kevin would meet a rather beautiful young lady from Holland who also shared his passion and interest of motorcycles. They met at Imperial College`s motorcycle club, of which Kevin was president, and they began to spend more and more time with each other; indulging their mutual love of bikes, and travelling as a couple to The Isle Of Man TT races.
To earn a wage, Kevin began work for Point to Point Motorcycle Couriers in London, hurtling around the roads with panniers full of documents and letters.
It was when the owner of the courier company came to Kevin with his idea for a motorcyle magazine, that Kevin was introduced to the world of motorcycle journalism. He began testing bikes and writing up features for this new magazine, `Fast Bikes`, and doing this exceedingly well. This was what he finally wanted to do.
On the 13th of October 1990, Kevin and Caroline were married in Ipswich, where they lived for the next two years. Although pleasantly close to Kevin`s sister and parents, he did have a tiring daily commute to the magazine`s London office.
In 1991, Caroline discovered she was pregnant with their first baby, and decided to travel over to Holland on maternity leave to spend a little time with her own parents and family before her baby was due to be born.
As Caroline explained to me when we met, she was very fit and healthy and felt strong enough to go out this particular day for a push bike ride in the countryside, even though she was very heavily pregnant with Laurien.
Riding straight into a pole, she fell off the bike, and was taken to hospital in Holland where the medical staff wanted to admit her to the labour ward.
But Caroline was determined to have her baby born in England, and she managed to return by ferry just in time to be admitted to Ipswich Hospital, where Kevin had raced up from London to be there for the arrival of their beautiful daughter Laurien.
Caroline recalls the look of absolute pride, joy and happiness on Kevin`s face when he saw his little girl for the first time. He was simply overwhelmed.
Caroline, having just gone through the trauma and pain of child birth, was quite naturally looking forward to catching up on some extremely well deserved sleep in her hospital bed.
Unfortunately Kevin himself was also exhausted from his commute from London, and on deciding to just rest his eyes for a few moments, ended up totally comatose and stretched out on Caroline`s bed, taking up all of her space with his 6ft plus frame.
Leaving his work in London, Kevin took up a position with the very popular weekly newspaper "Motorcycle News" as a road tester based in Kettering.
Kevin was now in his element, and he was able to test all the various types of new machines being manufactured, and use his incredible insight and technical abilities to entertain and inform the biking public as to the merits or deficiencies of the bikes he was reviewing.
The public trusted the honesty and integrity of Kevin`s reports and the regard in which he has always been held is a testament to his objectivity.
As a family, Kevin, Caroline, and Laurien moved from Ipswich to Towcester, and from there to Kettering, so he could be nearer to the MCN offices.
It was whilst living in Kettering that as a family they welcomed the arrival of another beautiful daughter Kirsten on the 24th of March 1994, and again Kevin was such a proud and loving father.
In his working life, Kevin was beginning to travel abroad road testing , and at the same time he became Deputy Editor of the MCN. This position meant less time testing and more time at his desk in an administrative role, which wasn`t what Kevin wanted.
Eventually Kevin decided to become freelance, and was given the opportunity to write for the Daily Telegraph on a regular basis, and because of his reputation within the industry he was invited to numerous bike launches all over the world.
He was also writing articles which he was paid for by various magazines in numerous countries. Kevin was working flat out as Caroline said, determined to provide an excellent standard of education and a good future for all of his family.
Kevin and Caroline`s family became totally complete on the 24th of February 2002, when they welcomed and celebrated the arrival of their third gorgeous daughter Ingrid.
When Laurien was in her final year at Primary School in Kettering, the family decided to move to Bishopton Lane In Stratford Upon Avon, and into "Fairview House".
We can only imagine the happiness and pride that Kevin must have felt having his own family unit around him, Caroline and his three girls.
Because to Kevin, the most important people in his life were his family, Caroline his beloved wife, and his three girls, they were his world. On any of the tribute forums to Kevin you will find endless testimonies from friends and colleagues about exactly how proud he was of his daughters, and how much love he had for them, and how often he brought the girls into conversation, simply a very proud Dad!
The love and devotion to his family and to strive to give his daughters the best opportunities in life, is what spurred Kevin on, he was a workaholic.
Kevin as you all know was renowned for his incisive and informative articles on Motorbikes, but he also had written and completed a Novel, which I know Caroline is determined to get published one day.
Apparently some of the book`s influences are very loosely based on the Roswell incident which occurred in New Mexico in 1947, and I am lead to believe it is a genuine thriller with a major twist at the end.
A very famous publishing house in 5TH Avenue New York showed a great deal of interest in Kevin`s novel, but it appears the recession has tempered their decision to publish.
But it does illustrate to me, that not only was Kevin a thoroughly interesting technical writer on Motorcycles , but he also had the ability and imagination to write what is by all accounts a damn fine novel. What a talent!!
I did ask Caroline, whether at home Kevin had any abilities as a cook, and she said that could, and would on occasion offer to cook the family`s meal, and then pop into the chip shop for fish and chips.
As a family they enjoyed holidays in Cefalonia in Greece and of course in Caroline`s family Caravan based in Arnhem in Holland.
Caroline, Kevin and the girls enjoyed a three week magical holiday in the U.S. where they explored Las Vegas, Los Angeles, the Grand Canyon, Yosemite National Park, and San Francisco .
As a couple Kevin and Caroline also undertook the iconic and famous Route 66 trip on a Harley Davidson.
Their trip began not in Chicago, but in Albuquerque , where they met the tour guide known as "The Bear" who would accompany them on the journey to Los Angeles.
This wasn`t just a biker`s vacation for Kevin and Caroline, Harley paid for them to undertake the trip because the whole purpose was for Kevin to write an accurate and interesting set of articles about their trip on the Harley to tempt other like minded bikers to want to book the trip as a package holiday.
Kevin duly wrote the articles and Caroline`s role was to provide the photographic record of this amazing and iconic trip. These were then sold on to various other magazines by Kevin.
Kevin`s reputation and respect within the Motorcycle Industry was legendary and he would be invited by the Manufacturers to attend the launches of their new models.
Caroline recalls a launch for Triumph in Austria when she accompanied her husband, where Kevin was offered the chance to fly or go by bike, needless to say he opted for the latter, and they stayed in a castle and enjoyed exceptional hospitality.
On the 19th of January, Kevin was invited to fly out to road test the new BMW R1200 GS, at the launch in South Africa. Kevin had asked Caroline to join him on this trip, but commitments with the girls meant she declined.
He was thoroughly enjoying his time over there, and had taken to the air for a helicopter ride , and he wanted to experience the feeling of swimming with sharks, or Great Whites to be precise. So Kevin was lowered into the water with these magnificent predators all around him.
It was whilst Kevin was on the BMW test ride that tragedy occurred. I am not certain if all of the reasons are known yet,but Kevin was critically injured in an accident , and never recovered from these injuries.
Caroline told me of the heart wrenching moment when there was a knock on her door late in the evening, and two Police Officers standing there delivering the news that she prayed would never come.
I have no comprehension as to how Caroline, Laurien, Kirsten, Ingrid, Margaret and Elizabeth have found the courage to deal with the loss of their incredible husband and Dad, Son and Brother , and to try to rebuild their own lives without him.
Kevin`s passing has left a huge void in all of the family`s lives and it is on this day of all days, that all of our thoughts and prayers go out to all of Kevin`s family.
Sun, 24/03/2013 - 21:07
#1
If I manage to have half the goodness and genuine compassion written about me when I shuffle this mortal coil as Kevin had in this piece then I'll have done well.
Godspeed fella.
Sun, 24/03/2013 - 23:06
#2
shuggiemac
Offline
Well said Navy Boy.
I hope I have a similar kind of impact on my little boy and girl, as they grow up, as Kevin had and always shall have, on his three very special daughters. He was a great motorcycle journalist and he touched all our lives through it. He surpassed that in the field of being a Dad and I reckon that is about the very best thing that any man can aspire to do as well as possible. He succeeded.
Recent comments
In HONDA NC700X, kharli wrote:

In HONDA NC700X, kharli wrote:

In HONDA NC700X, Grump wrote:

In HONDA NC700X, kharli wrote:

In Lest we forget..., Captain Scarlet wrote:

In Captain Scarlet's next bike, malauder wrote:

In Captain Scarlet's next bike, Captain Scarlet wrote:

In Benelli 750 SEI, CCM wrote:

In Benelli 750 SEI, Gekom57 wrote:

In Benelli 750 SEI, Gekom57 wrote:

In Captain Scarlet's next bike, Grump wrote:

In Captain Scarlet's next bike, Navy Boy wrote:

In Captain Scarlet's next bike, Captain Scarlet wrote:

In Captain Scarlet's next bike, Grump wrote:

In HONDA NC700X, Grump wrote:

In Lest we forget..., Navy Boy wrote:

In Lest we forget..., unconventional rebel wrote:

In Captain Scarlet's next bike, unconventional rebel wrote:

In HONDA NC700X, unconventional rebel wrote:

In Lest we forget..., davvy wrote:
Donate to the Kevin Ash Fund
Kevin's funeral was held on Thursday 28th February 2013 and was well attended by family, friends and colleagues.
The Telegraph has very kindly established The Telegraph Kevin Ash Fund to assist with the education of Kevin's three daughters.
If you'd like to make a donation then you can use the PayPal 'Donate' button below which will allow you to donate from your PayPal account, or via credit or debit card. A small percentage (about 3.4%) will be retained by PayPal for the service.
Kevin's family have been touched by the generosity and messages of support from people using the website and would like to express their gratitude to those who have contributed in any way.
The donations keep coming in, thank you so much, and the family especially like it when you leave a message.