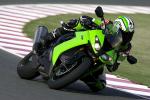 By Kevin Ash
Pictures: Kawasaki Press
There was something apologetic about the styling of Kawasaki's old model ZX-10R Ninja: the headlights were a little small for its face, the silencers weren't sure if they were underseat or side mounted and it was just a little too friendly looking as representative of the factory whose mission is to make the wildest, fastest Japanese motorcycles.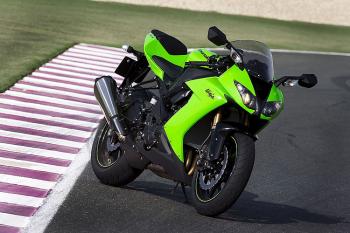 Click on image for galleryNo such concerns with the 2008 model. In fact, riding this beast you wonder if Kawasaki might not be pushing the envelope a little bit far in the other direction – the bike is barking mad. Visually it's much more comfortable in itself, with much better balanced shapes and masses, laid out with a clean simplicity that's quite stunning in the traditional lime green. The silencer knows where it's supposed to, kicked up from low on the right, the headlights are angry, the tail is high and slender, with only the gimmicky mirror-stalk-mounted indicators jarring as novelty for its own sake.

The all new look reflects the mechanical revisions, which are comprehensive and include revised cylinder heads with oval throttle bodies and twin injectors per cylinder resulting in a huge 186bhp (189PS, 139kW), boosted to 197bhp (200PS, 147kW) when Kawasaki's Ram Air pressurised intake system is taken into account. This on a machine weighting 373lb (168kg) dry, which even with fuel and oil amounts to around 1100bhp per ton. The chassis benefits from new suspension and, you'd think, improved stability thanks to a slightly longer wheelbase and less steep steering angle.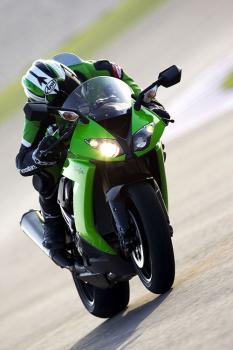 If that's what you're expecting then you're in for a major shock: on a typical bumpy British back road this bike is a real handful. The engine alone is seriously demanding, kicking in at the top of its rev range with a brutal force that flicks the front wheel off the ground even in third gear, and bear in mind it'll top 100mph (160kph) in first. It is absolutely blisteringly fast, quicker in its sweet spot than any other production bike I've ridden, maybe excepting the £40,000 Ducati Desmosedici RR, and the missile velocities are underpinned by a snarling, howling aural backdrop that on its own will have you weeping in fear. What you really, really need unless you've unleashed this animal on a smooth, dry race track is a reassuringly steady chassis: what you get is a twitchy, hard sprung platform that struggles to keep the wheels in contact with the road. The agility is almost bewildering, the direction changes so rapid you have to recalibrate your inputs to stop diving in to corners too early. Readjust, find a level, sinuous ribbon of bitumen and the bike is a joy, but on an imperfect surface the front will shimmy and shake even with the expensive adjustable Öhlins steering damper wound up to setting concrete levels. Marry that to the crashing waves of power let loose as the revs climb and you have a machine it does not do to lose concentration on for even a moment.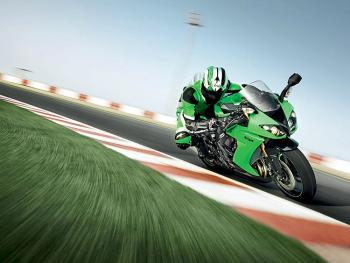 The bike is significantly, substantially faster than the Suzuki GSX-R1000 K7/K8, but you'd still make more rapid progress on that point-to-point across country, let alone Honda's new Fireblade, which is more than 10bhp down in terms of peak power but which has so much more mid-range torque a Ninja rider would stand little chance of staying close on the road. On the track the two are much more evenly matched, and quicker than either the GSX-R or Yamaha's R1, but where the Honda is unruffled and clinical, the Kawasaki rider is still shaking with fear and excitement an hour after he's got off the bike.

There's been talk of the Ninja being fitted with a form of traction control, but this is not the case, certainly not compared with the masterful system on the Ducati's 1098 R and 1198 S. In fact, the engine management system is programmed to look for spikes in engine speed and to tame them by retarding the ignition, not to prevent wheelspin but to produce a smoother throttle response. The only circumstances in which this would arrest a loss of traction would be on a steady throttle at constant speed when hitting ice or a patch of spilled diesel. If you're going to depend on it to stop a highside as you power out of a turn you might just find yourself in a low earth orbit...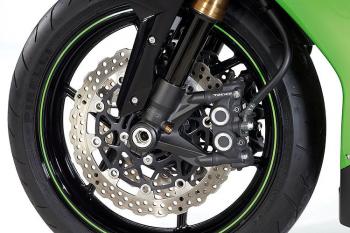 As far as everyday practicality is concerned you've probably guessed it already: well, it's not that bad in fact, you can as with any Japanese superbike trickle the Ninja around town all day and it won't complain, and it does pull from very low revs smoothly and evenly in low or high gears. The riding position is compact rather than full-on cramped, and although your wrists will ache after sustained urban riding, it's nowhere near as bad as an early nineties ZXR750. There are better commuter machines though...

So, I don't like it then? Actually, yes, I love this bike, if only for its insanity. It's the sort of thing you'd want to have in a garage of several different machines, where it would sit at the end marked 'extreme' with nothing parked beyond it. I wouldn't ride it very much, but when I did, there's be nothing else to give me a wild, dangerous thrill as pure as the 08 Ninja's.

Price: £8,913

Available: now

Contact: Kawasaki Motors UK, 0845 600 2442, info@kawasakimotorsuk.com
Customer services: 01628 856750, customerservice@kawasaki.co.uk
www.kawasaki.co.uk



Specifications
Thu, 18/12/2008 - 20:49
#1
god this bike no matter how it changes always seems to get my attention, so many ppl have tried telling me how this bike is not worthy, reading this i should be thinking omg i'd be dead if i ever got on one of them but... everyone should have a dream in life this is mine and using words like insain and extreme really didnt help talk me out of it lol, one day !one day ! i would love to try out this baby
Thu, 18/12/2008 - 21:10
#2
kevash
Offline
It's mental... Tell you what though, it's still like every other Japanese bike in one respect, if you ride it around gently, then it'll burble along quite happily and won't bite at all. It only gets wild when you start to thrash it. It's just a bit small for me, it's a tiny little thing!
Thu, 18/12/2008 - 22:01
#3
i think the one problem with that if you have got to know me at all is everything i do i do like a bull in a china shop :) infact the normal word ppl use to describe me is irratic lol so riding a bike gently might not be one of my strong points :) the fact that it is small is only a good thing for me though seen as iam pretty small myself and ............i love this bike !!!! (in black though me and snot green have issues )
Recent comments
In HONDA NC700X, kharli wrote:

In HONDA NC700X, kharli wrote:

In HONDA NC700X, Grump wrote:

In HONDA NC700X, kharli wrote:

In Lest we forget..., Captain Scarlet wrote:

In Captain Scarlet's next bike, malauder wrote:

In Captain Scarlet's next bike, Captain Scarlet wrote:

In Benelli 750 SEI, CCM wrote:

In Benelli 750 SEI, Gekom57 wrote:

In Benelli 750 SEI, Gekom57 wrote:

In Captain Scarlet's next bike, Grump wrote:

In Captain Scarlet's next bike, Navy Boy wrote:

In Captain Scarlet's next bike, Captain Scarlet wrote:

In Captain Scarlet's next bike, Grump wrote:

In HONDA NC700X, Grump wrote:

In Lest we forget..., Navy Boy wrote:

In Lest we forget..., unconventional rebel wrote:

In Captain Scarlet's next bike, unconventional rebel wrote:

In HONDA NC700X, unconventional rebel wrote:

In Lest we forget..., davvy wrote:
Donate to the Kevin Ash Fund
Kevin's funeral was held on Thursday 28th February 2013 and was well attended by family, friends and colleagues.
The Telegraph has very kindly established The Telegraph Kevin Ash Fund to assist with the education of Kevin's three daughters.
If you'd like to make a donation then you can use the PayPal 'Donate' button below which will allow you to donate from your PayPal account, or via credit or debit card. A small percentage (about 3.4%) will be retained by PayPal for the service.
Kevin's family have been touched by the generosity and messages of support from people using the website and would like to express their gratitude to those who have contributed in any way.
The donations keep coming in, thank you so much, and the family especially like it when you leave a message.