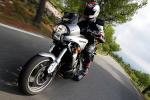 By Kevin Ash
Pictures: Double Red, Target Press, David Reygondeau



(See Kawasaki Versys 2010 model review here)

There are all sorts of bikes which would have been quicker on the varied, twisting and demanding roads of Provence Kawasaki took us to for the presentation of the new Versys. Sadly, far too many riders judge a bike's desirability simply in those terms: speed, power, specification and the rest. But a more discerning soul stands not only to save a great deal of money by opting for this 649cc parallel twin over something faster and more glamorous, chances are the Kawasaki will provide a much more satisfactory ride anyway.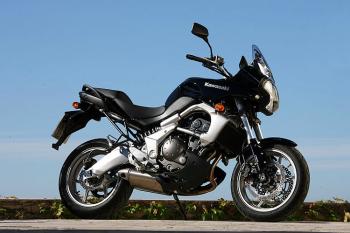 Click on image for galleryIf your biggest buzz comes mostly from arriving first, fine, go for a big capacity superbike or streetfighter, but don't expect to keep your licence for long if you make full use of all that performance and attitude. Meanwhile, as a motorcycle to reward you with its response, crispness, handling and overall feel, the Versys is disproportionately capable. And if that sounds like an apology for lacklustre performance, it's not, as the motor's punch and the agile handling make this a very quick A-to-B weapon anyway.

The engine is closely related to the unit which powers the ER-6n/s, with revised cam timing and longer exhaust pipes designed to improve mid-range power at the expense of a few horses at the top of the range. It's a move which might frustrate some of the marketing men: the Versys is aimed at more experienced riders than the beginner-biased ER-6, yet counter-intuitively its power maximum has been reduced. But it's an intelligent decision, as the Versys is stronger where most riders use the engine most of the time, in the 3000-6000rpm rev range, 50-80mph (80-130kph) on the road. Crucially, and Kawasaki rightly made a point of this, a lot of work went into refining the throttle response, ensuring it suffers none of the stutter or hesitation which annoys us on so many bikes.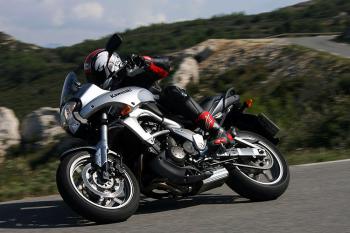 That's where much of the pleasure comes in riding the Versys: it responds exactly when and how you want, does what you ask and goes where you point it. These are simple aims but if any one of them is found wanting, it can completely spoil a bike. Heel the Versys over into a corner on a closed throttle, hit the apex, open up the twistgrip again and the motor pulls you out of the turn smoothly and powerfully. Not a glitch or stammer to get in the way of enjoying the road, the scenery, the handling or why ever else you're there in the saddle. The bubbling exhaust and inlet notes sound warm and muscular, the response is sharp without being sudden, there's no irritating vibration, just a creamy, eager power delivery which really shows how it should be done. The gearbox assists by providing rapid, light and positive changes without the need to use the clutch when changing up, and often down again, which is a step forward for Kawasaki whose cog boxes are often clunky at low revs.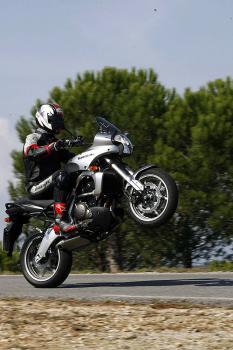 Within some budgetary limitations, and these are mostly minor, the chassis design shows the same understanding of where the pleasure comes from riding a bike. The Versys turns quickly without being nervous then sticks to its line accurately, with no sense of vagueness or wanting to tuck in or run wide. The suspension hints at choppiness occasionally, but the combination of longer than average travel with quite firm springs is more than a match for most types of road, and the overall sense of wieldiness and manageability is a real joy. There is some facility to adjust the damping and spring preload, which with patience no doubt will improve it further, but for a bike at this price level it really is exceptionally good as it stands. As with the engine, the chassis does what you want, and does so with competence.

Just one aspect falls below the Versys's overall high standards, and that's the brakes. These use low cost, floating pin callipers and it shows as a wooden feel at the lever and a need to squeeze hard in order to stop as effectively as the bike corners and accelerates. ABS is available at a price premium (£343 in the UK), and this is worth going for if you can, even aside from the safety aspect, as the ABS version also happens to feel sharper in normal stopping circumstances, and more in line with the rest of the bike's qualities.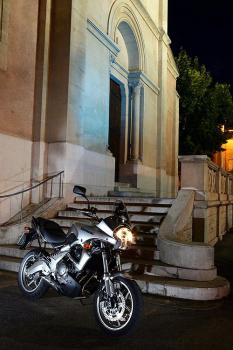 The Versys then is certainly a fun machine, but as the contrived composite name suggests, it's meant to be versatile, and there's no doubt it succeeds in this respect too. In a day and a half I spent around ten hours in the saddle, and not once was I troubled by discomfort. The small screen is good enough for 90mph-plus (150kph-plus) cruising speeds should you wish, although in its raised position it induces some helmet-buffeting turbulence – so leave it lowered (a couple or minutes with the bike's toolkit). The rear subframe is stronger than the ER-6's as the Versys is expected to be used for touring, including two-up (pillion accommodation is roomy and comfortable too, with more legroom than the ER-6) and with luggage (available as purpose-made option from Kawasaki), and with a 4.2 gallon (19 litre, 5.0 gallon US) fuel capacity and up to 50mpg (18km/l, 5.5l/100km, 42mpg US) capability its range is sufficient for this role too. Personally I especially like the upright riding position which is becoming increasingly popular: it's good for comfort and seeing the scenery or where you're going, and still lets you get on with more committed sports riding too. A shame though that the Versys's underseat storage space is almost non-existent – it's unacceptable these days that you have nowhere to store a lock, as this is essential to give you a sporting chance of finding your bike again when you return to it.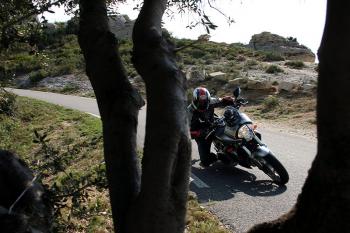 The Versys is unusual for a bike of this type in looking good, where for example Ducati's Multistrada and Suzuki's V-Strom don't quite manage. The headlight is oddly shaped, reminiscent of the Rolling Stones' tongue if you catch it right, but on the whole the bike manages to look lean and rangy without being awkward or just plain odd. It's a lot better looking out on the road than in pictures in fact.

Interestingly, the Versys also appears to be a good bike to drop. That's not to be fatuous, but comes from observing the various plastic covers over the most vulnerable parts, such as the radiator ends and lower frame castings. There are also plastic panels which will be damaged before the fuel tank, which is a major cost saving, and the underbelly exhaust won't hit the ground in a spill either. Hopefully this will be reflected in lower insurance costs, as major damage incurred from simply falling at a standstill is too often an issue with modern bikes. It's possible even to write some off without turning a wheel.

Intelligent design throughout then, and running deeper than expected, the consequence of which is simple pleasure, no qualifications. The Versys has made an appearence in several bike of the year awards, and rightly so.



Price: £5,096 (£5,439 ABS)

Available: Now

Contact: Kawasaki Motors UK, 01628 856600, www.kawasaki.co.uk

Related Technical Features:
* Semi-dry sump lubrication


Specifications
Tue, 06/01/2009 - 10:25
#1
shuggiemac
Offline
A very interesting read and it is obvious that this bike has made a real impression on you. It would seem that for five grand it is also pretty good value with it being as you describe.
I am delighted to see Kawasaki getting some real positive and widespread praise for this bike. I have always had a soft spot for them over the other Japanese manufacturers, which I think stems back to the awe we all had for the Z9 many years ago. In saying this however, I have never actually owned a Kawasaki whereas the other three of the big four do have representation in my collection.
I think there is a movement away from the over whelming popularity that pure sports bikes have enjoyed for many years. I did wonder if it was just those of my generation as we age who was feeling that but I believe that this is not just the case. There are so many new bikes coming along that mean that those looking into the middle weight category are absolutely spoilt for choice.
Coud not agree more about the Multistrada - even as a dyed in the wool and biased Ducati fan, it is far from being their prettiest offering.
Recent comments
In HONDA NC700X, kharli wrote:

In HONDA NC700X, kharli wrote:

In HONDA NC700X, Grump wrote:

In HONDA NC700X, kharli wrote:

In Lest we forget..., Captain Scarlet wrote:

In Captain Scarlet's next bike, malauder wrote:

In Captain Scarlet's next bike, Captain Scarlet wrote:

In Benelli 750 SEI, CCM wrote:

In Benelli 750 SEI, Gekom57 wrote:

In Benelli 750 SEI, Gekom57 wrote:

In Captain Scarlet's next bike, Grump wrote:

In Captain Scarlet's next bike, Navy Boy wrote:

In Captain Scarlet's next bike, Captain Scarlet wrote:

In Captain Scarlet's next bike, Grump wrote:

In HONDA NC700X, Grump wrote:

In Lest we forget..., Navy Boy wrote:

In Lest we forget..., unconventional rebel wrote:

In Captain Scarlet's next bike, unconventional rebel wrote:

In HONDA NC700X, unconventional rebel wrote:

In Lest we forget..., davvy wrote:
Donate to the Kevin Ash Fund
Kevin's funeral was held on Thursday 28th February 2013 and was well attended by family, friends and colleagues.
The Telegraph has very kindly established The Telegraph Kevin Ash Fund to assist with the education of Kevin's three daughters.
If you'd like to make a donation then you can use the PayPal 'Donate' button below which will allow you to donate from your PayPal account, or via credit or debit card. A small percentage (about 3.4%) will be retained by PayPal for the service.
Kevin's family have been touched by the generosity and messages of support from people using the website and would like to express their gratitude to those who have contributed in any way.
The donations keep coming in, thank you so much, and the family especially like it when you leave a message.