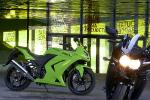 By Kevin Ash
Pictures: Wout Meppelink, David Reygondeau, Tom Dekstra

The best selling Kawasaki sports bike in America is not the ZX-6R, as you might expect, nor the mad missile ZX-10R. Even their calmer stablemates with mass market appeal like the ER-6f fail to sell as many in the USA as the little 250R Ninja. Yet until the second half of 2008 the quarter litre Kwaka was not even available in the UK.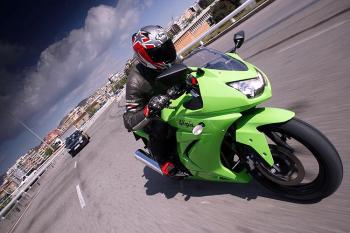 Click on image for galleryOnce, the 250cc sports class was the core and definition of British bike culture: you'd stick on your L-plates, Doc Martens, too-tight Sheene rep nylon jacket and thrash up and down the High Street in a plume of two-stroke blue, straggly mullet poking out from beneath your Paddy Hopkirk Agordo, until the local SD1 jam sandwich started cruising your patch. Bikes to have then were Yamaha's RD250, Suzuki's GT250 and from Kawasaki then, the crackling triple-cylinder KH250.

Honda wouldn't come and play because it didn't like smelly two-strokes, and four-strokes were so down on power they stood no chance as direct competitors – wailing away from the lights ahead of a CB250 was too easy even to be much fun.

Which goes to show how far technology has come. The Ninja 250R is intended primarily to be a gentle, easy-riding motorcycle for novices and those who like the style but aren't interested in the tyre-shredding performance that usually comes with it. Yet its 'simple' four-stroke twin makes 1bhp more than a Suzuki GT250A as it revs out to its 13,000rpm red line, 5000 revs further than the old two-stroke's ceiling. So much for the howling stroker...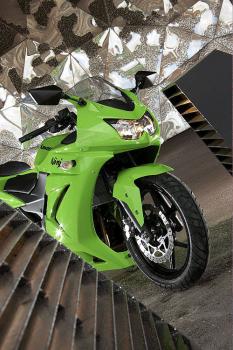 Kawasaki's Thai-built twin in fact is nothing like simple by late Seventies standards, featuring liquid-cooling, two overhead cams, eight valves and fuel injection with twin throttle butterflies per cylinder, one of which is controlled entirely by the engine management computer, and there's certainly nothing as crude as a kick start fitted. But the Japanese have proved beyond question that it's how well you make 'em, not how complicated, which determines reliability, and on the whole Kawasaki vies with Honda as most dependable Japanese manufacturer, which in turn means the same as the most dependable motorcycle manufacturer from anywhere. Certainly the well put-together 250R maintains the badge's integrity.

All the baffling bits are tucked safely inside anyway, most owners will care only what happens when they turn the twistgrip, and here the Ninja 250 sticks to brief rather than style, as it should. There's no step in the power delivery, just a gentle increase as the revs rise, which translates as a very easy, unintimidating ride around town with just enough urge to stay ahead of the traffic rather than be constantly duelling with it. The clutch is light with a soft pick up, and as it's cable operated you can adjust the bite point to suit your preference. The engine response is a little too sudden in the lower gears, making smoothness harder, but it's no more than a minor irritant.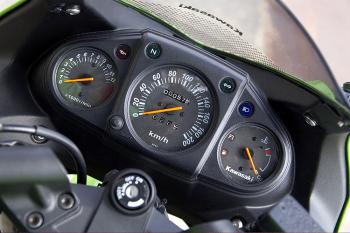 Break out into the countryside and you won't notice, and although you do need to spin the motor hard to access its performance there's no danger of it catching you out. While riders used to bigger, faster steeds will find it flat, in fact compared with the competition the Ninja is sharp and lively with a willing engine and it's much more rewarding to ride. There are no direct Japanese rivals, just Korean or Chinese options, and the best of these, the Hyosung GT250R, feels laboured, crude and a decade older in comparison – it offers only a marginal cost advantage too.

Some riders I was with were bothered by high frequency vibration from the balance-shaft equipped Ninja, notably those with smaller hands than mine – they had a more direct contact with the bars and felt the buzzing more, where for me it wasn't an issue. Size was a talking point in other respects, as this is a small, lightweight machine and while six foot three (1.92m) me managed, it's definitely a bike better suited to more compact specimens of our species, girlie ones in particular benefiting from its light weight and low seat. They'll get a slightly better view from the too narrow-set mirrors, but these are still a weak point for town riding as there's too much arm and not enough road reflected in them.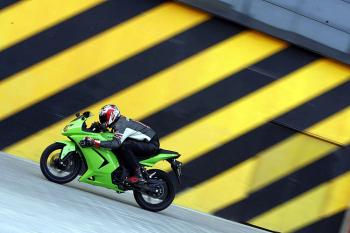 All riders will enjoy the handling though, as the Ninja is beautifully balanced at low speeds and stable and accurate at high ones. The suspension is extremely good for this class of bike, only becoming notably bouncy on rough roads taken fast, while the brakes impress too, the back one especially as it offers far more feedback and progression than most rear discs, an important point as many novices depend on this more than they should.

The styling meanwhile is sharp, Kawasaki sporting and very attractive for that, though sensibly the riding position is still upright and biased towards urban riding, comfort and relaxed control. The dash is comprehensive too, including rev counter and fuel gauge. The bike is also green in more senses than its eye-catching hue (black is the alternative if lime green just isn't you): even thrashing it mercilessly on mountain roads I achieved 74mpg (26km/l, 3.8 l/100km, 61mpg US), making Kawasaki's claim of a typical 85mpg (30km/l, 3.3l/100km, 70mpg US) including mostly town riding perfectly credible. The Ninja's 3.75 gallon (17 litre, 4.5 gallon US) tank endows the Ninja with an everyday 300 mile (480km) plus range.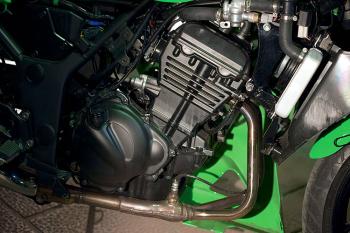 The old 250 class in the UK was killed by 125cc learner laws and has been completely abandoned by most manufacturers in other markets too, leaving it wide open for the cheap hack specialists. That's meant plenty of people who only ever wanted a sporty 250 for whatever reason have come to believe these are how motorcycles are, which in many cases is badly made, wholly unsatisfying and dynamically dreadful. The classy Kawasaki is a very welcome return to the sector for Japanese qualities: it's head and shoulders above the rest, brings fun and riding satisfaction back to the class yet competes on price. And it's quicker than a KH250...

£3,299 on the road.

Contact: Kawasaki Motors UK, 01628 856600,

www.kawasaki.co.uk



Specifications
Sun, 14/12/2008 - 23:13
#1
shuggiemac
Offline
The 250 Ninja is a fine looking little bike and I really hope it does as well over here in Europe as it has done in the USA.
It is an excellent point that there must be a number of people who are coming into biking and experiencing some pretty sub standard machines as their first encounter. Those heady days of 250 riding in the teen age years are indeed tinted by rose coloured glasses but even so they were also some really excellent rides and for the vast majority of the time the bikes were more than we actually really needed. It would be great if the little Ninja can bring that to a whole new generation. It would also be a great way for people to put a smile on their faces on the way to and from work.
Sun, 14/12/2008 - 23:44
#2
kevash
Offline
I'd love to get hold of a KH250, or maybe even an RD250 or GT and run it side by side with a Ninja 250 - I'm convinced the Ninja would be quicker in a straight line, and as for brakes and cornering they'd not stand a chance... It's been on sale for a while now and I think it's doing pretty well, and it seems the other importers are taking the class seriously now.
Mon, 15/12/2008 - 00:09
#3
shuggiemac
Offline
I would certainly hope that that the Ninja will handle better than the old RD250 and KH. If not then I think someone in Japan at KHI would need to be falling on their ceremonial sword! So here's a question for you - do you think we were better riders in those days for managing to handle those bikes with hinges in the frame and square section Avon road runner tyres? These youngsters today, don't have a clue their living !
Recent comments
In HONDA NC700X, kharli wrote:

In HONDA NC700X, kharli wrote:

In HONDA NC700X, Grump wrote:

In HONDA NC700X, kharli wrote:

In Lest we forget..., Captain Scarlet wrote:

In Captain Scarlet's next bike, malauder wrote:

In Captain Scarlet's next bike, Captain Scarlet wrote:

In Benelli 750 SEI, CCM wrote:

In Benelli 750 SEI, Gekom57 wrote:

In Benelli 750 SEI, Gekom57 wrote:

In Captain Scarlet's next bike, Grump wrote:

In Captain Scarlet's next bike, Navy Boy wrote:

In Captain Scarlet's next bike, Captain Scarlet wrote:

In Captain Scarlet's next bike, Grump wrote:

In HONDA NC700X, Grump wrote:

In Lest we forget..., Navy Boy wrote:

In Lest we forget..., unconventional rebel wrote:

In Captain Scarlet's next bike, unconventional rebel wrote:

In HONDA NC700X, unconventional rebel wrote:

In Lest we forget..., davvy wrote:
Donate to the Kevin Ash Fund
Kevin's funeral was held on Thursday 28th February 2013 and was well attended by family, friends and colleagues.
The Telegraph has very kindly established The Telegraph Kevin Ash Fund to assist with the education of Kevin's three daughters.
If you'd like to make a donation then you can use the PayPal 'Donate' button below which will allow you to donate from your PayPal account, or via credit or debit card. A small percentage (about 3.4%) will be retained by PayPal for the service.
Kevin's family have been touched by the generosity and messages of support from people using the website and would like to express their gratitude to those who have contributed in any way.
The donations keep coming in, thank you so much, and the family especially like it when you leave a message.