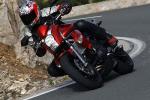 By Kevin Ash
Pictures: Double Red
While sports bikes usually are refreshed or renewed every two years, most other bikes have significantly longer shelf lives, so it's quite a surprise to see Kawasaki's novice-friendly middleweight ER-6n being facelifted already - it still feels like a relative newcomer. But it was introduced in 2005 and the bike we're looking at now is a 2009 model, so this is four years down the line, on top of which the latest package of changes are nothing more than a gentle facelift and mechanical tweak. Not that the ER-6n needs any major overhaul: it was always compact, wieldy, easy to ride and performed well enough to excite without intimidating, although if you were feeling fussy you might have pointed out its vibey, buzzy feel when revved.
Kawasaki quietly agreed, it seems: I rode the facelifted ER-6n (n for naked, the test of the later-arriving ER-6f with full bodywork is here) on some sinuous but slippery Majorcan roads earlier this week, and two areas specifically have been revamped, the style and vibration. The new look is more conventional than the original's if still recognisably ER-6, with less of the Japanese noh-mask-inspired subtle curved surfaces and more by way of defined edges and lines, adding some aggression and, Kawasaki hopes, a more youthful appeal too, as they'd like to attract a younger audience. It's a well balanced mien, interesting and funky enough for all kinds of riders, and the dynamic changes have made it a more pleasing ride too.

Specifically, there's additional rubber mounting between engine and frame as well as for the handlebars, while front and rear footrests get rubber pads. The engine is unchanged internally but benefits from revised ignition and fuel mapping, while the dash has been modernised. There are other details aimed at improving the feel of quality, such as cast aluminium instead of plastic passenger grab handles, a better finish on the fork legs and so on, but it's the improvment in how the bike feels to ride that impresses the most, considerably more than the relatively few changes imply.
The reduced vibration is certainly noticed, especially when the engine is revved harder and also when held at a steady high speed: the tamed tingles through bars and pegs improve comfort very usefully. But the engine is also smoother in the way it delivers its power, with a creamier but more eager sensation and greater willingness to rev. It wasn't bad by any means before, but it's still clearly better now.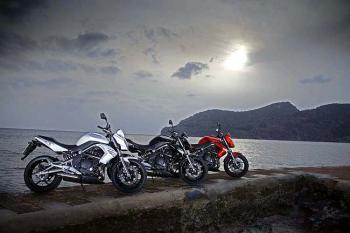 One other change has been to the suspension, which is firmed up slightly with higher quality damping, a direct consequence of the old model's popularity – that sold so well – 22,000 examples in Europe – that Kawasaki has been able to order larger numbers of components from its various suppliers, and in many cases, rather than use the increase in scale to cut costs it's upped the quality instead. And as with the engine, there's a noticeable improvement in feel, especially on poor surfaces which the bike absorbs more confidently and with a plusher ride, at the same time delivering better stability when pushed hard
The basic assets of the old model are unaffected: it's agile and enjoyable, especially on twisty back roads where the engine's low rev torque saves plenty of gear changing and hard revving. Fuel economy is good, with 50-plus mpg a reasonable expectation, and it sounds great when the engine's spinning hard. ABS is a £300 option and this is very smooth and efficient, while braking power generally is as much as most riders will need. But the gear change is still on the heavy side, as with the old machine. Note that this is a compact bike with a low seat: tall riders will find their legs cramped, but for shorties it's an especially easy machine to manage.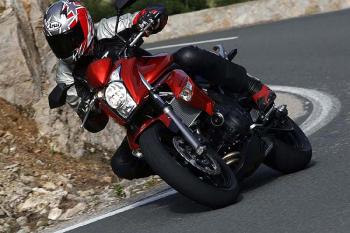 Each change from the old is not enormous in itself but as a complete package the new model is moved forward convincingly, and that's from an already accomplished base line, and while no price has been announced yet, it won't be much more than the outgoing machine's £4,295, which is great value.





Price: £4,400 est (to be confirmed)

Available: January 2009

Contact: Kawasaki Motors UK, 01628 856600, www.kawasaki.co.uk

Related Technical Features:
* Semi-dry sump lubrication


Specifications
Mon, 22/02/2010 - 17:19
#1
mmmm well i posted a advice for me on what scooter to buy about a mth ago vespa/maxi mmm well started my lessons on a 500cc bike mmm ive orderd a new 2010 er-6n should have it sometime in march if tests go well i shall let you know how the er-6n goes haha
cheers jedi
p.s ash i read your story on the er-6n what do u think
Mon, 22/02/2010 - 18:03
#2
kevash
Offline
Yes, I remember, you were deciding on a Vespa! Not anymore it seems... well like I say in the story, the ER-6n was a good bike to start with, and the new version improves on that, I'm sure you'll like it a lot and get on very well with it. You'll be able to do a lot more with it than a scooter, like going touring in the summer (there is a summer coming isn't there?).
Good luck with the test, keep us posted on that, and how you get on with the ER-6n too.
Recent comments
In HONDA NC700X, kharli wrote:

In HONDA NC700X, kharli wrote:

In HONDA NC700X, Grump wrote:

In HONDA NC700X, kharli wrote:

In Lest we forget..., Captain Scarlet wrote:

In Captain Scarlet's next bike, malauder wrote:

In Captain Scarlet's next bike, Captain Scarlet wrote:

In Benelli 750 SEI, CCM wrote:

In Benelli 750 SEI, Gekom57 wrote:

In Benelli 750 SEI, Gekom57 wrote:

In Captain Scarlet's next bike, Grump wrote:

In Captain Scarlet's next bike, Navy Boy wrote:

In Captain Scarlet's next bike, Captain Scarlet wrote:

In Captain Scarlet's next bike, Grump wrote:

In HONDA NC700X, Grump wrote:

In Lest we forget..., Navy Boy wrote:

In Lest we forget..., unconventional rebel wrote:

In Captain Scarlet's next bike, unconventional rebel wrote:

In HONDA NC700X, unconventional rebel wrote:

In Lest we forget..., davvy wrote:
Donate to the Kevin Ash Fund
Kevin's funeral was held on Thursday 28th February 2013 and was well attended by family, friends and colleagues.
The Telegraph has very kindly established The Telegraph Kevin Ash Fund to assist with the education of Kevin's three daughters.
If you'd like to make a donation then you can use the PayPal 'Donate' button below which will allow you to donate from your PayPal account, or via credit or debit card. A small percentage (about 3.4%) will be retained by PayPal for the service.
Kevin's family have been touched by the generosity and messages of support from people using the website and would like to express their gratitude to those who have contributed in any way.
The donations keep coming in, thank you so much, and the family especially like it when you leave a message.