How To Get A Motorcycle Licence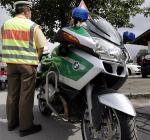 Before you can legally roll a wheel for the first time on a public road, there are two licencing requirements: a CBT (Compulsory Basic Training) certificate and a provisional motorcycle licence.





*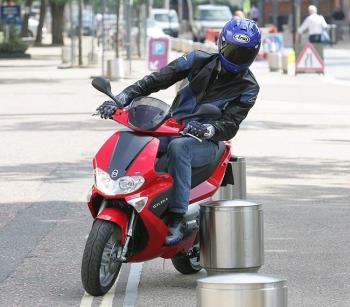 CBT is designed to test basic machine handing skills. Click on images for larger versionsCompulsory Basic Training

CBT courses are run by DSA (Driving Standards Agency) approved training schools. CBT is entirely practical, carried out on site and on the road, and is designed simply to ensure you have adequate basic motorcycle handling skills. At this stage it doesn't affect what full licence you can get later if you take CBT on an automatic (scooters are automatic, motorcycles have foot-operated manual gearchanges), but most training schools use small manual motorcycles, and unless you plan only ever to ride scooters, it makes sense to ride a motorcycle from the outset.

You cannot legally ride any powered two-wheeler on the road on a provisional licence without a valid CBT certificate.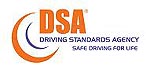 * TO FIND YOUR NEAREST CBT AND TRAINING CENTRE, CLICK ON THE DSA LOGO Please note the postcode and city search don't appear to work. Clicking on the alphabetical town and city list is laborious but it does work.



*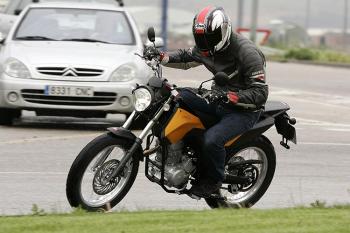 A provisional licence with CBT gets you onto a 125 scooter or motorcycle, such as this Derbi Cross CityThe Provisional Licence

A full car licence should automatically include provisional motorcycle entitlement – category A on the licence – but do check your licence as this is sometimes left off. Note too that motorcycle entitlement on provisional licences issued before February 1 2001 expires after two years, but now you can apply to have this extended to your 70th birthday using licence application forms at the Post Office.

If you have no licence, at 16 you can only apply for a provisional moped licence (up to 50cc with a 30mph top speed). You must be 17 or older for a provisional motorcycle licence. Make sure when you apply for the provisional licence that you specify motorcycle entitlement: on older application forms in Post Offices you need to tick this box, but with the newer forms this is included automatically.

With a provisional licence, a CBT certificate and appropriate insurance cover you can now ride any motorcycle or scooter up to 125cc with no more than 15bhp (11kW) power rating, fitted with L-plates. You are not allowed to carry a passenger unless they hold a full motorcycle licence and you are not allowed on motorways.


* The Full Licence

It says full licence but in fact there are three options, depending on your age. In each case you must also pass a theory test and hazard perception assessment, and subsequently take the practical test within two years of getting this.

* Before you go for your licence you must make a decision about your future motorcycle or scooter riding – click here!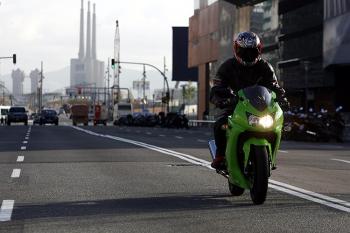 Kawasaki's Ninja 250 produces 33bhp and will just top 100mphCategory A1 licence –
This is a full licence known as the light motorcycle licence, restricting you to any bike up to 125cc and a power output of 15bhp (11kW). This kind of machine will have a top speed of around 65mph, although it will be slower into headwinds and up hills. so it's suited only to occasional fast A-road and dual carriageway use. You can ride these bikes on motorways, if you're brave...

Category A licence, standard test –
Take your test on a 125cc machine (legally between 120cc and 125cc with a top speed in excess of 62mph) and for the first two years and not until you reach the age of 21 you are restricted to bikes of up to 33bhp (25kW), and with a power-to-weight ratio (the power output divided by the manufacturer's claimed weight of the machine) of no more than 0.01bhp/lb (0.16kW/kg). In practice this means machines up to around 500cc, but you can ride larger ones as long as the power doesn't exceed 33bhp - many bikes can be modified by dealers to keep the power down to this level, meaning when your two years is up you need only to remove the modifications to release the full power and don't have to change bike.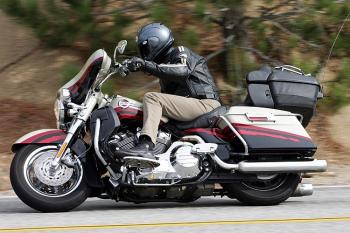 The Harley-Davidson Electra Glide is only a licence away...Category A licence, Direct Access test –
This is available only to riders aged 21 or more and must be taken on a motorcycle producing 47bhp (35kW) or more. For the on-road instruction you are always accompanied by an instructor, you must wear a reflective bib and you are in radio contact with the instructor. Direct Access is usually taken as roughly week-long intensive courses, sometimes residential, after which you are entitled to ride a motorcycle of any capacity and power. Do note though it is usually very expensive or impossible for a complete novice to get insurance cover for a high performance machine, regardless of the rider's age.

There is a version of Direct Access called Accelerated Access for riders who reach the age of 21 before their two year probationary period is complete.

* Note that a full car licence where the car test was passed before February 1, 2001 also provides full moped licence entitlement, but for licences gained after this date, a CBT certificate must be obtained first.
* Note too that if you take your test on an automatic, usually a scooter, your licence will restrict you to riding automatics. There is currently only one automatic motorcycle, the Aprilia Mana.



Thu, 03/11/2011 - 14:38
#21
patrick916
Offline
Passed my test in 1971 on an early 60's 250 Norton Jubilee, like Rocker in pouring rain. The examiner was in sou'wester and full waterproofs and offered to reschedule. I declined and no more than 15 minutes later I was tearing off the 'L' plates and riding home with my mate on the pillion, me wearing my old Premier open-face and him helmetless, both of us soaked.
I seem to remember we were singing all the way.
Sold the Jubilee a month or so later and bought a 1962 Norton 650SS with fibre-glass tank, solo seat, clip-ons and Dunstall silencers for the sum of £180.00.
Regarding Shuggie's Mum, my parents were both motorcyclists but I know that my Mum worried about me (if she'd known what antics we got up to she would have been apoplectic). I had motorbikes when my wife and I met, but even now, after 23 years of marriage she insists upon kissing me when I go for a ride and kissing me when I return, as if it's a bonus that I'm back in one piece.
Why do we put them through it?
Recent comments
In Kawasaki 2012 2013 ZX 14R, Sam Lucas wrote:

In Lest we forget..., vroum_ninou wrote:

In Piaggio BV350, gjw1992 wrote:

In Lest we forget..., Captain Scarlet wrote:

In Piaggio BV350, harps wrote:

In Lest we forget..., Coops wrote:

In Lest we forget..., Navy Boy wrote:

In Lest we forget..., Davidos wrote:

In Triumph Tiger Explorer, naivsupr wrote:

In Triumph Tiger Explorer, naivsupr wrote:

In Lest we forget..., naivsupr wrote:

In Lest we forget..., Captain Scarlet wrote:

In Captain Scarlet wrote a book..., roundincircles wrote:

In Captain Scarlet wrote a book..., Captain Scarlet wrote:

In Captain Scarlet wrote a book..., roundincircles wrote:

In Aprilia Caponord 1200, Whelmasay wrote:

In Captain Scarlet wrote a book..., Captain Scarlet wrote:

In Benelli 750 SEI, Gekom57 wrote:

In Captain Scarlet wrote a book..., Captain Scarlet wrote:

In HONDA NC700X, JAG wrote:
Donate to the Kevin Ash Fund
Donate directly to the Kevin Ash Fund setup by the Telegraph to help with the education of his three daughters.
The Telegraph can only accept cheques and Postal Orders in Sterling. If you'd like to make a donation but you can't send a cheque or Postal Order then you might consider using PayPal, which will accept other methods of payment. A small percentage (about 3.4%) will be retained by PayPal for the service.
Kevin's family have been touched by the generosity and messages of support from people using the website and would like to express their gratitude to those who have contributed in any way.
The donations keep coming in, thank you so much, and the family especially like it when you leave a message.
NEWS...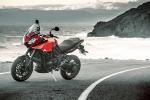 * TRIUMPH TIGER SPORT
The Tiger gets a single-sided swingarm and another 10bhp!...(more)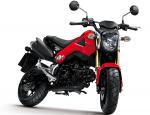 * HONDA MSX125
Honda announces a spiritual successor to the iconic Monkey Bike!...(more)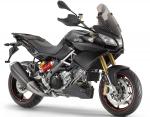 * APRILIA CAPONORD
At last Aprilia goes for the GS too......(more)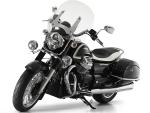 * GUZZI CALIFORNIA 1400
Italy's biggest ever V-twin for the all-new Guzzi...(more)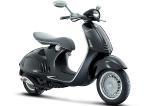 * VESPA 946 FIRST PIC
Sleek new Vespa 125 based on last year's concept bike...(more)