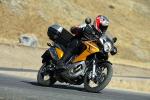 By Kevin Ash
Pictures: Double Red, David Reygondeau
It was 1987 when Honda introduced the Transalp, since when the V-twin trail bike has become something of a cult machine on the quiet for its combination of versatility and astonishing dependability and durability. Honda claims the original Transalp was pioneering as a middleweight adventure machine, ignoring the bike which really did propagate the class seven years before, BMW's R80GS, but even if it didn't come first, the Transalp did the job so well it's changed remarkably little since.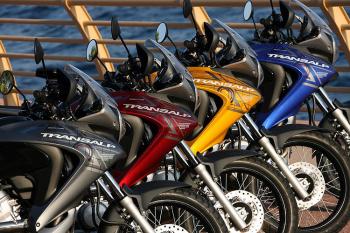 Click on image for galleryFor 2008 the bike gets one of the biggest makeovers of its life, but even now the old model's frame and suspension are essentially unchanged, while the engine is a development of the previous one rather than a replacement. The most significant chassis upgrade is the fitment of a 19 inch front wheel in place of the old 21 inch item, confirming the bike's stronger road riding bias at the expense of some off road ability, and a recognition of how the vast majority of owners use their Transalps the vast majority of the time. The wheel base gains 0.4in (10mm) and new Bridgestone Trail Wing tyres are fitted, also designed with a greater emphasis on stability.

The liquid-cooled motor gets 2mm larger pistons to bring its capacity 33cc up to 680cc, new conrods support them and the cylinder heads are new, with four valves apiece in place of the old three-valve designs, so it's now very closely related to the 07 Deauville engine. The bottom half of the motor is barely changed, which will please those who've managed to squeeze more than 200,000 miles (320,000km) out of these units, either in the Transalp, Deauville, Revere or NTV series – this is quite probably the toughest motorcycle engine ever made.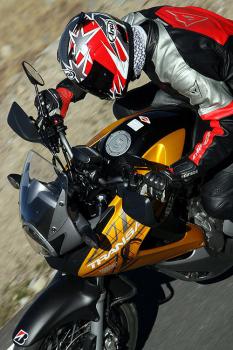 This is quite probably not the toughest motorcycle journalist ever made, so the test route from Monaco to the Col de la Bonette, Europe's highest paved road at 8,900ft (2714m) in the southern French Alps, was rather daunting. Not so much because of the twists and turns or 160 mile (250km) distance, but the bitter cold and to a lesser extent, the thinning atmosphere. This last factor was more of a problem for bike than rider – roughly 3-4 per cent of an engine's power is lost with every 1000ft (300m) gain in height, bringing the Transalp's 59bhp down to a very modest 40bhp in theory. Throw in some steep hills (not uncommon in the Alps…) and no surprise that the bike felt breathless as it neared the Col de la Bonette, whose coordinates are scribed on the side of the Honda's fairing panels.

The motor though does have a very broad spread of power and it was this which pulled it through, while at less stressful altitudes it's a lovely, punchy unit that makes of light of propelling the bike's 441lb (200kg) dry weight, plus fuel and rider. A shame there's not more fuel to propel though – the tank capacity is down from 4.18 gallons (5 gallons US, 19 litres) to 3.85 gallons (4.6 gallons US, 17.5 litres), which has led Honda to claim rather oddly that the new engine's 7 per cent improvement in economy has resulted in a better range than the old model's. Er, but the tank is smaller by nearly 8 per cent… And whether the range is more or less than before, the bottom line is, it's not enough, not for a bike whose stated purpose is covering big distances, off mainstream roads, on all kinds of terrain – frequent fuel stops are a pain but where the Transalp is designed to go, there might not be many anyway. My machine's low level warning flicked into distracting LCD action at around 130 miles (210km), which is no better than a sprinting sports bike. I harp on about inadequate range on a lot of bikes, but here it's especially important, not least because one of the Transalp's main rivals, Suzuki's ageing V-Strom, can cover 200 miles (320km) before you start to think of replenishing the tank, and as that's a fine bike in far more than that, this facet alone will turn riders away from the Honda. Admittedly the 42mpg (14.9km/l, 6.7l/100km, 35mpg US) I was getting would be better at sea level and with fewer steep hills to climb, but even so, the bike still needs a larger tank.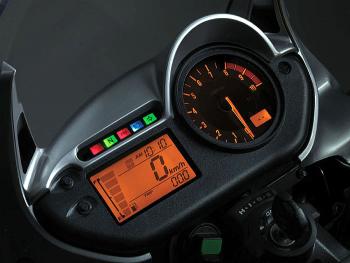 In other respects the Transalp is outstanding. Comfort is good (although I was wearing so many layers of clothing I could barely feel the seat anyway), the reach to the ground is easier for shorter riders and the ride quality is a lot better than the V-Strom's. In particular the Transalp steers as well as any motorcycle I've ridden. The tyres are unusually high profile at some 90 per cent of width and this, according to technical development manager Dave Hancock, improves the low speed steering, and no doubt helps the ride quality too. Certainly it's possible to stop the bike, turn the bars to full lock then trickle around in a tight circle with no hint of wobble nor any need to dab a foot, while at higher speeds it remains perfectly neutral with exemplary stability, considerably better than its obvious rivals. It doesn't flick side to side like a sports bike but still it deals with successive hairpins with an easy, relaxed handling response that's just as rewarding, and its sheer manageability makes it ideal as a first big bike for novice riders as well as a good choice for the rest of us. Honda's excellent ABS comes as standard too, which will also encourage the inexperienced.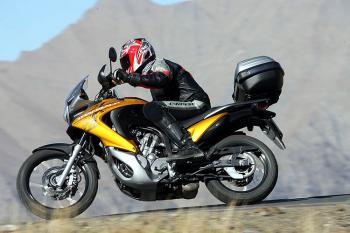 The wind protection from the new bodywork has been reduced to some extent, the intention instead being to offer a smoother and less tiring airflow, and this has worked well. The wind pressure is low enough for cruising into three figure speeds without strain and there's no turbulence of significance, important for long distance rides. And despite the stronger road bias, the Transalp coped just fine with some minor excursions away from the bitumen – certainly forest fire tracks and the like will pose no problems, although mud will quickly clog the dual purpose tyres, so beware of damaging the new body panels.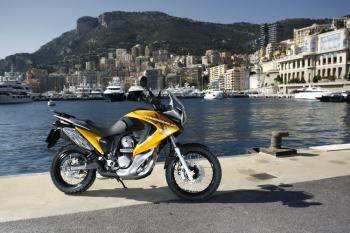 Although the Transalp owes a lot to the old version technically, visually it's been brought forward the full two decades and now looks like a thoroughly modern, lean and appealing motorcycle. If there was an issue with the old one, it was such a cult machine with such dated looks, those who didn't quite get it wouldn't have gone near one. Now the dedicated Transalpian will be happy still (fuel range aside) but many more will find themselves drawn to its exceptionally easy ride, around town or up a mountain, and also for its head turning style.

Price: £5,503

Available: now

Contact: Honda UK 0845 200 8000; Customer services: 0500 011959, www.honda.co.uk




Specifications
Mon, 10/06/2013 - 01:48
#1
Great to read a well written test ride and comparison of the Suzuki V-Strom 650 and Honda Translap 700 now get a bunch of mates together and ride all the bikes at both high and low altitudes's and various terrains.Besides being great fun for the riders; us readers would greatly benefit from it.Cant they make these bikes just a little lighter for us older blokes whom still need and want to ride.Your report has swayed me to the Honda for after checking out and reviewing many,many specks of the competition; I kept coming back to the V-Strom until now so hopefully I'll be riding a Translap to Western Ausie.Will touring with son in the SW I'll send a report and pics if you like.Regards Pete Ward Merriwa NSW
Recent comments
In HONDA NC700X, kharli wrote:

In HONDA NC700X, kharli wrote:

In HONDA NC700X, Grump wrote:

In HONDA NC700X, kharli wrote:

In Lest we forget..., Captain Scarlet wrote:

In Captain Scarlet's next bike, malauder wrote:

In Captain Scarlet's next bike, Captain Scarlet wrote:

In Benelli 750 SEI, CCM wrote:

In Benelli 750 SEI, Gekom57 wrote:

In Benelli 750 SEI, Gekom57 wrote:

In Captain Scarlet's next bike, Grump wrote:

In Captain Scarlet's next bike, Navy Boy wrote:

In Captain Scarlet's next bike, Captain Scarlet wrote:

In Captain Scarlet's next bike, Grump wrote:

In HONDA NC700X, Grump wrote:

In Lest we forget..., Navy Boy wrote:

In Lest we forget..., unconventional rebel wrote:

In Captain Scarlet's next bike, unconventional rebel wrote:

In HONDA NC700X, unconventional rebel wrote:

In Lest we forget..., davvy wrote:
Donate to the Kevin Ash Fund
Kevin's funeral was held on Thursday 28th February 2013 and was well attended by family, friends and colleagues.
The Telegraph has very kindly established The Telegraph Kevin Ash Fund to assist with the education of Kevin's three daughters.
If you'd like to make a donation then you can use the PayPal 'Donate' button below which will allow you to donate from your PayPal account, or via credit or debit card. A small percentage (about 3.4%) will be retained by PayPal for the service.
Kevin's family have been touched by the generosity and messages of support from people using the website and would like to express their gratitude to those who have contributed in any way.
The donations keep coming in, thank you so much, and the family especially like it when you leave a message.