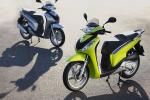 By Kevin Ash
Pictures: Ula Serra, Francesc Montero, Zep Gori, Félix Romero
The SH125 is Europe`s favourite scooter with more new registrations than any other since its launch in 2001, and for 2009 it`s had a mild makeover designed no doubt to help it hang on to the number one spot. But one of the reasons the Europeans like it is exactly why we in the UK go for Vespas instead: those 16 inch wheels. Scooter-friendly nations such as Italy and Spain are very aware that bigger wheels are better for stability and give a better ride quality, rolling across potholes rather than dropping into them as small-wheeled scooters do. But the Brits still think of big-wheeled scooters in the same way as the old Mobylette their grandmother used to ride - in other words, deeply uncool, and whatever the rationalities, that matters.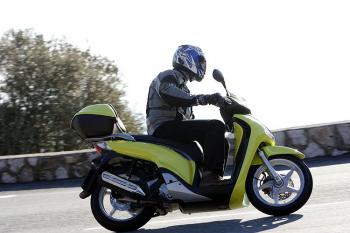 Click on image for galleryThey are missing out. From a purely dynamic viewpoint the SH works very well: it`s sufficiently manoeuvrable to slip through traffic easily but at higher speeds (it`ll top out at about 60mph, 100kph) it doesn`t wobble so much you back off the throttle because things are feeling just too nervous. But you do lose out in one respect with these more generous wheels, as underseat storage is reduced. On the SH you can only fit an open-face helmet beneath the seat, although at least for 2009 the seat itself is 0.4in (10mm) lower, making life easier for shorter riders. Honda says the SH has the lowest seat in the class.

Other changes include a new rear disc brake in place of the original drum, and useful for taller riders like me, an extra 0.8in (20mm) of leg room. The footboard area is completely flat, as before, which is very useful for carrying awkward objects (bags, chickens, etc-), and the styling has been breathed on for a fresher, cleaner look with improved lines.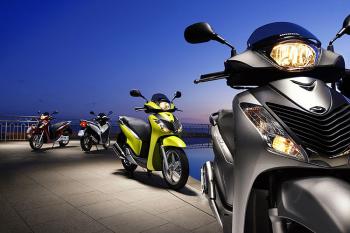 Much is made too of the low exhaust emissions and good fuel consumption- much, that is, up to the point of supplying real figures. The standard press pack tells us absolutely nothing about these, although Honda UK has promised me some more information about this, which I`ll publish as soon as it arrives. Meanwhile, I did manage to do a fuel consumption check on the launch, where the SH achieved around 85mpg during some hard riding. This is okay for a scooter but it`s not exceptional, and as I`ve mentioned before, you`ll get better economy from a geared motorcycle anyway.

It is becoming increasingly frustrating when scooter manufacturers implore people to buy their products because they`re economical and clean, but then fail to provide us with any evidence that this is so.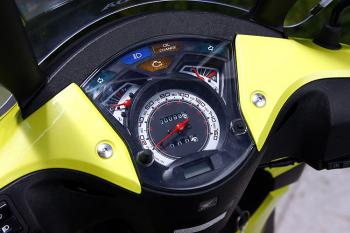 Meanwhile, if the brochure experience is annoying, the riding experience is better. The four-stroke engine is smooth and strong and it takes up drive through the automatic transmission predictably and without jerkiness or lurching, so it`s easy to trickle along at walking pace or make U-turns without dabbing at foot at the ground. There`s an overall feeling of high quality too, backed up by all sorts of reliability figures and surveys which place Honda relentlessly at or very near the number one spot. The air of class is helped by the dash including a fuel gauge, clock and engine temperature gauge.

There`s no doubt the SH125i will keep doing well in European markets, and within its small UK niche it`ll stay at the top too. It`s not cheap, but that`s reflected in the design and quality.

Price: £2,465

Available: March 2009

Contact: Honda UK 0845 200 8000; Customer services: 0500 011959, www.honda.co.uk



Other Scooters
Tue, 24/02/2009 - 15:41
#4
kevash
Offline
Harley-Davidson has workers on short time and has been laying off staff, but most of the Europeans seem to be doing okay at the moment. Production figures of the Japanese factories (ie the ones located in Japan) are down significantly, between 20 and 30 per cent so presumably there's short time working in those.
Recent comments
In Belt Drive, pittsy wrote:

In Yamaha FJ09 - Tracer, pittsy wrote:

In Ducati Scrambler, pittsy wrote:

In Same as the old boss?, Captain Scarlet wrote:

In BMW S1000XR, Captain Scarlet wrote:

In Yamaha FJ09 - Tracer, Captain Scarlet wrote:

In Ducati Scrambler, Captain Scarlet wrote:

In Belt Drive, Captain Scarlet wrote:

In Belt Drive, pittsy wrote:

In Ride for Kevin Ash, CCM wrote:

In Ride for Kevin Ash, Captain Scarlet wrote:

In HONDA NC700X, Captain Scarlet wrote:

In HONDA NC700X, Grump wrote:

In HONDA NC700X, kharli wrote:

In HONDA NC700X, Grump wrote:

In HONDA NC700X, Captain Scarlet wrote:

In HONDA NC700X, Grump wrote:

In HONDA NC700X, kharli wrote:

In The Cross-plane Crank, lxmlvll wrote:

In Project(s), mmogoogle wrote:
Donate to the Kevin Ash Fund
Kevin's funeral was held on Thursday 28th February 2013 and was well attended by family, friends and colleagues.
The Telegraph has very kindly established The Telegraph Kevin Ash Fund to assist with the education of Kevin's three daughters.
If you'd like to make a donation then you can use the PayPal 'Donate' button below which will allow you to donate from your PayPal account, or via credit or debit card. A small percentage (about 3.4%) will be retained by PayPal for the service.
Kevin's family have been touched by the generosity and messages of support from people using the website and would like to express their gratitude to those who have contributed in any way.
The donations keep coming in, thank you so much, and the family especially like it when you leave a message.
NEWS...
* TRIUMPH TIGER SPORT
The Tiger gets a single-sided swingarm and another 10bhp!...(more)

* HONDA MSX125
Honda announces a spiritual successor to the iconic Monkey Bike!...(more)

* APRILIA CAPONORD
At last Aprilia goes for the GS too......(more)

* GUZZI CALIFORNIA 1400
Italy's biggest ever V-twin for the all-new Guzzi...(more)

* VESPA 946 FIRST PIC
Sleek new Vespa 125 based on last year's concept bike...(more)