Pictures: Ula Serra, Francesc Montero, Zep Gori, Félix Romero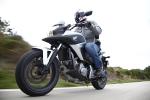 Project leader Soya Uchida laughed: "I got a hacksaw and cut a Jazz engine in half, but it really didn`t run very well, so we had to put some more work into the NC700X."
Honda most certainly did put work into the NC700X, and it came at the project from such a left-field angle, this has the potential to be the most significant motorcycle engine of recent times. Yes, I do know all about Ducati`s 1199, but that and every other new engine in the last few years - or even decades - has been no more than an extrapolation of what we already have. Some are extreme and brilliant techno porn, like the Ducati, but none has the originality of this unassuming middleweight, a bike which until now has been at best a small blip on the radar of most motorcyclists - indeed, it will remain so to many, but the bike isn`t aimed at them.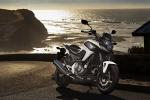 The NT700X which I rode is one of three machines to debut the parallel twin engine, the other two being the more conventionally road-styled NC700S and the Integra scooter. It`s not just the power unit which they share, but the rolling chassis too, or as Honda calls it, the platform.
This is a term from the car world and Uchida`s joking aside, here lies the clue to the roots of the engine: the technology and even some of the components come from Honda`s Jazz four-cylinder. The bore and slightly longer stroke (73 x 80mm) are the same as the car`s and so is all of the fundamental engine technology. The clue stares you in the face as you sit astride the bike: the rev counter`s red line is drawn at a lowly - for a bike - 6,500rpm. Engine designer Takanori Osuka says they had meetings with engineers from Honda`s car division once or twice a month for two years during the design process, the first time this has happened at Honda.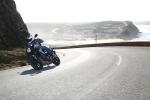 Why? Because the NC700X is the first modern motorcycle engine designed primarily for fuel efficiency rather than a high power density, without pandering to any outright performance pressures. The bike is aimed at being the motorcycle equivalent of the Cub scooter, a utility machine with low running costs, which in the modern era means exceptionally good fuel economy.
At the same time, Honda didn`t want to delete the enjoyment that comes with riding most motorcycles, which is where the really hard task came in. Car engines are a lot less responsive than bike ones, while fuelling glitches, surges and other anomalies are disguised to an extent by the car`s weight, allowing for some imperfection. A bike can have none of these, so a great deal of work went into recreating the expected feel of a conventional bike engine, while focussing on fuel efficiency and producing torque in the most commonly used rev range.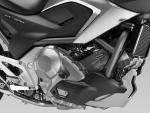 A single throttle body is used to feed both cylinders, and because a 270 degree crank is used, this means the pressure in the inlet tract is different when the valves in each cylinder open. The solution is to have more overlap on one cylinder than the other- the cam timing is different for each cylinder, to ensure they end up working the same amount.
The combustion chamber shape is like a car`s, producing the most efficient burn at low revs rather than aiming to flow as much gas through the engine as possible, and the engine mapping of course has the same aims. The exhaust ports combine within the head, allowing the catalyser to be mounted much closer to the engine, ensuring a faster warm-up and improved efficiency, which in turn means a smaller one can be used.
Internal frictional losses are minimised by using a special resin coating on the pistons and running the rockers on roller rather than plain bearings, with plenty of attention being paid to pumping losses.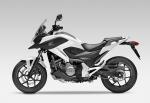 Just one balance shaft is used in the NC700X engine, partly to endow it with some character by allowing for a degree of vibration, partly to minimise weight and friction, while the oil pump is driven by this shaft. The water pump is mounted on a camshaft to save giving it its own driveshaft, and this has the useful consequence of moving it near the radiator so the hosing run is a third of what it might have been, reducing the volume of cooling water which cuts down on both weight and the engine`s warm-up time.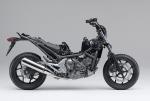 The rest of the platform also had to be versatile enough to produce two road bikes and a scooter, another astonishing feat pulled off by Honda. So the engine is low with its two parallel cylinders laid forward at 62 degrees to create space above, which is used on the NC700X as storage large enough to drop in a full face helmet. The fuel tank is beneath the seat, and thanks to Teofila Plaza`s outstanding styling, the bike still has a purposeful, sleek and rugged look. It`s a fine looking machine, slender with an agile mien that gives no clue as to its unique genesis or multi-purpose underpinnings.
All very clever, and all a complete waste if it`s unpleasant or difficult to ride. But it`s not: in fact Honda`s mission to make it fun is accomplished too, as long as your idea of enjoyment doesn`t depend on howling revs and a tsunami of horsepower. Many riders will take some time to adapt to the short shifting and low revving needed to make the most of the machine, and sure enough, on the bike`s press presentation in Portugal there was a clear polarisation of opinions between those journalists who `got` the NC700X and those who didn`t. The latter complained about constantly hitting the rev limiter as they were searching for power at the top of the rev range, but with the NC, you have the power already and immediately at much lower revs - there`s no looking to do, it`s in your face. It`s like changing from a petrol car to a turbo-diesel.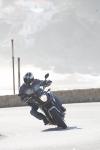 Assuming you can adapt, it doesn`t take long, and once you`re used to changing up at 3,000rpm, the NC700X pulls strongly enough to raise a smile on a sinuous road. There`s plenty of character too, as the lower revs enhance the individual cylinder pulses and the crank layout results in 90-degree V-twin firing intervals, so the bike thuds strongly up hills out of corners.
There is vibration but none that would bother you, and the torque is spread generously where you most need and use it. It feels like an 80bhp engine until you start to rev it and look for that 80bhp, then it goes flat and feels like a 40bhp engine instead. But this aligns so much more closely with real world riding: Honda`s own research showed that riders typically travel at less than 85mph (140kph) for 90 per cent of the time, and use less than 6,000 revs for 80 per cent of the time. The NC700X (and the S will be the same) is designed to work at its best in those ranges, rather than in the small percentages we rarely access.
If those final small percentage figures are important to you then the NC700X won`t satisfy, but for many more, this bike makes you understand the compromises you`ve been making on other machines in everyday riding in order to enjoy those bursts of high rev, high power.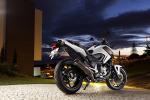 That`s why it can be efficient, why Honda says it achieves 80mpg on the standard motorcycle cycle, and why on my own test, which included some flat out riding (indicated top speed is 115mph, 185kph), back-and-forth photo shoots, fast cruising and a general mix taking no account of economy, it still managed 64mpg (22.7km/l, 4.41l/100km, 53mpg US). I would expect most riders with little effort to be rewarded with up to 70mpg (24.8km/l, 4.04l/100km, 58mpg US), which means the 3.1 gallon (14.1 litre, 3.7 gallons US) tank is good for a typical 220 miles (350km). Honda claims 78.8mpg (27.9km/l, 3.58l/100km, 65.6mpg US) on the standardised World Motorcycle Test Cycle (WMTC), and this would certainly be achievable with a little rider effort.
The underseat tank incidentally is made of steel, as Honda says the crashworthiness of the plastic ones used by some rivals in this position doesn`t meet its own standards.
Low revs and different shape power curve aside, there`s not much else to tell you this is any different to a conventional bike engine, which is exactly as it should be. The throttle response is obedient, predictable and crisp enough, the exhaust is muted but pleasingly bubbly when you listen for it and it simply lets you get on with enjoying the road. The gearbox is heavy and clunky though, especially changing up through the lower ratios.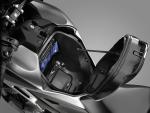 There`s just one dynamic peculiarity: when you shut the throttle the engine braking is substantially less than most riders are used to. It makes sense that this should be the case as lower revs are the single most important factor in reducing an engine`s internal friction and this motor spends most of its time between 2,000 and 4,000 rpm, but it does take a little getting used to. If you`ve spent time on two-strokes that will help, but not with much else about the NC700X-
Comfort would be fine for full-to-empty distances if the seat was better. It`s sloped forward a little too steeply and also has a cover that`s too slippery, so especially when braking you tend to slide forward against the not-the-tank. Otherwise the upright riding position is spacious and the small screen fends off the wind pressure well and without undue turbulence. I was comfortable enough after several hours aboard anyway, although if riders prefer a larger screen, one is available as an optional extra, along with a full luggage set that includes slimline panniers for dealing with traffic, slender heated grips and a good list of other accessories.
It`s a little high for shorter riders, but the NC700S is lower and in most ways identical, so that should be a good alternative. The NC700X is not off-roader tall though, nor does it claim any ability away from the Tarmac.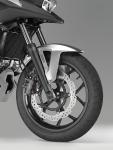 The suspension gives away the bike`s price category more than anything as this is a little choppy and underdamped, so the bike can get bouncy in high speed corners and the ride quality is fussy, especially on rough surfaces - this is a legacy of the price and not a deal breaker, but worth noting. Similarly the brakes aren`t particularly communicative, although the C-ABS front-rear linking feels strong and safe, and the ABS system is part of the standard package rather than a cost extra.
Despite the bounciness the bike still handles well, responding to a light touch to the bars by turning quickly and easily. You might notice it likes to lean further than some other bikes at given cornering speeds, a consequence of the low centre of gravity, but at low speeds and trickling through traffic the balance is excellent, ideal for inexperienced riders.
Despite the budget intentions of the NC700X, the bike is built in Japan rather than a low labour cost country such as India or Thailand, I suspect because of the importance of the project, but this does show in the fit and finish which really are outstanding. Our test bikes were pre-production but showroom versions should be similar, and Japanese-made Hondas still set the standards others aspire to.
It`s a shame though you`ll have to pay extra (around £90 in the UK) for a centre stand, and it`s worth checking if that big compartment between your knees really does take your helmet - my Arai fitted, if tightly, but some other makes wouldn`t go in. The dash would have been better for the increasingly common ambient temperature, gear position and economy readings (especially the latter), although it`s easy enough to read.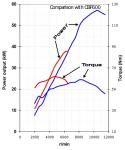 Who`s going to buy this bike? Some riders will move up from scooters, and plenty of these will opt for the Dual Clutch Transmission, likely to cost a further £700 in the UK. Others will rightly see the NC700X as a rival to BMW`s F650GS (the 800cc twin). The NC700X doesn`t have quite the performance of the BMW, but it`s not far off, while Honda says it`s quicker to 75mph (120kph) than the firm`s own CBF600. The Honda will also be more economical even than the famously thrifty German bike, and Honda says it`s an astonishing 56 per cent more economical than the CBF600.
BMW still has work to do to convince us its reliability is near the Japanese, yet you know a Japan-built Honda as important as this will be utterly dependable and long lasting. The NC700X`s service intervals are long at 8,000 miles (12,000km) too, and then there`s the purchase price, £5,850 including the C-ABS.
As a working, cheap-to-run everyday motorcycle the NC700X has huge appeal. Couriers and commuters will (or should) be queuing at Honda dealers right now, while in countries such as Italy, where utility two-wheelers are integral to the national psyche, these bikes will be shifting by the container load. But the fuel economy surely is going to catch the eye of many in other countries too, especially as there`s no real penalty in terms of performance and because this is such a good looking bike. That storage space isn`t going to hurt either.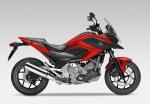 What can`t be understated is the originality and importance of this new approach to engine design. Assuming this bike is a success (and I am...) then it will prove to be as important a milestone in motorcycle history as the bike which was launched to the press at the same event, no less than the Fireblade. The NC700X really does represent as important a change in direction as did the first `Blade, finally giving a large number of riders a bike that suits their real world needs rather than conforming to the fantasy performance template forged by sports-oriented bike journalists.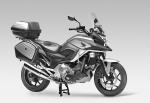 It`s going to struggle to meet the approval of many of these, but hopefully it will sell well enough anyway to spawn a new generation of low-revving, torquey motorcycles which are quicker, easier and more fun than their peak power or rpm figures suggest, while finally supporting the idea of motorcycles as more fuel-efficient than cars.
Specifications
Model tested: Honda NC700X
UK price: £5,850
Available: January 2012 (DCT version, April 2012)
Engine: twin cylinder, liquid cooled, sohc 8v, 670cc
Power: 51bhp (52PS, 38.1kW) @ 6,250rpm (UK Market: 47bhp (48PS, 35kW) for the manual version, 38kW for the DCT option)
Torque: 44lb.ft (6.1kgm, 60Nm) @ 4,750rpm
Economy: 70mpg (24.8km/l, 4.04l/100km, 58mpg US) (est typical everyday)
Tank/Range: 3.1 gallon (14.1 litre, 3.7 gallons US) / 220 miles (350km)
Transmission: Six gears, wet multi-plate clutch, chain final drive
Chassis: tubular steel
Seat height: 32.7in (830mm)
Wheelbase: 60.6in (1540mm)
Rake/trail: 27 ° / 4.3in (110mm)
Weight: 481lb (228kg) wet
Recent comments
In HONDA NC700X, kharli wrote:

In HONDA NC700X, kharli wrote:

In HONDA NC700X, Grump wrote:

In HONDA NC700X, kharli wrote:

In Lest we forget..., Captain Scarlet wrote:

In Captain Scarlet's next bike, malauder wrote:

In Captain Scarlet's next bike, Captain Scarlet wrote:

In Benelli 750 SEI, CCM wrote:

In Benelli 750 SEI, Gekom57 wrote:

In Benelli 750 SEI, Gekom57 wrote:

In Captain Scarlet's next bike, Grump wrote:

In Captain Scarlet's next bike, Navy Boy wrote:

In Captain Scarlet's next bike, Captain Scarlet wrote:

In Captain Scarlet's next bike, Grump wrote:

In HONDA NC700X, Grump wrote:

In Lest we forget..., Navy Boy wrote:

In Lest we forget..., unconventional rebel wrote:

In Captain Scarlet's next bike, unconventional rebel wrote:

In HONDA NC700X, unconventional rebel wrote:

In Lest we forget..., davvy wrote:
Donate to the Kevin Ash Fund
Kevin's funeral was held on Thursday 28th February 2013 and was well attended by family, friends and colleagues.
The Telegraph has very kindly established The Telegraph Kevin Ash Fund to assist with the education of Kevin's three daughters.
If you'd like to make a donation then you can use the PayPal 'Donate' button below which will allow you to donate from your PayPal account, or via credit or debit card. A small percentage (about 3.4%) will be retained by PayPal for the service.
Kevin's family have been touched by the generosity and messages of support from people using the website and would like to express their gratitude to those who have contributed in any way.
The donations keep coming in, thank you so much, and the family especially like it when you leave a message.