Honda Fireblade CBR1000RR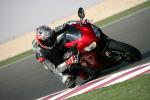 By Kevin Ash
Pictures: Double Red
A little bit faster, a little bit lighter, a little bit more compact than before… so goes the well-tried formula that's marked the progress of sports bikes since the first Fireblade turned the niche upside down in 1992. Back then, the world's fastest bikes had been getting bigger, heavier and more powerful in their quest for rival-crushing speed, a trend Honda's senior designer Tadao Baba bucked dramatically by gaining performance through losing mass. Even though the debut Fireblade produced less power than its rivals from its smaller 893cc engine at 122bhp, with its ruthlessly pared 185kg dry weight it simultaneously consigned them to competing with a pillion passenger's worth of surplus metal. And they couldn't – the Fireblade was faster in a straight line, would vanish given some corners and it put the 'sport' back into sports bike.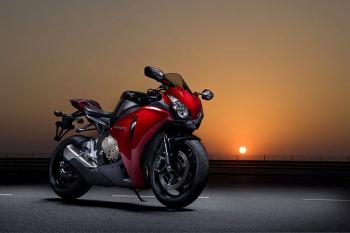 Click on image for galleryIt took Yamaha another six years to see the light in lightness, Suzuki even longer and Kawasaki well into the next century, but now all are following Honda's path with the zeal of religious devotees, and sports bikes are massively better for it, as it were. No room then for further revelationary conversions you'd have thought, but Honda, it seems, has done it again with the 2008 Fireblade, albeit in a quieter, more restrained fashion.

It's not the engineering philosophy which has been upended this time around, but the styling one: just as Honda realised in the Nineties it had been giving fast trucks to people who wanted sports bikes, so now it's understood that superbikes have been styled like shellsuits for people who shop in Saville Row. Okay, exaggerating a little there, but typically a superbike buyer is a man (and they're almost exclusively men) in his forties or fifties, with money to spare, more Aston Martin than Impreza Turbo, and not a fan of bright colours or lots of stripes. So the new Fireblade is lent an air of class with some upmarket, conservative paint schemes, such as the velvet red and black of our test bikes, and includes details like the inset cloisonné tank badges in place of the usual stickers. It's so different it feels like a bold, even risky move, even though the bike in marketing theory at least now is styled to match the people who will be buying it. One potential hurdle is that those buyers might fit one marketing segment but it could be they'd still like people to think they belong to another – the superbike as a mid-life crisis panic purchase could yet do better to look like a young lad's plaything.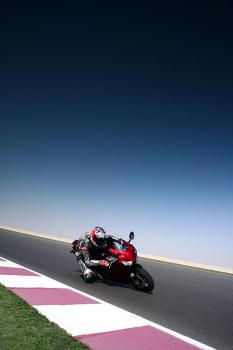 Secondly, it still has to look good and go well – nothing kills a performance bike more effectively than not having enough performance, but here the 08 Blade does more than just fine. In early pictures the snub-nosed front looked vaguely like some sea-dwelling mammal, but in the aluminium and injection-moulded plastic flesh it's simply lean and purposeful, like a posh MotoGP bike. It's also remarkably small, a little worrying for this rider at 6'3", but once on board you discover the bar-peg-seat relationship is much the same as the previous model Fireblade. That makes sense as riders if anything are growing rather than shrinking, but more of a surprise is the raw feel of the motor when you fire it up. The super-compact, four-cylinder engine vibrates through the machine and almost does a double take va-rum! pick-up in response to the throttle, like a race engine and very un-Honda-like. And yet this is progress for Honda: so often the company is criticised for the bland perfection of its bikes, but the new Blade has real character. It's deliberately engineered in for exactly this reason so you might conceivably still criticise it for being synthetic, but that's nitpicking to an extreme, and anyway, Harley-Davidson does exactly the same to huge effect without complaint from its customers.

The rest of the engineering has hardly been neglected anyway. The all new engine is a hefty 2.5kg lighter than the previous one, and thanks to its 1.4mm shorter stroke (the bore increases by 1mm) it has a 500rpm higher, 13,000rpm rev ceiling . The cylinder block is separate from the crankcase, unlike the previous integrated unit, which helps to reduce weight apparently (so why didn't they do it before?), while even the pistons are lighter despite their larger diameter. The slipper clutch has been designed to assist the rider with a servo action when the clutch lever is pulled in, an idea pioneered by Ducati. The underbelly exhaust is part of Honda's continued focus on mass centralisation – it's a lot better than the previous underseat exhaust in this respect, and lighter too despite having to contend with stricter noise and emissions regulations.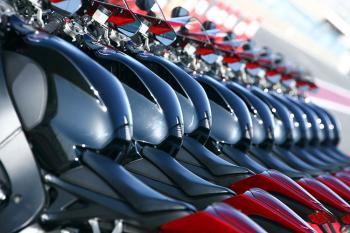 The chassis' emphasis is on weight reduction and centralisation, and thanks to this some 5kg has been lost overall compared with the old Fireblade, giving what Honda claims is the best power-to-weight ratio in the class. The frame in fact is around a kilo heavier than the old one but it's 30mm narrower for improved rider control and comfort, while considerably more rigid. Lateral, torsional and vertical rigidities are increased by 13, 40 and 30 per cent respectively. The swingarm is 16mm longer within the same overall wheelbase, made possibly by the more compact engine design. The wheels are extremely light, 240g lighter at the front and 370g lighter for the rear. The front brakes – a new monobloc calliper design – are also lighter, resulting in an unsprung weight reduction of almost half a kilo.

Release the light-action clutch and the bike surges forward, a loss of some low rev torque compared with the old model countered by slightly lower gearing and that impressive weight shedding programme. Probably thanks to the mass centralisation, the new Fireblade turns with significantly more eagerness and changes direction more willingly than the old. This was especially noticeable at Qatar's Losail circuit where our ride took place: through the track's high speed left-right flicks, where the 08 machine responded faster and more precisely to less handlebar effort – the 06 model was launched at the same venue so the comparison was direct.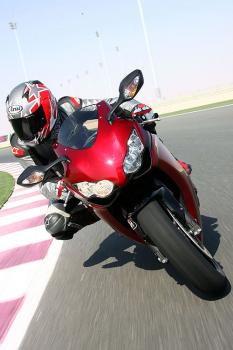 The chassis generally is a delight, the speed-variable electronic steering damper taming corner exit waywardness without affecting agility, while feedback and manageability are as good as any road rider could want. On standard suspension settings the bike makes a good fist of high speed track riding, and with suitable adjustments it's a sharp circuit weapon that's enormously satisfying as well as very forgiving and easy. These are the same qualities that make the 08 Blade the best superbike for the road: it's agile and responsive but supple enough to deal with bumpier conditions than MotoGP circuits, and it's on the road where the engine's immense mid-range torque really shines. The riding position isn't too extreme either, certainly it's more comfortable than a Ducati superbike, and the fuel range is better too, making it a viable proposition for a spot of touring and commuting as well as the sporty stuff it was meant for. Indeed, Honda has finally acknowledged that road bike riders do go places on their bikes, and offers a tank bag and tail pack for carrying a change of clothes and some wet weather gear for the odd weekend away. About time too.

The engine meanwhile is as ferociously powerful as you'd expect, its 175bhp hurling you forward like a jet fighter catapulting off the deck of an aircraft carrier. Having said that it's a touch shy of its rivals in outright power and doesn't have quite the same final top end hit of horsepower – as if you'd notice in the real world, or really want for more, but it's not this alone that matters, it's the complete package, and here the Fireblade sets the standards the others must now strive to meet.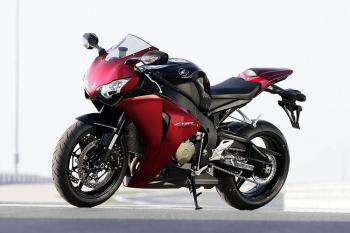 The sound track is as interesting and evocative as the newly found feel to the motor, but it's still as easy to modulate and obedient as Honda's sports bikes have always been. The clutch's self assisting action sometimes results in odd pulses coming through the lever as you change down, but you get used to that. Less welcome are the heavy upchanges in full bore acceleration: you have to exaggerate the throttle-off action to really unload the transmission or the gear lever can baulk at selecting the next ratio, at least compared to the definitive GSX-R with its crisp and featherlight shifting.

But dynamically those are the only criticisms you'll get from me, while visually the Fireblade is playing a pioneering role once again. And it's looking very good indeed.

Price: £9,125

Available: now

Contact: Honda UK 0845 200 8000; Customer services: 0500 011959, www.honda.co.uk



Specifications
Thu, 18/12/2008 - 20:55
#2
here comes the technical knowledge of keillz once more !!! lol
A little bit faster, a little bit lighter, a little bit more compact and a whole lot sexier !!!! damn this bike is an eye catching little beast finally a bike that doesnt need a rippled man in leathers on it to make me drool lol
Recent comments
In HONDA NC700X, kharli wrote:

In HONDA NC700X, kharli wrote:

In HONDA NC700X, Grump wrote:

In HONDA NC700X, kharli wrote:

In Lest we forget..., Captain Scarlet wrote:

In Captain Scarlet's next bike, malauder wrote:

In Captain Scarlet's next bike, Captain Scarlet wrote:

In Benelli 750 SEI, CCM wrote:

In Benelli 750 SEI, Gekom57 wrote:

In Benelli 750 SEI, Gekom57 wrote:

In Captain Scarlet's next bike, Grump wrote:

In Captain Scarlet's next bike, Navy Boy wrote:

In Captain Scarlet's next bike, Captain Scarlet wrote:

In Captain Scarlet's next bike, Grump wrote:

In HONDA NC700X, Grump wrote:

In Lest we forget..., Navy Boy wrote:

In Lest we forget..., unconventional rebel wrote:

In Captain Scarlet's next bike, unconventional rebel wrote:

In HONDA NC700X, unconventional rebel wrote:

In Lest we forget..., davvy wrote:
Donate to the Kevin Ash Fund
Kevin's funeral was held on Thursday 28th February 2013 and was well attended by family, friends and colleagues.
The Telegraph has very kindly established The Telegraph Kevin Ash Fund to assist with the education of Kevin's three daughters.
If you'd like to make a donation then you can use the PayPal 'Donate' button below which will allow you to donate from your PayPal account, or via credit or debit card. A small percentage (about 3.4%) will be retained by PayPal for the service.
Kevin's family have been touched by the generosity and messages of support from people using the website and would like to express their gratitude to those who have contributed in any way.
The donations keep coming in, thank you so much, and the family especially like it when you leave a message.
Recent Articles
We're familiar with solid-state electronics in biking. Ignition swapped points for transistors in the 1970s, then went digital in the 1990s. Now, the need for greater power, fuel efficiency and emissions control means modern engines only work with computer-controlled fuelling, ignition, combustion and exhaust. When we open the throttle we pull the strings, but the ECU calls the shots. To do it, the ECU needs an accurate view of the world. And it gets it through its sensors.
A gyroscope is a rigid circular or spherical mass rotating around an axis and for over 100 years motorcycles have come with three of them: a front wheel, a rear wheel and a crank (if you're being pedantic you could include cams, balancer shafts, gearbox, clutch etc). The classic mechanical model of a gyroscope ranges from the very small – electrons spinning around an atom's nucleus – to the very large – the Earth.
Most of us have an innate feel for balancing a high centre of gravity on a relatively short wheelbase. Say, like a motorbike. Its centre of gravity is the point at which the sum of the surrounding mass is zero, and is largely determined by the location of the engine, the heaviest part of the package. Usually the CoG is midway between the wheels (half the wheelbase) and 60 to 75cm off the ground; just above the engine, in front of your knees. Or at least it is until you get on.
Anyone with fingers knows bikes vibrate, sometimes strongly enough to make picking your nose impossible. But how we perceive vibration depends on its type, pattern, frequency and cause. Bikes are subject to different types of vibration. A bumpy road creates random forced vibration at medium to high frequency (around 5-35 Hz depending on vehicle speed). It's perceived as unpleasant, as is head buffeting caused by wind turbulence. Engineers and aerodynamicists try to minimise these bad vibrations. But we usually talk about engine vibration. There are many sources...
From the launch of Yamaha's new Super Ténéré: "The exhaust pipe connection between the two headers is discontinued to give more character to the engine. The link pipe gives a flat feeling to the curve, so removing it makes the engine a bit more peaky." This is all about exhaust gas. When a four-stroke is tuned for power it means more revs, and so the cylinders have thousandths of second to fill with fresh mixture, compress it, burn it and pump it out again. To get enough mixture in and out, inlet valves open early and exhaust valves stay open for longer – so both are open at the same time.