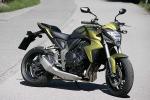 By Kevin Ash
Pictures: Giuseppe Gori, Simone Romeo, Howard Boylan
Maybe the Ducati Monster started it at the beginning of the Nineties, maybe it was Triumph's first Speed Triple, itself inspired by the streetfighter cult. But whatever its beginnings, there's a class now of big, sports-bike-derived machines known as the super nakeds. It's popular, it's still growing rapidly and it's populated by bikes known for their attitude and raw excitement: the Speed Triple still of course, KTM's 990 Super Duke, the Aprilia Tuono Factory, the S4R and S4Rs versions of the Monster, the MV Brutale, Kawasaki's Z1000 and the Yamaha FZ1. Even BMW is in on the act with its wild K1200R. The question is, can Honda, the master of sophistication, smoothness and perfection to the point of blandness possibly create a machine angry and bad enough to come out of a face off in this gang without crying for its mummy?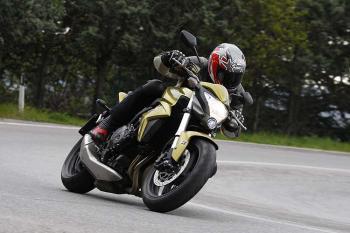 Click on image for galleryThe new CB1000R has the looks. The bike is designed primarily for Europe, to the point where it won't even go on sale in Japan or the USA in the immediate future, and as such it was conceived and designed in Europe too, hence its sharp, angular, European styling. The seat unit is Fireblade minimalist, the tank and radiator shroud like a bolt of lightning striking the front wheel, the kicked up, underbelly exhaust is state of the art, and at the back it boasts that unequivocal style statement of sports intent, the single-sided swingarm. The triangular headlamp is underscored by a circular ice-blue running light and topped by a Speed Triple-type wind deflector which in turn covers an expensive looking three pod, all-LCD dash. The italic four-spoke alloys look fabulous while there's some delightful detailing such as the beautifully crafted handlebar levers and nickel-plated bolt heads on the engine covers, and the overall finish quality is to Honda's usual exemplary standard.

Overall it's aggressive, shoulder heavy and arresting, so it has the looks to be a Fight Club contender, and with its Fireblade-derived motor the potential for real muscle is there too. The engine comes from the 07 Fireblade and is detuned for more low rev torque at the expense of peak horsepower, usually a recipe for ordinariness across the range, so that's less promising on paper. Output in fact is reduced to 123bhp (125PS, 91.5kW), a 47bhp (48PS, 35kW) drop from the 07 Blade's. The frame meanwhile is similar to the Hornet's tubular steel spine design, a specification bizarrely which persuaded some journalists that the CB1000R is some sort of Hornet 900 replacement, which is a bit like suggesting the Jaguar X-Type was going to replace the Ford Mondeo because they shared the same platform. So if you happen to read that elsewhere, it's not, the bikes are very different and the soft, all-rounder Hornet 900 will remain in Honda's range alongside the CB1000R, fulfilling a different role.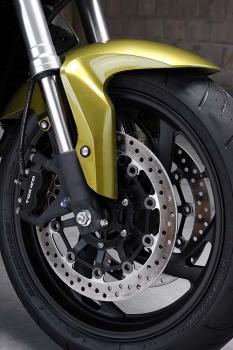 Much of the running gear anyway is lifted from the 08 Fireblade, including the brakes and forks, although these are modified to suit the less focused, heavier CB1000R. Having said that it's still only 478lb (217kg) wet, making this one of the lightest bikes in the class and just 40lb (18kg) more than the Fireblade itself. This is all important stuff as many of its rivals boast full on superbike suspension and brakes and perform accordingly.

Adding some genetic spice is the bike's chief test rider, one Tetsuya Kudoh, who also worked on such classics as the RC30, NR750, CBR600F and the VFR range.

If there were any concerns about the bike's lack of outright horsepower compared with, say, the 148bhp (150PS, 110kW) Yamaha or 161bhp (163PS, 120kW) BMW, a twist of the throttle dispels those. For once this is a bike where the torque gains really do compensate for lost horses, as it charges forwards from very low revs, then simply gets quicker as the digital rev counter sweeps across its range. Better still, where early FZ1s stuttered like the jailer in Life of Brian, the Honda fuels perfectly, the power coming in predictably and easily, but still hard enough to punch rather than mush lamely like the revised, later Yamahas. On most roads the Honda is going to be the bike to beat, so strong is its low and mid-range power, with urgent thrust on tap, on demand, especially noticeable when powering out of tight turns. The power increase is entirely linear with no kick or step at higher rpm, and motor is smooth too with only minimal vibration, so almost inevitably it lacks character, especially compared with the twin- and three-cylinder opposition. In this class that does matter to some riders, while to others it's an esoteric irrelevance. But it's worth noting that Kawasaki's fours do tend to feel more alive than Honda's, being more aurally exciting with a harder power delivery and usually with something of a step in the power band to play with. You could argue that technically they're inferior, but in practice they are easier to fall in love with, or indeed dislike.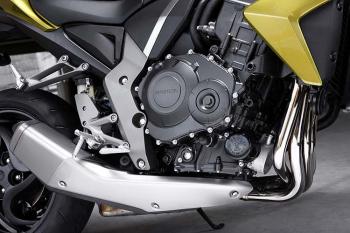 What you don't want is a gearchange with 'character', and here the CB1000R delivers perfectly. Bikes' sequential gearboxes tend either to swop ratios well at high revs or low but not both, and intelligently Honda's engineers have modified the CB's Fireblade-based box to slip through its cogs most efficiently at low to mid engine speeds, which it does perfectly.

As with the engine, the chassis works best on sinuous real world roads, offering surprising agility for a one litre naked bike yet combining this with confident stability, even at high speeds where the slipstream tugging and pulling at the rider can cause steering vagueness on some naked machines. It steers perfectly at low speeds, dropping down easily into tight, first gear turns only as far as you ask it. and bumpy roads pose no particular problems as the suspension is plush enough to absorb poor surfaces without being so soft it feels mushy, once again a realistic approach that makes the CB so effective. If the brakes' Fireblade specification intimidates, in practice because the discs are smaller and the bike heavier their power is enough rather than too much, on top of which it's easy to modulate. The rear is worth a mention for being especially tactile, as most back stoppers give little feedback then lock up unexpectedly.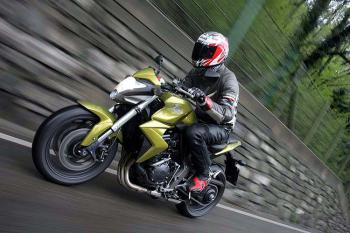 What you don't get is a great deal of practicality. The riding position is great for attacking twisty roads, sitting you forward and over the clocks on what is a surprisingly compact motorcycle, but at high speeds inevitably you cop a lot of windblast. The wind deflector helps to some extent, but long motorway journeys won't be a huge amount of fun. We didn't get the chance to measure economy, but the tank's 3.75 gallon (4.5 US gallons, 17l) capacity is likely to give you a typical 130 miles or so before the low level warning flashes, better than some in the class if not that great. The passenger accommodation is minimal and it's not easy even to strap a bag to the seat, so if you fancy this bike for pounding down interesting roads, it's best you live near some.

Still, that kind of complaint hasn't stopped the other super-naked bikes from posting some serious sales figures so it won't hurt the Honda either. And the CB manages to perform outstandingly while being easy to ride and a great coffee bar pose. Is it angry enough? Not in the 'oi, wot you lookin' at?' sense of some of its rivals, but it does have an air of quiet confidence that comes from knowing if it came down to the wire, you still wouldn't pick a fight with it.

Mon, 01/11/2010 - 22:53
#1
Interesting review.
I test ride one tomorrow and the only concern I have based on the review is the riding position.
I came to this model based on the comparison with the Street Triple which I have yet to test.
It will probably take me the winter to consider all bets with a view to getting my wallet out in the spring.
Tue, 02/11/2010 - 22:35
#2
Tried the CB1000R today.
First impressions looks good.
1HR in the saddle drove out from Cov through town taffic then into the sticks.
Very well mannered, roads dry/wet, nice to feel the extra power that 1 litre brings to the party.
Not in the slightest intimitating.
The wind blast of naked when you pick up the pace is something I could do without and that together with a numb bum rules this bike out for me.
Recent comments
In HONDA NC700X, kharli wrote:

In HONDA NC700X, kharli wrote:

In HONDA NC700X, Grump wrote:

In HONDA NC700X, kharli wrote:

In Lest we forget..., Captain Scarlet wrote:

In Captain Scarlet's next bike, malauder wrote:

In Captain Scarlet's next bike, Captain Scarlet wrote:

In Benelli 750 SEI, CCM wrote:

In Benelli 750 SEI, Gekom57 wrote:

In Benelli 750 SEI, Gekom57 wrote:

In Captain Scarlet's next bike, Grump wrote:

In Captain Scarlet's next bike, Navy Boy wrote:

In Captain Scarlet's next bike, Captain Scarlet wrote:

In Captain Scarlet's next bike, Grump wrote:

In HONDA NC700X, Grump wrote:

In Lest we forget..., Navy Boy wrote:

In Lest we forget..., unconventional rebel wrote:

In Captain Scarlet's next bike, unconventional rebel wrote:

In HONDA NC700X, unconventional rebel wrote:

In Lest we forget..., davvy wrote:
Donate to the Kevin Ash Fund
Kevin's funeral was held on Thursday 28th February 2013 and was well attended by family, friends and colleagues.
The Telegraph has very kindly established The Telegraph Kevin Ash Fund to assist with the education of Kevin's three daughters.
If you'd like to make a donation then you can use the PayPal 'Donate' button below which will allow you to donate from your PayPal account, or via credit or debit card. A small percentage (about 3.4%) will be retained by PayPal for the service.
Kevin's family have been touched by the generosity and messages of support from people using the website and would like to express their gratitude to those who have contributed in any way.
The donations keep coming in, thank you so much, and the family especially like it when you leave a message.