Harley-Davidson V-Rod Muscle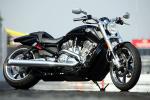 By Kevin Ash
Pictures: Double Red,

It's something of a shock to realise that the V-Rod has been with us for eight years now, as much as anything because it's still a dramatic sight when you see one on the roads, like an escaped show bike or weird special of some sort. Another factor is that the bike is more of a rarity than Harley would have liked, although it's sold well enough to be kept in production for all this time, and it has helped bring new riders to the Harley marque.


Click on image for galleryThere's a surprise too when you sling a leg across the low, low seat of Harley's take on the performance cruiser theme: it's still a fine motorcycle. Of course it has its own set of limitations as much as it has its own appeal, but it does what it's supposed to do supremely well. At the heart of the bike is the Porsche-designed Revolution engine, now 1250cc across the current 3-bike V-Rod range (the new V-Rod Muscle's siblings are V-Rod and Night Rod Special), but aside from the 120cc increase from the original V-Rod it's not changed a great deal, other than regular refinements of the engine management to improve rideability and meet new emissions regulations over the years.

It's really not needed any serious change either. In fact the engine is an absolute peach: up to 5000rpm or so it chugs away with all the punch and torque of a conventional Harley, oozing, er, muscle and guts and purring with a deep and bubbly note that's both sophisticated and stirring. At this point for air-cooled Harleys it's all over and well past gearchange time, but the Muscle instead assumes a new persona and kicks in with a flood of extra power and the best part of another 5000rpm to come. At 644lb (292kg) dry this is one heavy mutha of a motorcycle, but still it flies when the motor's given free reign. The top speed of around 140mph (230kph) is no doubt restricted by aerodynamics, and probably the need to bolt the rider to the bike too, but up to 100mph (160kph) it's very quick indeed, as well as smooth, crisp and flawlessly if thirstily fuelled. Use a 1250 hard and consumption readily drops as low as 34mpg (12km/l, 8.3 l/100km, 28mpg US)which in theory means the 4.2 gallon (18.9 litre) tank runs dry too early for serious long distance use. In practice you don't ride that hard for that long, but still if you plan on going places, you'll do best if they're not too far away.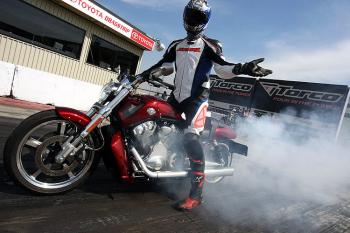 This is all known quantity, so what's the Muscle difference? Primarily it's styling, the Muscle defined by a hard, angular look in contrast to the curves of the V-Rod. All of the bodywork is new, from the radiator shrouds to airbox cover to the chopped back rear mudguard, wide and tight against the massive 240mm rear tyre. Different markets have to worry about fitting a licence plate in various ways: in the US it's carried on a bracket on the left side by the wheel spindle, but in most other countries an extended arm holds the plate centrally over the tyre, which does at least stop some of the road spray drawing a line up your back. Harley knows about this and says yes, but if it's raining you're going to get wet anyway, and hey, it looks cool...

The seat is new too, very flat and low but it does support you well from the rear in hard acceleration, while the footrests are forward set and the bars straight and pulled back, sitting you in what Harley calls a clamshell position that's surprisingly comfortable, and it doesn't feel too clumsy in low speed manoeuvring either. There are some subtle geometry changes: while the steering head angle is the same as the V-Rod's at 34 degrees, the forks on the Muscle are now parallel with this, where on the V-Rod they're set at 36 degrees.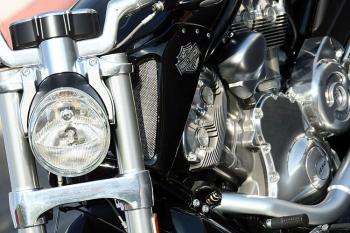 A change of trail comes with this, up to 141mm from 115mm, alterations made to help the handling with the 240mm tyre fitted. When I rode a CVO V-Rod two years ago with 240 rubber it was markedly reluctant to change direction, and when it did the bike didn't like to steer where you were pointing it. The Muscle is different, steering slowly, inevitably, but very naturally, and it's a lot more pleasurable for that reason. The huge wheelbase incidentally (1700mm) in combination with the fat rear rubber is responsible for the large lean angles you need to achieve relatively modest changes in direction, and when you're trying hard the bike does ground out, although it's footrests first rather than radiator shrouds as on the original V-Rod. In fact your heels scrape the ground before then...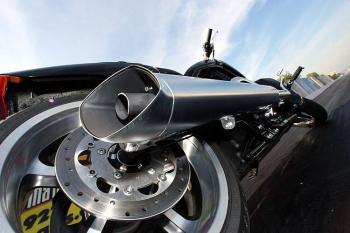 The exhaust system goes down next: the Muscle's is different to both V-Rod's and Night Rod Special's, featuring long, dead straight silencers which in the US are slash cut but in most other markets are finished square, due to regulation differences. The look has been kept clean by the wiring hidden in the handlebars and the same philosophy is applied to the brakes. All V-Rods now use Brembo stoppers, and they're pretty good despite the monster mass they have to haul up. They come with ABS (an option in some markets, standard in others), although you'd hardly tell: rather than have a serrated disc sensor system like other bikes, in this system a sensor is mounted on the wheel bearings themselves and measures wheel speed from these – all you can see is a wire coming up from the wheel centre.

Another modern feature is the slipper clutch, although quite when you need this on any V-Rod is unclear – of more use is its self-servo action under load, which means the springs can be lighter and the lever action is easier.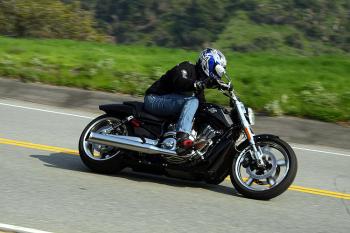 The Muscle is not a sports bike in the usual sense but it is satisfying to sweep along rapidly, it's fast and like all Harleys it feeds other senses with its seductive sound, dramatic looks and the shuddering pulses of torque as it pulls from low revs. Know what it can't do, like be agile, cruise at high speed or cover long distances, and if you're okay with that you can appreciate how it does the rest in exceptional style.

Mon, 09/03/2009 - 23:27
#1
shuggiemac
Offline
OK Kev so it is 18.9 litres or gallons that tank? Only kidding but the new units of volume did make me do a double take.
I really wanted to like the V-Rod but I was personally quite dissapointed by it when I tried one. The engine, which as you say is the focal point of the bike, was excellent and I really can't fault it but unlike you I find the riding position quite uncomfortable or should I say a bit disconcerting. It may just be a case of getting used to it after what I have been riding for the years but I never felt that way about H-D's that I have ridden.
Styling is, by nature, subjective but I think that right from the first model that Harley have made a pig's ear of the radiator on this bike and judging by the photos of this one it does not look much better on this version. It is a big lump of matrix to style, I concede but I just don't think that it has been done very well and on a bike where looks are so important then it is, for me, a big drawback. I am sure there are many out there who will disagree with me completely and that is fine. In my own little world however the Harley that I would put my own money down on is still the XR1200. It does tick almost all the right boxes.
Recent comments
In HONDA NC700X, kharli wrote:

In HONDA NC700X, kharli wrote:

In HONDA NC700X, Grump wrote:

In HONDA NC700X, kharli wrote:

In Lest we forget..., Captain Scarlet wrote:

In Captain Scarlet's next bike, malauder wrote:

In Captain Scarlet's next bike, Captain Scarlet wrote:

In Benelli 750 SEI, CCM wrote:

In Benelli 750 SEI, Gekom57 wrote:

In Benelli 750 SEI, Gekom57 wrote:

In Captain Scarlet's next bike, Grump wrote:

In Captain Scarlet's next bike, Navy Boy wrote:

In Captain Scarlet's next bike, Captain Scarlet wrote:

In Captain Scarlet's next bike, Grump wrote:

In HONDA NC700X, Grump wrote:

In Lest we forget..., Navy Boy wrote:

In Lest we forget..., unconventional rebel wrote:

In Captain Scarlet's next bike, unconventional rebel wrote:

In HONDA NC700X, unconventional rebel wrote:

In Lest we forget..., davvy wrote:
Donate to the Kevin Ash Fund
Kevin's funeral was held on Thursday 28th February 2013 and was well attended by family, friends and colleagues.
The Telegraph has very kindly established The Telegraph Kevin Ash Fund to assist with the education of Kevin's three daughters.
If you'd like to make a donation then you can use the PayPal 'Donate' button below which will allow you to donate from your PayPal account, or via credit or debit card. A small percentage (about 3.4%) will be retained by PayPal for the service.
Kevin's family have been touched by the generosity and messages of support from people using the website and would like to express their gratitude to those who have contributed in any way.
The donations keep coming in, thank you so much, and the family especially like it when you leave a message.