Harley-Davidson FLH Tourers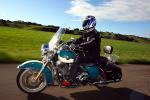 By Kevin Ash
Pictures: Double Red

You'd never guess that the Harley touring range was any different this year from last, to look at the bikes. There are two main models, the Road King and the Electra Glide, each with sub-models differing in spec: the base Electra Glide features only an upper fairing and no luggage, while the Electra Glide Ultra Classic is fitted with everything you can think of and plenty you wouldn't. But that's how they were last year, and paint schemes aside, the changes appear unremarkable.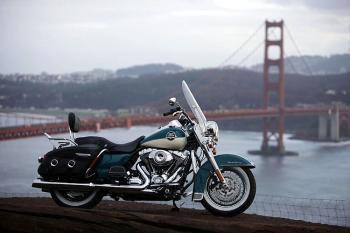 Click on image for gallery
All pics are Road King Classic except last (red bike) which is Road KingIn fact the entire chassis, which is shared by all the tourers, is completely new. All but the Road King Classic are now fitted with 17 inch front wheels in place of the previous 16 inchers, the rear tyres are wider, the frame is new and substantially stiffer, as is the swingarm, the engine mountings have changed, the suspension is revised, and so on. Harley-Davidson though is blessed, or cursed, with probably the most conservative, traditionally-minded customers of any motorcycle manufacturer, and while they want their bikes to improve, they don't want them to look any different.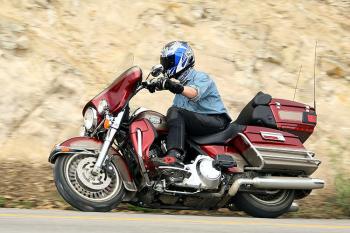 Click on image for gallery
All pics are Electra Glide Ultra Classic except last (red bike) which is Street GlideSo they don't. And in the case of the Road King especially, nothing wrong with that either. The Road King was introduced in 1994 as a touring bike with classic 1950s styling: it was knockout then and it's just as good to look at today.

The modern version is also a much better bike to ride. The engine is Harley's Twin Cam 96, a 1584cc, air-cooled, V-twin unit with fly-by-wire throttle control, fuel injection and an active intake and exhaust noise control system that quietens the bike when it thinks it's in an urban situation… or more to the point, being run through a noise emissions test. It's a fabulous motor too, not just good for the sort of high street cruising that most riders expect of Harleys but excellent in its role here as a proper touring bike power unit. British riders as a rule don't even think of Harleys as serious distance machines, and while there are aspects of touring which a BMW or Japanese bike might do far better than a Harley, Road Kings and Electra Glides have their own set of attributes which make them surprisingly effective, dark horse alternatives to the obvious contenders.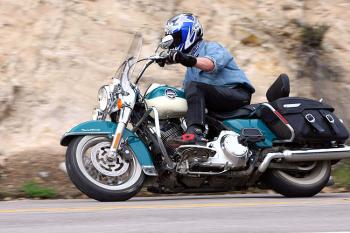 The engine is one of them, as lazy and torquey as you could ever want, chugging along at 70mph in the overdrive sixth gear with just 2500rpm showing (on the Glides anyway, the Road King has no rev counter, although it's not missed). It sounds meaty and muscular too, and thuds through the bike in a thoroughly satisfying way, while topping out at a mere 5,500rpm which you never bother to visit. It's not a fast machine but it's communicative and easy, bringing immense character to mile eating. The new engine mounts have reduced the shaking at idle which was a trait of Harley tourers, apparently because regular customers asked for this, although I always rather liked it and miss the way different components on the bike would blur at the traffic lights. But this does also mean fewer vibes get through to the rider at higher revs, and you do still feel the pulses of torque when the throttle's opened.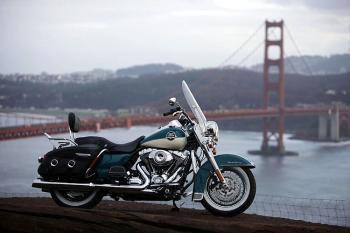 The big difference though comes with the way the bikes handle, specifically at high speeds. Take a bend at more than 80mph on an old model and you'd lose all sense of contact between front tyre and Tarmac, while the bike would squirm and wriggle gently. It was unsettling until you were used to it and no doubt put off riders trying out Glides or Road Kings for the first time. This has changed dramatically, and while you'd never call the bikes precise or tactile in fast cornering, stability is far better and much more reassuring than before, and the bikes also feel better balanced and less intimidating at low speeds. Owners of older models will be taken aback at how much better the new ones feel.

The suspension is improved too, although on the Electra Glide especially it still jars through potholes and doesn't cope well with harsh surfaces. Modern Harley tourers are fitted with Brembo brakes, which are a major advance over the previous stoppers, although riders used to sportier bikes will still find them lacking power and feel. But in the context of these machines they're fine, and as standard are backed up by a rather obtrusive ABS system which at least means you won't lock up a wheel if you do just grab a fistful.


The question really with these bikes is, do they stand up as viable touring bikes in Europe, as considered alternatives to the mainstream choices? The answer is absolutely yes. They're not by any means perfect: on all models, turbulence from the top of the screen is an issue, creating noise and tugging and bumping at your head relentlessly. The Glides have various screen height options which are worth trying as there is a narrow smooth zone which for the right height rider is acceptable, while the Road King's bar-mounted screen is detachable, and the bike is fine with it removed. Fuel range is reasonable until you start to ride fast: the five gallon tank (of all models) should in theory be good for 250 miles at the 52mpg I was getting from gentle riding on the Road King, although oddly the dash's range readout was showing just 50 miles left with the low fuel warning light lit after covering 150 miles on my California trip. And from experience I know high motorway speeds can bring consumption down to 40mpg and less. The finish quality is very variable: while the paint is outstanding, corrosion resistance of some components is poor (rust stains were marking a couple of points on our new bikes already) and ditto detailing, with ugly cable runs, clumsy brackets and so on. Yet the bikes still look spectacular.

If you're not interested in rapid motorway runs, what a Road King or Glide offers (and I'd have the Road King, the Glides' styling is just too kitsch) is good comfort, a thoroughly endearing engine and a unique sound and feel that add a lot to owning and riding these bikes. You do need to treat and ride them differently, but if it you can dial into the Harley way, there is nothing more relaxing or rewarding.



* The Harley Touring range:

FLHR Road King (panniers, 17 inch wheels): £13,555

FLHRC Road King Classic (leather-covered panniers, 16 inch wheels, whitewalls): £14,115

FLHT Electra Glide Standard (bar-mounted fairing, tall screen, panniers): £12,480

FLHX Street Glide (bar-mounted fairing, cut down screen, panniers): £14,925

FLHTCU Ultra Classic Electra Glide (bar-mounted fairing, leg shields, panniers, top box): £16,980

Note this is the UK model range, so all bikes come with ABS as standard and the Road Glide is currently not available.

Sun, 29/03/2009 - 17:26
#1
Liked the review Kev, I used to be a 'conventional' Brit biker, 916 and R1150GS in the garage, until the wife and I decided on a 2 week tour of California. If you're to do it, do it properly, so we hired an Electra Glide. What a revelation, I must admit I was not looking forward to riding something pre first world war, but it just felt right. 400 mile trips with only fuel and coffee stops and no finger numbing from something that could turn milk to cheese at tickover, how does it do that? And you will know that the roads around Yosemite and the Pacific Coast Highway are like our biking roads over here except with a poorer road surface. Anyway we were so impressed that when we came back we bought one, a 110 cu inch Glide as the 1450 cc one we had in the states seemed a bit gutless. As you say, we looked at BMW's and Goldwings, and they would do a fine job, but they lacked soul and I think that is what makes the Harley top dog. I find riding the Harley more rewarding than my other 2 bikes as the Duke will do anything I ask of it, the Beemer is a fine handling machine and gives good feedback, but the Harley needs to have everything just right, as a rider you have to plan so far ahead, will it get by the next overtake?, will it get round the corner as the lean angle is so poor? It is like riding the Duke at 150 mph everywhere. Sure you can wind off the throttle and tour at 50-60, but biking is fun, and loaded with luggage and the wife on the back life is great.
Recent comments
In HONDA NC700X, kharli wrote:

In HONDA NC700X, kharli wrote:

In HONDA NC700X, Grump wrote:

In HONDA NC700X, kharli wrote:

In Lest we forget..., Captain Scarlet wrote:

In Captain Scarlet's next bike, malauder wrote:

In Captain Scarlet's next bike, Captain Scarlet wrote:

In Benelli 750 SEI, CCM wrote:

In Benelli 750 SEI, Gekom57 wrote:

In Benelli 750 SEI, Gekom57 wrote:

In Captain Scarlet's next bike, Grump wrote:

In Captain Scarlet's next bike, Navy Boy wrote:

In Captain Scarlet's next bike, Captain Scarlet wrote:

In Captain Scarlet's next bike, Grump wrote:

In HONDA NC700X, Grump wrote:

In Lest we forget..., Navy Boy wrote:

In Lest we forget..., unconventional rebel wrote:

In Captain Scarlet's next bike, unconventional rebel wrote:

In HONDA NC700X, unconventional rebel wrote:

In Lest we forget..., davvy wrote:
Donate to the Kevin Ash Fund
Kevin's funeral was held on Thursday 28th February 2013 and was well attended by family, friends and colleagues.
The Telegraph has very kindly established The Telegraph Kevin Ash Fund to assist with the education of Kevin's three daughters.
If you'd like to make a donation then you can use the PayPal 'Donate' button below which will allow you to donate from your PayPal account, or via credit or debit card. A small percentage (about 3.4%) will be retained by PayPal for the service.
Kevin's family have been touched by the generosity and messages of support from people using the website and would like to express their gratitude to those who have contributed in any way.
The donations keep coming in, thank you so much, and the family especially like it when you leave a message.