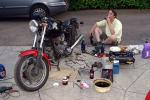 By Kevin Ash
Pictures: Kevin Ash, BMW Press
This was going to need some serious spicing up. You'd expect a weekend gathering of 30,000 bikers in a single place to be a source of countless laughs, piss-ups, wild stories, mad antics and mayhem. But 30,000 BMW owners? That's the annual BMW festival in Garmisch, an upmarket ski resort south of Munich, near the Austrian border, which the attendance figures say is a hugely popular event. I'm not a BMW owner though – okay, I wasn't, but we'll come to that – and the idea of hanging around for three days listening to Germans talking animatedly about valve clearances, road safety, Compact Drive Systems, litres per hundred kilometres or whatever it is that stops them falling asleep on the autobahn, had me very worried about what the hell I was going to write about.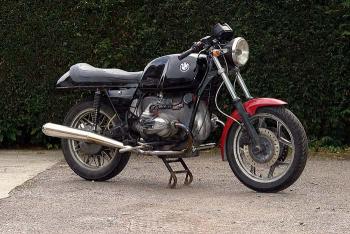 Click on image for galleryPride comes before a fall. London Pride, in my case, about three pints of it, because by that stage in a pub one night the idea of making my own way to Garmisch by bike to add an interesting angle seemed pretty clever. Yup, should get a travel thing out of that (hic)… yeah, I'll have another! Right, where wozh I? Do what? I know, I'll buy a Beemer… for lesh than 500 quid. An' I'll ride it there, easy! Wanna bet? 'Course I can! (hic). Shorry shorry, I'll wipe it up. Peanutsh?

Damn. If it had just been blokes at the boozer I'd have got away with it – they'd have understood, obviously. It's how we are. But there were girls too, rendering any loss of face absolutely unthinkable. Hole: dug. Corner: backed into. What sort of BMW could you buy for less than £500 anyway? I had no bloody idea. The bike mag classifieds weren't any help: there wasn't one for less than £1200, not even the really horrible old whales that no one liked when they were new. How about a 20 year-old R45 for £1500 anyone? That's 35bhp for gawd's sake!

Even eBay struggled to help for a while, and worse than that, it kept getting my hopes up only to dash them with 17 seconds left as I thought I'd finally scored an R1150RT with 15,000 miles for £156.32, only for the numbers to whizz round to £5000 or somesuch by the close. With four weeks to go I was getting desperate, and started to sneak looks at old Urals, but even these were busting my budget, and they make much less power than an R45. And Russian copies of wartime BMWs are not only very brave, they're cheating. Fortunately.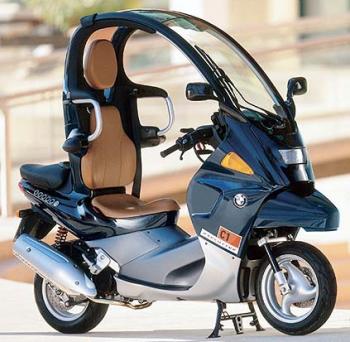 I wavered on a crash-damaged C1 200 for about a minute, finger hovering over the mouse as it pointed at the 'Confirm Bid' button. Oh the embarrassment, could I live with it? Then like a knight in badly oxidised armour, up it popped on my daily search report: 'R100RS, café racer project, rough, not as good as it looks in the pictures.' It looked derelict in the pictures. So I put in a bid. And two days later, not only was it mine, it was £87 under my £500 budget! Oh, and slang for £500 is a monkey, in case the headline was puzzling you...

Back home I took it off the trailer and didn't feel so clever. The spanner welded to the centre stand as a make-do lug snapped off when I tried to park it, the paint looked like Woolworth's Household Gloss applied with a roller and the front tyre appeared to be fatter than the rear. Encouragingly though, some of the, um, modifications were more intelligent than I'd expected: the whole front end had been replaced with one from a K100, which meant an 18 inch wheel instead of the 19 inch original, and more importantly, 41mm forks (38mm stock) with a proper aluminium top yoke in place of the stamped out steel plate the RS has to cope with, and decent Brembo brakes. The R100RS of '78 vintage had nasty floating single-piston calipers operated by a remote master cylinder beneath the fuel tank, itself worked by a cable from the handlebar lever, but mine had twin, fixed Brembos with steel braided hoses and a Ducati Monster master cylinder.

With any engine that's not been used and with unknown provenance (the log book said mine came to the UK in 1988, but not from where), you should always change the oil, check it over carefully and give it a service before attempting to start it. Oh come on, would you? With hopes low I thumbed the button (as you do with BMWs) and bugger me if it didn't burble straight into life before settling down into an even, mellow, unmistakeably boxer-twin idle.


How quietly it ran, much less clatter than most old boxer twins – clearly I had something of a talent for spotting a bargain. I'd still service it of course, but I didn't expect to have too much to do now. The sun was shining, it was mid-June hot, so I settled down in a nest of spanners and sockets, oils and greases, broke out some haven't-I-been-clever beers – Pride, of course – and started with the valve clearances, a legendary doddle for us airhead boxer owners, eh! Except there weren't any. And no, all you smartarses who thought I was checking them on the overlap, the valve gaps were completely closed up wherever you turned the crank. All of them. No wonder it had been quiet, but why it had run at all? Who knows… And why had they closed up? It could simply have been a lack of maintenance for years, but I suspected a diet of unleaded fuel – these old twins like a dash of lead in their tipple or the valve seats recess. Mental note: take some Castrol Lead Substitute with me.

Putting in the new points was easier because it didn't have any of those either. Some distant, caring owner had fitted electronic ignition, although my strobe – last used on a mate's Austin Maxi in 1985 – said the mechanical advance mechanism was worn, so I adjusted it anyway to a conservative compromise setting.

Then I changed the oil. And changed the oil, changed the oil and changed the oil. That's fresh lube for the engine, the gearbox, the shaft drive tunnel and the rear bevel drive, although when I drained the last two, the gunge that came out was like white, lumpy dishwater. Seemed to have slipped someone's attention at service time then.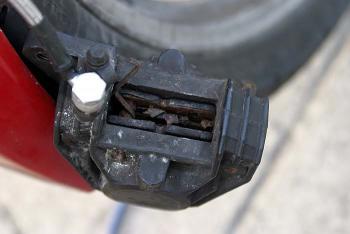 Did I call the brakes decent? Maybe when new, but mine were so corroded the pad material lifted out without the flaking backing plates (I said 'flaking'…), and most of the work on them I did with a 2lb mallet. Spanners are for poofs mate. I managed to free off one and fit some new EBCs, but the last sliding pin (it's always the last…) wouldn't budge. In fact it was bent, so clearly I wasn't forging a path through virgin territory here, but I was determined to travel further than the last explorer… I took it out with an angle grinder. The stoppers worked eventually, if not brilliantly, and that proved to be the toughest problem on the mechanical side.

It was the electrics that really worried me. These were the work of a Master Butcher with an account at Shit Connectors Inc, and the few things that did work, did so only sometimes. The one consistency came when turning the light switch to the sidelight position, which always made one wire under the seat smoke a lot. There was no time for a complete rewire so I caved in and bodged some more, eventually having to wire in the taillight direct to the battery with its own separate fuse and circuit (at least it had a fuse…) in order to make that work in unison with the headlight.

Incredibly, the bike had come with an MoT, which really was dated April 1. Enough said about that I think, except it did save me a lot of trouble… Instead, it was BMW which spoiled my plans. The press launch of the new R1200R was announced, and this involved flying to Berlin, then Munich to ride the latest boxer from there to the Garmisch festival. No room in the schedule to fit in my R100RS ride, and for a while it looked like the whole thing was off. But BMW UK, deeply moved by my desperate plight, offered to take out my old nail to Garmisch in their support truck. Okay, they were going there anyway, but even so… well, by the time they saw the bike it'd be too late for them to back out.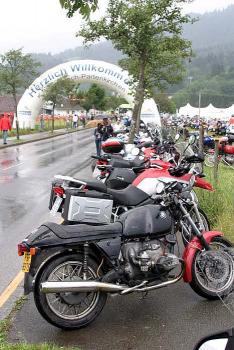 Thus the £423 eBay wreck made it by default to Garmisch, where we were reunited in a hotel car park. By now I'd covered a total of 40 miles, each one on roads near where I live trying to fix some problem or other (so that's 40 problems), and now here I was a very, very long way from home (I still hadn't checked just how far…) expecting – hoping for – this 28 year-old basket case to get me back to England. Oh, and when I said in a hotel car park, that's not strictly accurate, as like a reluctant dog scared of somewhere new, the bike was refusing to come out of the van. My lovingly refurbished front brakes hadn't even made it to Garmisch in a truck without going wrong. They were stuck on, so we dragged the beast into the sun and I broke out the spanners rather sooner than I'd been hoping. Of course it was only with one caliper off and stripped that I discovered the brake lever itself was sticking – all I had to do was push it outwards and the brakes freed off. I could manage that when riding, and after a few test miles around Garmisch, it started to work normally anyway.

More worrying was the way the starter motor was turning the motor over with increasing lethargy every time I used it, until eventually even my best textbook button-thumbing could evoke only a click from the volt-starved solenoid. Hmm, the charging had worked when I got the bike…

On an Apple Mac you press Command-Z to undo the last thing you did and that solves most problems, so I tried the same with the bike. In lieu of a handy keyboard I disconnected my taillight bodge, and after a bumpstart and a few more miles, the starter reluctantly consented to grinding the motor around again. Maybe I'd solved it, maybe not. I really wasn't sure if, and I certainly had no idea why, but whatever, time was running out. It was getting dark and I no longer had simultaneous tail and headlights, so nothing for it but to head back to the hotel and drift over to the party in the main tent. And I had to go home the next day.

The plan was flawless: something to eat, a quick beer, and if I could stay awake long enough I'd catch the first bus back to the hotel at 10.30pm, so I could rise at 5.00am after a reasonable sleep. Thanks to my electrical troubles, I now needed to get home before sundown, and the scale of the distance was starting to dawn on me as the guy from MCN had turned up on his brand new, BMW press fleet F800 gibbering at how many days or weeks or whatever it had taken him. At 120mph. Oh blimey.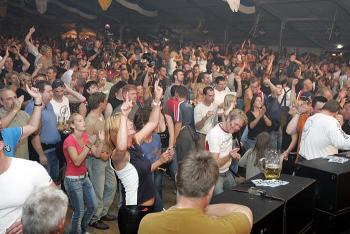 What I hadn't taken into account was just how improbably good the evening was going to be, given my unforgivable stereotyping. The main 'tent' must have held some 3000 people, mostly packed onto benches quaffing litre steins of beer. Which is a good start, obviously, especially when they're being delivered by dirndl-clad serving wenches carrying eight vast glasses apiece – I could only just lift one for heaven's sake. And everyone seemed pretty much normal: laughing, joking, smiling, all having fun together. The atmosphere, frankly, was already good at 8pm, but my 10.30pm exit still looked reasonably solid, and when an eight piece oompah band of fat-bellied moustachioed Bavarians in lederhosen marched on stage, I thought how ill-advised, I'll have no problems leaving now.

Except they abso-bloody-lutely rocked. We got the lot, from German folk music to Grease to Led Zeppelin to Queen and back, played brilliantly and hilariously with some of the guys dressed as the two girls from Abba, Sandy and Danny from Grease, everything, interspersed three times that night by Germany kicking Portuguese ass in the World Cup play-off on a big screen – the place was already erupting, but those goals took the roof off. Okay okay, I'll go at 11.30 then, but I'll be okay. Pass me another beer, Fräulein!

Then the knife was turned and the improbability meter banged off the red line: I'd already hooked up with old mate, Dakar desert racer Simon Pavey and his gang when a gorgeous Spanish girl I'd met once before on a BMW launch materialised out of nowhere. "Hola Keveen! Pleez can I spend ze evening weeth you? The man I am weeth, he is too boring!" What? Eh? What's in this beer? Half an hour later we're all dancing on the tables, laughing maniacally as we bang our glasses together so hard they smash, and that's pretty much the rest of a fabulous evening summed up. Oompah bands? Cracking! German parties? They rock! BMW owners? The best! Go to Garmisch next year, whatever your bike, it's fantastic.

So I went to bed at 2.30am, okay, fully steined up, soaked in sweat, Pavey's Dakar mantra swishing around my head: "Don't waste sleeping time washing..." I set the alarm for 6am as some sort of concession to my wholly inappropriate condition. It went off the moment my head hit the pillow.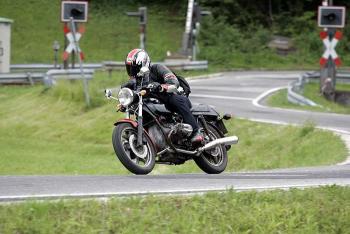 I swing a leg over the fully laden bike at 6.45am and thumb the button clumsily, a feat in itself. The motor, bless it, burbles into life instantly, so off we head on a route running from Germany into Austria and back into Germany again. Lordy, Austria's a long way from home isn't it? Oh yes… The skies are azure, the valleys crisp and clean and I sit so tense, battered senses trying to tune into any sign of impending failure, I get lost after 20 miles. Pillock. Back on route, and now everyone is flashing their lights! What's their problem then? Ah, I remember now: in Austria, the law requires all vehicles to have their lights on, all the time, and I am breaking ze rules! Mine don't even work at the same time as each other, so this is an issue. On top of that, I've vowed to touch absolutely nothing I don't really really have to. The bike is running on a knife edge balance of cooperating bodges, an electrical ecosystem likely to be tipped into extinction at the tiniest intrusion. Should I try the light button?

The peer pressure of all those self-policing yodellers overwhelms me, and fecklessly, I throw the switch. Still no light, and now, no tacho either, but at least the dead needle is lying as the engine hasn't faltered. Don't need the tacho anyway. I just open the throttle a touch more and make it back to Germany smug at my skirmish into Austrian traffic law.

I opened the throttle! And the bike is feeling not at all bad, rather comfortable in fact, and it steers nicely too. Not much vibration, pretty torquey, engine sounding sweet and… help, it's slowing down! It's slowing down! Oh, er, it's okay, we're going up a hill. The first fuel stop comes up after an impressive 200 miles. It's gone onto reserve but only just and I need a rest. I must be nearly home by now! Except… hmm, there's something wrong with this map, I don't appear to have moved very far. Oh.

Time to up the speed then, and I let the speedo climb to 80mph. The bike purrs along unconcerned and I settle in for the next fuel stop, a shorter 180 miles away by which time I've done some mental calculations and realise just how far Stratford-upon-Avon is. Very. So the speed's up to 90mph. Sundown? I'll be lucky! Yet the dear old girl hasn't missed a stroke – it was built for autobahns 28 years ago, it hasn't forgotten a thing and now you can measure my confidence in mpg figures, fallen below 40mpg from the 46mpg of the first leg.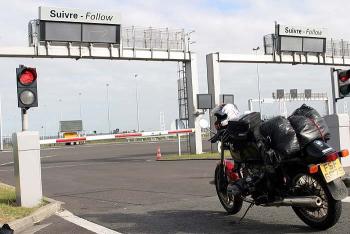 Instead, the biggest problem I have is my fault. It's now been on reserve for a very long time and still there's no sign of a fuel stop. The autobahn is featureless, no towns for miles, and I'm genuinely worried I might run out. Keep going and hope, or turn off at the next exit, as there's one coming up? Dither, dither… I sweep off to the right, down the slip road to a T-junction, where Sehr Klein Village is promised to the left, Sehr Sehr Klein Village to the right. This is the Sunday morning of the World Cup Final in rural Germany – I'm in trouble. Go left, change into top gear as soon as I can, the tiniest whiff of throttle… there's a fuel station! Dammit, closed, and not a soul around. No choice but to carry on, a couple more miles and that's it, I have to turn back, this is mad. I pull in to an open space and… someone up there loves me today, it's a fuel station – open! My flabber is well and truly gasted as I brim the 24 litre tank with 23.7 litres of unleaded, splash in some Lead Substitute, top up the oil with a spare bottle in the tankbag, down some water and wafers and blast back to the autobahn. The stop after that is 37mpg away as I cruise with the speedo nudging the ton – this old girl will go on forever! Pull in to the next services cool as you like, and… panic again as clouds of smoke pour out from under the tank. Aargh, too bloody confident, I've set it alight! Mysteriously though, it seems to be coming from all over the engine. Eh? Oh bum, the lid came off the oil bottle in the tank bag and it's spilled all down the tank onto the engine. Put away panic, bring out rags instead…

On and on we go, where we'll stop, nobody knows, tiddly pom, tiddly pom, on and on… into Luxembourg, then Belgium, then France, and finally I make it to the Eurotunnel train. It's just gone 6pm – incredible, I gain an hour in England, the crossing leaves in 20 minutes, takes 40 (thinks…), I might yet do it! Ashford to Stratford, 180 miles is almost home, one fuel stop, the sun sets… when? It's mid-July, pretty late I guess. Prepared, me?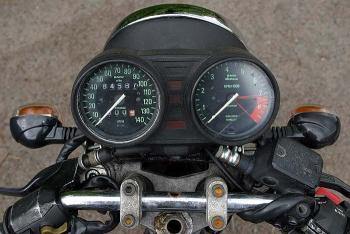 It's dusk, 9.20pm, the sun has almost set, cars have started to flash their lights at me as a very long day draws to a close and darkens. How I started, so I finish, irritating motorists with my lighting issues. There's the end of my drive. I did it! I turn in... why is a headlight flashing on the hedge?" My headlight? A quick investigation, and it seems it flashes in sympathy with the left-hand indicators. Probably best I never knew.

814 miles, 6 countries and 15.5 hours after leaving Garmisch, and I'm back just in time to see the Zidane headbutt, a pretty impressive average speed of 53mph including all stops and the channel crossing.

Me and my baby, we did it.



Other features
Recent comments
In HONDA NC700X, kharli wrote:

In HONDA NC700X, kharli wrote:

In HONDA NC700X, Grump wrote:

In HONDA NC700X, kharli wrote:

In Lest we forget..., Captain Scarlet wrote:

In Captain Scarlet's next bike, malauder wrote:

In Captain Scarlet's next bike, Captain Scarlet wrote:

In Benelli 750 SEI, CCM wrote:

In Benelli 750 SEI, Gekom57 wrote:

In Benelli 750 SEI, Gekom57 wrote:

In Captain Scarlet's next bike, Grump wrote:

In Captain Scarlet's next bike, Navy Boy wrote:

In Captain Scarlet's next bike, Captain Scarlet wrote:

In Captain Scarlet's next bike, Grump wrote:

In HONDA NC700X, Grump wrote:

In Lest we forget..., Navy Boy wrote:

In Lest we forget..., unconventional rebel wrote:

In Captain Scarlet's next bike, unconventional rebel wrote:

In HONDA NC700X, unconventional rebel wrote:

In Lest we forget..., davvy wrote:
Donate to the Kevin Ash Fund
Kevin's funeral was held on Thursday 28th February 2013 and was well attended by family, friends and colleagues.
The Telegraph has very kindly established The Telegraph Kevin Ash Fund to assist with the education of Kevin's three daughters.
If you'd like to make a donation then you can use the PayPal 'Donate' button below which will allow you to donate from your PayPal account, or via credit or debit card. A small percentage (about 3.4%) will be retained by PayPal for the service.
Kevin's family have been touched by the generosity and messages of support from people using the website and would like to express their gratitude to those who have contributed in any way.
The donations keep coming in, thank you so much, and the family especially like it when you leave a message.