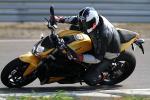 Ducati could so easily have ended up making the new 848 Streetfighter like the 1098 version, only less.
A change of emphasis though has meant that for most riders, less will translate as more, and that`s not just because the price is a lot more reasonable. The 1098 has always been a raw, high performance and hardcore bike that`s either an acquired taste or frankly, intimidating and a bit much, and it`s not helped that the fuelling has been imperfect too.
Project engineer Giuseppe Caprara though designed the 848 to offer much improved usability and make it a realistic road bike, which means the differences are significantly more than the engine capacity reduction. The engine for example is not a transplanted 848 Evo motor, but an 849.4cc version of the gentler Testastretta 11 ° power unit. Where the superbike engines have an overlap between inlet valves opening and exhaust valves closing of 37 °, on this, the Multistrada and Diavel engines this is reduced to 11 in order to enhance lower rev torque and smooth the engine`s behaviour. There`s a reduction in valve lift too.
There`s some peak horsepower loss, inevitably, down 8bhp to 130bhp (132PS, 97kW), but the other 11 ° engines are such good road units that should surely be a sacrifice worth making, especially as this is a naked bike anyway.
The frame is new, if only in geometric detail, with a steeper rake than the 1098 Streetfighter and less trail, a move designed to improve agility which can be made without high speed stability issues as the 848 version is not as quick as the 1098 version. Total dry weight is a very light 373lb (169kg).
The single-sided swingarm is all-new, although only for production reasons - stiffness and weight are unchanged but it costs less to produce than before, so no need to read anything else into this. The suspension though is designed for road-riding comfort as much as performance, with softer damping front and rear, a softer spring in the Sachs rear unit. Brembo radial callipers are fitted but not the ferocious Monoblocs of the 848 Evo, while the riding position is tamed with 0.82" (20mm) higher handlebars.
Equipment includes Ducati Traction Control as standard, although with Ducati declaring a new focus on safety and fitting the `Safety Pack` to the Monster 1100 Evo, a glaring omission is ABS brakes. Caprara explains why: "We would very much like to fit ABS to the Streetfighter 848 but the bike was designed before we were doing this to many of our bikes and there simply isn`t any room to fit the hydraulic pump and valve system. Incorporating them from the design stage is easy, but not retro-fitting ABS later. So regretfully we haven`t been able to do it."
There are also minor changes to the styling including LED running lights at the front and an LED taillight. The rear tyre meanwhile is Pirelli`s first 180/60 x 17, a Diablo Rosso Corsa which due to the different profile to the 180/55 norm is said to provide a wider contact area as well as improving the ride quality.
I rode the bike on the brand new Modena circuit followed by a road ride climbing 2,500 feet (750m) through the hills to the south of Ferrari`s home town, and while it does work very well on the track, it really excels as a street machine. What is noticeable on the track is an improvement in front end feel: where the 1098 Streetfighter is skittish and doesn`t always inspire confidence, the 848 has more feedback and certainty, even though it steers more quickly.
On the road it works better still, the softer suspension keeping rubber on road more effectively, especially on broken and bumpy surfaces and with the supremely natural steering and easy agility this is one of the most rewarding as well as quickest bikes for dispatching sinuous and unpredictable backroads.
The fitment of those lower spec radial Brembos is hardly retrograde either, as they offer an easier, more progressive power which is better suited to the real world, as well as the bike`s softer suspension.
The engine meanwhile gives you very little less real world performance, not just because of the sharper focus on lower rev torque but thanks to a 42-tooth rear sprocket where the 848 Evo superbike has a 39-tooth item. The top speed of the Streetfighter will be lower of course, but who cares? The 848 Streetfighter surges out of bends, in high gears if you prefer, with that delightful, lumpy chocolate feel which is so seductive on the Multistrada and Diavel and which is confirming the Testastretta 11 ° as one of the great road bike engines - the smaller capacity is going to do that reputation no harm either.
You don`t get the huge torque shove of a Triumph Speed Triple, which at the price point is a direct rival to the Streetfighter 848, but even with the torque and usability increase, but it's not far off and and the Ducati still punches hard when you rev it, a force not hurt by the low overall weight. The seat of my pants tell me the Streetfighter would be a touch faster than the British bike in a straight line, and with its more confident, faster handling it would nudge ahead on track or twisties too.
This isn`t important in itself though, rider skill differences will matter much more, what the Streetfighter offers is a feel that stops you ever wanting to get off the thing. The Triumph is good here too, thanks to its characterful three-pot motor, but the off-beat lion purr of the Streetfighter combined with the shuddering power pulses coursing through its chassis, and the immediate, willing response to the twistgrip add up to a compulsive tactility that overrides raw performance figures.
It`s not perfect of course. Although the higher bars help comfort their angle places some strain on the wrists which is tiring after an hour or so, and you have to dip your head to see the instruments tucked low in the visual shadow of your helmet`s chin bar.
The too-common Ducati foot room problem is still there too. The footrests have been spaced half an inch (12mm) wider than the 1098`s to try and help, but still your right heel is fouled by the exhaust heat shield, and when you`re trying hard, as on the track, you end up with your foot over the end of the footrest rather than resting on it, and then losing too much boot slider in right hand turns. Even in road riding you can`t get your foot fully on the rest without twisting your knee slightly and that gets uncomfortable pretty quickly.
There was no chance on the test to check fuel economy but the tank is the same 3.6 gallon (16.5 litre, 4.4 gallon US) capacity as the 1098`s, so the range is going to be adequate at best and probably no more than 120 miles (190km) if you`re thrashing it. Much more practical is the service schedule, with major services required at only 15,000 mile (24,000km) intervals and one minor service in between.
So, where the 1098 Streetfighter is too costly and too wild for most riders, the 848 is a much more practical proposition, in the real world not a lot slower, and it comes at a price that fits in with its rivals more realistically. The Speed Triple is more comfortable, softer and maybe easier, but the Ducati`s feel and charisma are class leading, while the paint and general build quality are outstanding.
Specifications
Model tested: Ducati Streetfighter 848
UK price: £9,995 on the road. Available: November 2011
Engine: 90-degree V-twin, liquid cooled, dohc desmodromic 8v, 849cc
Power: 130bhp (132PS, 97kW) @ 10,000rpm
Torque: 69lb.ft (9.5kgm, 93.5Nm) @ 9,500rpm
Economy: n/a
Tank/Range: 3.6 gallons (16.5 litre, 4.4 gallon US) / n/a
Transmission: Six gears, wet multi-plate clutch, chain final drive
Chassis: tubular steel trellis, single-sided aluminium swingarm
Seat height: 33.0in (840mm)
Wheelbase: 58.1in (1475mm)
Rake/trail: 24.5 °/ 4.05in (103mm)
Weight: 373lb (169kg) (dry), 437lb (198kg) (wet)
Recent comments
In HONDA NC700X, kharli wrote:

In HONDA NC700X, kharli wrote:

In HONDA NC700X, Grump wrote:

In HONDA NC700X, kharli wrote:

In Lest we forget..., Captain Scarlet wrote:

In Captain Scarlet's next bike, malauder wrote:

In Captain Scarlet's next bike, Captain Scarlet wrote:

In Benelli 750 SEI, CCM wrote:

In Benelli 750 SEI, Gekom57 wrote:

In Benelli 750 SEI, Gekom57 wrote:

In Captain Scarlet's next bike, Grump wrote:

In Captain Scarlet's next bike, Navy Boy wrote:

In Captain Scarlet's next bike, Captain Scarlet wrote:

In Captain Scarlet's next bike, Grump wrote:

In HONDA NC700X, Grump wrote:

In Lest we forget..., Navy Boy wrote:

In Lest we forget..., unconventional rebel wrote:

In Captain Scarlet's next bike, unconventional rebel wrote:

In HONDA NC700X, unconventional rebel wrote:

In Lest we forget..., davvy wrote:
Donate to the Kevin Ash Fund
Kevin's funeral was held on Thursday 28th February 2013 and was well attended by family, friends and colleagues.
The Telegraph has very kindly established The Telegraph Kevin Ash Fund to assist with the education of Kevin's three daughters.
If you'd like to make a donation then you can use the PayPal 'Donate' button below which will allow you to donate from your PayPal account, or via credit or debit card. A small percentage (about 3.4%) will be retained by PayPal for the service.
Kevin's family have been touched by the generosity and messages of support from people using the website and would like to express their gratitude to those who have contributed in any way.
The donations keep coming in, thank you so much, and the family especially like it when you leave a message.