By Kevin Ash
Pictures: Milagro
In April this year Ducati held its breath as it released the new Monster 696 to press and public. This was the first complete reworking of the 1993 Monster 900 on which the company's very existence has depended more or less ever since, and despite the bike's entry level status, an array of international dignitaries was lined up to see the Bologna factory's new baby off into an unforgiving world.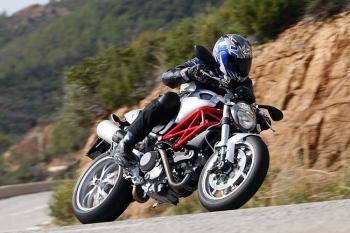 Click on image for galleryThey got it right. Since then, the Monster 696 has been the best selling Monster in the history of the model in this country and it's doing equally well in other markets around the world. Which bodes well for the next new Monster, the 1100, which we rode in Cannes earlier this week. The 1100 shares its frame and styling with the 696 but adds higher longer travel and revised suspension to raise it from the ground and increase cornering clearance, and of course it's fitted with a larger, air-cooled engine. The motor is not simply migrated from the 1100 Multistrada (and 1100 Hypermotard), the crankcases are a new and much lighter design onto which the Multistrada cylinders and heads have been grafted. The crankcases alone are more than six and a half pounds lighter than the old ones, while the Monster 1100's single-sided swingarm is some 11lb lighter than the 1098's, all factors in making the bike the lightest in its class at 373lb, a considerable margin.

Weight then has been deemed important, and so has low rev torque, and in contrast to its mass the Monster has lots of this. Peak power is 94bhp, which sounds adequate rather than exciting, but at lower revs than the 76lb.ft peak at 6000rpm the bike has stacks of torque.

Sit on the bike first though and it feels pretty much what it is, a jacked up Monster 696. For taller riders it's more natural, though the revised seat shape (which the 696 also gets) improves comfort too, and it doesn't feel a lot heavier. As with the 696, it's disconcerting at first not being able to see the headlight in front of you, just the MotoGP-style comprehensive LCD dash in the centre of the tapered diameter handlebars, giving you a sensation of being right over the front wheel.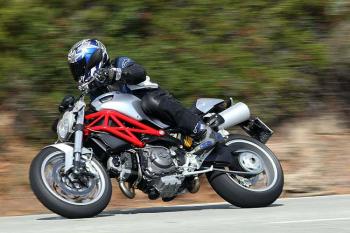 Fire up the big V-twin and you're greeted by the sound Ducati fans wouldn't be without, the rattle and chogga-chogga clatter of the dry multiplate clutch. Which is exactly why it's fitted (although it's lighter than a more conventional wet clutch too), as a common Monster mod is to fit an open clutch cover just so this characteristic race-bike rattle can shout 'Ducati' to a wider audience.

The clutch lever action is heavier than average though, and at certain revs those unlubricated friction plates bray like a stressed out donkey... but then that's exactly what Ducati riders like. They call it character and after a diet of homogenised perfection from so many others, it's hard to argue. You don't need to use the clutch much anyway, that monster Monster torque dispenses casual high performance with nonchalant ease. Letting the revs drop below 2000rpm is a recipe for transmission roughness but above that the bike charges forward with immense thrust and no delay to allow the revs to rise. Some other naked bikes will often be quicker, but you'll have to work them much harder and on tighter roads they won't be able to make use of any horsepower advantage anyway. The Ducati will hit back with its exceptional agility too, flicking happily left to right and back like a middleweight (which it is in all but engine capacity...), steering perfectly as it purrs and twitters into corners and booms out of them – more character and distinction.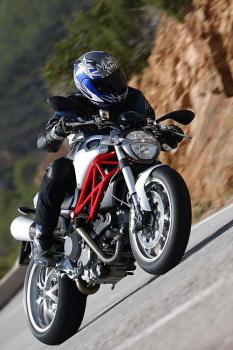 There are less welcome quirks though, including an uncharacteristically stiff and uncertain gearchange. At low revs and ratios it takes a good boot to find the next gear, while occasionally it baulks at changes. It was enough for me to try a different bike in case mine was a one-off, but they all do that, doubly annoying as Ducati cog swopping is usually a slick and dependable passtime. At least things are unobtrusive at everyday urban speeds so it doesn't interfere with town riding. The front suspension could be better too, as this is firm and slightly underdamped, giving a harsh, choppy ride on poorer surfaces. It's not too bad but at £7,800 for the base model you'd hope for a little better. The Monster 1100S, which we didn't ride, has top quality Öhlins suspension which will undoubtedly perform better, but as that, gold paint on the wheels and a few carbon fibre panels are all you get for an additional £1,400, that's simply too expensive. You could get your stock forks reworked for a lot less than that.

If you read elsewhere that the brakes are weak, bear in mind the bikes we rode were very new. I was unimpressed with mine at first but then saw my bike's mere double figure mileage and gave them a good workout, after which they were efficient and easy. They're not sports bike sharp but provide progressive power and no fade.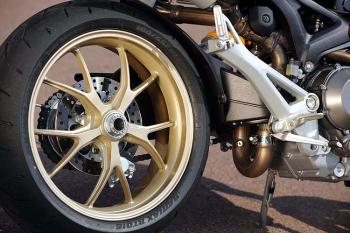 Despite the big engine, Ducati expects the 1100 to be used mostly in towns and for relatively local trips. The riding position is very exposed to wind blast while the small 3.3 gallon tank is inadequate for regular long distance use, although not as bad as it sounds as these engines are capable of 50mpg relatively easily.

The bike needs busy built up areas anyway to exercise its talent for turning heads: it really is an extraordinarily good looking machine, like the 696 but with the added class of its single-sided swingarm while its raised stance lends it a certain poise too. It might be an all-new bike but the look is completely faithful to the original and it's as fresh now as it ever was.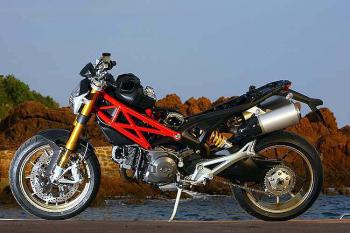 Where it's changed and progressed is in its usability: the turning circle is now acceptable where it used to be obstructively large, the mirrors are useable (if still not great), servicing costs and intervals are no different to mainstream Japanese bikes, the riding position is comfortable while the quality of finish is excellent. Judging by demand for the smaller version and the durability of modern Ducatis I'd expect depreciation to be low too. But what matters is Ducati's speciality: the bike feels good and it makes you feel good too.

Price: £7,750 (1100 S, £9,250)

Available: December 2008

Contact: Ducati UK, 0845 1222996, www.ducatiuk.com



Fri, 12/12/2008 - 14:16
#1
shuggiemac
Offline
In my opinion, for all its worth, the Monster is one of the most significant machines of the past fifteen years and yes I do say that from a position of bias as a dyed in the wool Ducati fan. I have never owned one of these to be fair having opted for a 600SS then an ST2 and a 999 but I have ridden quite a few.
There was a real chance that Ducati could have put themselves into the 916/999 position with the new Monster as they truly had to make something worthy to replace the well loved original design. I feel that making the Monster only air cooled is a smart move as the SR2 and 4, while undoubtedly great bikes, just did not carry the plumbing for the liquid cooling well. The new design on the 696 and now 1100 seems to have hit the mark and from the sales it would appear I am not alone in thinking that but I am dissapointed to read that the new bike has some gear change glitches. Is this something that was questioned on the launch, as it does seem strange that it has mainifested itself in this model. It surely points to the fact that something has changed, maybe they have shaved a few too many kilos from some places??
Sat, 01/05/2010 - 22:59
#2
granitehead
Offline
Today, I mostly went to the Paignton Bike Festival. And got wet. While there I saw the Ducati Roadshow stand so sauntered over to have a look. To my surprise they had a Multistrada but unfortunately it wasn't available for test rides, although I did have a sit on it. The strange thing was, it seemed to be attracting very little interest - I visited at least three times and on no occasion was anybody even looking at it let alone clambering over it.
Anyway, I decided to book a ride and as it was late in the day, I expected to have to wait and accept whatever was left over, but I was told I could choose anything I liked. So I chose the Monster 1100S. An hour later, no one else had booked anything and I went out with the outrider alone! I know it was pretty wet & horrible but I would have thought that the Ducati Roadshow pitching up at an event attracting thousands of motorcyclists would be a sell out. If I'd arrived early enough I reckon I could have sampled all ten bikes, and it's not every day you get an opportunity like that!
The monster was an absolute torque-fest, brilliant fun, even in the wet. The brakes worked well and the Ohlins suspension soaked up bumps and potholes better than my Versys (perhaps that's to be expected considering the cost difference). The only downside at the speeds we were doing was the excessive weight on the wrists although that could be due to the top-heaviness of the rider!
Recent comments
In HONDA NC700X, kharli wrote:

In HONDA NC700X, kharli wrote:

In HONDA NC700X, Grump wrote:

In HONDA NC700X, kharli wrote:

In Lest we forget..., Captain Scarlet wrote:

In Captain Scarlet's next bike, malauder wrote:

In Captain Scarlet's next bike, Captain Scarlet wrote:

In Benelli 750 SEI, CCM wrote:

In Benelli 750 SEI, Gekom57 wrote:

In Benelli 750 SEI, Gekom57 wrote:

In Captain Scarlet's next bike, Grump wrote:

In Captain Scarlet's next bike, Navy Boy wrote:

In Captain Scarlet's next bike, Captain Scarlet wrote:

In Captain Scarlet's next bike, Grump wrote:

In HONDA NC700X, Grump wrote:

In Lest we forget..., Navy Boy wrote:

In Lest we forget..., unconventional rebel wrote:

In Captain Scarlet's next bike, unconventional rebel wrote:

In HONDA NC700X, unconventional rebel wrote:

In Lest we forget..., davvy wrote:
Donate to the Kevin Ash Fund
Kevin's funeral was held on Thursday 28th February 2013 and was well attended by family, friends and colleagues.
The Telegraph has very kindly established The Telegraph Kevin Ash Fund to assist with the education of Kevin's three daughters.
If you'd like to make a donation then you can use the PayPal 'Donate' button below which will allow you to donate from your PayPal account, or via credit or debit card. A small percentage (about 3.4%) will be retained by PayPal for the service.
Kevin's family have been touched by the generosity and messages of support from people using the website and would like to express their gratitude to those who have contributed in any way.
The donations keep coming in, thank you so much, and the family especially like it when you leave a message.