This article is reproduced with the kind permission of Motor Cycle News, where it was originally published in 1994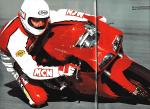 Ducati needed to produce a miracle to come up with a bike which was significantly better than the outrageously brilliant 888.
God does live in Bologna after all.
Quite simply, after a day riding the new 916 at the Misano race track in Italy, I can't help thinking Ducati has created what is possible the best motorcycle in the world at this moment.
Everyone now knows what the bike looks like, as the stunning V-twin has taken centre stage in all the 1993 motor cycle shows, if for no other reason than its fabulous good looks. The danger would always be that on the road it would never quite live up to the pre-launch hype.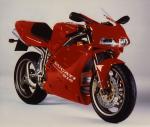 But sit astride it, snick it into gear, open up the throttle and any worries in this respect are instantly blown into oblivion. The engine alone is worth writing a book about. The 888 in Strada or SP guise really needed to be spun beyond 6000rpm to give of its best (though you'd hardly call it gutless below that). But the 916 has a vast reservoir of grunt which lets you drop to 4000 and still charge manically out of a corner.
In fact, it's the mid-range power which impresses the most. Push the tacho up to the rev-limiter, which holds you on the edge of the five-figure zone, and there's a slight sensation of the power tailing off. It actually feels quicker changing up a little early, at around 8000-9000rpm, and surfing out of a turn on the tidal wave of torque.
Like any V-twin Ducati on song, the 916 is a delight to the ears. The bellow from those sexy twin high rise cans under the seat is muted compared with the SP5 (which was never homologated for road use, so was silenced rather more liberally) but it still stirs the soul. The rider is also spurred on by the mellow thrum from the intakes, hidden away under the fuel tank, so evocative of relaxed, low-revving power.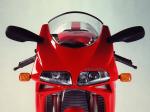 It's all so smooth, too. It's hard to understand how two thumping 94mm diameter pistons flying up and down bores at 90 degrees to each other could do anything but shake the machine to pieces, but that's one of the happy advantages of a V-twin - primary balance is perfect. There is a little buzziness as the revs climb, but it's still low frequency compared to a four and never spoils the riding experience.
Other Ducati foibles which could damp down the fun have been eliminated too. That eternal Bologna blight, the clutch, finally seems to operate predictably and quietly.
There's no protesting bark like a sea-lion on heat, or accompanying lurch as you pull away, just smooth acceleration as the transmission is engaged.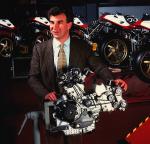 Engine designer and technical boss Massimo BordiAs for the riding position, sometimes awkward and ungainly on Italian bikes, the worst you can say now is it might be a little too radical for some people. A lot of weight is thrown forward on to the low bars, but on the track at least it's perfect, setting you up just right to grab hold of the bike and let it know who's in charge. For the first few minutes it felt cramped for my 6'3" frame, but the feeling evaporated with familiarity.
The fairing, so beautifully styled it`s almost erotic, works as well as it looks. You have to tuck in tight to slip behind its aerodynamic shadow, but once there you can feel it working, directing air around the rider cleanly and efficiently. Ducati claims that alone is worth nearly 15mph at the top end when fitted to the 888, so clearly a lot of effort has gone into making it work on the air as well as the eye.
The 916 isn't completely perfect and, as with the 888 you have to be delicate applying power, especially exiting a bend. The super-sharp throttle response from the highly developed Weber fuel injection system means the horses come charging into action with quite a bang, enough to upset your chosen line and cause the back end to kick out.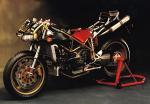 Last year's 888 had revised injection, with a faster electronic chip and 50 per cent larger mapped memory to select its carburation from. This improved the bike's response in particular, giving it that crispness normally only available from the best carburettors, but which seems to be a part of the problem. A little practice with the twistgrip (actually, a lot more, please...) and it can be dealt with though. The 916's system is based on the 888's but has been developed further, with the result that the new bigger motor breathes perfectly right across the rev range, and spins around the tacho almost too fast to follow.
That's with the bike in neutral, but in first gear it's almost the same - acceleration is brutally quick. Kerb weight is quoted as 192kg (split evenly front to rear) meaning the bike will tip the scales at a little under the FireBlade's class-leading 185kg completely dry. With an astonishing 114bhp (just eight short of the Honda's quoted output) to propel it, it's no surprise the bike charges out of corners so blisteringly fast - and its massive mid-range torque should be enough to see off the Japanese machine. It's easy to forget the 916 is "only" a twin.
It would be a criminal waste to house this motor in a mediocre chassis, and Ducati has scored a bullseye with the 916's minimalist tubular steel framework. Handling is quite stunning, yet so easy to take full advantage of. The bike can be held on the brakes eye-poppingly late, yet turns in fast and smoothly with speed still being scrubbed off as it approaches the apex.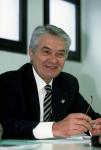 Designer Massimo TamburiniIt feels as if you can charge up to a bend, lay the bike flat on its side (ground clearance is enormous) spin it round the turn then stand it up straight just by twisting the throttle. The superbly suspended rear end digs in hard and gives as much grip as you'll ever need on the roads, with more feedback than a Jimi Hendrix gig.
The rear single-sided swingarm has more than a hint of Honda RC30 about it, and Ducati admits it was used as much for its looks as any engineering advantages, but the bottom line is it works just fine. There's not a hint of flex, and the wheel tracks the road surface as well as any production bike available.
The front end, like the rear, is suspended courtesy of Japanese company Showa, and works with the same breathtaking efficiency. For the track it's a little soft, banging down disconcertingly if the brakes aren't used subtly enough, but even this could be largely dialled out by upping the compression damping.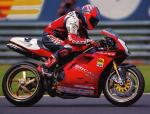 Carl Fogarty taking the 916 to the 1995 WSB championshipThat aside, it's just about the best front end available, letting you take absurd liberties with the brakes, and most impressively, do what you like with your lines through a bend. If the corner tightens up, it doesn't matter that you're so far over your knee is trapped between the fairing and the road, the bike responds delicately to a nudge of the bars and simply tightens up with it. If the corner opens out more than you thought, no problem, just dial in some more power (there's always more power...) and let the 916 drift over - predictably, safely and with heart-pounding exhilaration.
The really exceptional property of this chassis is not so much how well it corners, but how easy it is to corner fast. Accessible performance with a capital A.
It's about time to dig up another criticism to try to salvage some credibility, so we'll mention the brakes. In typical Ducati fashion, the pair of four-piston Brembo calipers needed plenty of movement at the bars to give their best, and on some bikes it was possible to trap two fingers if you didn't hook all four round the lever. The power was still there, though with a small amount of fade by the end of a half-hour session.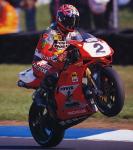 Troy Corser in 1996Ducati's mechanics improved things by pulling back the piston in the master cylinder and letting some more fluid past. It wasn't a case of bleeding the system, but allowing the lever to operate while further out from the bars, and this just about did the trick.
As for the rear stopper, inboard and central to the dished back wheel, this was never needed on the track, though a few experimental dabs proved it to be adequate. More road use would be needed to assess it properly.
The left foot, meanwhile, had a great time. Any single sub-standard trait would have ruined the 916, as is always the case when a bike would be great "if only...", but even the gearchange is a delight. Up or down through the box, with or without the clutch, every gear snicked satisfyingly into place with just a gentle prod of the lever. Even neutral is easy to find and, better still, the green light seems to get it right every time (a first for almost any Italian bike).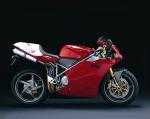 996R 0f 2001 had 998cc of the new Testastretta engineOther details have been much more throughly thought out on the 916 compared with previous Italian offerings. The steering damper is neatly mounted across the back of the top yoke, attached by purpose-made brackets rather than tacked on as an afterthought.
The steering head angle can be altered by adjusting the eccentric head-bearing housings.
These are designed to alter trail without affecting wheelbase, but the bike felt just fine as set up by the factory - although we'll experiment with this when we get hold of a bike in Britain.
The bike will be supplied with the option of either Pirelli Dragon or Michelin Hi-Sport rubber, in 120/70 form on the front, and a colossal 190/50 section on the 17-inch rear. The profile of the Pirelli makes the bike a little more comfortable when it`s thrown into a turn, but also allows a small amount of movement at the bars in a straight line at high speed - 120mph-plus or so. It`s not enough to call a weave or wobble, but then again it`s entirely absent with the Hi-Sports fitted. The French tyres also offer more grip, though the differences aren`t huge.
The average 916 owner isn`t likely to be epsecially cost-conscious, so the Michelins will be the better bet despite wearing out faster. In fact, most 916 owners for 1994 already know who they are, as most bikes destined for the UK are accounted for. Not one of them is going to be disappointed.
Specifications
Model tested: Ducati 916 (1994 model)
Price: (to come)
Available no longer
Engine: 90-degree V-twin, liquid cooled, dohc desmodromic 8v, 916cc
Power: 114bhp (116PS, 85kW @ 9,000 rpm
Torque: 69lb.ft (9.4kgm, 92Nm) @ 6,900rpm
Economy: 42mpg (14.9km/l, 6.7l/100km, 35.0mpg US)
Tank/Range: 3.7 gallons (17 litres, 4.5 gallons US) / 155 miles (250km)
Transmission: Five gears, dry multi-plate clutch, chain final drive
Chassis: tubular steel trellis
Seat height: 31.1in (790mm)
Wheelbase: 55.5in (1410mm)
Rake/trail: 23.3 °/3.6in (91mm)
Weight: 430lb (195kg) curb
Recent comments
In HONDA NC700X, kharli wrote:

In HONDA NC700X, kharli wrote:

In HONDA NC700X, Grump wrote:

In HONDA NC700X, kharli wrote:

In Lest we forget..., Captain Scarlet wrote:

In Captain Scarlet's next bike, malauder wrote:

In Captain Scarlet's next bike, Captain Scarlet wrote:

In Benelli 750 SEI, CCM wrote:

In Benelli 750 SEI, Gekom57 wrote:

In Benelli 750 SEI, Gekom57 wrote:

In Captain Scarlet's next bike, Grump wrote:

In Captain Scarlet's next bike, Navy Boy wrote:

In Captain Scarlet's next bike, Captain Scarlet wrote:

In Captain Scarlet's next bike, Grump wrote:

In HONDA NC700X, Grump wrote:

In Lest we forget..., Navy Boy wrote:

In Lest we forget..., unconventional rebel wrote:

In Captain Scarlet's next bike, unconventional rebel wrote:

In HONDA NC700X, unconventional rebel wrote:

In Lest we forget..., davvy wrote:
Donate to the Kevin Ash Fund
Kevin's funeral was held on Thursday 28th February 2013 and was well attended by family, friends and colleagues.
The Telegraph has very kindly established The Telegraph Kevin Ash Fund to assist with the education of Kevin's three daughters.
If you'd like to make a donation then you can use the PayPal 'Donate' button below which will allow you to donate from your PayPal account, or via credit or debit card. A small percentage (about 3.4%) will be retained by PayPal for the service.
Kevin's family have been touched by the generosity and messages of support from people using the website and would like to express their gratitude to those who have contributed in any way.
The donations keep coming in, thank you so much, and the family especially like it when you leave a message.