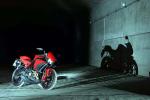 By Kevin Ash
Pictures: Double Red
In September 1999 NASA's Mars Climate Orbiter flew itself straight into the planet as soon as it arrived, burning up $125 million in the Martian atmosphere before it could take a single measurement. The cause proved to be nothing more than poor communication between Europe and the United States resulting in a failure to convert metric to US measures when the orbiter was being built.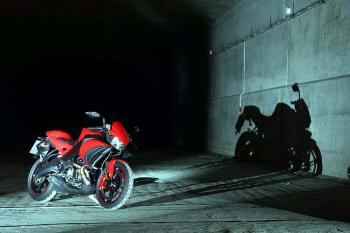 Click on image for galleryAgainst that, the little Buell factory's problem in its own communication with Europe looks rather more forgivable. In 2007 I rode Buell's first machine with a purpose-built engine, the 1125R superbike, and while it showed some promise I disliked the excessive engine heat, poor fuelling, and vibration and thought it would be worth waiting a year for the company to finish developing it – it felt more like a prototype than showroom-ready motorcycle.

The new 1125CR is a stripped down version of the R, inspired according to genial company founder Erik Buell by British café racers of the 1960s, and today fitting in to the naked streetfighter slot populated by such wild machines as the Aprilia Tuono and Triumph Speed Triple. And I wasn't looking forward to riding it because in truth I wasn't expecting it to be a lot better than that rough-running 1125R.

What a shock then when I sat astride the compact, mean looking machine, opened the throttle and let out the clutch: it pulled away smoothly, cleanly and with a huge amount of thrust even at low rpm. The vibration levels were much lower, it fuelled perfectly and even after extended track use it was clearly running a lot cooler. This wasn't mere development, this was a big problem, solved.

It might not have been of Mars Orbiter proportions, but the issue was the same: the engine is designed and built by Austrian power train specialist Rotax, creator of such fine engines as Aprilia's RSV1000, and Rotax measures some engine parameters in a different way to the Americans. As a result, Buell's 1125 was set up with completely skewed ignition mapping, leading to... excessive heat, poor fuelling and vibration.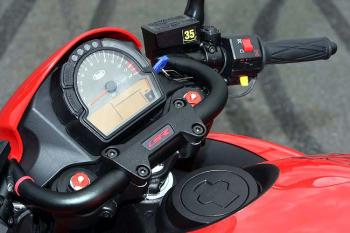 After months of battling hidden demons, the discovery was made by a Buell engineer visiting the Austrian factory, after which it was corrected in an hour, a eureka moment that had grown men in tears of joy. The test engines ran so much better after that, fuel consumption was improved by more than 20 per cent, immediately.

So this is not just about the how the 1125CR is but how the 1125R should have been. Both bikes after all share most components, aside from shorter gearing on the CR, a slightly longer wheelbase merely to accommodate the different length drive belt, and the deleted bodywork, leaving a sinister, frowning front end visage and the motor's full 146bhp: where some manufacturers detune the roadster versions of their superbikes, Buell has left well alone.

The engine is not just good because it's better than the original, it stands tall amongst its peers too, and that's despite some fearsome competition. There's big thrust at low revs, matched to a crisp throttle response that fires the bike out of corners, then it goes on to rev sweetly and eagerly, delivering its best in the mid-range but capable of serious high performance as it nears its red line. And it's not just fast, it's a real pleasure to be in charge of.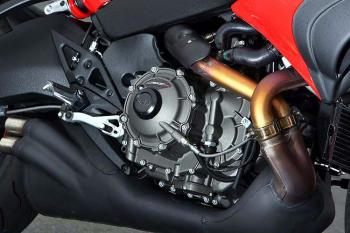 The chassis is unchanged from the 2008 production 1125Rs, though our original test bikes at Laguna were still being developed in this respect too and weren't as confident as they should have been. Buell has sorted this too, to joyous effect with supreme agility and assuring stability that works well on track and road alike. It's a real delight chucking the bike side to side, drilling the rear Pirelli into the bitumen with a twist of the wrist, scrubbing off speed, flicking the bike on its side then firing it upright again, throttle and steering working in fine harmony. The CR is more agile than a Speed Triple and inspires more confidence than a Tuono, a powerful combination that makes this one of the bikes to beat in the class.

Just one main feature now could be better, and that's the brakes. I so much wanted to find Buell's unique, rim-mounted front disc and eight-piston calliper superior to conventional stoppers as the technical argument for the layout is convincing: with the braking forces travelling direct from wheel rim to fork legs the stresses bypass the wheel spokes, which in turn can be much lighter, a significant factor in the bike's exceptional agility. But in practice there's a self-servo overlay to braking which makes it hard to modulate the stopping power as precisely as you'd like. Feather the lever lightly and the bike doesn't slow enough, but squeeze harder and the retardation increases disproportionately. The brakes don't release progressively either when you're diving into a turn, and I suspect they could still overheat more readily than standard brakes in some track circumstances, although they were fine on this occasion.

It's not a fatal problem, and if anything it's only shown up more by the excellence of the rest of the machine, but it'd be good to try the CR with some Brembo Monoblocs on the front.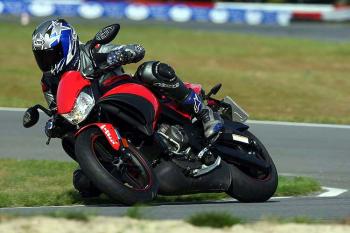 Still the Americans – Buell and owner Harley-Davidson together – fall short on detailing. Some bolts on the CR have unnecessary exposed threads, the switchgear is cheap for this type of bike and the mirrors are unconvincing, being hard to adjust and then to see out of anyway. The paint finish lacks the high gloss that we're getting used to on other machines too.

Time has yet to prove the reliability and durability of Buell's new engine, but the Rotax provenance is a solid grounding, while the company is putting huge effort into correcting its past bad record. Which means, don't wait a year this time, if you want a streetfighter with attitude and ability, there are no qualifications, the 1125CR is a huge fun, fine choice. And go for the optional high handlebars, it's wilder and wackier and even more compelling.


Recent comments
In HONDA NC700X, kharli wrote:

In HONDA NC700X, kharli wrote:

In HONDA NC700X, Grump wrote:

In HONDA NC700X, kharli wrote:

In Lest we forget..., Captain Scarlet wrote:

In Captain Scarlet's next bike, malauder wrote:

In Captain Scarlet's next bike, Captain Scarlet wrote:

In Benelli 750 SEI, CCM wrote:

In Benelli 750 SEI, Gekom57 wrote:

In Benelli 750 SEI, Gekom57 wrote:

In Captain Scarlet's next bike, Grump wrote:

In Captain Scarlet's next bike, Navy Boy wrote:

In Captain Scarlet's next bike, Captain Scarlet wrote:

In Captain Scarlet's next bike, Grump wrote:

In HONDA NC700X, Grump wrote:

In Lest we forget..., Navy Boy wrote:

In Lest we forget..., unconventional rebel wrote:

In Captain Scarlet's next bike, unconventional rebel wrote:

In HONDA NC700X, unconventional rebel wrote:

In Lest we forget..., davvy wrote:
Donate to the Kevin Ash Fund
Kevin's funeral was held on Thursday 28th February 2013 and was well attended by family, friends and colleagues.
The Telegraph has very kindly established The Telegraph Kevin Ash Fund to assist with the education of Kevin's three daughters.
If you'd like to make a donation then you can use the PayPal 'Donate' button below which will allow you to donate from your PayPal account, or via credit or debit card. A small percentage (about 3.4%) will be retained by PayPal for the service.
Kevin's family have been touched by the generosity and messages of support from people using the website and would like to express their gratitude to those who have contributed in any way.
The donations keep coming in, thank you so much, and the family especially like it when you leave a message.