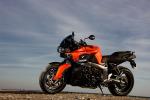 By Kevin Ash
Pictures: Double Red, Jason Critchell

The K1300 R gets the same basic modifications as the 1300 S, so for the full picture, read the S report and the technical appraisal first – the R after all is almost identical to the S in most respects.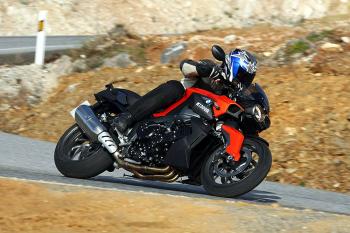 Click on image for galleryA brief overview though: the R is essentially an S with its bodywork removed, which means it gets the same engine upgrades, bringing power up to 170bhp (173PS, 127kW) – it's just shy of the 1300 S's output due to exhaust system differences, but you'd never notice, and in fact the R feels quicker due to its lower overall gearing and lower weight. Like the S too it also rewards you with a fabulous intake snarl, a noise that really goads you into blipping the throttle and winding up the motor through the gears. Howl it to the red line and it's searingly fast, certainly one of the quickest accelerating naked bike you can get although whether or not it would have the edge over Suzuki's B-King is hard to say. I suspect not, and BMW's claim that the K1300 R is the most powerful naked bike of all simply isn't true: the B-King's claimed 181bhp is 11bhp more.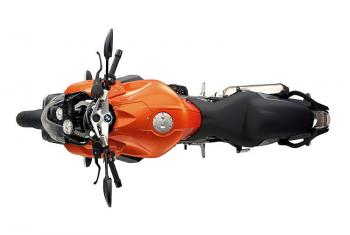 As if any of that really matters... unless you're racing you're pretty unlikely to find yourself in a position where a few horsepower difference here or there affects you, but what is useful is the additional mid-range torque that comes with the capacity increase. Like the S the R now snaps past cars in top gear a lot more easily, and at lower revs, and manages to be both faster and more relaxed. Still the vibration is annoying, although it doesn't start to intrude until 7,000rpm and it's less of an issue at a steady cruising speed than it was on the old 1200. But it's rougher than any of its rivals.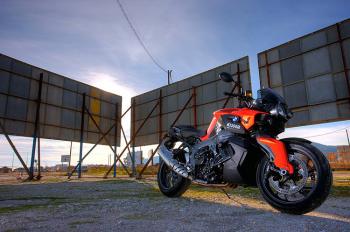 The fuelling is the same as the S, with some surging on small throttle openings and an occasional reluctance to bring back the power from a closed throttle, and the high-geared twistgrip action is more noticeable on the R due to its increased responsiveness. But these are rarely noticed and the new 1300 engine feels much more alive and willing now: the 1200 always had a flat unwillingness to rev and although the rev counter needle swung around its dial well enough you got the feeling that it would rather not have bothered. The new motor instead zings up and down its range with urgency and keenness and it makes the bike a whole lot more fun to ride.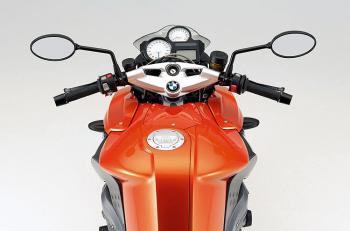 The effects of the chassis changes on the R unsurprisingly mimic those on the S. You get improved stability along with better agility too and the ride quality is significantly better – in particular the thumping you'd get at speed across ridges such as seams on concrete motorways is gone. Even more useful is an increase in general feedback, you really can tell what the tyres are up to and how they're coping, previously something of an issue with Duolever-suspended bikes.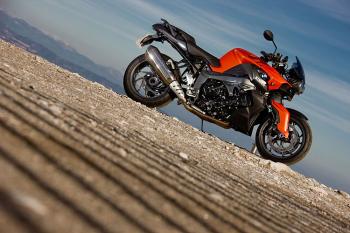 For other changes such as the switchgear see the S report, and meanwhile consider what you'd do with a 1300 R... It's hugely fast yet its lack of fairing means you can't maintain high speeds for long, and covering long distances at more normal speeds is still more tiring than on a faired bike. You can accelerate hard of course, but that's about it, which presumably is why the S outsells it by around two to one.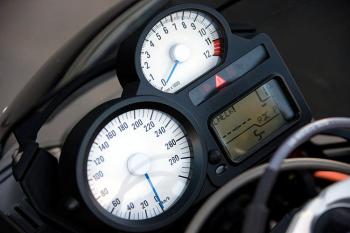 As BMW admits, the R really is as much about BMW's image as it is a useful motorcycle. The company has been trying desperately for years to shed its image as manufacturer of dull-but-worthy touring bikes, and mad, almost pointless machines like the K1300 R go a long way to achieving that. A decade ago a bike like the 1300 R would have been unthinkable with a BMW badge, now we're seeing it get upgraded and faster still.

£9,500 on the road.

Options prices:
1. ABS: £896
2. Gear shift assistant: £299
3. ESA II: £617
4. Automatic Stability Control: £250
5. Heated handlebar grips: £196
6. Tyre pressure control (TPC): £172
7. On-board computer: £123
8. Anti-theft Alarm system: £172
9. Sports Wheels + 190/50 tyre: £167
10. Small cockpit fairing: £142
11. LED indicators: £79
12. Luggage grid: £93
13. Comfort passenger seat: £59
14. Low seat (790mm): FOC
Dynamic pack – ABS+ASC+TPC = £1,175 (save £143)
Comfort pack – 5+7+9+10+11 = £633 (save £74)

Contact: BMW (GB), 01344 426565

www.bmw-motorrad.co.uk

www.i-bmw.com - USA-based BMW sport-touring forum site



Specifications
Tue, 14/04/2009 - 11:09
#1
Just saw my first one. Wow. Very impressive. Hope to test ride one in the near future. Much better looking than any of the other K bikes. Mind you, i do like a nude one...
Fri, 22/04/2011 - 21:25
#2
I replaced my VFR1200 with one - great fun and comfortable too
Mon, 31/12/2012 - 19:16
#3
Like dogfm I find the K1300R very comfortable. I was interested in Kevin's comment that the lack of fairing means that you can't maintain high speeds for long...well I'm 5'4" and I find that with the front screen, engine spoiler and wide tank, that it's exactly like being on a fully faired bike...
Recent comments
In HONDA NC700X, kharli wrote:

In HONDA NC700X, kharli wrote:

In HONDA NC700X, Grump wrote:

In HONDA NC700X, kharli wrote:

In Lest we forget..., Captain Scarlet wrote:

In Captain Scarlet's next bike, malauder wrote:

In Captain Scarlet's next bike, Captain Scarlet wrote:

In Benelli 750 SEI, CCM wrote:

In Benelli 750 SEI, Gekom57 wrote:

In Benelli 750 SEI, Gekom57 wrote:

In Captain Scarlet's next bike, Grump wrote:

In Captain Scarlet's next bike, Navy Boy wrote:

In Captain Scarlet's next bike, Captain Scarlet wrote:

In Captain Scarlet's next bike, Grump wrote:

In HONDA NC700X, Grump wrote:

In Lest we forget..., Navy Boy wrote:

In Lest we forget..., unconventional rebel wrote:

In Captain Scarlet's next bike, unconventional rebel wrote:

In HONDA NC700X, unconventional rebel wrote:

In Lest we forget..., davvy wrote:
Donate to the Kevin Ash Fund
Kevin's funeral was held on Thursday 28th February 2013 and was well attended by family, friends and colleagues.
The Telegraph has very kindly established The Telegraph Kevin Ash Fund to assist with the education of Kevin's three daughters.
If you'd like to make a donation then you can use the PayPal 'Donate' button below which will allow you to donate from your PayPal account, or via credit or debit card. A small percentage (about 3.4%) will be retained by PayPal for the service.
Kevin's family have been touched by the generosity and messages of support from people using the website and would like to express their gratitude to those who have contributed in any way.
The donations keep coming in, thank you so much, and the family especially like it when you leave a message.