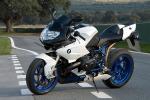 By Kevin Ash
Pictures: Daniel Kraus, Alberto Martinez


Adding the word 'sport' to a bike's name fools no one, it seems, except the marketing departments charged with selling it. Harley-Davidson's gentle cruiser the Sportster is the most extreme example but there have been plenty of others more sporting in hope than actuality, including more than a few BMWs. The four-cylinder sports tourer K1200S was a sports bike, we were told, presumably because it's very fast, but really it's a sports tourer. And the boxer twin R1200S is so sporty, BMW doesn't even offer panniers for it, an unusual move for the German factory. But that's a sports tourer too, it's too heavy and not quick enough to be anything else.


Click on image for gallerySo now we have the new HP2 Sport, another boxer twin, but one which, it has to be said, looks rather more promising in detail. The weight, for a start, is far lower than the company's other twins: at just 178kg dry it's not so far off the Ducati 848 we wrote about recently, and with a claimed power output of 133PS, the BMW is just a small handful of horses shy of the Italian thoroughbred too. No doubts over the 848's sporting credentials, so this is a good start for the HP2 Sport.

It's taken a lot of work to coax this sort of output from the air-cooled twin, including as a test bed the factory's surprisingly successful 2007 endurance race machine on which the HP2 Sport is closely based. The engine has lost the stock motor's high cam and rocker arm layout to a full double overhead cam system, unique because each camshaft actuates one inlet and one exhaust valve. It had to be this way to keep the camshafts parallel to the crank so they could be chain driven, and while the engineers were at it they arranged the four valves in each head radially for a more compact combustion chamber, demanding expensive skew-ground cam lobes. But this has kept the cylinder head design compact overall, crucial on a boxer twin because it's always going to have ground clearance issues.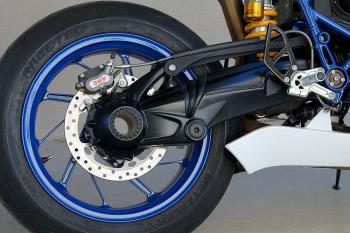 The chassis looks less convincing on paper as BMW has retained its Paralever shaft drive/single-sided swingarm rear end and Telelever wishbone-and-fork front, both of which inevitably suffer from increased unsprung weight compared with conventional set-ups. Against that, the equipment list is top notch: suspension by Öhlins front and rear, Magura levers, forged aluminium wheels, the front brakes are the same ferocious Brembo Monoblocs that get your heart pounding on a Ducati 1098, and the bodywork is mostly carbon fibre, including the monocoque seat and tail unit.

But what really matters is what happens when you swing a leg across the bike, and the press launch body language suggested we were in for a surprise as BMW was sufficiently confident in the bike's Sport label to unleash us at Ascari's long and twisting circuit near Ronda in Andalusia. And it was here that any doubts evaporated.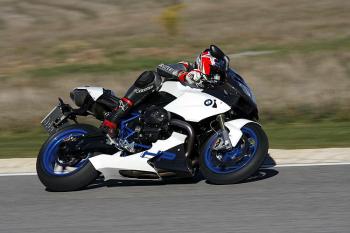 The engine responds to throttle blips eagerly, bringing a hard edge to the familiar mellow boxer beat and if the bike feels large compared with the super-compact latest generation sports bikes from Japan and Italy, that doesn't equate to weighty. Well, the steering is heavy at walking pace, a Telelever trait, but gas the motor, release the clutch and the bike springs forward with un-boxer-like muscularity. The engine then thrusts you forward hard, up there with the 848 certainly and with as wide a spread of power, pulling usefully even down to 3000rpm. This is a big contrast with the R1200S which has an irritatingly narrow power band, just 1500rpm of significant output, but the HP2 is quite different, great for learning a track and no doubt fast as a cross country machine.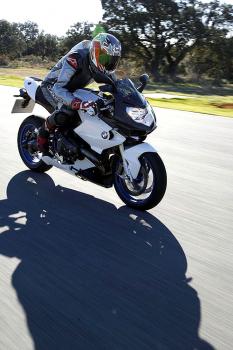 Ironically then the HP2 has a narrow ratio gearbox, but this is distinguished more by having the first quick-shift gearchange on a production bike. Leave the clutch alone, keep the throttle wide open, lift the lever and the ignition is cut briefly to unload the driveline and the next ratio slots in rapidly and neatly. That's the theory, in practice the action is a little heavy, and the conventional gearchange on a Suzuki GSX-R1000 is still lighter and more satisfying – you need no clutch for that and barely have to roll the throttle off either. Change up on a partial throttle, as you need to sometimes in unfolding corners, and the bike lurches as the chassis is unsettled, otherwise it all works well enough. The motor is smooth too, much more so than other boxer twins which become unpleasantly harsh when revved, which is a happy bonus. BMW's engineers say this is because much of the other boxer twins' harsh, high rev vibration comes from the valve gear, and on the HP2 Sport this has been replaced.

The detailing is impressive, starting with the comprehensive MotoGP-style LCD dash which has a huge range of road and track functions, including maximum and average speeds, lap times, even the percentage of a lap that you've used full throttle and how hard you've been braking – there's no escaping the truth here! What a shame then that it's not easy to read – there simply isn't enough contrast, especially when the sun is low and you're wearing a dark visor. You also get beautifully crafted adjustable footrests, and adjustable gear and rear brake levers to go with them, and it's even possible to reverse the gearchange if you prefer an up-for-down race pattern. The bike would be better though if the bodywork where your thigh rests against the bike wasn't so flexible – this is an important contact point for many riders when cornering hard to feel how the bike is managing, yet you get a fair amount of spurious movement here.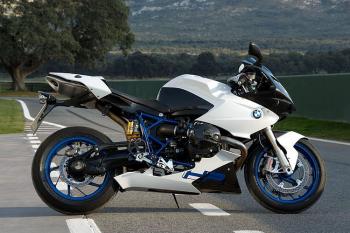 But the handling generally is impressive. Indeed, this is the first Telelever bike I've been comfortable pushing hard around a race track. It really does go around corners extremely well, offering supreme stability, especially under braking, which while it lacks the intense power of the 1098 still has plenty of feedback and easy control. A slipper clutch would improve things further, but it's not badly missed. Ascari's surface is very smooth and I suspect on bumpy backroads that extra unsprung mass will mean a thumping ride at times – Telelever is inherently harsher than conventional forks anyway as the front wheel moves forward as it moves up, rather than back as with telescopic forks. Maybe there will be less traction at the rear when it's bumpy too, but frankly the difference will be slight and probably barely noticeable. No doubt, this is the finest expression yet of BMW's unique suspension – forget about it, as you should, and chuck the HP2 around like the sports bike it is.

That's right, no question here: it might lack the agility of a Ducati and doesn't compare on power with liquid-cooled, big capacity machines, but it's a sports bike from nose to tail. The question it begs instead is, who's going to be sporty enough to spend close to Ducati 1198 S money on one?

£14,500 on the road.

Contact: BMW (GB), 01344 426565

www.bmw-motorrad.co.uk

www.i-bmw.com - USA-based BMW sport-touring forum site



Recent comments
In HONDA NC700X, kharli wrote:

In HONDA NC700X, kharli wrote:

In HONDA NC700X, Grump wrote:

In HONDA NC700X, kharli wrote:

In Lest we forget..., Captain Scarlet wrote:

In Captain Scarlet's next bike, malauder wrote:

In Captain Scarlet's next bike, Captain Scarlet wrote:

In Benelli 750 SEI, CCM wrote:

In Benelli 750 SEI, Gekom57 wrote:

In Benelli 750 SEI, Gekom57 wrote:

In Captain Scarlet's next bike, Grump wrote:

In Captain Scarlet's next bike, Navy Boy wrote:

In Captain Scarlet's next bike, Captain Scarlet wrote:

In Captain Scarlet's next bike, Grump wrote:

In HONDA NC700X, Grump wrote:

In Lest we forget..., Navy Boy wrote:

In Lest we forget..., unconventional rebel wrote:

In Captain Scarlet's next bike, unconventional rebel wrote:

In HONDA NC700X, unconventional rebel wrote:

In Lest we forget..., davvy wrote:
Donate to the Kevin Ash Fund
Kevin's funeral was held on Thursday 28th February 2013 and was well attended by family, friends and colleagues.
The Telegraph has very kindly established The Telegraph Kevin Ash Fund to assist with the education of Kevin's three daughters.
If you'd like to make a donation then you can use the PayPal 'Donate' button below which will allow you to donate from your PayPal account, or via credit or debit card. A small percentage (about 3.4%) will be retained by PayPal for the service.
Kevin's family have been touched by the generosity and messages of support from people using the website and would like to express their gratitude to those who have contributed in any way.
The donations keep coming in, thank you so much, and the family especially like it when you leave a message.