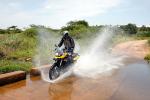 By Kevin Ash
Pictures: Jason Critchell, Paul Bryant


You didn't need a crystal ball to predict that BMW would be coming up with a GS trail bike powered by its now-established 800cc engine. The parallel twin made its debut two years ago in the F800S road bike, filling a gap in BMW's range between its entry-level, single-cylinder machines and the big capacity boxer twin and four-cylinder bikes. Clearly the engine was versatile enough to fulfil a range of roles, and with BMW's huge success in making high end trail bikes, headed by the R1200GS, a smaller and more manageable F800GS was inevitable. Obvious it might be, but still the F800GS fills a gap not just in BMW's range but in motorcycle showrooms generally: other trail bikes are either litre-or-more mile-eaters with only vague off-road pretensions (excepting the more dirt capable KTM Adventure and BMW's own 1200GS), or single-cylinder machines of around 600cc or less.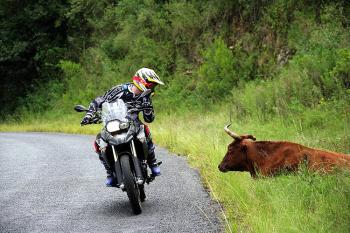 Click on image for galleryThere's a danger therefore that the F800GS might fall between the two camps and satisfy neither, so first its worth separating how riders will really use it from the marketing image. The press presentation took place in the lush hills of Natal near Durban and included a fair amount of unmade roads and trails, the point being to prove the GS really does have off-road ability to match its looks. This matters to the bike's marketing because as with the 1200GS, it lends a bike credibility in the way that a Range Rover is validated by its mud-plugging potential compared with a soft-roader which is little better away from the Tarmac than a family saloon. And as with a Range Rover, only a handful of GS owners will ever ride across anything more adventurous than a grass verge, so in practice it matters little to most buyers.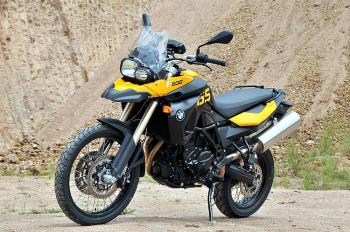 Instead, the GS will be used for a wide range of duties with a bias towards touring, and it does the job pretty well. The engine has been altered better to fit the new chassis, with more upright cylinders to provide clearance for the front wheel, which has a longer suspension travel. Internally the camshafts are the same but retarded slightly to provide more torque lower down the range – even so, peak power is the same as the F800S at 84bhp (85PS, 62.6kW)), albeit at slightly lower rpm. The engine isn't as eager as I was expecting on the road (compared with the F800S), but it pulls taller gears well from low revs and is relaxed when loaded at touring speeds. Rev it hard and it does reward with decent pace despite feeling more flat at the top than the F800S, but an old BMW bugbear, vibration, does become an issue at steady motorway speeds, when the motor buzzes harshly through the seat and handlebars. As this is exactly the sort of use the bike will get it is disappointing, especially as the unique engine balancing system is clever and interesting: a third conrod driven by the crankshaft points underneath the engine where it drives a lever arm with a bobweight at one end. BMW says this is more effective than conventional rotating balance shafts and saps less power too – maybe so, but the engine still tingles.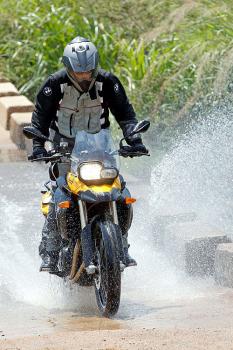 On the whole the throttle response is good, but trickling through traffic isn't especially smooth as the power comes in too abruptly when you turn the twistgrip. This isn't the fuel injection stutter many bikes suffer from but a case of the power being difficult to modulate on a light throttle – open it from closed and you simply get more power than you might want. This can also make gentle off road riding hard work.

It is however likely to be an especially thrifty motor with fuel. The F800S returns 50mpg (17.7km/l, 5.6 l/100km, 42mpg US) with little effort, and BMW claims the GS has a range of 190 miles (300km) on its 3.5 gallon (16 litre, 4.2 gallon US) tank which amounts to an only slightly optimistic 54mpg (19km/l, 5.2 l/100km, 45mpg US). Even so, in its touring role most riders would prefer to find space for another gallon. Otherwise, it's pretty good as a distance machine: the small screen punches a hole in the air well above its weight and there's little discernible turbulence, so maintaining high speeds is not a strain despite the upright riding position. The seat is a little narrow and starts to feel hard after a couple of hours but it's not bad, although inevitably average height and shorter riders will find it rather lofty. There is a lower option but still you'll need long legs or plenty of confidence to be happy with it.

The GS does feel manageably light though, which helps in this respect. Indeed, this is one of the main reasons a rider might choose it over an R1200GS, as the bigger bike is dauntingly tall and heavy for a great many riders, especially if it really is to be used off road at all. But the 800 is not an especially agile machine, due mostly to the large diameter 21 inch front wheel. This is a major asset off the road, but it's one of those areas where image and reality conflict, as it makes the 800 more reluctant to change direction than it could be on the road, which will affect many more riders. There's also not a great deal of feedback from the front end, partly because of this and also because of the softly sprung forks. You get a decent ride quality but start to push the bike hard and there's a lot of dive under braking and some mushiness during fast direction changes.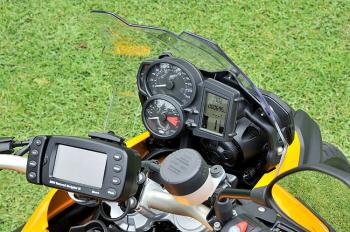 BMW's ABS continues to improve, to the point now where you can leave it switched on during trail riding, as long as you're not trying to ride the bike like an enduro machine. In very sandy conditions it's still obstructive, otherwise, especially for inexperienced riders, what you lose in stopping distance is worth what you gain in the confidence of not locking up the wheels.

As with most BMWs there's a wide range of equipment, including an onboard fuel computer, alarm, sat nav, heated grips and various luggage options, and no doubt thanks to the power of the BMW GS sub-brand, the bike will sell well. But with a bigger fuel tank and less vibration, it'd sell better.

£6,695 on the road.

Contact: BMW (GB), 01344 426565

www.bmw-motorrad.co.uk

www.i-bmw.com - USA-based BMW sport-touring forum site

Other Adventure Bikes
BMW R1200GS 2010 test
KTM 990 SM-T test
Moto Guzzi Stelvio NTX test
Triumph Tiger 800 Review here!
Yamaha Super Ténéré test

Related Technical Features:
* BMW F800 engine balance system
* Semi dry sump lubrication system


Recent comments
In HONDA NC700X, kharli wrote:

In HONDA NC700X, kharli wrote:

In HONDA NC700X, Grump wrote:

In HONDA NC700X, kharli wrote:

In Lest we forget..., Captain Scarlet wrote:

In Captain Scarlet's next bike, malauder wrote:

In Captain Scarlet's next bike, Captain Scarlet wrote:

In Benelli 750 SEI, CCM wrote:

In Benelli 750 SEI, Gekom57 wrote:

In Benelli 750 SEI, Gekom57 wrote:

In Captain Scarlet's next bike, Grump wrote:

In Captain Scarlet's next bike, Navy Boy wrote:

In Captain Scarlet's next bike, Captain Scarlet wrote:

In Captain Scarlet's next bike, Grump wrote:

In HONDA NC700X, Grump wrote:

In Lest we forget..., Navy Boy wrote:

In Lest we forget..., unconventional rebel wrote:

In Captain Scarlet's next bike, unconventional rebel wrote:

In HONDA NC700X, unconventional rebel wrote:

In Lest we forget..., davvy wrote:
Donate to the Kevin Ash Fund
Kevin's funeral was held on Thursday 28th February 2013 and was well attended by family, friends and colleagues.
The Telegraph has very kindly established The Telegraph Kevin Ash Fund to assist with the education of Kevin's three daughters.
If you'd like to make a donation then you can use the PayPal 'Donate' button below which will allow you to donate from your PayPal account, or via credit or debit card. A small percentage (about 3.4%) will be retained by PayPal for the service.
Kevin's family have been touched by the generosity and messages of support from people using the website and would like to express their gratitude to those who have contributed in any way.
The donations keep coming in, thank you so much, and the family especially like it when you leave a message.