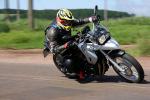 By Kevin Ash
Pictures: Jason Critchell, Paul Bryant


BMW's new F650GS is neither a 650, nor is it much of a GS, which is a confusing introduction to the machine. But if the marketing people have been guilty of some convoluted thinking, BMW's engineers appear to have known exactly what they were doing, as it's a cracking good motorcycle, whatever the name.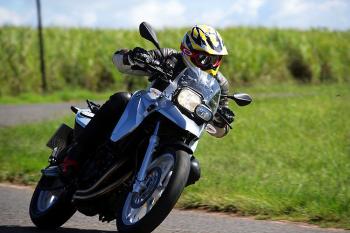 Click on image for galleryIn fact, the F650GS is such a capable bike it might just have spread more confusion by upstaging the F800GS it's derived from, offering not a lot less motorcycle for a lot less money. The two bikes are closely related in fact, starting with the F650's 800cc engine (see what I mean?), which is basically the same as the F800's twin-cylinder, liquid-cooled unit, but retuned to produce 71bhp (72PS, 53kW) against the 800GS's 84bhp (85PS, 63kW), with an easier delivery and more torque at lower rpm. The bike is called the F650GS partly to help distinguish it from the higher spec 800 (although you would have thought there are less confusing ways to achieve that objective), and partly because it's meant to be the direct successor to the old F650GS. That was a single-cylinder machine of 652cc capacity which stood at the foot of BMW's range as the company's entry level machine, and pretty popular it was too.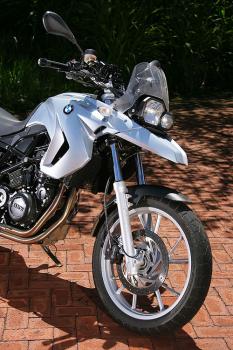 The new 800cc F650GS deserves to maintain and build on that popularity as it retains the old bike's relaxed and easy riding qualities while adding more performance (but with no more intimidation for novices) and in particular being a much less fussy ride at low revs, around town in particular. Single-cylinder bikes don't like being lugged in the bottom regions of their rev counters as the lumpy power pulses resonate through the transmission, causing the bike to jerk and shudder. The new twin though is happy to be trickled along at little more than walking pace with reasonable smoothness. Then turn the twistgrip and it pulls away smartly and predictably, moving into the strong midrange where it's most comfortable. Like the F800ST (the original road bike derivation of the F800 platform) the response to small throttle openings is a little too immediate for novices, but it's less in evidence on this bike than its relatives. Rev the GS hard and the power falls away and it feels flat, but there are plenty of riders who'd never explore this region of the engine's performance anyway, good or bad.

Other differences between the 800 and 650 GS models include lower cost alloy wheels on the 650 in place of the 800's spokes (spoked wheels are better for off-road riding) and a 19 inch instead of 21 inch front wheel diameter. But if the wheels do no more than merely nod at off-road ability (hence the uncertainty about the GS tag), they work better for the road riding these bikes will anyway be used for almost exclusively. The steering is light and natural and the bike has exceptionally good balance that makes it simple to manoeuvre at low speeds, while stability at a faster pace is fine too. The smaller front wheel means the seat is lower too, an easy 30.1 inches (765mm) from the ground.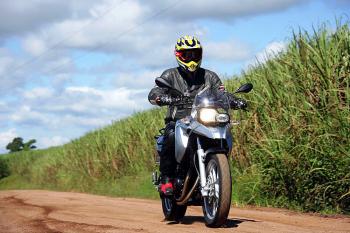 Other changes are relatively small, with a different exhaust system, no off-road type sump guard, one front disc instead of two and a different screen at the front, which takes some of the wind pressure off at speed but does little more than that. The sum of the changes is 15lb (7kg) less weight and a much more noticeable £1200 lower price. Look at it another way and you might well wonder if what you get for the extra £1200 the F800GS costs is worth that much more: it has off road ability that few people will use and more top end horsepower to which the same applies. Indeed, the 650GS's engine if anything feels more lively and willing to spin lower down where it's used the most.

The 650's suspension is lower spec too than the 800's but again, it's not especially noticeable aside from a slightly choppier ride and reduced capability at dealing with bumps at speed, but while it's lesser, it's still not bad, and nothing you'd complain about. Start to push it harder and it will wallow gently over undulations, but really, at this level it's all perfectly acceptable at worst.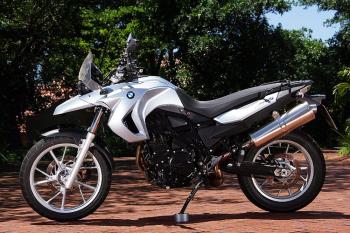 As a mile eater the 650GS is pretty good, as the 3.5 gallon (16 litre, 4.2 gallons US) tank should be sufficient for a minimum 150 miles (240km) before it needs replenishing, usually more as the GS will easily exceed 60mpg (21.2km/l, 4.7l/100km, 50mpg US) and with gentle riding will do 70mpg (24.8km/l, 4.0l/100km, 58mpg US) or more. A shame the seat isn't more comfortable though, it had me shifting about after just an hour.

The important qualitative factor to add is what a pleasure the bike is to ride. The motor is crisp, the handling secure but willing to change direction, the feel of the bike is wieldy and responsive and in all it's plain fun. You're supposed to move on and up from your first big motorcycle, and this is a good first big bike for many riders, but I suspect there will be plenty who once they've got a 650GS find they're perfectly happy where they are.

£5,495 on the road.

Contact: BMW (GB), 01344 426565

www.bmw-motorrad.co.uk

www.i-bmw.com - USA-based BMW sport-touring forum site

Related Technical Features:
* BMW F800 engine balance system
* Semi dry sump lubrication system


Mon, 29/11/2010 - 08:09
#13
Low seat height, 19" front wheel, good low down torque. Sounds a boring bike.
Suspension is pretty basic & on top of that could do with another 20mm travel front & rear making it more GS like. Seat looks awful for extended stints in the saddle. That single front disc looks as if it's the bare minimum - it's the same as on my current bike (an F650GS Dakar) where it's OK but certainly doesn't represent over braking. And it's basically a big single (despite being a twin) with the attendant vibrations.
I've been looking around for something to replace the Dakar which has been a good reliable bike but frankly I'm not doing the off road riding - lots of poor quality sealed roads with nasty pot holes & some dirt roads (also occasional two wheel tracks where the Dakar is a bit of fun).
So I've been looking around for a replacement. The Triumph Tiger 800 looked a possibility but it lacks torque down low so I've rather gone off it. The F650GS wasn't on my list but at the moment, despite my reservations, it seems my best option. Perhaps I'll just stick with the Dakar.
Recent comments
In HONDA NC700X, kharli wrote:

In HONDA NC700X, kharli wrote:

In HONDA NC700X, Grump wrote:

In HONDA NC700X, kharli wrote:

In Lest we forget..., Captain Scarlet wrote:

In Captain Scarlet's next bike, malauder wrote:

In Captain Scarlet's next bike, Captain Scarlet wrote:

In Benelli 750 SEI, CCM wrote:

In Benelli 750 SEI, Gekom57 wrote:

In Benelli 750 SEI, Gekom57 wrote:

In Captain Scarlet's next bike, Grump wrote:

In Captain Scarlet's next bike, Navy Boy wrote:

In Captain Scarlet's next bike, Captain Scarlet wrote:

In Captain Scarlet's next bike, Grump wrote:

In HONDA NC700X, Grump wrote:

In Lest we forget..., Navy Boy wrote:

In Lest we forget..., unconventional rebel wrote:

In Captain Scarlet's next bike, unconventional rebel wrote:

In HONDA NC700X, unconventional rebel wrote:

In Lest we forget..., davvy wrote:
Donate to the Kevin Ash Fund
Kevin's funeral was held on Thursday 28th February 2013 and was well attended by family, friends and colleagues.
The Telegraph has very kindly established The Telegraph Kevin Ash Fund to assist with the education of Kevin's three daughters.
If you'd like to make a donation then you can use the PayPal 'Donate' button below which will allow you to donate from your PayPal account, or via credit or debit card. A small percentage (about 3.4%) will be retained by PayPal for the service.
Kevin's family have been touched by the generosity and messages of support from people using the website and would like to express their gratitude to those who have contributed in any way.
The donations keep coming in, thank you so much, and the family especially like it when you leave a message.
Recent Articles
We're familiar with solid-state electronics in biking. Ignition swapped points for transistors in the 1970s, then went digital in the 1990s. Now, the need for greater power, fuel efficiency and emissions control means modern engines only work with computer-controlled fuelling, ignition, combustion and exhaust. When we open the throttle we pull the strings, but the ECU calls the shots. To do it, the ECU needs an accurate view of the world. And it gets it through its sensors.
A gyroscope is a rigid circular or spherical mass rotating around an axis and for over 100 years motorcycles have come with three of them: a front wheel, a rear wheel and a crank (if you're being pedantic you could include cams, balancer shafts, gearbox, clutch etc). The classic mechanical model of a gyroscope ranges from the very small – electrons spinning around an atom's nucleus – to the very large – the Earth.
Most of us have an innate feel for balancing a high centre of gravity on a relatively short wheelbase. Say, like a motorbike. Its centre of gravity is the point at which the sum of the surrounding mass is zero, and is largely determined by the location of the engine, the heaviest part of the package. Usually the CoG is midway between the wheels (half the wheelbase) and 60 to 75cm off the ground; just above the engine, in front of your knees. Or at least it is until you get on.
Anyone with fingers knows bikes vibrate, sometimes strongly enough to make picking your nose impossible. But how we perceive vibration depends on its type, pattern, frequency and cause. Bikes are subject to different types of vibration. A bumpy road creates random forced vibration at medium to high frequency (around 5-35 Hz depending on vehicle speed). It's perceived as unpleasant, as is head buffeting caused by wind turbulence. Engineers and aerodynamicists try to minimise these bad vibrations. But we usually talk about engine vibration. There are many sources...
From the launch of Yamaha's new Super Ténéré: "The exhaust pipe connection between the two headers is discontinued to give more character to the engine. The link pipe gives a flat feeling to the curve, so removing it makes the engine a bit more peaky." This is all about exhaust gas. When a four-stroke is tuned for power it means more revs, and so the cylinders have thousandths of second to fill with fresh mixture, compress it, burn it and pump it out again. To get enough mixture in and out, inlet valves open early and exhaust valves stay open for longer – so both are open at the same time.