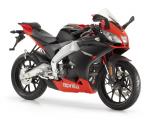 What chance did Aprilia have when time and emissions laws finally dictated that Europe`s best selling eighth litre sports bike, the compact, crackling little RS125, should be replaced by a four-stroke?
The quest to beat two-strokes with camshafts and poppet valves defeated even the mighty Honda: the NR500 might have been a technological tour de force with its oval pistons and eight valves per cylinder, but it never really troubled even the also-ran strokers at grand prix level.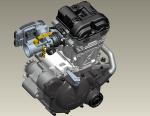 And so it is with Aprilia`s new RS4 125, even with its liquid-cooling, double overhead camshafts and four valves per cylinder. But then it`s also hampered by the need to be learner legal, which in Europe now means a power maximum of 11kW, or 15bhp. With the old RS125 making, unrestricted, well over 30bhp, the riding experience inevitably is going to be tame in comparison.
The RS4 isn`t quite the all-new motorcycle it`s being billed as either, as it`s closely based on the Derbi GPR125 - both brands come under the Piaggio Group umbrella. The frame is the same as the Gilera`s, although the suspension is modified and the RS4`s bodywork is completely different, aping the company`s flagship RSV4 superbike. The RS4 even comes in Biaggi replica colours as well as red and black or white, which should tick a few teenage desirability boxes.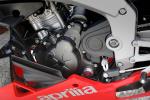 The engine is more a derivation of the Derbi`s though, rather than a direct lift, with fuel injection replacing the Spanish version`s carburettor, new cam profiles, piston and compression ratio, as well as different exhaust and intake systems. Aprilia thinks of it as the next generation development of the motor, and claims boosted mid-range power in particular.
There also happens to be a `race kit` for around £700 (€850, US$1150) which uses a new piston, barrel and camshafts to boost power to a much more respectable 25bhp (25PS, 18.6kW). It`s not learner legal, but waving crisp notes in the face of an Aprilia dealer might persuade him to forget that...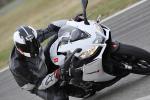 The first thing you notice after swinging a leg across the little bike is that it`s not quite so little after all. Intelligently, and like the old RS125, it`s designed to the creed that small bike rider doesn`t mean small rider, so even my 6`3" (1.91m) frame was a comfortable fit... more so in fact than on the one litre RSV4, which cramps my legs a lot more than this tiddler version.
The motor fires up with a dull duff-duff, a far cry from the rasping ring-ding of the bike that`s superseded, but you do still need to grab a handful of throttle to stop the engine bogging down. After that it`s mostly twistgrip to the stop, certainly while I was on the test track venue to the south of Milan. True to form Aprilia had decided to tweak the RS4 for its circuit outing (and there was no road riding to compare), with the yokes dropped down the forks by 10mm and the rear preload wound up to tilt the nose down even more.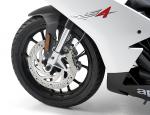 The original and imaginatively named Sava MC25 Bogart tyres were replaced with more familiar and undoubtedly stickier Pirelli Dragon Supercorsas too, so the bike was not exactly representative of what comes out of the showroom. On the other hand, tyres aside it shouldn`t be so very different, which is good news as it`s a sharp handling and fun machine in corners. Despite the moves made to speed up the steering it`s still stable too, but very agile with it. There`s not the feedback you get from more expensively equipped bigger bikes but the suspension coped very well, aside from the front end`s eagerness to dive down onto the bump stops if you grabbed the brake lever hard. The radial four-piston calliper does a good job of scrubbing off your hard-earned speed, although the power comes in too sharply to be called progressive.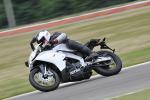 The engine itself feels happiest in its mid to upper range, becoming flat from the 10,500rpm power peak to the rev limiter 1,000rpm further up, and there`s no real speed gain from spinning it to the limit anyway. It`s smooth though and will certainly use less fuel than the two-stroke. Aprilia claims from 85mpg to 128mpg (30.1km/l, 3.3l/100km, 71mpg US to 45.3km/l, 2.2l/100km, 106mpg US) although it`s a safe bet that in most riders` hands, 85mpg will be the norm.
It should last longer than the two-stroke as well, and there`s no thirst for oil, but then a sports 125 is not about saving money, it`s there to thrill as well as be a platform for learning. It does make a good learner bike as it`s light, steers very well and is very easy to use, but thrill? Well, up to a point, it`s a motorcycle after all, and the handling is fun. But for real kicks I`d get the race kit, and while you`re saving for that, make sure you specify the optional quick shift as this is cool and works a treat with the small bike riding technique of giving up momentum with less readiness than you do your own blood...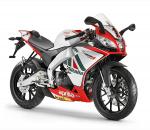 It`s good compared with its contemporary rivals, probably the best of them all in fact, but inevitably it suffers for following in the smelly, smoky footsteps of one of the all-time classic sports bikes, the edible RS125.
Specifications
Model tested: Aprilia RS4 125
UK price: £3,999
Available now
Engine: single cylinder, liquid cooled, dohc 4v, 124.8cc
Power: 14.8bhp (15PS, 11kW) @ 10,500rpm
Torque: 8.6lb.ft (1.18kgm, 11.6Nm) @ 8,000rpm
Economy: 85mpg (30.1km/l, 3.3l/100km, 71mpg US)
Tank/Range: 3.2 gallons (14.5 litres, 3. 8 US gallons) / 270 miles (440km)
Transmission: Six gears, wet multi-plate clutch, chain final drive
Chassis: cast aluminium twin spar
Seat height: 32.3in (820mm)
Wheelbase: 53.1in (1350mm)
Rake/trail: n/a
Weight: 287lb (130kg) dry (est)
Recent comments
In HONDA NC700X, kharli wrote:

In HONDA NC700X, kharli wrote:

In HONDA NC700X, Grump wrote:

In HONDA NC700X, kharli wrote:

In Lest we forget..., Captain Scarlet wrote:

In Captain Scarlet's next bike, malauder wrote:

In Captain Scarlet's next bike, Captain Scarlet wrote:

In Benelli 750 SEI, CCM wrote:

In Benelli 750 SEI, Gekom57 wrote:

In Benelli 750 SEI, Gekom57 wrote:

In Captain Scarlet's next bike, Grump wrote:

In Captain Scarlet's next bike, Navy Boy wrote:

In Captain Scarlet's next bike, Captain Scarlet wrote:

In Captain Scarlet's next bike, Grump wrote:

In HONDA NC700X, Grump wrote:

In Lest we forget..., Navy Boy wrote:

In Lest we forget..., unconventional rebel wrote:

In Captain Scarlet's next bike, unconventional rebel wrote:

In HONDA NC700X, unconventional rebel wrote:

In Lest we forget..., davvy wrote:
Donate to the Kevin Ash Fund
Kevin's funeral was held on Thursday 28th February 2013 and was well attended by family, friends and colleagues.
The Telegraph has very kindly established The Telegraph Kevin Ash Fund to assist with the education of Kevin's three daughters.
If you'd like to make a donation then you can use the PayPal 'Donate' button below which will allow you to donate from your PayPal account, or via credit or debit card. A small percentage (about 3.4%) will be retained by PayPal for the service.
Kevin's family have been touched by the generosity and messages of support from people using the website and would like to express their gratitude to those who have contributed in any way.
The donations keep coming in, thank you so much, and the family especially like it when you leave a message.