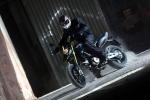 By Kevin Ash
Pictures: Aprilia Press



You'd expect a road bike based on Aprilia's world supermoto championship winning V-twins to be a raw, uncompromising beast of a machine with little real world use except scaring people, rider and all. That seems to be pretty much what Aprilia would like you to think too, which is why the gorgeous Dorsoduro 750 is almost disappointingly versatile. I say almost because it's a much better bike for being usable, especially as it hasn't lost too many of its wilder genes.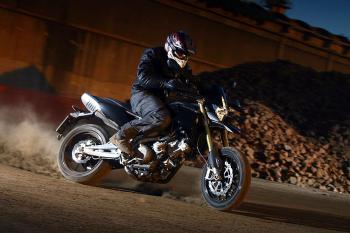 Click on image for galleryIt's the looks that beguile initially, and genes play a part here too as the Dorsoduro is the first Aprilia styled by creator of the Ducati Monster, Miguel Galluzzi, arguably the most enduring design of the 1990s, and certainly one of the most influential. When the Monster first appeared many people were referring to it as a retro, simply because the only naked, style-conscious bikes we had then were retros, there wa s nothing else quite like the Monster. Like the Monster, the Dorsoduro has poise, purpose, and visual balance, but unlike the Ducati it's dripping with aggression too. And thanks to Aprilia's high build standards it's convincingly put together as well. Swing a leg across the reasonably comfortable seat (another supermoto surprise) and there's a substantial feel which continues when the bike's fired up and rolling. The suspension is firm almost to a fault, keeping the front end well controlled in severe braking but kicking around on poor surfaces, especially while leaned over, but once you get used to the bike shifting and shimmying it doesn't develop into anything worse and ends up adding to the sensation that you're really pushing things and having fun.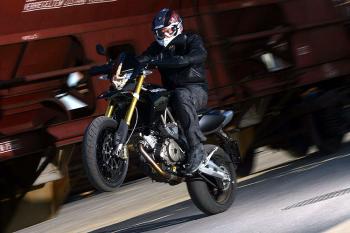 In fact the bike's agility can be breathtaking, far better than you'd expect of the claimed dry weight of 410lb (186kg) which speaks volumes for the integrity and balance of the chassis, and it's helped by the natural, commanding riding position, even if this is inevitably windblown at speed. The payback is the sensitivity at high speeds (very post legal ones...) when any movement affecting the rider, such as wind buffeting, translates through the bars as wobbles and shimmies. So relax your grip on them and the bike steadies instantly, but it's no long distance motorway tool, as the fuel tank confirms, with the low level warning flashing at you after less than two gallons have been consumed. The on-board mpg gauge is desperately optimistic too, telling me I'd achieved 44mpg when the Shell pump said it was closer to 36mpg in mixed riding.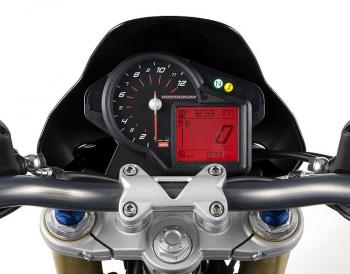 That limits the bike to commuting and weekend fun rides, but a Dorsoduro customer wouldn't be expecting anything else anyway, and boy those rides can be fun... The engine is operated by a full fly-by-wire system which offers three settings: sport, touring and rain. Where the Japanese go for a normal setting and two softer ones, the Dorsoduro's middle setting is the best for everyday use, especially around town, as the sport setting is pretty aggressive and makes trickling through traffic and pootling about hard work with the bike feeling like a bulldog straining at the leash – holding a steady slow speed takes some pretty delicate throttle control. But when you're in the mood it's fabulous, crisp and punchy backed up by a growling, blood curdling exhaust note that makes you wonder if Aprilia don't have some dodgy pictures of the noise emissions tester on a weekend away. This is a much better use of the facility to alter power characteristics, as you really do use the switch rather than just tell people about it in the pub.

The bike has limitations but only generic supermoto ones and these don't interfere with general riding as much as they should. What it offers is glorious handling and a cracking good engine packaged in some fabulous looks.



Mon, 15/11/2010 - 01:26
#10
Yes I spotted your comments, I did not want to discount the bike on that issue alone.
That said if I end up with a bike with limited range the opportunity to take the p... out of some of my mates will be a thing of the past.
Versys ticks a lot of boxes.
Remind me again why am I looking at other bikes......
I just read the link on naked bikes, one issue thats slightly bothering me is as I like to get a move on and the wind blast when your nudging 100mph.
I know its a spitting blood issue but I think naked with a mini screen is a potential compromise.
I got the taste of relief from the wind blast when I flopped down on the tank and got behind the screen
This was on a prolonged stint on the M6 after a day in the saddle.
I immeadiatly got an inkling of the protection that I assuume a sportsbike achieves.
Selections on bikes seem to always include some sort of compromise.
Good enit.
Recent comments
In HONDA NC700X, kharli wrote:

In HONDA NC700X, kharli wrote:

In HONDA NC700X, Grump wrote:

In HONDA NC700X, kharli wrote:

In Lest we forget..., Captain Scarlet wrote:

In Captain Scarlet's next bike, malauder wrote:

In Captain Scarlet's next bike, Captain Scarlet wrote:

In Benelli 750 SEI, CCM wrote:

In Benelli 750 SEI, Gekom57 wrote:

In Benelli 750 SEI, Gekom57 wrote:

In Captain Scarlet's next bike, Grump wrote:

In Captain Scarlet's next bike, Navy Boy wrote:

In Captain Scarlet's next bike, Captain Scarlet wrote:

In Captain Scarlet's next bike, Grump wrote:

In HONDA NC700X, Grump wrote:

In Lest we forget..., Navy Boy wrote:

In Lest we forget..., unconventional rebel wrote:

In Captain Scarlet's next bike, unconventional rebel wrote:

In HONDA NC700X, unconventional rebel wrote:

In Lest we forget..., davvy wrote:
Donate to the Kevin Ash Fund
Kevin's funeral was held on Thursday 28th February 2013 and was well attended by family, friends and colleagues.
The Telegraph has very kindly established The Telegraph Kevin Ash Fund to assist with the education of Kevin's three daughters.
If you'd like to make a donation then you can use the PayPal 'Donate' button below which will allow you to donate from your PayPal account, or via credit or debit card. A small percentage (about 3.4%) will be retained by PayPal for the service.
Kevin's family have been touched by the generosity and messages of support from people using the website and would like to express their gratitude to those who have contributed in any way.
The donations keep coming in, thank you so much, and the family especially like it when you leave a message.
Recent Articles
We're familiar with solid-state electronics in biking. Ignition swapped points for transistors in the 1970s, then went digital in the 1990s. Now, the need for greater power, fuel efficiency and emissions control means modern engines only work with computer-controlled fuelling, ignition, combustion and exhaust. When we open the throttle we pull the strings, but the ECU calls the shots. To do it, the ECU needs an accurate view of the world. And it gets it through its sensors.
A gyroscope is a rigid circular or spherical mass rotating around an axis and for over 100 years motorcycles have come with three of them: a front wheel, a rear wheel and a crank (if you're being pedantic you could include cams, balancer shafts, gearbox, clutch etc). The classic mechanical model of a gyroscope ranges from the very small – electrons spinning around an atom's nucleus – to the very large – the Earth.
Most of us have an innate feel for balancing a high centre of gravity on a relatively short wheelbase. Say, like a motorbike. Its centre of gravity is the point at which the sum of the surrounding mass is zero, and is largely determined by the location of the engine, the heaviest part of the package. Usually the CoG is midway between the wheels (half the wheelbase) and 60 to 75cm off the ground; just above the engine, in front of your knees. Or at least it is until you get on.
Anyone with fingers knows bikes vibrate, sometimes strongly enough to make picking your nose impossible. But how we perceive vibration depends on its type, pattern, frequency and cause. Bikes are subject to different types of vibration. A bumpy road creates random forced vibration at medium to high frequency (around 5-35 Hz depending on vehicle speed). It's perceived as unpleasant, as is head buffeting caused by wind turbulence. Engineers and aerodynamicists try to minimise these bad vibrations. But we usually talk about engine vibration. There are many sources...
From the launch of Yamaha's new Super Ténéré: "The exhaust pipe connection between the two headers is discontinued to give more character to the engine. The link pipe gives a flat feeling to the curve, so removing it makes the engine a bit more peaky." This is all about exhaust gas. When a four-stroke is tuned for power it means more revs, and so the cylinders have thousandths of second to fill with fresh mixture, compress it, burn it and pump it out again. To get enough mixture in and out, inlet valves open early and exhaust valves stay open for longer – so both are open at the same time.