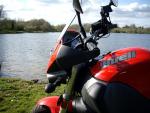 By Bertie Simmonds
Pictures: Bertie Simmonds
Bertie is long established as a full time motorcycle journalist in the UK. He's now freelance after working for Motor Cycle News, Bike magazine and as former editor of Two Wheels Only magazine.

I'm quite obviously getting older. Not only have I invested in a nasal hair trimmer, but motorcycles that I wouldn't have looked at a decade ago are suddenly much more appealing.

Enter, stage left, adventure bikes.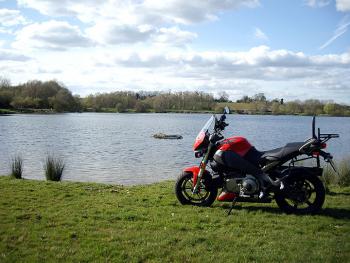 (click on image for full size)Now that the lure of the track day is fading a little, I'm headed towards something more practical on the road, yet still purposeful enough for a bit of a pose. So when on the Buell CR launch, with Mr Ash himself, I spotted the Ulysses XB12XT in the range line-up and figured that it could fit the bill.

I'll be honest and say I've had a soft-spot for Buells since the first M2 Cyclone. I've always liked the individual and pugnacious style of the bikes, but worried about rumours of poor reliability and quality.

Most of the XB series of Buells are simply too small for my 6ft 1in (1.85m) frame and 17-and-then-some stones (240lb, 110kg), so the Ulysses, with its 30.7in (780mm) seat height is a better bet for us biggies. That said, the bike itself is still quite short – a wheelbase of only 53.9in (1370mm), which compared to around 59.8in (1520mm) for a 1200 GS means it doesn't feel as roomy front-to-back as a big Beemer.

The Buell and I didn't have an easy start to our relationship as my garage was being knocked down and re-built, so for around eight weeks she stayed at a mate's garage. Fair play to her, when I finally fired her up in anger she started first time and the first 150-mile (240km) round trip was a good one. The 1203cc motor is damn lumpy low-down, but when you pick up the revs it provides enough motive thrust to give a fun ride. Handling is pretty good, too, with the Pirelli Diablo Stradas and Showa suspension handling my first wet ride perfectly.

So, as I rode the Ulysses into my newly built garage, I was surprisingly impressed with the fun-factor of the XB12 and looking forward to the next ride, maybe here was a marriage made in heaven?

Sadly, that next ride didn't happen for a while. The next day I wanted to get the bike to a jet-wash to clean off the muck from the bike, but she refused to start. Worse, when I pulled the key out of the fiddly, left-side-of-the-clocks location, some idiot lights stayed on, including the engine management light and high-beam.

This looked terminal. After been picked up by the good people of SOS Motorcycle Recovery, the bike was taken to my local dealership at Sycamore Harley-Davidson/Buell in Uppingham, Rutland.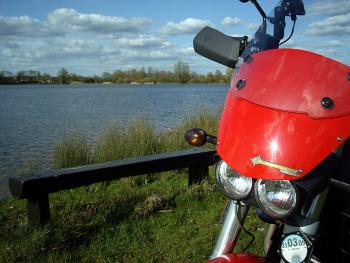 (click on image for full size)The problem was traced to water in the relays and fixed, but now I worry as to whether I can wash the bike or not? Since this episode I've had some stonking rides on the Ulysses which have restored some of the confidence I lost after that first outing. After the next few hundred miles my notes recorded the following plus and minus points:



* Out-handles the R1200GS by miles, I reckon, but I've had to put a lot of pre-load on the rear shock. Turns very nicely…

* …easy large furled wheel to change pre-load. Good!

* Great sounding motor, need to keep it spinning though

* Lots of room in the panniers and top box, which are easily removable

* The back rest thing is a work of genius (it folds forward or back to act as luggage platform, or up straight as back rest)

* …when you can get it to move up and down freely, of course

* Heated grips! Love 'em!

* Crap side-stand, which you need to keep an eye on as it rocks back and forward.

* Exhaust finish is abysmal…looks like it's done 40,000 miles, not 4000

* Very comfortable two-up

* The looks are aggressive and handsome

* I love belt drive… no chain adjustment!



As I write this, the Buell is destined to go back to Sycamore Buell thanks to another problem. The indicators are more intermittent than they should be, and the other day they only worked at the start and end of a 250-mile (400km) journey – but not during the important bits in between! One other thing reared its head: when I ride, sometimes the bike loses power, the engine management light comes on, as does the main-beam light, then, as quickly as it comes, the problem goes again. It's almost like the problem I had before.

This worries me as I want to trust the bike I'm on, especially one that should be able to be ridden in all weathers and with my girlfriend on the back.

When it works, there's no doubting that the Buell offers a number of advantages compared to its rivals, but when it doesn't, you have a machine which you can't trust.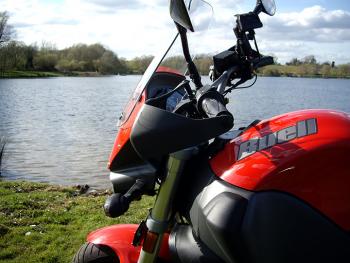 (click on image for full size)Before we all lay the old reliability thing solely at Buell's door, let's not forget BMW's problems with the R1200GS fuel pump problems – many bikes have issues. Mr Ash tells me his new K 1300 GT for example also has indicator issues and needs a new circuit board which is in short supply as the fault is widespread. He can only indicate left, not right...

All I'm going to do is see what Sycamore say when they take the bike in and hope that the problems are solved as the weather improves – no-one wants to enjoy this bike in 2009 more than me. So let's get it sorted.



Do you have a Buell Ulysses? Contact me with your thoughts on bertieRb8@aol.com, or comment at the end of this report in the usual way.



Mon, 01/06/2009 - 13:03
#1
shuggiemac
Offline
As has been mentioned before, on here, it is how people deal with problems that is very often more important than the actual fact the problem arose in the first place. If the dealer/manufacturer turns out to be even more troublesome than the bike then it is fair to say that it will not leave an overly positive impression.
.
I can relate to your experience about the idiot lights as my Duke did exactly the same thing when it was new. The local dealer/importer was actually brilliant and when the problem happened again they were all but offering me their sister's telephone number by way of compensation! It turned out to simply be a badly sealed connector and when water got in there it would do all sorts of weird things. It did however take a while to totally believe that everything was going to be OK and it has been.
.
The Ulysses has taken some slating in reports that I have read, since it arrived but I would still be interested to try one for myself. Do the Buells suffer for the same mixed bag of quality finishing touches as the Harley's do? This is again something that has been discussed on here and appears to be beyond explanation or understanding by most of us who contribute.
.
I see that you mention the big GS in your review on a couple of occasions, so I assume that you actually do believe this to be a serious and genuine alternative to the big Beemer. I am guessing though that with the tyre fittment and from looking at the pictures that the BMW would still be a better bet on something that was even a nod towards off road, not that it is an enduro bike by any means. Does the Buell have any pretension in that direction? Of course Nick Saunders takes an R1 accross ploughed mountain ranges, so anything can go but hopefully you know what I mean.
.
Last comment - your nicked, your tax is out of date !!
Mon, 01/06/2009 - 15:29
#2
I personally found the Buell to be a good road bike, comparable in some areas to the BM, but yes, I'd say the GS would be more useful on the dirt, although on the excellent Buell Experience days you get to ride a Uly on some un-prepared tracks and it feels OK, but obviously it's no enduro bike!
The finish on the bike is indeed a very mixed bag. Some things - like the 'paint' finish on the tail unit and tank - isn't too bad, but then you look at those downpipes and the end can. I found it simply unacceptable on a bike which had just 4600 miles on it...
Thankfully the finish on the 1125R and the CR are much better. It's a shame, as I loved riding the Uly, but simply couldn't as it was off the road. As to the road-tax it was in date, blame Mr Ash for taking SO long to up-load the story! HA! So, the story DOES have an ending, but I was saving that for the final report. Which kinda hints that the bike HAD to go as it was simply too problematical...
Mon, 10/06/2013 - 02:23
#3
When it comes to protection/penetrating oil for the bits on just about any thing you can't go past Lanolin oil the stuff from sheep really its a wax which behaves as a grease or oil apply from your electrics to your leathers, boots to hands this the stuff; its food grade safe sold and made over here in Australia Auspray; Lanotech and another mob make it here. (sold as a grease or spray) I don't know whether you have in the Old Dart but its brilliant preserves waterproofs just about anything. Thanks for your Webpage Pete Merriwa
Recent comments
In HONDA NC700X, kharli wrote:

In HONDA NC700X, kharli wrote:

In HONDA NC700X, Grump wrote:

In HONDA NC700X, kharli wrote:

In Lest we forget..., Captain Scarlet wrote:

In Captain Scarlet's next bike, malauder wrote:

In Captain Scarlet's next bike, Captain Scarlet wrote:

In Benelli 750 SEI, CCM wrote:

In Benelli 750 SEI, Gekom57 wrote:

In Benelli 750 SEI, Gekom57 wrote:

In Captain Scarlet's next bike, Grump wrote:

In Captain Scarlet's next bike, Navy Boy wrote:

In Captain Scarlet's next bike, Captain Scarlet wrote:

In Captain Scarlet's next bike, Grump wrote:

In HONDA NC700X, Grump wrote:

In Lest we forget..., Navy Boy wrote:

In Lest we forget..., unconventional rebel wrote:

In Captain Scarlet's next bike, unconventional rebel wrote:

In HONDA NC700X, unconventional rebel wrote:

In Lest we forget..., davvy wrote:
Donate to the Kevin Ash Fund
Kevin's funeral was held on Thursday 28th February 2013 and was well attended by family, friends and colleagues.
The Telegraph has very kindly established The Telegraph Kevin Ash Fund to assist with the education of Kevin's three daughters.
If you'd like to make a donation then you can use the PayPal 'Donate' button below which will allow you to donate from your PayPal account, or via credit or debit card. A small percentage (about 3.4%) will be retained by PayPal for the service.
Kevin's family have been touched by the generosity and messages of support from people using the website and would like to express their gratitude to those who have contributed in any way.
The donations keep coming in, thank you so much, and the family especially like it when you leave a message.