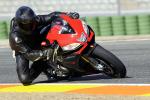 By Kevin Ash
Pictures: Milagro
There's always an extra sense of excitement when a manufacturer introduces a completely new bike into a sector it's not been in before. And when that bike is a full-on, high performance superbike, the anticipation is as powerful as it can ever be. Is the new bike going to feel different? Can it possibly be up to the mark? Do they really understand what's needed?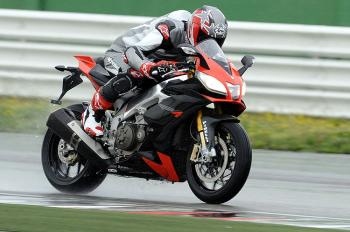 Click on image for galleryAprilia has history of course in doing this, unleashing the RSV Mille into the twin-cylinder superbike sector against the towering prowess of Ducati while Honda and Suzuki were both attempting the same, and if the Noale machine didn't quite cut it on the track, as a road bike it was right on the pace from the start, an awesome achievement in retrospect as it was the company's first big capacity motorcycle of any description.

Yet the new V-four RSV4 already had form on the track before the press launch of the production road bike version: the previous week Max Biaggi had put it on the Qatar podium on both races, promising if anything even more than the RSV twin had managed a decade ago.

There's certainly no lack of ambition: 25 million euros have been poured into the development of the RSV4 with the aim of creating the number one superbike. Yup, the very best, in this of all classes. The design team started with a clean sheet and no preconceptions of what an Aprilia superbike needed to be, with both the chassis and engine. But they did want it to be the most compact superbike with highly centralised mass, and their computer-simulated track performance calculations showed unequivocally that a four-cylinder bike would be quicker than a twin or a triple, taking everything into account.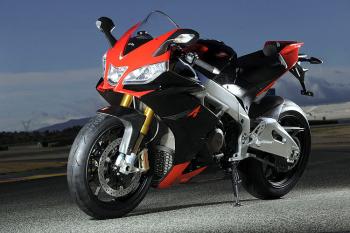 This led them to the V-four layout, as the narrowest design and the most helpful with regard to the layout of other components. The engine designers though wanted a 90 degree V-four so they could eliminate the need for a balance shaft, while the chassis designers wanted something shorter to fit the longest swingarm they could into a short wheelbase. A compromise was reached, the 65 degree V-four with one balance shaft: very short and narrow(225mm wide compared with typically 400mm for a four), less vibration than an inline four with twin balance shafts but more expensive to make. At first a 60 degree V was tried, but this meant the inlet tracts had to be angled too sharply and performance was compromised, making it more difficult to achieve the 180PS, 115Nm figures Aprilia set itself.

The full technical low down will be on here shortly, but the bottom line is, Aprilia achieved its target power and torque figures, at 12,500rpm and 10,000rpm respectively, from the 999.6cc motor.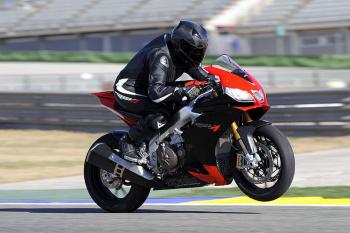 While the chassis too started as a blank sheet of paper, almost inevitably it was going to involve a twin-spar, aluminium frame as Aprilia was drawing on the experience of its enormously successful race division, which has won 40 world championship titles over the years. The design concentrated on minimising weight, so the frame has ended up being only 4 per cent heavier than the RSV Mille's despite having to cope with much more power and being almost 40 per cent stiffer torsionally. This is also despite having more adjustability than any other road bike, with a variable steering head angle, fork angle (which can differ from the steering angle), swingarm position and even engine position. And with Öhlins suspension fitted, all the usual high spec spring and damping adjustment options are available too.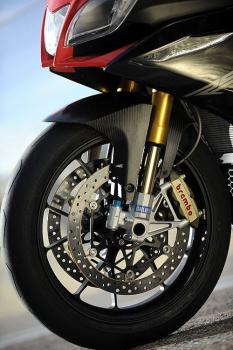 Overall a weight of 179kg is quoted, although it's unclear exactly what this includes as it's defined as kerb weight (which would make the bike well ahead of the competition) but also states that it's without battery or fluids, not how you'd like to find it at the kerb... If it's dry weight, that makes the RSV4 a little heavier than some of its rivals on paper, but generally these numbers are unreliable or meaningless anyway.

Much of this applies to the Factory version of the RSV4, a lower spec version will become available probably in September, although its final specification hasn't yet been decided on.

The whole machine is neatly packaged in styling by Miguel Galluzzi, head of Aprilia's design and also known as the man who shaped the seminal Ducati Monster as well as many other machines including the Cagiva Raptor. The look as unmistakably Aprilia, with a triple headlamp arrangement that has the outer lights floating above the pressurised air intakes. The bike has lost some of the excessive angularity of previous Aprilias, and instead with its minimalist tail section looks compact, muscular and aggressive.

Up to scratch in style and on the spec sheet then, but what really matters is how the bike rides, sounds and feels. Our test was at the Misano circuit, home of the San Marino round of both SBK and MotoGP championships, where, to our disappointment, it was raining for most of the day. Still, if anything is a test of a superbike's finesse, feedback and control it's a wet circuit made even more slippery by the rubber laid down during a recent car race...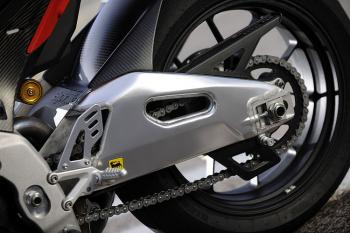 Despite the RSV4's compact dimensions it accepts riders as tall as my 1.92m without having to fold limbs unnaturally, although you do feel perched up on top the bike, more so than the GSX-R1000 for example but still more integrated with the machine than on a Ninja. Fire it up and the motor responds rapidly, with a deep, almost V-twin-like note, surprisingly loud and snarlingly angry. Sends tingles up your spine before you've even pulled the clutch in.

Out into the rain... This is when you need real delicacy in throttle response: with 1000bhp per tonne, a wet track and a contact patch the size of your palm, too much power when you haven't asked for it and they'll need to enlist the Hubble telescope to find you. And remember, this is a fly-by-wire throttle, early versions of which felt oddly disconnected. Well, the RSV's is accurate, faithful and you'd really not tell it's a chain of electrons between you and the butterflies – it does what you want, when you want and by how much you want. And when you want much more, boy does it deliver...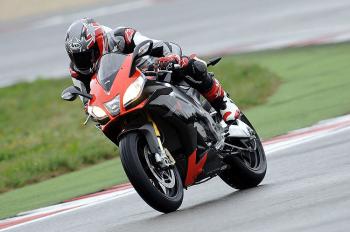 Corners might be a feast of high concentration and tiptoeing, but get the bike out and upright on the straight and this is more missile than motorcycle. It is searingly quick, even by superbike standards, and notwithstanding the difficulty of comparing one bike on a wet track in Italy with another on a dry one in Spain, I'll stick my neck out and say the RSV4 will annihilate a GSX-R1000 in a straight line. Is it up to manic Ninja levels? I can't tell, not yet, but it's in the same game. And it's doing that with levels of low and mid-range thrust that give it a V-twin feel, which means, if anything, it's even quicker than the seat of your pants is letting on. In the wet I was circulating quickest by short-shifting way before the 14,200rpm red line, but that would be the case in the dry on many circuits, so hard does it pull in the lower reaches.

The engine is deliciously smooth too, and not in an antiseptic, electric motor kind of way, but creamy and strong with just enough vibration to let you know it's busy. And those vibes that do get through are chunkier than an inline four's – the performance is there, and so is the tactility and sound, adding a tier of riding satisfaction that might not matter on a race bike but which is an important facet of the buying/owning/riding-on-the-roads experience. In short, it feels great, like a rev happy V-twin with a Jurassic sound track.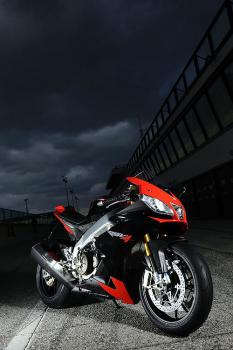 You have additional control, as with a GSX-R, through a mapping switch that offers either track-oriented hard-edged response, normal road use or softer wet weather use that cuts power by 25 per cent. The gentle option even in our wet conditions wasn't necessary as the throttle control is good enough in the normal setting. The track option though is very aggressive, so much so that even Aprilia superbike rider Shinya Nakano thought it was too much – it scared the crap out of me... In fact I suspect even in the dry many riders will go better and be more comfortable on the track with the road setting.

Keeping the revs down a degree does help with the gearchanging. Most of the time the cogs swop without fuss, but howl the motor to its ceiling and the selection becomes clunky and lurching, at odds with the general finesse of the bike. Change down early as you brake for a bend and, despite the slipper clutch and additional help from the engine management opening the butterflies on the overrun to reduce pumping losses, the engine braking is strong enough on occasion (such as at low-friction Misano) to have the back end snaking and losing traction without even touching the rear brake. You can feel through the lever the clutch basket twitching on its ramps as this is happening, like the transmission is talking to you. It's all quite a contrast to the low engine braking of the Yamaha R1, so if you happen to swop between the two you'll probably need to re-adapt to the point of taking different lines into bends. But learning a bike is half the satisfaction, and when it responds as well as the RSV4 you're not going to want to stop.

There's little that's more intimidating on a bike with a sopping wet track ahead than a pair of gold-coloured Brembo Monoblocs penetrated by dinner plate 320mm discs up front. These are immense stoppers, more suited to slowing a fully loaded 747 than a featherweight motorcycle, yet with a couple of wary fingers they worked absolutely beautifully, teasing the tyre to the edge of its grip then holding it steady right there, on the edge, and finally releasing progressively as the bike's peeled in to the turn. I never bothered with the rear, partly because like so many you couldn't tell what it was doing, partly because the engine braking was as much as the rubber would take anyway, but also because the front brakes inspired so much confidence you didn't feel the need for a support act.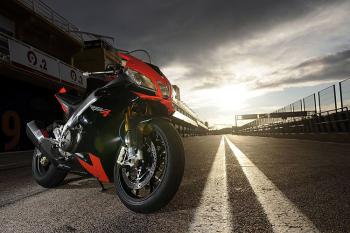 This would be an astonishingly accomplished motorcycle as a development of a long line of superbikes, which exactly describes all of its opposition until the BMW S 1000 RR joins the battle. But as a rookie upstart, blank sheet first attempt, this is going to cause some serious upsets. I'm perfectly prepared to be wrong about it sitting up there with its rivals in performance terms as the conditions were as far from ideal as they could be, but I have the feeling that if I am wrong, it's because I'm holding back and the RSV4 is actually even better.

Now pass me the next one and a sunny day please...

Mon, 06/04/2009 - 15:46
#2
kevash
Offline
It was hard to judge in the wet but that fact the engine still shone through even in those conditions I think is very significant. I'm riding it at Silverstone later this month where hopefully it'll be dry, and I'll report back here after that. I'd be very surprised if the motor doesn't find more homes, the engine is the most costly part of any bike to develop and the more use they get out of it the more sense the economics make. Almost certainly there'll be a naked version, and a touring/sport touring V4 is pretty likely too.
Recent comments
In HONDA NC700X, kharli wrote:

In HONDA NC700X, kharli wrote:

In HONDA NC700X, Grump wrote:

In HONDA NC700X, kharli wrote:

In Lest we forget..., Captain Scarlet wrote:

In Captain Scarlet's next bike, malauder wrote:

In Captain Scarlet's next bike, Captain Scarlet wrote:

In Benelli 750 SEI, CCM wrote:

In Benelli 750 SEI, Gekom57 wrote:

In Benelli 750 SEI, Gekom57 wrote:

In Captain Scarlet's next bike, Grump wrote:

In Captain Scarlet's next bike, Navy Boy wrote:

In Captain Scarlet's next bike, Captain Scarlet wrote:

In Captain Scarlet's next bike, Grump wrote:

In HONDA NC700X, Grump wrote:

In Lest we forget..., Navy Boy wrote:

In Lest we forget..., unconventional rebel wrote:

In Captain Scarlet's next bike, unconventional rebel wrote:

In HONDA NC700X, unconventional rebel wrote:

In Lest we forget..., davvy wrote:
Donate to the Kevin Ash Fund
Kevin's funeral was held on Thursday 28th February 2013 and was well attended by family, friends and colleagues.
The Telegraph has very kindly established The Telegraph Kevin Ash Fund to assist with the education of Kevin's three daughters.
If you'd like to make a donation then you can use the PayPal 'Donate' button below which will allow you to donate from your PayPal account, or via credit or debit card. A small percentage (about 3.4%) will be retained by PayPal for the service.
Kevin's family have been touched by the generosity and messages of support from people using the website and would like to express their gratitude to those who have contributed in any way.
The donations keep coming in, thank you so much, and the family especially like it when you leave a message.
Recent Articles
We're familiar with solid-state electronics in biking. Ignition swapped points for transistors in the 1970s, then went digital in the 1990s. Now, the need for greater power, fuel efficiency and emissions control means modern engines only work with computer-controlled fuelling, ignition, combustion and exhaust. When we open the throttle we pull the strings, but the ECU calls the shots. To do it, the ECU needs an accurate view of the world. And it gets it through its sensors.
A gyroscope is a rigid circular or spherical mass rotating around an axis and for over 100 years motorcycles have come with three of them: a front wheel, a rear wheel and a crank (if you're being pedantic you could include cams, balancer shafts, gearbox, clutch etc). The classic mechanical model of a gyroscope ranges from the very small – electrons spinning around an atom's nucleus – to the very large – the Earth.
Most of us have an innate feel for balancing a high centre of gravity on a relatively short wheelbase. Say, like a motorbike. Its centre of gravity is the point at which the sum of the surrounding mass is zero, and is largely determined by the location of the engine, the heaviest part of the package. Usually the CoG is midway between the wheels (half the wheelbase) and 60 to 75cm off the ground; just above the engine, in front of your knees. Or at least it is until you get on.
Anyone with fingers knows bikes vibrate, sometimes strongly enough to make picking your nose impossible. But how we perceive vibration depends on its type, pattern, frequency and cause. Bikes are subject to different types of vibration. A bumpy road creates random forced vibration at medium to high frequency (around 5-35 Hz depending on vehicle speed). It's perceived as unpleasant, as is head buffeting caused by wind turbulence. Engineers and aerodynamicists try to minimise these bad vibrations. But we usually talk about engine vibration. There are many sources...
From the launch of Yamaha's new Super Ténéré: "The exhaust pipe connection between the two headers is discontinued to give more character to the engine. The link pipe gives a flat feeling to the curve, so removing it makes the engine a bit more peaky." This is all about exhaust gas. When a four-stroke is tuned for power it means more revs, and so the cylinders have thousandths of second to fill with fresh mixture, compress it, burn it and pump it out again. To get enough mixture in and out, inlet valves open early and exhaust valves stay open for longer – so both are open at the same time.