Honda Crossrunner review
By Kevin Ash - 10/10/2011
How times have changed. Not so long ago the Japanese would design a new engine as readily as changing a colour scheme, but in this harsh new world that's a luxury they can no longer afford.
A new era of economic pragmatism has dawned, spawning a raft of low-development-cost bitza bikes like the Kawasaki Z1000SX, Yamaha FZ8, Honda's CBR600F, and now the Crossrunner. Using bitza this, bitza that to create new models is not necessarily a bad thing as it should mean lower new prices and better spares availability, but it can also mean compromise and carrying over dated technology.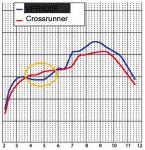 All of which is evident to varying degrees in the VFR800-derived Crossrunner. Considering how different the new bike looks, the number of components carried over from the 2002 sports-tourer is quite remarkable. The engine is identical for example, the only changes being to the intake and exhaust systems along with improvements to the VTEC system, although these have had a significant effect, filling out the mid-range torque and smoothing the VFR's power step between 6,000-7,000rpm. Top end horsepower is reduced, but Honda believes this is a sacrifice worth making.
This is achieved by using 20mm longer and 6mm narrower intake funnels, and linking the exhausts of different cylinders to the VFR's in the Honda Crossrunner's system, as well as using different pipe lengths. The VTEC electronics now take into account the throttle position and gear being used to help smooth the sudden power kick that can be irritating on the VFR800, especially early models. The engine mapping is altered of course to make best use of the other modifications.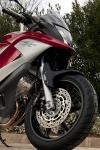 Changes to the chassis meanwhile amount to no more than minor tweaks. The frame, which dates back several years before even the 2002 VFR800 VTEC, is the same, so is the suspension and the wheels. The additional half inch (12mm) ground clearance and 1/3in (8mm) longer wheelbase are achieved simply by adjusting the shock to move the swingarm down at a steeper angle and by sliding the forks down through the yokes by 1.6in (40mm). The components themselves and even the stock settings are the same as the VFR's, as are the brakes, although the Combined-CBS system only has the rear operating when the front is applied, and not the other way around too as on the VFR itself.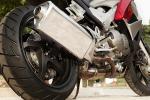 The tyres are different to the VFR's though. These are the road-biased dual purpose Pirelli Scorpions developed originally for the Ducati Multistrada. The front is identical to the Multistrada's, the rear is slightly different, having a slightly more rounded profile which gives less aggressive handling than the Ducati's, with a more progressive and easier to manage lean into corners. The tyres use dual compound rubber with a grippier mix on the outsides, and slick edges for better grip and control at full lean.
The bike is not intended for anything but the mildest off roading though, but simply to provide some confidence for those occasions when the asphalt has run out, such as the last few miles on a track to a remote campsite or something similar. The suspension is preload adjustable if you need to, although getting at the forks' adjuster bolts is difficult due to the new higher bars. There's also rebound adjustment at the rear.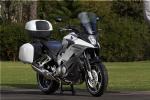 Bits and bobs are borrowed from other Hondas too. The luggage for example comes from the VFR1200F, so it's very sophisticated, a little small and very expensive. The capacity is going to be seen as less of an issue on the Honda Crossrunner as it's a smaller bike, and the volume is still not too bad, but it'll likely drive many owners to look to the aftermarket instead for a better price and storage volume. The mounting brackets are more obvious on the Crossrunner than the VFR1200 too, although not obtrusively so.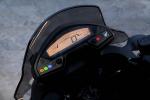 The dash display meanwhile is ex-CBR600F (the 2011 version), although on the Crossrunner it's positioned high up to better suit the tall and more upright riding position. While the seat-to-footrest relationship is the same as the VFR's (as it would be with no changes made here), the handlebars are 6in (151mm) higher, and wider too.
What's new then is nothing more than those bars and the bike's bodywork. This is styled by VFR1200F designer Teofilo Plaza, and he's done an excellent job using inspiration from what he calls Jet Skis, no doubt without realising that's a Kawasaki brand name... The lines are long and sweeping, interesting without being aggressive, and they lend the Honda Crossrunner an air of sleek ranginess which disguises its forward visual bulk (due largely to the twin, side-mounted radiators).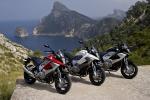 A cross-dressing VFR800 on stilts then, but that doesn't stop it being a surprisingly good bike to ride. Despite being a jacked-up nine year old bike it's beautifully balanced, with that easy steering and low speed handling feel that let you trickle along at walking pace without a hint of wobble, and you can stop for a second or two without putting a foot down.
Our test route comprised a mix of urban and faster inter-city stuff but mostly some sinuous and spectacular Majorcan coastal roads with at times treacherous surfaces, and the Honda Crossrunner excelled on all of them. The suspension is quite soft with not so much a budget feel as an old-fashioned sensation, generally being plush but with a hint of bounciness that you don't get with more modern forks and shocks. This is being fussy though, even on bumpy going and pushing the bike hard it maintains good wheel control and the bike stays stable and easy to point while isolating the rider well from rougher surfaces.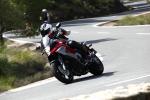 It's reasonably agile too, but you do much better not to try and force the bike hard into bends or get too sportily ambitious. Instead relax and let it sweep through turns and it rewards with exceptional stability, sufficient feedback and a great sensation of competence and confidence. It's quite a heavy bike compared with rivals with more modern underpinnings, but mostly this isn't noticed, and the kinds of riders who will go for the Crossrunner (practically everyone but sports bikes fanatics) will be very impressed with the handling
I thoroughly enjoyed the chassis and the brakes too once I'd got used to the quite sharp initial bite from the front, and the engine is an excellent match for it. The low rev torque is strong and the mid-range very muscular for an 800, and you can happily leave the bike in a higher ratio and not trouble the gear lever often. You might note some minor vibration patches here and there but they won't trouble you, and instead you revel in the fabulous snarling sounds of the engine as the revs rise. Up to around 6,500rpm the motor emits a rising, bubbling purr, then as the VTEC is woken it turns angry and hard-edged, bringing a whole depth of character to the bike that will have many owners loving rather than merely liking it.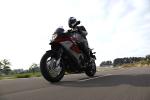 Fortunately you don't get that old VFR VTEC uncertainty, where the power step is awkward or unpredictable. Instead the transition from 8 to 16 valve operation is near-seamless, feeling like nothing more than a gentle power band, and with no hunting if you're holding a steady speed at VTEC operating revs. There's certainly nothing that will bother anyone, and instead it adds more to the bike's individuality.
All of which is great news, you have now a fine looking bike with a reassuring and satisfying chassis matched to a characterful and muscular engine that compels you to use it. But there's a downside, and these days it's a big one: fuel consumption. The VFR800 is already notorious as a thirsty beast, and with no significant changes to address this, according to the bike's onboard economy readings, so is the Honda Crossrunner. In sporty riding on a variety of roads its thirst fell to 35mpg (12.4km/l, 8.1l/100km, 29mpg US), while even relatively gentle going failed to lift it above 40mpg (14.2km/l, 7.1l/100km, 33mpg US).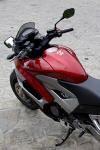 That's according to the display, and I've never known one of these to be pessimistic about economy so the real numbers could be even worse. Rivals like the Triumph Tiger and BMW F650GS would be much better in similar circumstances, probably not dropping below 40mpg and rising to anything from 45-48mpg. The VFR800 was thirsty even when it was introduced, nowadays with other bikes getting better and fuel costs being so high, this is even more of a problem.
At least the generous 4.74 gallon (21.5 litre, 5.7 gallon US) tank means the range is still reasonable. At a touring 38mpg (13.4km/l, 7.43l/100km, 32mpg US) (judging by experience with the VFR) you'll be running dry at 180 miles, which isn't too bad. But imagine if the economy was a more reasonable 45mpg, then you'd be exceeding 210 miles on one tank. For a company which prides itself on its green credentials, the economy of a lot of Hondas should be something of an embarrassment, the Crossrunner in particular.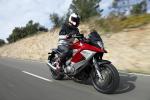 So how comfortable will those 180 miles be? Or hopefully, 179 miles and a saviour fuel station... The riding position is something of an odd mix, with an adventure bike top half due to those bars, and traditional sports tourer bottom half. In other words, the footrests feel quite high and close to the seat, and for some taller riders their knees might start to feel a little cramped, at least in comparison to other middleweight adventure bikes. Shorter ones will be better off as although the Honda Crossrunner looks like it ought to be tall, in fact the seat is in easy reach of the ground, and this might even seal the deal for anyone less than average height as many rivals could just be too tall.
The screen is low too though, which means you do cop a fair amount of windblast at higher speeds. I don't mind this too much as it still allows comfortable cruising up to 100mph and more, which is plenty in real life, and it means you don't get much by way of turbulence hitting your helmet as the air flow is clean at this level. Some riders will want more protection though, and Honda does offer a higher screen, although I didn't get a chance to try one out.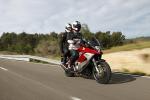 The seat is comfortable, or it was for a couple of hours aboard with the signs being that all-day riding should be perfectly tolerable. The passenger gets plenty of space too and the grab-handles are well-placed, although sliding larger hands through them is difficult. Importantly, the passenger isn't perched much higher than the rider so there's plenty of wind protection and a good sensation of security. The bike's handling remains steady and well balanced too with a pillion.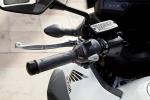 That display suffers in the same way as the Honda CBR600F's, with reflections sometimes obscuring the information (even the large speed figure at times), and the revs readout can be difficult to see as it's too close to the black edge of the screen. The scrolling and reset buttons really should be on a handlebar too, rather than forcing you to reach forward for them and ride one-handed. You do get a good set of mirrors though. Another irritation is the Honda VFR1200F switchgear which reverses the horn and indicator switches. You learn eventually not to hoot to let people know you're turning, but it seems so unnecessary when there's nothing wrong with the conventional layout.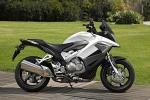 Economy reading aside, the Crossrunner is sparsely equipped compared with what the Europeans are doing. There's not even space beneath the seat for a U-lock, and certainly no extra electronics or information other than the basics. Against that, the build quality of these pre-production bikes we were riding was very good, and the full production models will be better again. As for the VFR engine, almost a decade of production has proved its granite reputation for durability and reliability was well founded. It might be thirsty but it won't go wrong.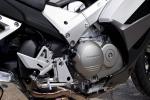 This is a clever bike then. Its 529lb (240kg) wet weight (that's with 5 litres of fuel) is well hidden by its excellent balance, and its ageing VFR roots are disguised by the contemporary styling. Developing it has been inexpensive, reflected in the £9,000 price ( £800 less than the VFR800 itself, still on sale and whose sales must surely suffer for that) yet it breaks into a new sector for Honda.
Some cramping in the riding position is one sign of compromise, the other is more serious, and that's the class-trailing thirst. Without that bigger blemish, against the odds this would be a great bike as it's comfortable, sporty, great fun to ride and full of character. But at almost £2,000 more than the excellent Triumph Tiger 800 (which has far better economy) and £2,400 more than BMW's fuel-thrifty 800cc twin, the F650GS, it's still going to struggle to win big sales. It's certainly worth the £600 premium over Yamaha's TDM900 though.
If you think others might be interested in this review, please do post links to it from any other sites or forums you might visit - thank you!
Specifications
Model tested: Honda Crossrunner VFR800X
Price: £9,075 on the road
Available: early summer, depending on post tsunami factory restart
Engine: 90-degree V-four, liquid cooled, sohc VTEC 16v, 782cc
Power: 101bhp (102PS, 75kW) @ 10,000rpm
Torque: 53.7lb.ft (7.4kgm, 72.8Nm) @ 9,500rpm
Economy: 38mpg (13.4km/l, 7.43l/100km, 32mpg US)
Tank/Range: 4.73 gallons (21.5 litres, 5.7 US gallons)/ 180 miles (290km)
Transmission: Six gears, wet clutch, chain final drive
Chassis: Aluminium twin spar, single-sided aluminium swingarm
Seat height: 32.1in (816mm)
Wheelbase: 57.6in (1464mm)
Rake/trail: 25 °45'/ 3.78in (96mm)
Weight: 529lb (240kg) (kerb, 5 litres fuel)