Triumph Tiger 800 review
By Kevin Ash - 27/08/2011
It's very tempting for manufacturers to hype up a forthcoming model when it's not replacing an old one. Bikes entering new categories always get more publicity, and the only sales that should be harmed are those of potential rivals.
But there are dangers: excessive hype can raise expectations too high, as Honda discovered with the machine it said would change motorcycling forever, the pretty-good-but-no-more VFR1200F, leading to inevitable disappointment. Or your own sales can be affected unexpectedly, as BMW has found with interest in the K1300GT evaporating as the new K1600 is being promoted.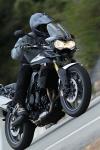 The marketing of the new Triumph Tiger 800 has pushed pretty hard, with viral campaigns, teaser images, leaking pictures and info to the press, even giving people a peek through a hole in a crate. There's expectation too in the fact that this, Triumph's first ever bike designed with genuine off-road ability, is powered by a bigger, torquier version of the glorious Street Triple three-cylinder engine.
It says a lot about the bike then that despite all of the above, it's not going to get a kicking by the press, and my only significant reservation is more about those expectations than any real problem with the bike itself.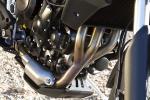 It's to do with the engine. This retains the 74mm bore of the Street Triple and gains its 799cc capacity through a stroke increase to 61.9mm, a move which was always going to change the character of the motor. The cylinder head casting is the same but the machining is different to change the combustion chamber, inlet and exhaust ports and so on, but pretty much everything else, including the crankcases, is new. The Triumph Tiger 800 unit is in a lower state of tune than the 675 triples, making 94bhp (95PS, 70kW) at 9,300rpm, with a broad spread of torque peaking at 58lb.ft (79Nm) at 7,850rpm.
All looking good so far and when you fire it up it makes all the right noises, that distinctive Triumph gear train whistle with an emissions-muted but still appealing snarly exhaust note. You do notice though that the throttle response isn't as rapid as the Street Triple's, but the fuelling is perfect and it's pleasingly smooth too.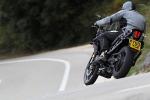 Into gear, release the light and easy clutch (this matters as the bike will be eligible for the new A2 licence so relative novices will be attracted), and you can appreciate the spacious riding position. This is as you'd expect of an adventure bike, upright and comfortable, although the more off-road biased Triumph Tiger 800XC has higher and wider bars. I prefer the stock one's as it feels more natural, but both work well, and thanks to asymmetric risers they can be moved forwards and up if you prefer. The seat height is adjustable by 20mm too, and it's something you can do in 30 seconds, although even the higher setting isn't excessively far from the ground.
What also works well is the screen, which while set fairly low and far forward does an impressive job of fending off wind pressure with neither excessive noise nor turbulence. There's a higher option which will work even better for taller riders, although it's a shame the stock one isn't adjustable. Behind it is a simple, appropriately rugged-looking dash which tells you fuel economy and range as well as gear position and the usual info. It would be better though if the buttons for the trip computer were on the handlebar rather than the dash itself.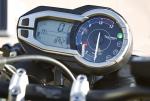 The seat meanwhile is flat and feels quite hard initially, but comfort is reasonably good as for me at least the first signs of discomfort didn't start until a good two hours on board. Bike seats usually improve with miles too, so the ergonomics then are well sorted for covering big distances, as these bikes are meant to do. The Triumph Tiger 800 passenger gets plenty of room and the handgrips are very well positioned and easy to use.
So what's my issue with the engine? The problem is, it lacks the zest and sparkle of the Street Triple's 675, and this is a surprise. After all, the torque curve sits well above the 675's right up to where the power's tailing right off near 10,000rpm, and at 3,500rpm it's making 54lb.ft (74Nm) against the Street Triple's 44lb.ft (60Nm) - that's more than 20 per cent higher. Yet turn the twistgrip at around 4,000rpm, where you'll often find the engine spinning in normal riding, and you're greeted by more intake noise than real thrust, and need to kick it down a gear or two to really get the Tiger 800 going.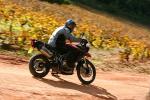 I had a chat with several people at Triumph about this, and the reasons (there are more than one) are interesting. One, of course, is that this is not a supermoto or sports bike but gentler touring machine, and with an off-road capability, a heavier flywheel helps steady engine speed and find grip in slippery conditions. So it's partly intent, but also the Triumph Tiger 800 is significantly higher geared, around 20 per cent more than the Street Triple, which will also dilute the punch at lower revs.
There's a less obvious reason too: the wheels on the Tiger 800 are substantially heavier, not least because of the tougher, semi-off-road tyres, and more engine power is used up in getting these to turn as you accelerate. And that's in addition to the Tiger's 46lb (21kg) weight disadvantage (and the 800XC is another 12lb/5kg).
With all that legislating against zippiness, you're clearly not to going to have the electric backroad experience a Street Triple can give, nor is it a mini Ducati MTS1200 Multistrada. if that's what you were hoping for from the Tiger 800, you will be disappointed. As an adventure bike to measure up against the BMW F800GS though, it does fare much better.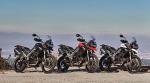 Clearly the BMW is the bike Triumph has benchmarked, although the Triumph Tiger 800 is seen as an F650GS rival (this being the 800cc twin-cylinder F650GS...) while the Tiger 800XC is pitched at the F800GS. Either way, a criticism that can be legitimately levelled is that the Tiger looks rather too similar: the beaky front mudguard for example is a distinctive BMW styling cue, and even if Triumph claim (correctly) that it was first seen with the Suzuki DR Big, no one's going to make that connection now. But there's a Triumph signature too, of course with the three-cylinder engine but also the double-tube twin spar steel frame evoking the similar aluminium ones of older Triumph sports bikes, and the twin headlights, symmetrical rather than BMW cock-eyed.
There's intelligence in the design too, especially the plastic panels on each side of the tank to protect more costly components in a fall. But if you do intend doing much off-road riding, note the close-fitting front mudguard will clog with mud very easily, and while it can be unbolted, a brake line loops over the wheel and will be dangerously exposed. You also get a very powerful 645W alternator (nearly a third more output than the 800GS's) so the bike will cope with substantial extra electrical demand including heated clothing, spotlights and so on. There's even a lever which flips the headlights down to compensate for carrying a passenger, and although BMW got there first with this idea, it's good one.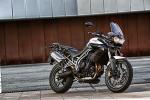 The suspension copes very well with the extra load. The Triumph Tiger 800XC has a different set-up to the 800, with greater travel front and rear and less damping in the first third or so of the stroke. This makes it dive a lot more under heavy braking, but the defining characteristic of both versions is their compliance and the general stability of the chassis. The 800 was a little on the firm side when I rode it, which I put down to the 4 degree ambient temperature, but its bump absorption and wheel control on poor surfaces was still exceptionally good.
The stock Tiger 800 has very much a road bike feel, the off-road side clearly is expected to be only occasional and generally undemanding, and in aid of that the Pirelli Scorpion tyres offer extremely good road grip and the feedback is impressive too. The front wheel is a 19 incher, which aids ride quality without making the steering too pendulous, and you can push the bike pretty hard, although it prefers to be swung through corners rather than braked hard and forced hard into direction changes. But it's reasonably agile and rewarding.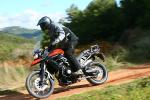 The Triumph Tiger 800XC is slower steering and feels odd after the 800, but for a bike with a 21 inch front wheel it turns remarkably well. It sways a little when pushed hard and is less stable in heavy braking, and more engine vibration comes through the bars when you rev it, presumably because they have a different resonant frequency to the shorter ones on the 800. Stability two-up is always excellent though, and performance not at all badly affected.
The 800XC's tyres are Bridgestone Battle Wings and they do work well on or off road, but you can't explore everything the bike is capable of in the dirt without changing them. I also tried the bike with the optional Metzeler Karoos and it was transformed. If anything there's too much grip, at least for getting the tail end out to help with corners, but the bike generally deals with the dirt easily as well as the 800GS, finding grip and getting over jumps, rocks and tougher terrain as if Triumph has been doing this sort of thing for years.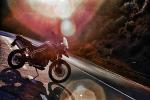 The tyres feel nasty on the roads so few riders will fit them, but if you're contemplating a trip with a significant off-road bias they're worth considering, and as long as you're not silly ambitious, the bike will cope very well.
Mostly though this is a touring bike, and although you might choose the XC for its stronger off-road style and ability, the stock Triumph Tiger 800 is better at road miles. The range should be good enough, I measured just under 50mpg (17.7km/l, 5.6l/100km, 41.6mpg US) in mixed if not too demanding riding, and after a harder stint the onboard computer said I'd achieved 45mpg. Average those two and the 4.2 gallon (19 litre, 5 gallons US) tank will just see you through 200 miles, while gentler riders might well get usefully more, as Triumph says the bike is around 10 per cent less economical than the especially frugal 800GS, meaning mid 50s mpg should be feasible.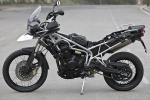 Will you enjoy it? When chucking the bike through a series of turns you do need to work the gearbox as it lacks low rev punch, and the power also falls away early at the top of the rev range. This can take the edge off the fun, but nothing else interferes: this is a well made and thoroughly convincing machine with enough engine character to single it out - the sharp rasp on the overrun at 6,000rpm is special - and it really does do the off-road side capably.
It's also priced reasonably well. The Triumph Tiger 800XC is £7,749 (2011 price), while ABS is £600 extra (available from March). The BMW 800GS is currently £7,780, which would be £7,945 with 20 per cent VAT (applying from January 2011), and there will probably be price rises for 2011 anyway in addition to that.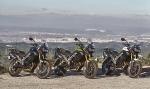 The stock Tiger 800 though is £7,149 on the road including 2011 VAT, which sets it above the BMW F650GS's £6,638 with 20 per cent VAT. But it's not a huge difference and if the BMW is more economical, it feels less well made with a lower quality feel to the ride.
Just make sure your expectations don't include the vivacity of a bigger capacity Street Triple... if they do, then you won't enjoy it, and if you weren't expecting that, still a little more sparkle from the motor would have improved the experience. Otherwise this is a fine motorcycle and a very real threat to the GS.
Triumph Tiger 800 forum thread here
Read the 2011 Triumph Speed Triple Review here!
Other Adventure Bikes
Triumph Tiger 800 and Tiger 800XC differences
* Cast wheels, 17 and 19 inches on 800, spokes and 21 inch front wheel on 800XC
* 43mm Showa forks on 800, 45mm Showa forks on 800XC (180mm and 220mm travel respectively)
* Rear suspension different, 170mm and 215mm travel
* 800XC has handguards, radiator guard, high level front mudguard, wider bars and risers, higher seat, longer wheelbase and greater trail.
Triumph Tiger 800 Specifications
Model tested: Triumph Tiger 800 (Tiger 800XC)
Price: £7,149 (800XC £7,749)
Available: From November 2010
Engine: Three cylinder, liquid cooled, dohc 12v, 799cc
Power: 94bhp (95PS, 70kW) @ 9,300rpm
Torque: 58lb.ft (79Nm) @ 7,850rpm
Economy: 48mpg
Tank/Range: 4.2 gallon (19 litre, 5 gallons US)/ 200 miles
Transmission: Six gears, wet clutch, chain final drive
Chassis: Twin spar double steel tube
Seat height: 31.9in (810mm) (800XC: 33.2in (845mm)) adjustable +20mm
Wheelbase: 61.2in (1555mm) (800XC: 61.7in (1568mm))
Rake/trail: 23.7 °/ 3.39in (86.2mm) (800XC: 23.1 °/ 3.59in (91.1mm)
Weight: 462lb (210kg) (800XC: 473lb (215kg) (wet))