Suzuki V-Strom XP test
By Kevin Ash - 22/03/2011
Suzuki's V-Strom has rarely been given the credit it deserves. As an all-round motorcycle that's competent as well as fun, it's consistently offered outstanding value with little sacrifice to be made for its class-beating price.
The 645cc, liquid-cooled V-twin engine is reasonably frugal with fuel but still offers a good spread of power at low and high revs, the handling is slow but stable and the longish travel suspension provides a pretty good ride quality. Touring riders especially have also appreciated the bike's ability to cover more than 200 miles (320km) on one tankful, and in good comfort too.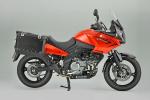 The first version arrived in 2004 so it's getting long in the tooth now, but for 2010 Suzuki has attempted to add some life by producing a new variant it hopes will grab some sales in the fast growing adventure bike class. It's called the V-Strom XPedition, happily shortened to V-Strom XP, and it differs from the standard Suzuki V-Strom with typical adventure bike accessories. An aluminium belly pan promises to offer at least some protection to the engine's underside when off-road ground clearance is limited, there are crash bars to protect the bodywork in a fall, and most obviously there's a set of adventure-style, black-finished aluminium panniers. The XP also gets ABS brakes as standard, as well as hand guards and a centre stand, cost options on other V-Strom models.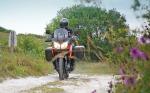 Even so, as an adventure bike, and the nearest definitive models are BMW's F800GS and the Triumph Tiger 800, the XP is not convincing. Indeed, at the original V-Strom press launch in 2003, Suzuki specifically said the V-Strom was not designed for off-road riding, and nothing fundamental has been changed since then. You can still ride it on easy tracks, but then you can with pretty much any bike. For anything more serious the tyres, suspension, ground clearance and weight distribution are all wrong as they're aimed purely at road riding.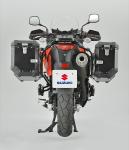 It also has something of a cobbled-together air, most obviously with the panniers which fit to ugly frames on each side, and which make the bike obstructively wide. The XP is around 4in (100mm) wider at the panniers than the 1200cc Ducati Multistrada, itself pretty wide, and that's a big difference when you're trying to filter through traffic.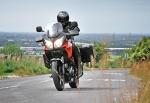 But as a touring bike, which the V-Strom has always been, the XP does a much better job. Those panniers might make you wonder about fitting a 'Caution - Wide Load' warning on the back but they're capacious and mostly easy to use. Irritatingly you can't leave them unlocked so you have to get the key out each time to open them (different to the ignition key), but they're waterproof and come with useful waterproof internal bags by way of belt and braces. They're a lot less fiddly than the twice-as-expensive Yamaha Super Ténéré's panniers too.
The luggage rack handily sits flush with the passenger seat so when you're solo, larger loads rest easily along the two, and as the bike returns at least 45mpg (15.9km.l, 6.28l/100km, 37.5mpg US) in normal riding, the 4.85 gallon (22 litre, 5.8 gallons US) tank won't run dry until 220 miles (350km) have passed.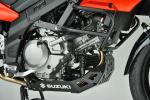 The motor which once felt vivacious isn't now quite as sparkling compared with the newer competition, such as the excellent Kawasaki Versys, but it's smooth and still does the job with a degree of character. But where the bike really loses out is in agility. Originally it shared its chassis with a 1000cc version so the big bike feel is because that's exactly what it is, bar the engine capacity. This means it's slow and steady to change direction, but on the plus side it's secure and stable, as well as spacious for one or two people, and there are no handling oddities to catch you out.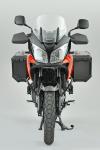 The way to think of the XP really is not as an adventure bike to compare with the proper ones, but a highly specced V-Strom which is great for solo touring as well as general duties, although the motor feels breathless when asked to carry a passenger and luggage. But it's quite costly considering the V-Strom GT, which comes with conventional but capacious panniers, is £800 cheaper, while the Versys ABS offers a more modern and lively design with better finish quality for £900 less. You can buy some good luggage for that, still have change and it's no less suited to off road riding.
Model tested: Suzuki DL650 V-Strom XPedition
Price: £7,300
Available: now
Engine: 90-degree V-twin, liquid cooled, sohc 8v, 645cc
Power: 66bhp (est) 8,800rpm
Torque: 44.3lb.ft @ 6,400rpm
Economy: 45mpg (15.9km.l, 6.28l/100km, 37.5mpg US) average
Tank/Range: 4.85 gallons (22 litres, 5.8 gallons US)/220 miles (350km)
Transmission: Six gears, wet multi-plate clutch, chain final drive
Chassis: Twin spar, aluminium
Seat height: 32.3in (820mm)
Wheelbase: 59.1in (1500mm)
Rake/trail: 26 °/ 4.3in (110mm)
Weight: 417lb (189kg) (dry)