Yamaha Super Ténéré News!
By Kevin Ash - 30/10/2010
Yamaha has revealed full details of its new Super Ténéré 1200, and the bike is pitched directly at BMW's GS.
The basic specs of twin cylinder engine, shaft drive, 19 inch front wheel and big trail bike style could have come out of a BMW brochure. Yamaha has also added an electronics package that could trump BMW's, although it doesn't look quite as comprehensive as that of the Ducati Multistrada.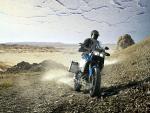 Yamaha says the bike is designed for four main types of riding, and the list reads like the mode options on the Multistrada's dash: off-road adventure, long-range touring, sport (corner carving in Yamaha speak) and urban commuting. As that 19 inch front wheel confirms, the bike is biased more strongly towards off-road riding than the Ducati, with Yamaha citing its many years of success in the gruelling Paris-Dakar rally as authenticity and experience, underlining the bike's toughness and credentials by pointing out the spoked wheels, strong engine bash plate and high ground clearance.
The liquid-cooled parallel twin engine though includes Yamaha's latest crossplane crankshaft technology, using 270-degree crank throws to minimise the inertial torque in the same way as a 90-degree V-twin (like the Multistrada's) - in layout the Ténéré's crank is effectively half an R1's. As with the R1, there are two balance shafts fitted.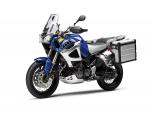 Power output is 108bhp (110PS, 81kW) at 7,250rpm, similar to the BMW GS's, although as the torque is 84lb.ft (11.6kgm, 114Nm) at 6,000rpm, the Japanese bike promises to have more thrust at low rpm. A dry sump is used to keep the engine as short as possible and enhance ground clearance, although the oil tank is still inside the crankcases.
Other important figures include 5.1 gallons (23 litres, 6.1 gallons US) for the fuel tank, 576lb (261kg) wet weight (with a full tank, which will have added around 20kg), a 60.6in (1540mm) wheelbase, and two seat height options of 33.2in (845mm) and 34.3in (870mm). The price is likely to be around £13,000.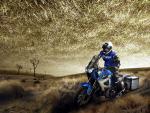 As with other recent Yamahas, the YCC-T ride-by-wire throttle system is used, but with two modes, Sport and Touring which alter the throttle response but not the peak horsepower. The bike also has a two-mode traction control, for road and off-road, and can be switched off completely.
The bike comes with what Yamaha calls its Intelligent Unified Brake System with ABS which redistributes braking forces front and rear when only the front brake is being used.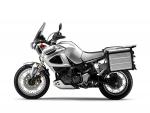 The design has been kept very compact (not sure where all the weight comes from then...) by the use of a side-mounted radiator, and on the other side are mounted electrical components and the battery. Hopefully none of these will be too vulnerable when the bike is dropped, as it will be off-road. A lot of effort has gone into making the shaft drive as light as possible to minimise unsprung weight.
Full technical details, more pictures and a comparison with the GS and Multistrada here soon.
Adventure Bike Spec Sheet Shoot-out Here!
Donate to the Kevin Ash Fund
Kevin's funeral was held on Thursday 28th February 2013 and was well attended by family, friends and colleagues.
The Telegraph has very kindly established The Telegraph Kevin Ash Fund to assist with the education of Kevin's three daughters.
If you'd like to make a donation then you can use the PayPal 'Donate' button below which will allow you to donate from your PayPal account, or via credit or debit card. A small percentage (about 3.4%) will be retained by PayPal for the service.
Kevin's family have been touched by the generosity and messages of support from people using the website and would like to express their gratitude to those who have contributed in any way.
The donations keep coming in, thank you so much, and the family especially like it when you leave a message.