Triumph Tiger Explorer review
By Kevin Ash - 23/09/2012
It's rare enough for to any manufacturer to admit its new adventure bike is a rival for BMW, even when that's stating the very obvious. But Triumph has gone a step further, it's not only said the R1200GS is in its sights, we've been told some rather more contentious stuff about the German bike...
You have to applaud Triumph's directness, first simply for naming the GS as the Tiger Explorer's benchmark and rival, where others shy away or try to wriggle out of any conflict. Then the oft-reported weakness of the GS's shaft drive was homed in on by Triumph in descriptions of its own shaft, in language which you don't have to boil down very far to end up with: our shaft drive is reliable where the GS's isn't.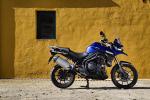 But even that paled in the Explorer's presentation the night before our ride. On the screen popped up a graph of power and torque curves, with lines for what looked like three bikes. And there were, sort of- "These are the curves for the Tiger Explorer, and here are the curves for the customer BMW R1200GS. And here, just above those, are the curves for the R1200GS press bikes-"
Pause while jaws hit floor- In fact the main point was to show the superiority of the Triumph's power over the GS's - these were both comfortably above the German bikes'. But inevitably attention also focussed on the difference between the press bike's curve, with more peak power and less torque (as many journalists seem to prefer) than the showroom model. Very naughty, if still a surprise for Triumph to highlight it, and they've now asked for the graphs to be removed from this review - and I've obliged, it's their copyright after all - as it's stirring up rather more controversy than they anticipated. But it's only retaliation for BMW boss Hendrik von Kuenheim remarking how Triumph should be ashamed for copying the German bikes.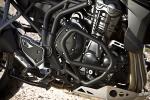 This is war then, so how does the British weaponry shape up? There's certainly been no holding back in its development, as the entire bike, engine and chassis, is entirely new. There was never any doubt when the project began in July 2006, according to product manager Simon Warburton, that the bike would have anything other than a three-cylinder engine, and we'd all have been pretty surprised if it didn't. In the typical Triumph way, the engineering is conservative rather than innovative or dramatic, but that's how Triumph has managed to make its bikes work so well and dependably, so it's hard to argue against the approach.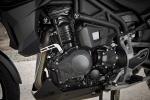 The balance-shaft-equipped, Triumph Tiger Explorer engine therefore has bore and stroke dimensions of 85.0 x 71.4mm, and makes peak power of 135bhp (137PS, 101kW) at 9,500rpm and 89lb.ft (10.6kgm, 121Nm) of torque. There's already a clue as to how wide this is spread as the peak is at just 6,400rpm, far from the power peak and always a sign of engine that will feel muscular across its range. More blatantly, the torque curve shows the engine makes more than 74lb.ft (10.2kgm, 100Nm) from 2,500rpm right up to 9,500rpm.
It's a clean-looking design with a minimum of external pipes, and another comparison Triumph was keen to make: the service intervals are wide at 10,000 miles (16,000km) , with 20,000 mile (32,000km) gaps between the major ones, where the GS needs attention every 6,000 miles. In fact these are the widest service intervals of any current motorcycle, comfortable beating even Ducati's 7,500 miles (12,000km).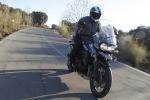 There's also a clue as to Triumph's well thought through approach and understanding of the category's needs, as the alternator has a huge 950W output, far more than rivals (the GS's is 720W) and enough for full electrically heated clothing for passenger and rider, plus plenty of accessories too. Clearly this is not a bandwagon adventure bike hastily converted from a conventional roadster. An alternator that big could be a significant drain on an engine, but Triumph's is an externally excited type that produces only as much power as is required, where most produce full power all the time, most of which is then dumped as waste heat. It even has a freewheeling decoupler so when the engine slows rapidly, the alternator isn't also forced to.
There's a back torque limiter too, but not in the clutch, this one is in the starter motor drive and is designed to prevent any engine kickback in start-up which could shorten life of the starter or its drive. The shaft drive - the very reliable shaft drive, as Triumph has tended to call it - is conventional too, although the factory claims the Triumph Tiger Explorer item has the most stable geometry in the class. That'll better than other bikes as well as the GS then.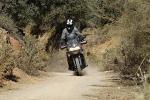 The electronics centre around Triumph's first ever full ride-by-wire throttle system, where the throttle butterflies are operated by an electric motor controlled by en ECU. This helps with emissions and to get a smooth and dependable throttle response, and it's also allowed Triumph to fit cruise control and traction control as standard equipment. The traction control system compares front and rear wheel speeds and closes the throttle when spin is detected. There are two levels of intervention or you can switch it off. This is more safety than performance aid, so you won't be scribing black lines of rubber out of corners as with full race systems.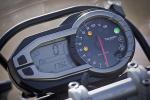 The instruments are similar in appearance to the Tiger 800's, but include a menu for adjusting or switching the ABS, traction control and self-cancelling indicators, as well as setting up the units the readings are given in. You can also read the tyre pressures front and rear if you've opted for the sensor, and there's an indicator for the heated seat. This, the cruise control and scrolling through the other readings such as instant and average fuel consumption, ambient temperature and so on are all operated by a switch on the left handlebar, so unlike the 800, there's no leaning forward to push a button in the dash, except for resetting to zero.
The Triumph TIger Explorer's suspension is all by KYB (formerly Kayaba), and notably the rear shock has in-built protection from dirt. Adjustability at the front is preload only, at the back for preload (remotely) and rebound damping - wheel travel is 7.5in (190mm) front, 7.6in (194mm) rear.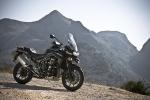 There's more GS-rivalling practicality, and further features which have inexcusably been left off Honda's Crosstourer and others, in the Tiger Explorer's height adjustable seat and adjustable screen. Both are very quick and simple to do, they can't have added more than a minimal cost to the bike, it's just that Triumph has really thought about this. You get a centre stand as standard equipment as well. Accessory seats are available to lower or raise the seat height further. The sidestand has a larger than usual footprint to aid stability on soft ground, and the fuel tank is a useful 4.4 gallons (20 litres, 5.3 gallons US).
Triumph is keen to emphasise the quality of the bike, pointing out the aluminium rather than plastic rear rack (and usefully it's set flush with the seat so loads can easily be carried across both), and take a look at the aluminium footguards by the footrests, with plastic panels inset. Other features include fast headlight adjustment, although this only switches between two levels, if you want to fine tune it further then you need to break out the toolkit - a shame it isn't easily adjusted right across its range. There's a big 18Ah battery to improve reliability, as Triumph says many customers leave their bikes for months at a time sometimes, and this means it's more likely to be able to start the bike again.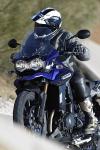 Then there are the accessories- but we'll come to those, it's time to see if the exceptional promise of the specs is matched by the way the bike rides. Is it enough to invade German territory? The sound that greets a push of the starter - after you've pulled the clutch in first - is familiarly British, with the camchain drive whistle pulsing as the three-cylinders growl into life. The surprise though is just how gruff and aggressive it sounds, both on board and as a bystander - Triumph says it's put a lot of effort into enhancing the sound and it really does show.
That broad torque curve really does show too, the Triumph Tiger Explorer is a true top gear bike, pulling from very low revs with conviction then pulling relentlessly through its mid-range. Right at the top there's a sense that the power is finally falling away, but by this time it's travelling seriously quickly. The delivery throughout is dependable and crisp, with no direct sign that this is ride-by-wire, although the throttle action will be too light for some riders - hit a speed bump or something that jolts the Tiger Explorer and the combination of light throttle and its plentiful torque means it can easily run away with you. Off-road (and we did no meaningful off-road riding) this could turn into something of a liability.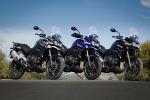 On the road though it's a minor issue, highlighted only by the fact everything else about the engine is supreme. You just know that some reviewers are going to say the Crosstourer is better because it has more low and mid-range grunt, but one, I'm not convinced that it has (the Triumph is usefully lighter for a start), and two, why does this matter or make one or other better? You're not going to be racing them after all. What does matter is that the Triumph is heaving with thrust right across its rev range and in any gear, and the three-pot motor is enormously satisfying to use and listen to. The extra torque over the BMW does matter though as it means less gearchanging and a more relaxed ride. The only disappointment is the cruise control which fluctuates unpredictably sometimes by several mph before settling down.
The chassis is the best in the class anyway. The Triumph Tiger Explorer is heavier than the BMW, certainly, but lighter than either the Super Ténéré or the hefty Honda, and it handles brilliantly, with absolutely neutral steering and an easy, predictable reply to your handlebar questions. It's just a pleasure to swing through bends, and that's enhanced by the outstanding suspension. Compared with the Honda's slight bounciness and the BMW's Telelever harshness, the British bike's ride is simply plush. It deals with potholes better, controls undulations well and doesn't get out of shape when the ABS is doing its job. Only the considerable dive from the front under heavy braking could be disconcerting, especially if you've come from the level-riding BMW with its natural anti-dive.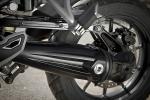 At higher speeds you can start to feel the weight of the shaft drive fighting the rear KYB spring, but less so than the obvious shaft-driven rivals. There's less shunt or the excessive backlash of the Honda at very low speeds too - this was a disappointment on the Japanese bike, but trickle the Triumph along at walking pace, opening and closing the throttle, and all you get is a benign extra bounce through the transmission. Passengers will be a lot more comfortable with this kind of behaviour, than the hard-edged bang and lurch you get elsewhere.
The bike is more about distance eating than anything else though, and it's looking very good here too. I'll be doing a full UK test very soon, but on this first ride the comfort was excellent. There's a little more seat support area than on the Honda, if less than the lounge-like Kawasaki Versys 1000, but the new seat construction, a kind of three-dimensional net material, is exceptional comfortable. The riding position is adventure bike spacious, although the bars might just be a touch too wide or far forward for smaller riders. For 6'3" (1.91m) me though it's perfect, and with everything angled and positioned naturally and sensibly.
The Triumph Tiger Explorer's screen adjusts with a thumb adjusters on each side, letting you tip it back or upright through quite a wide range. Fully upright there's more protection but at higher speeds, 75mph (120kph or more you start to get a high frequency vibrating turbulence. Tip it back slightly and this vanishes, leaving just a smooth airflow that protects with a wider and higher shadow than the Crosstourer's and better than the BMW's too. It's not noisy either and is likely to be cited as one of the bike's many strengths by owners.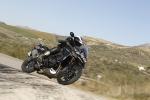 Then there's the question that seems to cause an increasing amount of controversy on many modern bikes: fuel consumption. I was riding the Triumph Tiger Explorer pretty hard a lot of the time, about the same as the Crosstourer the previous week, and the Triumph was a lot less thirsty. By the end of the ride the dash was suggesting I'd been getting 39mpg (13.8l/km, 7.2 l/100km, 33mpg US), while at the refuel, after 90 miles (145km) it took 2.3 gallons (10.4 litres, 2.75 gallons US) on board, a slightly better true consumption of 39.3mpg.
That included a lot of pretty hard riding and a test to discover where the electronically limited top speed is set: this is at 140mph (226kph), which is plenty for every Triumph Tiger Explorer owner I'm sure. I'd guess that in everyday riding, anything from 43-45mpg would be typical, while Triumph claims that at a steady 75mph (120kph) the bike achieves 51mpg ((18.1l/km, 5.5 l/100km, 42.5mpg US). That means the range should generally be at least 190 miles (300km) to dry, with 200-plus (320km) very readily achieved. That's level or slightly ahead of the BMW benchmark, and way ahead of the Honda. Most important of all, it's not the bottom line reason to avoid the bike that it is on some other machines.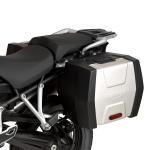 Accessories are important in this class, and Triumph has that well covered. The panniers similar to the excellent Tiger 800 ones but with a stabilising bar to stop them interfering with the bike's stability at speed. The left one takes a full face helmet, as does the 35 litre top box, though this might otherwise be to small for some tastes. But it does have an automatic 12v electrical connection. There are plenty of tankbag and tail pack options though.
The heated seats (for rider and passenger) are unique in this class, but there's standard fare too such as heated grips and hand guards, halogen fog lights, engine bars and so on, and you can also get an Arrows exhaust which improves the sound, adds 3bhp and loses 5.1lb (2.3kg) weight.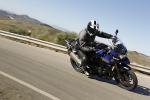 Riding this bike for the first time it becomes very clear that this is not some token effort designed to grab a few extra sales from the expanding adventure class, it's a very serious and very thoroughly thought out motorcycle that shows its designers understand that detailing and practicality are very important here. The Tiger Explorer shows up several, including the Honda, for what they don't offer as much as comparisons with what they do. But what it also has, in spades, is that factor that overrides much else anyway. This is a vivacious, exciting bike to ride. It growls and snarls and throws you forward with real pace, it's hugely satisfying in bends and it's simply a great fun motorcycle. It just happens to do loads of other stuff outstandingly well too.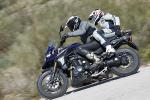 Will it make a dent in the Germans' armour? It's not going to outsell the GS, that's far too well established, just as the Triumph Thunderbird will never outsell Harley-Davidsons. But it's going to steal a lot of sales, and after discovering how good the Triumph is, I suspect more than either Triumph is expecting or BMW is hoping. If time shows it's as robust and reliable as Triumph is keen to keep telling us, then a few years down the line, who knows?
For now, it's a little cheaper than a similarly specced BMW, and by almost all criteria, it's also a better bike.
Specifications
Model tested: 2012 Triumph Tiger Explorer
UK price: £11,149 (higher spec launch model: £11,999)
Available now
Engine: three cylinder, liquid cooled, dohc 12v, 1215cc
Power: 135bhp (137PS, 101kW) @ 9,500rpm
Torque: 89lb.ft (10.6kgm, 121Nm) @ 6,400rpm
Economy: 43mpg (15.2km/l, 6.6l/100km, 36mpg US) (est)
Tank/Range: 4.4 gallons (20 litres, 5.3 US gallons) / 190 miles (300km)
Transmission: Six gears, wet multi-plate clutch, shaft final drive
Chassis: tubular steel
Seat height: 33.0in-33.8in (840mm-860mm)
Wheelbase: 60.2in (1530mm)
Rake/trail: 23.9 ° / 4.15 in (105.5mm)
Weight: 571lb (259kg) wet