Triumph Sprint GT review
By Kevin Ash - 02/04/2011
The new Sprint GT is batting not just for Triumph it seems, but the traditional sport-tourer class in general.
The focus has switched in recent times, and the last year in particular, to the 'tall-rounders', adventure bikes such as the BMW R1200GS, Ducati's Multistrada and most recently the Yamaha Super Ténéré, all of which perform the sport-tourer role at least as well as the bikes for which the name was invented.
Then Honda gave us the VFR1200F, a proper sports-tourer, but flawed and very expensive, so much so it was beginning to look like the category itself is dying out. So how does Triumph's Sprint GT fare against this background, and the whole new raft of competition?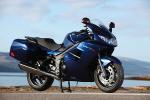 As its name suggests, the bike has been tilted by Triumph towards the touring end of the spectrum. It's based on the Sprint ST, but facelifted to address some issues with that bike as well as improving the touring side of its portfolio. There's a new, side-routed exhaust system in place of the ST's signature high level item, which provides additonal storage space, lowers the previously very high pillion position and no longer provides often unwanted underseat heating. It's also more free flowing and has released another 5bhp, bringing peak power up to 128bhp (130PS, 96kW) at 9,200rpm, as well as a small torque increase to 80lb.ft (108Nm) at 6,300rpm. At the same time, a new, faster engine management computer is fitted to improve throttle response, economy and driveability,
The upper fairing is new, with sleeker lines and the deletion of the chrome light surround, while the lights themselves are changed from projector to reflector type, in order to improve the concentration and pattern of light at night, something of a weakness with the old ST. As well as the lower seat the pillion also gets grab handles as standard and lower footrests, while the bike's two-up stability is designed to be better thanks to a 70mm longer swingarm. This is still a single-sided design, which helps in keeping the exhaust tucked in, in turn providing plenty of space for the voluminous panniers.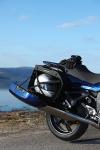 The luggage capacity is enormous in fact, with each pannier holding 31 litres and large enough for the biggest full face helmet on the market - Triumph tried them all to make sure. The optional top box looks large enough to park the bike in, and in fact might just be too big for many riders as it dominates the bike visually. This holds more than 50 litres and takes two full face helmets, but these are designed not to have too much effect on the handling thanks to their clever mounting. The box is allowed to slide side to side, while the panniers are linked across the bike and mounted to allow them to pivot a little, moves aimed at preventing buffeting and turbulence from being transferred to the bike itself at speed.
A pleasing touch as that the topbox connects to a hot shoe electrical fitting, allowing 12V recharging of phones and laptops. There's no internal light, but if you like the idea it would be easy enough to fit one, and additional rear lights too for the serious blinger.
Other changes include lighter brake discs and new pad compounds to improve braking strength, a 1kg lighter rear wheel, improved ABS, revised front and rear suspension, new mirror mountings to reduce the effects of vibration. As well as these changes to the front, the the bike is effectively new from the fuel tank back, including the whole rear subframe, although the only internal change is to top gear, which is seven per cent taller for more relaxed cruising and better economy.
Fire up the engine and the sound is familiar Triumph, albeit more muted with the panniers fitted as the exhaust is shielded by the right one. But there's still the three-cylinder growl and the whistle of gears, and when you release the clutch, the usual strength in depth from the motor, with torque from low rpm to high. There's no big power kick, nothing like the surge of the VFR at 6500rpm, but then this is designed more for touring now. It's not quite a bike you can leave in top gear and forget in the same way as a BMW K1300GT, but it is giving away 250cc and that taller top gear gives it a slightly weaker feel when it's engaged. In fifth though you generally have all the urge you need, except for really rapid overtaking when you might want to drop down another ratio or two. But gearbox selection is smooth and dependable and the aural accompaniment satisfying so it's no chore.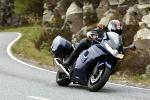 Overall it's a delightful engine to be in charge of, and with the more sophisticated engine management the throttle response is perfect, while the gravelly sound eggs you on to keep riding the muscular mid-range. The performance is far in excess of something like a GS, with only the much more expensive Multistrada able to leave the Sprint GT in its wake. Fuel economy is acceptable at around 43mpg, something many owners will improve on anyway, and with the 4.4 gallon (20 litre, 5.3 gallon US) tank this endows the bike with a 190 mile range. A little more would make a big difference but it's not obstructively small as it is on the VFR1200.
If it sounds gnarly, vibration is not intrusive on this bike, though the mirrors do still buzz a little, presumably less than before though without comparing side-by-side it's hard to say. They work well enough though, and the vibes aren't enough to cause rider or passenger any discomfort, and in fact bring some tactility by increasing when you open the throttle.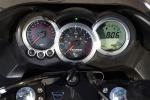 The riding position is comfortable, more forward leaning than a tall-rounder's of course and feeling a little less roomy, but it's still comfortable enough for all day riding, and feels better for controlling the bike when you're moving in to the sports side of its ability. What dominates the feel of the bike though is the suspension. I'd expect this to be criticised in some quarters for its softness, but it's important to bear in mind it does offer the best ride quality pretty much of any current motorcycle. The GT absolutely glides across poor surfaces, soaks up potholes and deals with all sorts of surface aberrations as well as any bike I've ridden, doing so without the choppiness and wallowing of so many other comfort-biased set-ups.
It does get flustered when you start to push it, and as the GT is still a sports-tourer, this is going to happen regularly. It's pretty much cured by increasing the rear spring preload and the ride quality doesn't seem to suffer for this so most riders will leave this in the higher setting. It's easy enough to change thanks to the remote adjuster, and doing this also speeds up the slow steering to a reasonably responsive level. I didn't get a chance to ride it more than briefly two up, and not while additionally loaded, but what is more of a concern (and rather puzzling) is that as standard, the rear rebound damping is set just one click back from its hardest setting. Heavier riders and loaded tourers will want more of this as well as the preload increase, and there won't be enough to stop the bike wallowing at the rear when they're pressing on. Quite why a shock with firmer damping but the adjuster backed right off isn't used is baffling.
You do notice the weight when trying to flick it side to side, although generally this isn't an issue. And note that although the bike appears to be slightly heavier than the VFR1200F, the Sprint GT is measured with a full tank and the panniers fitted, adding some 20kg compared with the Honda, weighed with no panniers and 5 litres of fuel. The Triumph is probably around 15kg lighter in fact.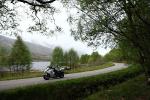 No issues with the forks, which like the rear soak up poor surfaces with outstanding competence. Between the two these show just how much compromise you make when riding on alternative front ends like Telever or opt for shaft drive. These have their own advantages of course, but both detract significantly from ride quality, and a ride on a Sprint GT shows this can be by quite a big margin, so much so that personally I'd go for the conventional Triumph suspension over any of the alternatives.
That's no issue with the performance of the forks by the way, but disappointingly after a few days charging around the Scottish Highlands, their finish was peppered with stone chip marks, while the similar finish on the rear footrest mounting brackets was showing signs of wear from where the rider's boots were rubbing on it. Triumph should be worried about this as owners will be making claims for it to be corrected, and if it's generic rather than specific to our batch of bikes, it will be costly.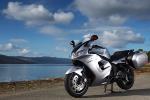 A handling oddity though is the bike's unusual sensitivity to longitudinal ridges and wear marks in the road, climbing in or up them disconcertingly - tramlining, we used to call it, though it's rare enough these days for the term to almost fall out of use. In the end, and once you're used to it, generally it doesn't matter, but it's puzzling why it happens and it would be better if it didn't. The tyres are Bridgestone BT021s, which aren't noted for this behaviour, so you can only presume it's something to do with the geometry generally and the wheelbase specifically. Maybe too the suspension's exceptional sensitivity and compliance is a factor. Other tyres might yet cure this - it would certainly be worth trying.
It's important when looking at the price of the GT - which against the latest batch of rivals looks attractive anyway at £9,499 - to bear in mind how much comes as standard. It not only includes those big and beautifully made waterproof panniers (which double click satisfyingly and convincingly as you close them), you also get the much improved ABS and an on-board computer as well. This reads out average and instant fuel consumption, range to empty, journey time, average and top speeds as well as clock functions, although irritatingly you have to reach forward to the dash-mounted button to operate it. Still, it's more than the £12,500 VFR has, and you need to pay extra (lots extra...) for the panniers on that too. And they aren't very big...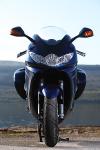 Price is the Triumph's ace, and while the Suzuki 1250FA spoils everyone's party with its £7,100 tag, the Triumph is not pricier in the same way as a VFR1200F, yet it's more sophisticated, faster, better equipped and more characterful, enough in fact to justify the additional £2,400. And remember the Suzuki still needs £600 of panniers.
As for the £12,000-plus machines, they do look hard to justify when you get so much that's so good from the Sprint GT.
Triumph Speed Triple 2011 review
Price: £9,499
Available: end June 2010
Engine: Three-cylinder, liquid-cooled, dohc, 1050cc
Power: 128bhp (130PS, 96kW) @ 9,200rpm
Torque: 80lb.ft (108Nm) @ 6,300rpm
Transmission: Six gears, wet multiplate clutch, chain final drive
Chassis: Twin spar aluminium, single-sided swingarm
Seat height: 32.3in (820mm)
Wheelbase: 57.3in (1457mm)
Rake/trail: 24.4 °/90mm
Fuel tank: 4.4 gallon (20 litres, 5.3 gallon US)
Wet weight: 590lb (268kg) (homologated)