Triumph Speed Triple R
By Kevin Ash - 16/12/2012
Take a fine bike like the Triumph Speed Triple, throw some Öhlins, Brembos and carbon fibre at it and unless you make a horrible mistake, you're going to create a great bike. But is it a great value bike?
Another press launch with no road riding, although this time it took a track to highlight and emphasise the differences between the stock Triumph Speed Triple, renewed only last year, and the new R version. There are few circuits which could claim to be any better or more exciting than the classic Jerez, happily enhanced with sunshine and a dry surface for our ride.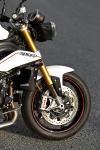 The changes made to the Speed Triple, the bike Triumph cites as the most important in its range for both sales and image reasons, are few but highly significant to create the R. The forks are NIX30 43mm inverted cartridge units which reside somewhere in the middle of Öhlins range, and these are fitted with springs five per cent stiffer than the standard models'. At the back, the TTX36 twin tube shock spring sees a similar increase, and again it's a middle range specification (within Öhlins world-leading range...).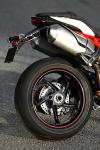 One of the most effective changes you can make to a bike are the wheels - some engineers cite a kilo lost here is worth eight lost anywhere else. Triumph has replaced the standard cast wheels with some expensive forged PVM items, which are not only lighter to the tune of 1.5lb (0.7kg) at the front and 2.2 lb (1.0kg) at the rear, most of the mass has been lost from the rim.
This reduces the gyroscopic effect and the inertia substantially, improving a whole host of areas. Acceleration is better because the wheels resist rotation much less, steering response is sharper as the gyro forces are reduced, unsprung mass is less so the suspension has less work to do and braking improves because the wheels slow more easily and there's more grip. That's in addition to the overall weight loss. these come fitted with Pirelli Super Corsa SP rubber.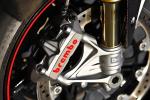 The brakes themselves are Brembo Monoblocs, a surefire way to perfect stopping just as long as the specifications are right. Sometimes manufacturers are tempted to go for overkill here - the Husqvarna Nuda is a recent example, and they brakes end up intimidating rather than helping. But Triumph's approach was considered here too, with an increase in braking force of about five per cent, and a similar improvement in perceived feedback, according to their test riders.
There's one internal change to the Street Triple R: the gearbox is almost entirely new, featuring five engagement dogs per gear instead of four, with smaller tolerances, smoother splines for reduced friction and some material and shape changes. Sixth is 3.4 per cent lower too. This is not a Speed Triple R exclusive though, the new box will find its way into all future 1050 triples in order to improve shift action and reduce backlash.
The rest is largely cosmetic, although the high quality carbon fibre components - radiator shrouds, tank front cover and mudguard sides - play a part in the overall weight reduction of 4.4lb (2.0kg) over the standard Speed Triple. The handlebars are black with a neat 'R' graphic, the rear subframe is red, there's some red pinstriping and other detail differences.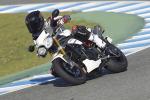 No real surprises in the ride, given that all the changes do exactly as they should, and that shouldn't detract from what a cracking good motorcycle Triumph has created here. the most noticeable difference is a general one, that the Speed Triple R feels like a bike that's lost a lot more weight than 2kg. It's wieldy and agile in a way that I suspect could make the stock one feel almost unwieldy in comparison, or at least lethargic, ridden back to back.
This might not be entirely positive for some riders though. What you get is a bike which is a lot more responsive to your input through the bars, which changes direction rapidly to the point of being not so much flighty but definitely very sensitive. Dial into this and you're rewarded with a superbly tactile, immediate and obedient machine that changes direction, leans and alters line while you're still thinking about it yourself. What you lose is the more secure, assured feel of the standard model that for riders who make only occasional track outings could disturb their confidence, especially as the relatively wide bars exaggerate the effect. Those Pirellis though have huge grip to spare and plenty of well-telegraphed feedback when it gets slippery, as some of Jerez's corners were early in the day. They work very well with the bike and it's hard to see how alternatives will be much better.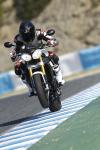 Most though will relish the new-found agility and the sports bike satisfaction that comes with that, and for the street hooligans the Speed Triple was always designed for, it's even easier to wheelie than the stock model. If this is a skill you'd like to master then I can't think of a better bike to learn on. A dip of the clutch and the front wheel is in the air then control the height with the right wrist until you find the balance point, where the bike locks in and settles as if this is what it was built for all along. And if you're simply driving out of a corner, it'll wheelie anyway.
As for those brakes, like the rest of the changes you get what you expect and paid for, additional power - but not too much - with an increase in feel that lends the bike an air of high quality, above the standard machine. The suspension is the same, in particular controlling pitch when you're working and releasing those Brembos with a panache that will make the lower cost version feel something close to clumsy.
Combine the two and you have a bike which can be hauled up with vicious retardation then turned as you release the brakes with a fluidity that's almost incongruous on a brash-looking streetfighter. It bangs down the through the gears easily too, and you'll probably not notice the new gearbox, which is how it should be. I did have to have a few double takes at some upchanges in maximum acceleration though - I suspect adjusting the lever would sort that but I'm not entirely convinced yet.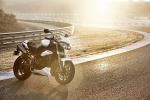 Despite the Jerez track presentation, this is still very much a road bike, and you notice that with the engine. On the road its heavy mid-range torque bias is perfect for tooling around at relaxed high speeds, dispatching cars and corners with disdain and thrilling with its instant thrust and crisp response, but you do find yourself running out of revs a little too frequently on the track. This is more observation than criticism though, as it's a consequence of the bike's real strength, being perfectly matched to real world sports riding.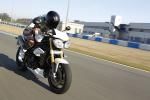 It is indeed a great bike then, but how about the value? It's a hell of a lot of money for a streetfighter without a premium badge - £11,299, plus another £600 if you want the switchable ABS. Nothing wrong with the Triumph label but at this level you're starting to expect a name like Ducati or MV Agusta, and certainly you can score any number of full-on superbikes with high specs and much higher performance. The standard Speed Triple seems like a real bargain in comparison at £8,799 (plus the ABS again), although at retail price you're gaining more than £5,000 of extras for the £2,500 premium.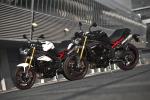 It's not going to sell in big numbers in the way that some high spec versions of bikes outsell the humbler base models. It is going to sell to riders who know they want a Speed Triple and not a Fireblade or S1000RR, and who have the means to get the best one. When they do, in that respect they'll get an appropriate £2,500 improvement. Most though will be just as happy with the standard version. I'd go for that, it's still a great bike.
2012 Triumph Speed Triple R Specifications
Price: £11,299 ( £11,899 with ABS)
Available: February 2010
Engine: Three cylinder, liquid cooled, dohc 12v, 1050cc
Power: 133bhp (135PS, 99.3kW) @ 9,400rpm
Torque: 82lb.ft (111Nm) @ 7,750rpm
Economy: n/a mpg
Tank/Range: 3.85 gallon (17.5 litre, 4.62 gallons US)/ n/a miles
Transmission: Six gears, wet clutch, chain final drive
Chassis: Twin spar double aluminium tube_Seat height: 32.5in (825mm)
Wheelbase: 56.5in (1435mm)
Rake/trail: 22.8 °/ 3.58in (90.9mm)
Weight: 468lb (212kg) (wet)