Suzuki V-Strom 650 2011
By Kevin Ash - 18/02/2012
The Suzuki V-Strom 650 has a new engine that isn't that new, the same chassis and a fresh set of clothes. Is this really enough to for a convincing fight back? The answer's a bit of a surprise...
The V-Strom 650 was something of a slow burner in sales terms. When it came out in 2003, the too-big headlights and awkward styling put off the early buyers, but as its virtues began to shine through, so its popularity increased.
When the ABS version appeared in 2006 the bike became the best seller in the class, unusual for a machine into its third year. Even so, when I rode the 2011 XP version a few months ago I was disappointed. The design had clearly aged, and while not too badly considering it was eight years old, it had been left behind, especially by direct rival, the Kawasaki Versys.
Suzuki was aware of this too, and finally has refreshed the V-Strom, and although you might argue it's not quite as new as the company is suggesting, there's no question, it's been brought bang up to date, and very effectively.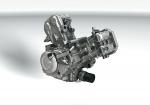 The changes to the V-twin power unit compared with the new V-Strom 650 are enough for Suzuki to call it a new engine, but that's ignoring the fact that this is a Gladius engine retuned to suit the V-Strom's stronger touring bias. So while compared with the old motor the twin plug heads, pistons, fuel injectors, crankshaft and throttle bodies are different and fuel efficiency is improved by a claimed 10 per cent, in fact this is all the same as the Gladius.
Unique to the V-Strom 650 are the intake and airbox assembly and exhaust system, as well as the camshafts which use altered profiles to boost low and mid-range torque compared with the sportier (and lighter) Gladius. Other changes compared with the old V-Strom include single instead of double valve springs (for less reciprocating weight and friction) and improvements to the internal gas flow, reducing pumping losses.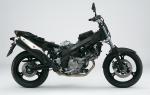 The chassis is little changed, although this does mean you still get an aluminium twin spar frame and swingarm where many rivals use steel. The suspension though promises little improvement on paper as it's unchanged except for small damping changes it make it firmer. The brakes too are as you were, which leaves the very obvious replacement of old bodywork with new.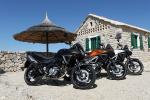 While judgement on the success of this depends on the beholder's eye, the smaller headlights make a clear improvement to the balance of the styling, while the Gladius-style organic curves modernise it effectively. For me, the Suzuki V-Strom 650 in the flesh looks a lot better than in pictures, and has a less bulky, rangier and more appealing mien. A shame the only colours available are black, white or British Leyland orange as in a rich blue or possibly red you'd even describe it as a good looking bike. But at least the look shouldn't be putting anyone off this time around.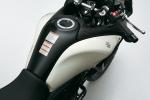 A lot of effort has gone into the detailing too. The painted panels on each side of the tank are designed to be low cost and easily replaced if they're damaged in a spill - certainly one of these will be much less painful to repair or replace than a conventional steel tank with a dent in one side. Extensions to the front mudguard shield the forks from stone chipping, while the luggage rack (a stock fitment) is flush with the passenger seat, so loads can rest across the two easily. It also incorporates chunky and well positioned passenger grab handles, and has a non-slip rubber mat.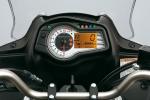 The dash information has improved, now including fuel economy and ambient temperature read-outs (including a freeze warning) as well as the usual, its brightness is adjustable and very usefully you toggle between readings with a switch on the left handlebar, rather than having to reach forward to the dash each time. The reset button is still on the dash but that's used less often and mostly at a standstill.
The seat lock has moved to the rear of the Suzuki V-Strom 650 so it's still easily accessed with the optional panniers in place, and the tank holds a useful 4.4 gallons (20 litres, 5.3 gallons US). This is one litre less than before but the reduced bulkiness is welcome visually and ergonomically while the improved engine efficiency means the range has increased anyway.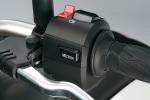 There are still imperfections: headlamp adjustment is time consuming, fiddly and demands you break out the tools, which is unacceptable when it could be so easy with the fitment of a knurled finger wheel. You can compensate for load-induced beam angle change to some degree by changing the rear spring preload, but while the easily accessed remote adjuster (no tools needed) tells you which way to turn for more or less, there's no way of knowing what its current setting is.
Changing the screen height meanwhile would mean pulling the toolkit from under the seat, but if you did you'd find there's no allen key in there of the right size to do it! Use another and you must undo and refit six small bolts, so this is the sort of thing you do once then forget.
Generally though it's all quite promising, but you still have the same chassis with only a revised rather than all new engine, so expectations of a big improvement inevitably are low. If that's the case then you're in for a pleasant surprise, as the small changes make a big difference. You don't notice the better economy until your first fill-up, but you do immediately feel the improvement in engine smoothness and the more even idle.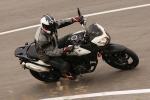 I don't really care if the Suzuki V-Strom 650 is faster or slower than the Versys, its most direct rival, because I won't ever be racing them, but I do think the Suzuki's response generally feels better. Nothing wrong with the Versys at all, but the V-Strom has a delightful, liquid power delivery matched to real strength at low and medium revs where you really need it. It's proof that you don't need a big capacity engine to create a top gear bike, as this middleweight is happy to be left in sixth and ridden around at lower speeds on undulating terrain as long as you like. This is despite sixth being quite tall to the point of being something of an overdrive, which means if you do slot down to fifth the bike feels significantly more peppy.
There's more character to the engine than the Kawasaki's parallel twin, and it makes an especially pleasing purring sound on the overrun at low revs too. It's all helped by a very noticeable reduction in vibration, which according to Suzuki comes from the reduced pumping losses, new crank and the use of a scissor-type primary gear, in place of the solid previous one.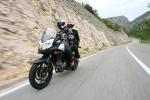 The result is a motor that's as satisfying to use on twisty roads as it is at steady motorway speeds or in congested urban situations. The clutch mechanism comes from the Gladius too and results in a lighter lever effort, so traffic trickling isn't too tiring, and the dependable idle and low rev behaviour make the bike very predictable in these circumstances. Open it up and it pulls strongly with little regard for revs, perfect for overtaking, and there's enough torque backing it up to deal with a passenger and other loads without feeling breathless.
Hold the Suzuki V-Strom 650 at a steady 85mph (135kph) and it bowls along effortlessly, oblivious to headwinds and hills and with no irritating tingling through bars or footrests. At the same time it's impressively sparing with fuel. On our relatively gentle riding session the onboard display suggested the bike was sipping unleaded at 54.8mpg (19.4km/l, 5.2l/100km, 45.6mpg US), while the trip and a refuel worked out marginally better at 55.3mpg (19.6km/l, 5.1l/100km, 46.1mpg US). 55mpg then in typical riding with room to better that. In turn, that means a very healthy range of 240 miles (390km), and although many manufacturers still don't seem to recognise the importance of this, that fact alone will swing many buyers towards the V-Strom.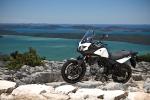 They'll be comfortable miles too. The bar and footrest positions are unchanged but the seat height is given as 0.6in (15mm) higher than before, although only about half of this comes from its redesign as the bike is raised slightly on its suspension too. In other words, the bar-seat-footrest relationship is only marginally changed, and that's fine as it was always a spacious, natural riding position. It's improved anyway though as the seat is one of the most comfortable you'll find on any bike (as well as looking good with its V-Strom logo and red stitching). The new screen and fairing keep the windblast at bay with almost zero turbulence, although taller riders do need to raise it for the best effect.
There are alternative seats available which raise or lower your backside by 0.79in (20mm), but even at my 6'3"¯ (1.91m) I was happy enough with the standard arrangement.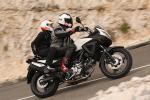 It's equally pleasing for passengers - my guinea pig Mel, amenable editor of UK free magazine Motor Cycle Monthly - was impressed with the wind protection, comfort and grab rail positioning, and the bike coped fine with her admittedly diminutive weight, steering and stopping with little change in stability. There was no intrusion on the rider's space either, although I'm not sure if she appreciated my unnecessarily frequent hard braking tests. But I did, so that's okay.
The test covered some 250 miles (400km) on a variety of roads and at the end of the day I felt as if I could do the whole thing again. As a touring bike the 2011 Suzuki V-Strom 650 is outstanding yet it also impresses when you put the pressure on to go fast. The suspension changes may only have been minor but the combination of slightly higher centre of gravity, firmer damping and the loss of 11lb (6kg) overall weight give it a more agile, sportier feel while banishing the sense that you could overwhelm the chassis by getting too enthusiastic in corners.
Changing direction rapidly in particular on the old bike could get the front end feeling vague and the back swaying but the new model is much better controlled and feels like it's working with rather than against you. Stability under braking is better, and with Suzuki joining KTM, Ducati and no doubt others in fitting the latest ninth generation Bosch ABS system, when you do reach the limits the bike slows very effectively in full control.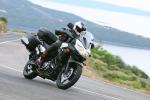 The bias though is towards touring, more so than with the Versys, which is confirmed by the range of accessories available. There are two luggage systems, conventional side-opening Hepco Becker panniers and matching top box, or for more capacity and an adventure bike look, top opening aluminium boxes. Only the Hepco Becker panniers can be left unlocked though, so for everything else you must use the key to open them, which is irritating.
More troublesome is the sheer width of the bike with these fitted, around 4in (100mm) wider than a Ducati Multistrada with panniers for example, and that's not exactly slim at the sidebag hips. It's irritating because clearly with a different design the same boxes could be moved in significantly closer to the body of the bike - Bike magazine scribe Simon Hargreaves quipped that you could fit another pannier in the gap in between. Suzuki also lauds the ease with which the panniers can be removed, using a fat screwdriver or a coin to turn four quick release bolts where the mountings meet the bike. The trouble is, anyone in addition to the owner could do this, so you'd have to rig up a way of locking the panniers to the bike.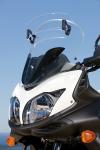 The Hepco Beckers have a very plasticky look and feel to them too, although my own experience of these is they're durable and waterproof. Other accessories include a 12V socket, heated grips, hand guards, engine bars, centre stand, alarm, sat nav mounting plate and vario screen attachment, an adjustable blade that fits across the top of the screen. I tried this and while it makes a difference I'm not sure it's a useful or even better difference. I'd not bother with that, although bear in mind the wide range of rider heights, helmets and how they're all affected by air flow - it could be great for some. But not me and my Arai.
The detailing and accessories all add up favourably then, but it's the overall capability of the bike which really impresses. It might not be an all new machine but the changes have been in all the right areas, and some have been disproportionately effective. What really counts is that the new Suzuki V-Strom 650 ABS is an exceptionally capable distance covering machine, fun and able in the corners with an engine that's a real pleasure to use in all kinds of riding. It has character, it's frugal, there's plenty of torque, it's comfortable yet light and reasonably agile.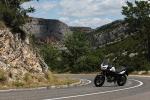 Just maybe you'll be swayed by build quality: Kawasaki's overall is better than Suzuki's so a Versys might be less prone to corrosion and possibly be more reliable, but it's not as if Japanese bikes are unreliable anyway, and with so much that's proven in the V-Strom and Suzuki moving on from its previous corrosion issues (and V-Stroms could be very vulnerable to winter salt), this isn't a powerful persuasion.
I'd have the Suzuki V-Strom 650 over the Versys, and plenty of other bikes too, and don't forget when comparing prices (in the UK it's priced identically to the Versys ABS), it comes with ABS as standard, a cost option of £600 or more on some others.
Specifications
Model tested: Suzuki V-Strom 650 ABS
UK price: £7,023
Available August
Engine: 90 degree V-twin, liquid cooled, dohc 8v, 645cc
Power: 68bhp (69PS, 50.5kW) @ 8,800rpm
Torque: 44lb.ft (6.1kgm, 11.6Nm) @ 6,400rpm
Economy: 55mpg (19.5km/l, 5.14l/100km, 46mpg US)
Tank/Range: 4.4 gallons (20 litres, 5.3 US gallons) / 240 miles (390km)
Transmission: Six gears, wet multi-plate clutch, chain final drive
Chassis: aluminium twin spar
Seat height: 32.9in (835mm)
Wheelbase: 61.4in (1560mm)
Rake/trail: 26 °/4.3in (110mm)
Weight: 472lb (214kg) kerb