Piaggio X10
By Kevin Ash - 07/07/2012
We've had a glut of big capacity scooters with high specs this year, like BMW's new C-series, Aprilia's mad SRV850 and Yamaha's all-new T-Max. How can Piaggio's 350cc X10 compete?
What distinguishes these scooters as well as their impressive performance and equipment levels are some very high prices, going beyond £10,000. But Piaggio's new X10 shows it doesn't have to be that way. The X10 builds on a long tradition of GT scooters going back to the mid-1990s and the cleverly designed Hexagon, but it certainly moves the class forward too. The styling shows that scooters really can look good after all, with elegant, sweeping lines and clean, uncluttered surfaces the like of which we've not really seen on a mid-priced scooter before, given an air of class and visually defined by a chrome strip which swoops down at the front before running back the full length of the machine.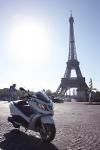 The promising looks are backed up with very high equipment levels, including ABS brakes and even a traction control system to prevent the rear wheel from spinning in slippery conditions. The instrument panel is LCD while a neat touch includes backlit switchgear, adding an air of class, though Piaggio's claims for additional safety are a little dubious as few riders need to look at the switchgear before using it. But hey, it's cool, so why not?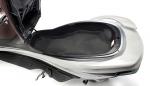 Unlike some other GT scooters there's plenty of storage space, enough beneath the seat for two full face helmets if you jiggle them around correctly, with plenty more besides, as well as three glove compartments in the front fairing panel, the biggest of which is lockable.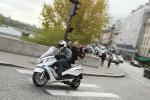 All of which might make you wonder at the modest 350cc engine capacity (a 125 and 500 are available in other markets). But after battling with Parisian traffic for a day I'm convinced this is plenty for most users, not just for utility riding but for having some fun too. The single-cylinder, four-stroke power unit is all-new, and with its 33bhp (33PS, 24.5kW) output makes as much as a typical 400cc machine, yet according to Piaggio has emissions and economy figures more akin to a 300.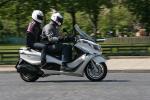 What the rider notices most though is the very strong performance, especially around town. The acceleration from a standstill is a little soft initially, then it really lifts its skirts and charges away, and the handling is agile too, especially considering the long 64.6in (1640mm) wheelbase. It makes you wonder why anyone would need one of the larger GT scooters as the X10 isn't noticeably slower, and with its £4,999, price being half of some alternatives, it makes a very persuasive case for itself.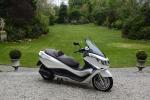 The low weight is clearly an influence in all aspects of its performance, as at 432lb (196kg) it's light for this kind of machine, and that should benefit economy too. Realistically in everyday riding in traffic the X10 should be good for 70mpg (24.8km/l, 4.40l/100km, 58mpg US), while the wide service intervals will help minimise running costs too, with major services needed at 12,000 miles (20,000km) and a minor oil change one at 6,000 miles (10,000km).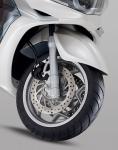 The ABS works well, with stability helped by the X10's large diameter (for a scooter) 15in front wheel , and the linking of the front and rear brakes, which helps balance the chassis in hard stopping. The traction control is more of a gimmick - I've never once lost traction on any scooter and can't imagine doing so on a modestly powered 350 like this. Maybe on wet Roman cobbles it might have some use, but most riders will be wary of using too much throttle in those conditions anyway - I'd be worrying more about the front wheel than the rear in really slippery conditions.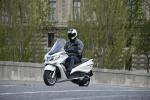 Comfort is very good, helped by the adjustability of the central seat hump to suit varying rider heights. The field of view in the mirrors is too narrow though, making it hard work to negotiate heavy moving traffic as you do need to keep turning your head when better mirrors would have saved you the effort.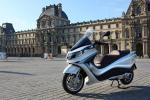 The ride quality is smooth, the fairing fends off the windblast well and there's plenty of room for your feet, so the X10 will make an effective long distance machine too. The top speed is around 85mph (140kph) so you'll be at its limits on a motorway, but it'll do the job, and thanks to the generous 3.4 gallon (15.5 litre, 4.1 gallon US) tank capacity, the range is up to 240 miles (390km) too, much more than most scooters.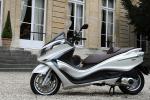 What comes across more than anything though is the sheer quality and class of the X10. It looks superb and it has a solid, well put together feel, then it goes on to impress with its handling and smooth, muscular engine. It's well made, great to look at, very strong performance with loads of luggage capacity, and half the price of some other GT scooters. Hard to argue against...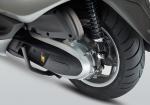 Specifications
Model tested: Piaggio X10
Price: £4,999
Available: now
Engine: single-cylinder, liquid cooled, sohc 4v, 330cc
Power: 33bhp (33PS, 24.5kW) @ 8,250rpm
Torque: 24lb.ft (3.3kgm, 32.3Nm) @ 6,250rpm
Economy: 70mpg (24.8km/l, 4.40l/100km, 58mpg US)
Tank/Range: 3.4 gallons (15.5 litres, 4.1 gallons US) / 240 miles (390km)
Transmission: Automatic, belt final drive
Chassis: tubular steel
Seat height: 29.9in (760mm)
Wheelbase: 64.6in (1640mm)
Rake/trail: n/a
Weight: 432lb (196kg)