Kymco Insurance Deal Extended
By Kevin Ash - 30/10/2010
Kymco has extended its one price, any postcode subsidised insurance scheme to the end of April.
The 'Anywhere' policy covers Kymco 125cc motorcycles and scooters, including the new KR Naked (right)and the Pulsar LX125 (below), and provides third party cover for riders of 25+ for £49.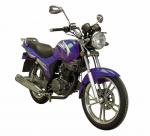 A second insurance band covers riders of all ages in any postcode on 50cc Agility, Like and Super 8 scooters, while a third band costing £149 provides TPO cover on 125cc models for riders aged 17-24.
Terms and conditions do apply of course, but for city dwelling youngsters this looks like an especially good deal.
Donate to the Kevin Ash Fund
Kevin's funeral was held on Thursday 28th February 2013 and was well attended by family, friends and colleagues.
The Telegraph has very kindly established The Telegraph Kevin Ash Fund to assist with the education of Kevin's three daughters.
If you'd like to make a donation then you can use the PayPal 'Donate' button below which will allow you to donate from your PayPal account, or via credit or debit card. A small percentage (about 3.4%) will be retained by PayPal for the service.
Kevin's family have been touched by the generosity and messages of support from people using the website and would like to express their gratitude to those who have contributed in any way.
The donations keep coming in, thank you so much, and the family especially like it when you leave a message.