Honda NC700S review
By Kevin Ash - 16/12/2012
The motorcycle as utility transport is making a return, and like many other things, it's a change being driven by the faltering economy.
Since the 1980s the two-wheeler emphasis has moved inexorably away from bikes and scooters as economy transport into the leisure field. There's always a been a practical aspect for many riders of course, as bikes have such major advantages as city and commuter vehicles, but on the whole they have been chosen for performance, looks, lifestyle and enjoyment reasons.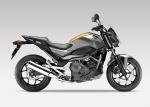 Now money is tight, fuel costs £6 a gallon and once again motorcycles are being looked to for economy reasons rather than as luxury goods. Honda saw this coming with its clever NC platform, the basis of the opinion-polarising Honda NC700X and less controversial Integra scooter, notable mostly for using a twin-cylinder motor which in effect is half of a Honda Jazz car engine. Compared with a typical motorcycle unit it's very low revving and at 47bhp (48PS, 35kW) it doesn't make much power. Most similar sized bike engines make at least 50 per cent more, while the high performance ones are churning out 130bhp (97kW), so for the bike enthusiast, the appeal of the NC is puzzling.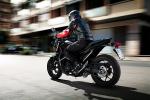 I've already ridden the NC700X but now the more conventional NC700S has finally arrived in showrooms, and there are a few differences. These include unique frontal bodywork, with shorter, lower handlebars, while the suspension has 1.2in (30mm) less travel and sits the bike lower. In turn this gives it a reduced seat height, which will suit shorter riders better than the 700X.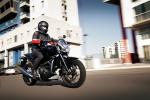 But the key to both is the design focus on economy over performance, and while I didn't test them back to back, the 700S does seem to be slightly more economical, probably because it presents a smaller frontal area than the NC700X, being lower with narrower bars. Honda claims 79mpg (28km/l, 3.58l/100km, 66mpg US), although you do need to ride gently to get close to this - I managed 76mpg (26.9km/l, 3.7l/100km, 63mpg US) without trying too hard, although a more typical everyday figure - including urban riding - is 66mpg (23.3km/l, 4.28l/100km, 55mpg US), which is far better than any car would achieve in similar conditions. It's not an expensive machine either at £5,350 and the 8,000 mile (12,000km) service intervals are wide apart for a motorcycle.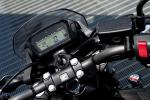 The differences between NC700S and NC700X are enough to affect a decision between the two. The X's more upright and loftier stance improves your view and visibility in traffic and is more comfortable at lower speeds, but you feel marginally more windblown on the motorway. It's also the better looking version, with more presence and fashionably nods towards the adventure bike sector, even if it has no real off-road pretensions.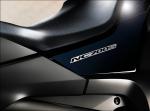 The NC700S though offers more pleasing handling, with more precision and feel from the front end and better control when you're changing direction rapidly. It steers very well and the seat is low, helping with low speed manoeuvring, so it's only the larger than average turning circle that gets in the way in traffic. It is heavy for a bike of this performance, a legacy of the multi-model platform design - so the handling isn't thrilling, and the suspension isn't great on either version, being harsh and choppy on poor surfaces, and the biggest indication of the bike's impressively low budget price. This doesn't help with comfort either as the seat is small and too firm, so you're shifting about for some relief in less than an hour's riding, let along if you're going to make use of the 200 mile-plus (320km) range.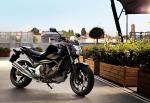 The engine meanwhile feels a lot more powerful than its lowly output figure suggests, thanks to very strong torque at low revs. Change up through the gears early and the bike bowls along at a satisfying pace, but if you try to rev it for more oomph there simply isn't any - what you've been using is all you get, and that's where these bikes turn off some riders. Try to have fun and the engine feels flat and reluctant around its 6,500rpm power peak, so leave that alone and learn to enjoy the lower rev riding technique.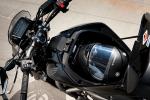 The lockable compartment where you'd expect to find the fuel tank (which is beneath the seat) is really useful, big enough for a full face helmet and then some, and perfect for carrying bits and bobs easily which you'd otherwise end up strapping to the seat. But if do that as well you need to unstrap t refuelling time to raise the seat and access the filler, which can be an irritation.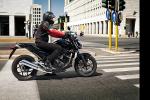 The bottom line though is that impressive economy, with an everyday, realistic 70mpg (24.5km/l, 4.04l/100km, 58mpg US) within the reach of most riders, matched to Honda's usual excellent build quality, and no doubt reliability too. The NC700S doesn't suit every bike rider as it lacks the high rev zest that makes many so exciting. But as a top quality, low cost utility vehicle it's superb, and it can still be fun too as long as you adapt to its ways.
Specifications
Model tested: Honda NC700S
UK price: £5,350
Available: now
Engine: twin cylinder, liquid cooled, sohc 8v, 670cc
Power: 47bhp (48PS, 35kW) @ 6,250rpm
Torque: 44lb.ft (6.1kgm, 60Nm) @ 4,750rpm
Economy: 66mpg (23.3km/l, 4.28l/100km, 55mpg US) (typical everyday)
Tank/Range: 3.1 gallon (14.1 litres, 3.7 gallons US) / 200 miles (320km)
Transmission: Six gears, wet multi-plate clutch, chain final drive
Chassis: tubular steel
Seat height: 31.1in (790mm)
Wheelbase: 60.0in (1525mm)
Rake/trail: 27 ° / 4.3in (110mm)
Weight: 465lb (211kg) wet