Honda Crosstourer
By Kevin Ash - 19/09/2012
If we needed a definitive answer to the question, which is best: conventional sports tourer or adventure bike, Honda's new Crosstourer should help provide the answer.
In fact Kawasaki's Versys 1000 has already blazed the same trail, creating an adventure-style machine from the underpinnings of a sports tourer, the Z1000SX, and the new Honda follows. The engine is the same basic V-four with its clever technology and costly, sophisticated standards of build as the Honda VFR1200F's, while the frame and various other components are also either identical or closely related.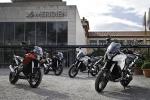 As with the Kawasaki too, the engine has been retuned for an entirely different character. The VFR1200F makes a colossal 170bhp (173PS, 127kW), wholly unsuited to the adventure class, so this has been reduced to 127bhp (129PS, 95kW). It's been achieved by reducing valve lift, duration and overlap, with longer intake funnels inside the airbox (so much longer in fact, they've had to be curved through 90 degrees to fit in the space, and with exhaust pipes which are a substantial 10mm narrower at 28mm diameter than the VFR's. This and a remapped ECU have not only truncated the power peak, they've smoothed the torque curve and in places in the lower regions, given it a 30 per cent advantage. The VFR's dip in its mid-range is filled too.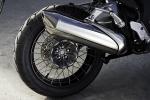 Pleasingly, Honda has also gone to great trouble to make the Crosstourer sound good, carefully matching the sizes of the chambers in the silencer to enhance the lower frequency sounds at low to mid rpm. That kind of thing used to be Harley's sole territory once.
The transmission is the same as the VFR's including the bulky and heavy shaft drive, which is something of a disadvantage as it's designed for 170bhp rather than the Crosstourer's softer output. It should last until the sun burns itself out though.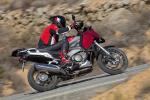 The frame is almost untouched VFR, but the new seat, bars and footrests mean the riding position is revised, with a 1.4in (35mm) higher seat at a lofty 33.5in (850mm), while the steering rake is a stretched out 28 degrees. The wheels are spoked items laced to the outside edges of the rims so tubeless tyres can be fitted, an idea originated on the unmentioned BMW R1200GS - the Crosstourer is most definitely not a GS rival, oh no (but if it steals some GS sales no one at Honda will complain...).
It genuinely isn't a GS rival though in the sense that any off-road capability is claimed. On the Spanish press launch we got more off-roading on the driveway to the lunch stop than anywhere else. But with most GS buyers planning no off-roading anyway, the Crosstourer is a GS rival really, especially as it's close in its pricing.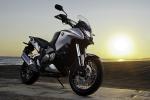 The bodywork is new of course, and it's cleverly done to disguise what is actually a considerable bulk. The visual mass is as slight, giving the bike a lean look which also appears functional and strong thanks to the combination of strongly convex surfaces with sharp edges. It looks tough, and being a Honda, it probably is.
The equipment levels are unexceptional though. You do get instant and average fuel consumption but no ambient temperature, and not the extensive options list of BMW. There's traction control too, although a safety oriented system rather than race type one, which most riders could happily do without. The most useful accessories are the aluminium-look panniers and topbox. Quirkily the topbox has a zipper around it allowing it to be expanded to hold a helmet, though the boxes are more conventional. All are easily removed and replaced, but you can't leave them unlocked so they key has to come out whenever you need to open them. The Crosstourer does come as standard with the excellent C-ABS system, which balances the braking front to rear for optimum stopping as well as preventing wheel lock-up.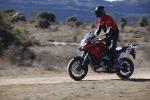 Does it work? The Crosstourer lacks the street presence of the VFR original, making do with generic adventure bike style, although it's a pleasing machine to look at and certainly far more attractive than the Versys. The motor settles into its unique 90-degree V-four burble, and yes I know it's a 76-degree layout, but the stepped crankpins mean the piston movement and firing intervals are the same as a 90-degree one. You can hear the VFR signature clearly too.
It pulls strongly at low revs and with a bubbling chocolate burble that almost makes it a shame to rev the motor more, but when you do, the mid-range proves even stronger. Spinning the motor harder does tap into even stronger performance but the low and mid levels are the most satisfying, for being more relaxed, immediate and relevant to normal road speeds.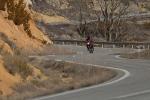 This is a hefty motorcycle though. The kerb weight is a very generous 606lb (275kg), with a further 10kg added with the Dual Clutch Transmission (DCT) option. This precludes any serious off-road riding if only because it would take at least two people to upright a fallen machine again, but it can also be noticeable in everyday riding. The stock machine disguises its weight reasonably well, but the DCT version with panniers and topbox is as agile as an oil tanker, and it doesn't help that the front end has something of a rubbery feel. Pull on the bars and you even see the flex between them and the front wheel, while the bike heaves from one side to the other with the alacrity of an elephant seal digesting its Christmas dinner.
With manual transmission and no luggage it's better and can be hustled down serpentine backroads effectively, although if you really heave on the bars to flip it from one side to the other it responds with a shake and a wobble half way. It's not designed to do this, and it will let you know. Many owners though would never ride this or any other adventure bike this way, and they'll instead be rewarded with a solidity and security that enhance rather than interfere with the experience.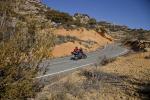 I didn't get a chance to try it two up, but I'm pretty sure with a well-fed passenger and full luggage, you're not going to outwit an RS250 Aprilia. You will though feel secure and ready for plenty of miles. There's certainly plenty of torque for that kind of thing, and no need to trouble the gearbox to access it, as the Crosstourer pulls very strongly in its midrange, and convincingly at lower revs too.
More worrying are the early signs of what the fuel consumption might be. Hustling the bike along quickly the dash reported I was being punished with 32mpg (11.2km/l, 8.9l/100km, 26.4mpg US), and even taking it easier it never got better than 35mpg (12.5km/l, 8.0l/100km, 29.4mpg US).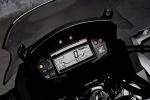 The enthusiasm of a press launch does often put pressure on economy, but these are disappointing numbers in any circumstances, assuming they're reasonably accurate. It's not only running costs that suffer but the bike's range. The tank size is a useful 4.7 gallons (21.5 litres, 5.7 gallons US), but at 35mpg it will be dry by 165 miles, which is simply not good enough in this class, at least another 35 miles is needed. We were riding it quite hard so maybe these figures will improve in everyday riding, and I'm wary of suggesting this is definitive as I was depending only on the dash readout while the riding was not in the controlled circumstances you need for economy tests. More simply, I'm also surprised it appears to be as bad as this and I'm wondering if we were going faster than I thought.
It's a lovely engine otherwise, with a willing throttle response and very easy yet muscular nature, although in first and to a lesser extent second gears, there's a lot of backlash and an over-sensitive response that can make it rather jerky. Off road this is more of a problem as a few bumps (rather common off road) can set up a surging effect. At the same time the bike pumps up and down in reaction to the torque passing through the shaft drive. Stick to the bitumen, definitely.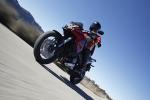 Comfort is good, though the seat is a little narrower than the Versys's and offers less support longitudinally too, so you're starting to notice it after a couple of hours aboard. The Kawasaki is more cosseting, as indeed is the Multistrada, which has to be considered a rival as the base model is £12,395 with ABS, £900 more than the Honda but within shouting or at least credit card distance.
The suspension is a little disappointing too. It's soft but not as well damped as it could be. At the back you'd blame the additional weight of the drive shaft, yet it's the front you notice more as this can be harsh across sharp ridges such as the edges of potholes, and send up the shocks to the rider rather than isolating him as it should. Most of the time it's fine, but considering the bike's weight, the ride quality ought to be better.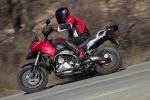 Wind protection matters too and this isn't bad. Importantly the turbulence is minimal, although taller riders will likely prefer the optional taller screen. I didn't try this but the stock one is a little low. It would be good too to be able to scroll through the dash functions without having to move your hand from the bar, but instead you must reach forward to buttons on the dash itself, an increasingly quaint-seeming task.
There's a danger though that the niggles on the bike will overshadow its strengths. It's a very fast machine with secure and accurate handling, and thanks to that muscular low and mid rev power, very relaxed about its performance too. It feels good, partly because of the sound, partly because of its excellent balance and also because it's such a high quality build.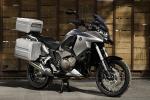 But if most of the negatives are indeed niggles, the thirst if it proves to be as bad in UK riding as this first test suggests will be a deal breaker for many riders, more for the reduced range than the costs. The weight won't trouble as many, but those with some sporting blood in their veins won't like that either. The GS will change direction more quickly, it's a lot lighter and it goes further on a tank. The Versys meanwhile is fast, if not Crosstourer quick, it has plenty of torque too and it offers better comfort with a decent range for a lot less money. It's also very well built., while for not that much more outlay you can score a much faster, much lighter, more comfortable Multistrada with a much better range.
Is it better than the VFR? Yes if you don't want high performance and sharp handling. But that doesn't seem so relevant as the Crosstourer versus its rivals, and here the range and weight set it right back.
Coming soon: Crosstourer DCT version
Specifications
Model tested: Honda Crosstourer
Price: £11,475
Available: now
Engine: four cylinder, liquid cooled, dohc 16v, 1237cc
Power: 127bhp (129PS, 95kW) @ 7,750rpm
Torque: 93lb.ft (12.8kg.m, 126Nm) @ 6,500rpm
Economy: 35mpg (12.5km/l, 8.0l/100km, 29.4mpg US) recorded on test
Tank/Range: 4.7 gallons (21.5 litres, 5.7 gallons US) / 165 miles (265km)
Transmission: Six gears, wet multi-plate clutch, shaft final drive
Chassis: aluminium twin spar
Seat height: 33.5in (850mm)
Wheelbase: 62.8in (1595mm)
Rake/trail: 28.0 ° / 4.2in (107mm)
Weight: 606lb (275kg) wet